After two years of gathering virtually, American Jewish Committee (AJC) was thrilled to be back in-person for AJC Global Forum 2022.
On Monday, June 13 the M‍ond‍ay M‍o‍r‍ning Plenary of the American Jewish Committee opened at the beautiful Congregation Emanu-El of the City of New York ("Temple Emanu-El"), with a special video message from U.S. Secretary of State Antony Blinken.
In his special video address to AJC Global Forum 2022, U.S. Secretary of State Antony J. Blinken praised American Jewish Committee's century-long commitment to fighting antisemitism and supporting democracy, standing up for the Jewish people and Israel, and its solidarity and support for Ukraine. Additionally, Blinken reiterated the ironclad relationship between the U.S. and Israel, vowed to prevent Iran from acquiring a nuclear weapon, and efforts to expand normalization agreements between Israel and its Arab neighbours.
**
Afterwards, leading experts discussed the pressing foreign policy challenges of the day and the battle for democracy over tyranny. Also, United Nations Ambassadors from Israel, Morocco, Bahrain, and the United Arab Emirates took the stage for a historic conversation showcasing the widening circle of peace in the Middle East nearly two years after the Abraham Accords, the joint statement between the State of Israel, the United Arab Emirates, and the United States, reached on August 13, 2020.
Throughout the three days the conference took place, we heard from world leaders, engaged in spirited conversations, and experienced the high-level content you've come to expect at AJC Global Forum. But several speakers also directed criticism at young Jews for not standing up for Israel. For some of them it does not seem logic that we do have to critically look at Zion and how the Israeli government tackles contemporary issues.
Outgoing director David Harris does find that there is apathy for Israel and a lack of interest in Israel by the American Jewish youth. he even worries that they are involved in anti-Israel activity on their campuses or in their schools. For him this is extraordinarily painful, and he asks himself,
Where did we go wrong? Where did we go wrong?
Several American Jews do not seem to understand that the last few years there also have been fundamentalist Jews bringing terror, the same as there have been Christian or better Evangelist fundamentalists. It is bad enough that certain Jews are taking land and property belonging to others in Israel illegally and then defending these domains with weapons.
Older Jews seem to find it difficult that young people dare to criticise the Promised Land and how the government of the nation of Israel is trying to stir up the world. Those who follow the Thora and have their hope in a peaceful world consider it impossible when a nation is promoting apartheid.
Several young people also had to watch with regret as the Israeli government allowed itself to be screwed or glued by a half-wit who would make America the greatest nation in the world. The younger generation, too, is prepared to accept that Israel has its right to exist, but demands justice and a plan according to the Will of the El ʿElyon, who is not an American, but an invisible Spirit Being who makes happen what He wishes to happen.
American writer, journalist, podcast host, Abigail Pogrebin despaired to Ted Deutch, who declined going for the 2022 United States House of Representatives election, taking a job as chief executive officer of the American Jewish Committee, that young Jews won't stand up for Israel.
It's harder for those under 30 to stand strong. We're both seeing it. We have kids in their 20s. It's a constant conversation at AJC. It's gotten harder than it has ever has in my lifetime to stand up particularly with the pressures that are virulent on social media in May 2021 [during the Israeli assault on Gaza]. You know the challenges. The number of young people who are hiding their Jewishness [saying] It' s not just a headache, it's not worth the fight, I'm going to be canceled or attacked.
Together we considered the pressing challenges the American Jews face, and could we see how those Americans are willing to demonstrate their commitment to fighting rising antisemitism; supporting Israel and widening the circle of peace following the historic Abraham Accords; preventing a nuclear Iran; strengthening U.S. global leadership; and countering threats to their democratic values.
**
But we may not be blind and should be very aware that danger may be very close, just around the corner. Certainly in the United States of America can we see a very dangerous evolution which started by the inauguration of the 45th president of the U.S.A..
That man with an incredible ego, with his body language and bombardment of repetitive words, was able to deceive and win over very many people. He even succeeded in endangering democracy by calling on his followers to storm the Capitol, which many did.
Several young people may justifiably be dismayed to see their elders fall into the trap of that despot and even praise him for declaring Jerusalem the capital of Israel, as if it were up to a man to do so.
Black clouds seemed to be over many heads at the forum. Though they had to agree that the energy of the youngsters could also be felt.New York Times columnist Bret Stephens said
"The turn away from Israel is extraordinarily worrying for a variety of reasons…

For millions of secular minded American Jews, Israel was the glue, Israel was the cause, Zionism was an effective and powerful and emotionally satisfying substitute for religious observance that many people found themselves leaving behind…

At the height of last year's war, so many young American Jews were eagerly signing letters denouncing Israel's behavior with nary a word to say about suffering of Jews in bunkers under rocket fire… That should have been another moment for us to worry about what has gone wrong with the American Jewish community.
Another danger for the democratic countries, mentioned at the forum, was the way how another lunatic, of the same kind as the American, got the first steps of his plan in Crimea, but is not willing to stop and started already in February his next trip to govern over the world.
Because Russia's Ukraine invasion is affecting the Jewish community it was good to hear from the president of Ukraine. In synagogue bunkers and refugee convoys, Ukrainian Jews seek safety amid worsening war.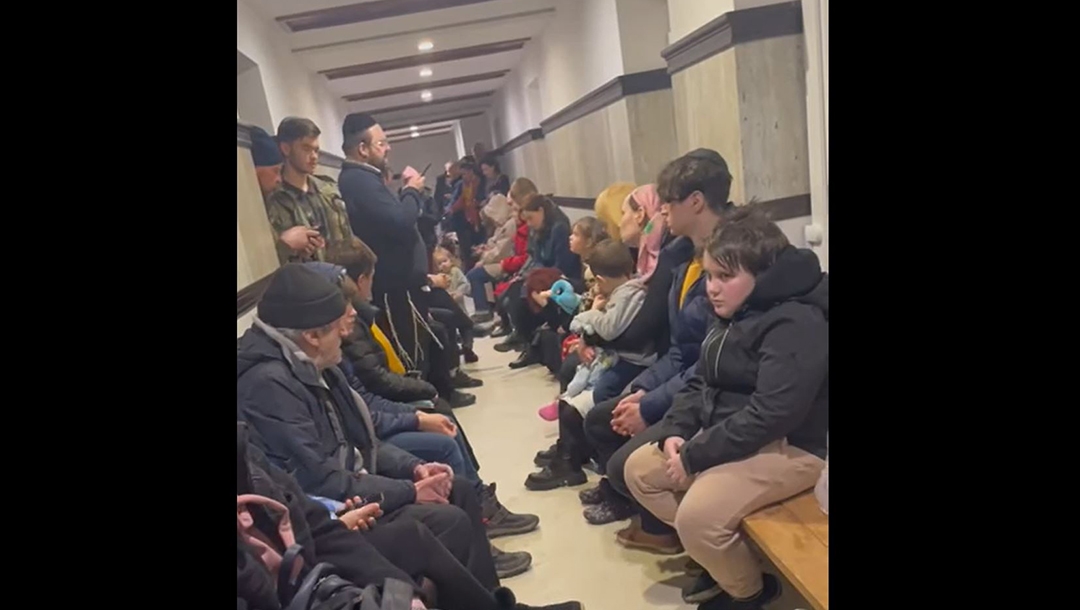 We know from Rabbi Shlomo Baksht how difficult it was to flee Odessa with 300 Jewish orphans. He was terrified that Russian bombs would hit his convoy's three buses. Tamping down fear and preserving any sense of normalcy is growing increasingly difficult as Russian troops step up their assault of Ukraine since launching an invasion Feb. 24-25. The assaults have targeted many cities across the country, which is roughly the size of Texas and home to 44 million people.
Now, hundreds of thousands of Ukrainians, including many thousands of Jews, have become refugees or internally displaced in the last few months.
The synagogue of Zaporizhzhia (lit. Below-The-Rapids) , a newly renovated building that, unusually for a building of its size in the impoverished city of 710,052 people, has a spacious, clean basement was transformed into a bomb shelter for members of the Jewish community and anyone else interested in sheltering there, the community wrote on its Facebook page.
The Choral Synagogue in Kharkiv, a historic structure now home to a Chabad Orthodox community, has taken in Jews and non-Jews alike and is organizing food and other supplies for a potentially long stay. Fighting has been fierce in the city, where Ukrainian forces initially repelled Russian troops.
In Lviv, a city in western Ukraine, at least one former synagogue, the Chadashim shul, which sometimes serves as a place of gathering for Jewish community events, serves also as a shelter for refugees from the east, Haaretz reported.
The Kyiv Jewish Center, a Chabad synagogue, is housing people who sought shelter there, Rabbi Jonathan Markovich told the Times of Israel from his location just outside the country, where he said he fled after getting a warning from Ukrainian security forces.
Also in Kyiv, where rockets fell near the Babyn Yar Holocaust museum, Rabbi Alexander Dukhovny filmed himself sheltering in the basement of a large building.
Clearly, all people in Ukraine have to endure a lot of fear and terror.
The Jews who have remained in cities are increasingly elderly aid recipients without connections abroad, including in Israel, where hundreds of thousands of Ukrainians have moved in the last three decades.
One can therefore imagine that at the various meetings of the Jewish Community, the terrible war raging in Europe receives a great deal of attention in the corridors between the lectures.
Alexander Dukhovny, the chief Reform rabbi of Ukraine, said, fighting back tears
"It's a difficult time, I'm very emotional, but I know that you're with us and we know that always good is overtaking evil.

"Love from the basement in Kyiv,"
At the end of March Moshe Azman, another chief rabbi of Ukraine, delivered an angry message to Russian Jews and non-Jews, warning them that unless they speak out against the invasion they are complicit in war crimes. We can wonder how so many Russians and befriended countries of Russia can let this invasion in Ukraine happen. Are those who stay silent and are still supporting Putin, not
aiding and abetting war?
"I have been silent for a long time but I cannot be silent anymore,"
said Azman, hugging a Torah scroll in the synagogue of Anatevka, the residential compound he set up in 2014 for refugees from the previous invasion by Russia into Ukraine.
The morning after Russian bombs fell at the site of a 1941 massacre of Ukrainian Jews, Ukrainian President Volodymyr Zelensky had already called on the world's Jews to speak out about what is happening in his country.
Russia's attack adjacent to Babyn Yar, the Kyiv site where Nazis and local collaborators executed tens of thousands of Jews during the Holocaust, along with its bombing of Uman, the Ukrainian city where hundreds of thousands of Jewish pilgrims visit each year, represented an attempt to erase Ukraine's history and identity, Zelensky already had said in a speech delivered after another night of heavy fighting on March the 2nd.
"Addressing all the Jews of the world: Don't you see why this happening? That is why it is very important that millions of Jews around the world do not remain silent right now. Nazism is born in silence,"
Zelensky said at that time.
"So shout about the killings of civilians. Shout about the killings of Ukrainians."
he called for serious actions from the West.
Zelensky has good reason to say
"To the world: What is the point of saying 'never again' for 80 years, if the world stays silent when a bomb drops on the same site of Babyn Yar? At least 5 killed. History repeating…"
In a very special report, Ukrainian President Volodymyr Zelensky addressed AJC Global Forum 2022 on the ongoing Russian war of aggression, including updates from the frontlines, as well as an appeal to the international community and organizations such as AJC to redouble efforts and stand together with Ukrainians.
**
On Tuesday, June 14, the Closing Plenary included a signature AJC Global Forum session—the Great Debate. This year, New York Times Op-ed Columnist Bret Stephens and American University Professor of History and Jewish Studies Pamela Nadell tackled the question:
Is the Golden Age of American Jewry Over?
Participants could also hear from Florida Representative Ted Deutch, a Democrat who worked on the Foreign Affairs Committee and is retiring to lead the American Jewish Committee, incoming AJC CEO, and examined the challenges facing Jews in progressive spaces.
AJC Global Forum closed with a special segment featuring AJC CEO David Harris, L'Dor V'Dor: From Generation to Generation.
Several AJC members seem to have difficulty seeing why Jewish youth want to be included in American society and therefore join one group or another. They do not like certain attitudes and actions that the Israeli government and certain Jewish fundamentalists have adopted in recent years. It is the racist and murderous conduct that is driving young people away from Israel, and it looks like the AJC can't face that.
As is the case in many religious communities, in the United States it is also difficult for the AJC to accept different opinions and it is easy to think the wrong way or that someone is turning against Israel or, even worse, against the Jewish people. The president from the oldest extant Jewish seminary in the Americas, the Hebrew Union College, Andrew Rehfeld, seemed to have some ears for those youngsters and agreed on the fact that the Jewish community must allow diverse opinions within their community.
"I believe we need to have broader shoulders, wider hallways for conversations, and not alienate our very people, our young people, who want those conversations."
he said.
*
Notes
Babyn Yar, formerly known as Babi Yar, is the name of a ravine on Kyiv's outskirts where German troops murdered, with help from and Ukrainian collaborators, at least 33,000 Jews in September 1941 in one of the largest massacres of the Holocaust. The Jewish Telegraphic Agency provided the first news report of the massacre.
The ravine, a large open area with low-growing vegetation, is littered with multiple mass graves of Jews and other victims executed there. In recent years, a memorial museum site with several accompanying structures, still under construction before the Russian invasion, was constructed in the ravine.
+
Preceding
++
Additional reading
+++
Related