Are you suffering from unresolved news issues?
In case you missed them at the time, the Guardian published some great pieces on the platinum jubilee, including reactions from former colonies, a look at Her Majesty in art, and Paddington's visit to Buckingham Palace.
The carnival atmosphere of the bank holiday was punctured abruptly on Monday morning when news broke that there would be a confidence vote in PM Boris Johnson that evening, and the Guardian writers and editors swiftly scrambled to report on the mood in parliament during the lead up to the ballot.
Did Boris Johnson's survival of a no-confidence vote cause you to emit a bloodcurdling midsummer night's scream?
Guardian political correspondent Peter Walker about Johnson's reaction to the news said:
 "It is probably no surprise that in his make-or-break speech to Conservative MPs ahead of Monday's confidence vote, Boris Johnson told them that to oust him as prime minister would be to 'dance to the tune of the media'. After all, a lot of what brought him to this point came from media coverage."
He said:
"While it was Pippa Crerar of the Mirror – soon to return to the Guardian as political editor – who first broke the story of Downing Street parties – we uncovered the first evidence about apparent social events involving the prime minister during the first lockdown of 2020, and were then passed one of the defining images of the saga, showing Johnson and staff enjoying cheese and wine in the No 10 garden."
Peter explained:
"As with all stories like this, it came about because of speaking to contacts, trying to make connections, plus a little bit of luck in people coming forward. As ever, a fair amount of this luck was made – the more you write about a story, the more people want to speak to you about it."
Deputy political editor Rowena Mason added that
"the vote of confidence in Johnson was a long time coming. The lobby was expecting it almost weekly ever since Sue Gray's interim report finding widespread wrongdoing in No 10 and the Met Police investigation."
She explained how momentum has been building for months to get to this point:
"There was a moment when Johnson was fined, and then again, after the local elections when the threshold of 54 MPs was surely going to be hit. But it took the scale of Johnson's unpopularity in the country – evident as MPs went back to their constituencies for Jubilee celebrations – for the need to act to really hit home. When the number was finally reached, the only person surprised seemed to be the prime minister himself."
When the ballot results came in the PM survived, but was badly bruised, with 148 MPs voting to oust him from Downing Street. The future for Johnson and his party feels very uncertain, with some predicting he'll be out by autumn. Whatever unfolds in the coming months, our reporters will be there at every step.
Does the phrase "we are where we are" fall increasingly short of describing where, in the name of sanity, we actually are? If you answered "yes" to any of the above, help could be at hand.
Here at "Some View on the World" we present to you some interesting news articles from which you can select what you would like to read further or know more about. By clicking on the links you can read more.
On Sunday June 5 we had as headline "Labour says it is now the true party of patriotism and British values" and looked at Labour that has staked a bold claim to be the true party of patriotism and the best of British values, as four days of nationwide celebrations to mark the Queen's platinum jubilee draw to a close on Sunday.
Writing in that day's Observer, Lucy Powell, the shadow secretary of state for digital, culture, media and sport, says Labour is the party which now stands up for much-loved British institutions – including the BBC and Channel 4 – which the Tories want to undermine in pursuit of a series of ideological "culture wars".
Britain had a great weekend though Finding the right tone was not always easy, but the TV marathon was a triumphant return for Kirsty Young
The first week of June brought some good news from Britain for the Ukrainians.> UK to send long-range rocket artillery despite Russian threats
Britain is to supply long-range rocket artillery to Ukraine, despite a threat on Sunday from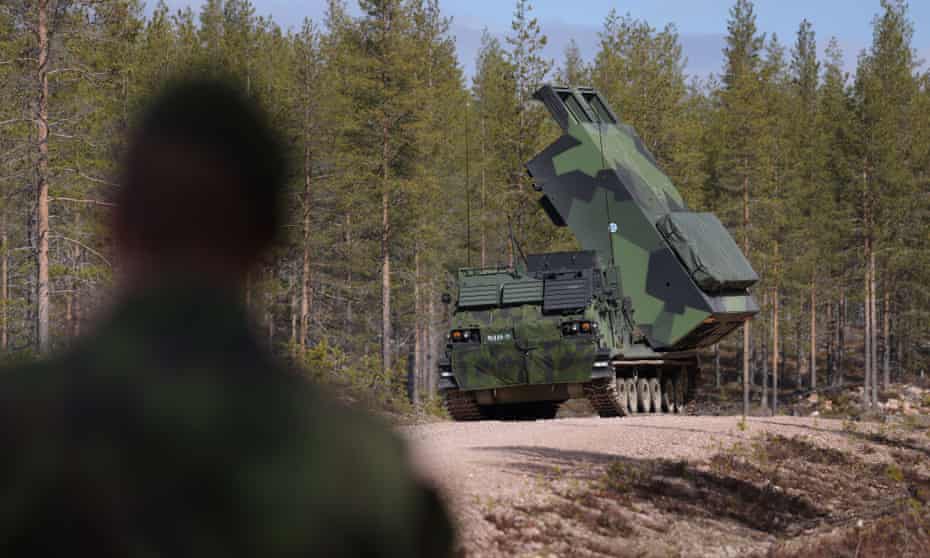 Russia's president, Vladimir Putin, to bomb fresh targets if similar weapons from the US were delivered to Kyiv.
The UK will send a handful of tracked M270 multiple launch rocket systems, which can hit targets up to 50 miles away, in the hope they can disrupt the concentrated Russian artillery that has been pounding cities in eastern Ukraine.
The UK justice ministry offers also more support for ICC investigation
President makes rare publicised visit outside Kyiv, close to Sievierodonetsk, where Ukrainian forces have taken back ground from Russian forces
June 07
June 08
US gun control / Matthew McConaughey makes passionate plea at White House
The Academy Award–winning actor called for bolstering background checks for gun purchases and raising the minimum age to purchase an AR-15-style rifle from 18 to 21.
"We want secure and safe schools and we want gun laws that won't make it so easy for the bad guys to get the damn guns," McConaughey said.
His speech came in the wake of last month's shooting rampage at an elementary school in his hometown of Uvalde, Texas, that killed 19 students and two teachers.
June 09
Cost of living crisis / Fuel cost surge and dire economic forecast shatter PM's hope of reset
Sievierodonetsk / Ukraine forces pushed back to outskirts, say Donbas leaders June 10
Ukraine / Britons captured while fighting in Ukrainian army sentenced to death after 'show trial'
June 11
Rwanda deportations / Prince Charles criticises 'appalling' scheme – reports
Russia-Ukraine war: 'intense street fighting' in Sieverodonetsk with both sides suffering heavy casualties, says UK
June 12