The first week of June ended with Americans who watched televised hearings in the House of Representatives into the Jan. 6, 2021 attack on the US Capitol and then-President Donald Trump's efforts to reverse his election loss to Joe Biden.
A Trump supporter holds a bust of him after hundreds of people stormed the Capitol. Photographer: Roberto Schmidt/AFP/Getty Images
Politicians and special interests including Trump himself are using the hearings in appeals for donations.
'War Scene,' Ivanka, Trump Tweet: Key Points From Jan. 6 Hearing
The House committee presented evidence that could focus new attention on the assault ahead of midterm congressional ballots and add detail to a record Trump will have to confront if he seeks re-election in 2024, Mike Dorning and Billy House report.
Trump's daughter, Ivanka, said in a video message that she believed there was no evidence of fraud sufficient to change the 2020 election's outcome.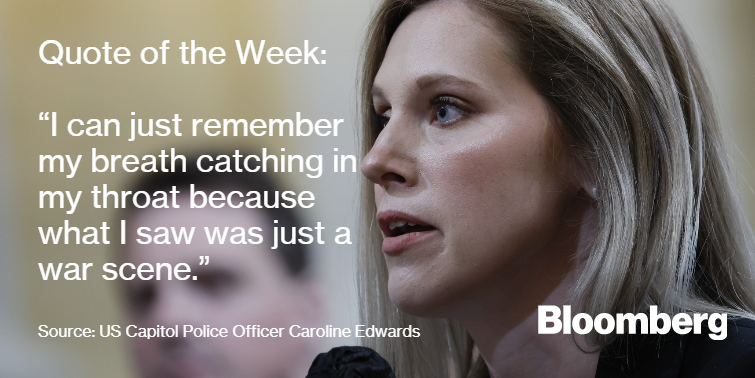 Edwards, who suffered a brain injury, appeared at Thursday's hearing, the first of seven sessions. "I couldn't believe my eyes; there were officers on the ground, they were bleeding, they were throwing up," she said. "I was slipping in people's blood."
Biden said Ukrainian President Volodymyr Zelenskiy tuned out warnings that Russia would invade his country in the lead-up to the Feb. 24 attack.
Ukraine Likely to Win Initial EU Backing for Path to Membership
The European Union's executive arm is expected to says next week that Ukraine should be granted candidate status, a key step on the long path to EU membership, sources say. As Jorge Valero and Alberto Nardelli report, the recommendation would come with conditions linked to the rule of law and anti-corruption legislation.
European Commission President Ursula von der Leyen paid an unannounced visit to Kyiv on Saturday in a boost to Ukraine's bid to join the EU.
Ukraine's finance chief said it must clinch a new loan program with the International Monetary Fund as efforts to fight off invading Russian forces push its budget and international reserves to the limit.
Despite surviving a no-confidence vote, Boris Johnson is engaged in a day-to-day fight to hold on to his UK premiership.
Russia Is in Topsy-Turvy World Where Belarus Tops German Exports
Russian efforts to rewire trade flows and bypass sanctions for the war in Ukraine can't make up for the collapse in imports. For the first time, Belarus, in April leapfrogged Germany — an economy more than 60 times bigger — by the value of imports to Russia, according to a Bloomberg analysis of the latest data.
Iran's painful experience of dealing with Western sanctions carries warning signs for Russia.
Beijing and Shanghai both resumed mass testing for Covid-19 as new  outbreaks emerged just days after the two key Chinese cities eased social curbs that had been in place for months.
+
Preceding
++
Additional reading
+++
Related