Carbon emissions from fossil fuels will hit record high in 2022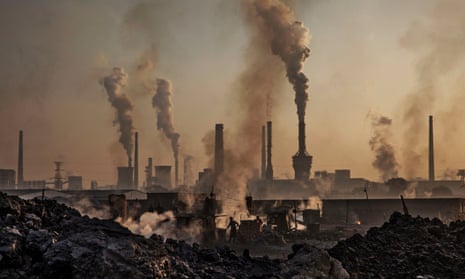 Carbon emissions from fossil fuels will hit record levels this year, according to a comprehensive analysis. The finding represents a brutal contrast with the need to cut emissions by half by 2030 to restrict global heating to 1.5C and avoid the most devastating impacts of the climate crisis.
There is no sign of the decline needed, the researchers said, heaping further pressure on the countries whose representatives are meeting at the UN Cop27 climate summit in Egypt to deliver real and rapid action. Other scientists described the news as "bleak" and "deeply depressing".
+
The UN secretary general, António Guterres, has made clear to world leaders at Cop27 this week what this means:
"We are in the fight of our lives and we are losing. Our planet is fast approaching tipping points that will make climate chaos irreversible. We are on a highway to climate hell with our foot on the accelerator,"
he said.
The analysis by the Global Carbon Project (GCP) uses multiple streams of data from the year to date to estimate emissions for 2022. It found fossil fuel related CO2 is on course to rise by 1% to 36.6bn tonnes, the highest ever. More burning of oil products is the biggest contributor, mostly because of the continuing rebound of international aviation after the pandemic.
Read more about it in the Guardian: Carbon emissions from fossil fuels will hit record high in 2022