During Brexit negotiations, it was clear that the UK was not willing to pay the painful economic price Credit: Christopher Furlong/Getty Images
Britain must show the EU it's not all talk and no trousers when it comes to 'no deal'
Britain is yet to follow through on a single "no deal" threat it has made during the endless saga of its Brexit negotiations with the EU.
We were all told, again and again, that the only way to get an agreement with Brussels was if its officials truly believed the UK was ready to walk away with no deal.
The only problem is that the evidence of history suggests the Government never was.
During negotiations over the Withdrawal Agreement, including the Northern Ireland Protocol, and the free trade agreement, it was clear that the UK was not willing to pay the painful economic price.
Any deal, no matter how bare-bones, was preferable to no deal.
Brussels calculated that was the case, waited and, when it came to crunch time, pocketed the inevitable UK concessions.
What's puzzling is that, despite that, the Government persists in a confrontational approach to negotiations in the belief it is the only way to get the EU to negotiate in the first place.
There's an element of truth in this. Lord Frost was able to get Brussels back to the negotiating table on the Northern Ireland Protocol by threatening to tear up the treaty.
The EU made some proposals to cut border checks on British goods entering Northern Ireland and made clear they were a starting point for talks.
The UK is now threatening to tear up the treaty with a unilateral Protocol Bill (rather than by the Article 16 clause of the treaty) in the hope of getting more concessions.
The "madman strategy" saps goodwill and gets old fast. It is not a trick that can be repeated endlessly.
That's especially true if your negotiating partner isn't convinced you will follow through on your threats.
And why would it be when the Government has shown it hasn't the stomach to walk away when it comes to the UK's post-Brexit membership of the Horizon research programme.
The EU has blocked the UK's associate membership of the 95 billion euro programme since Brexit took legal effect at the end of January 2020.
It's leverage in the negotiation over the Protocol and designed to deter the UK from reneging on the Irish Sea border treaty.
At first glance, the announcement the UK was beginning formal dispute resolution procedures against the EU on Tuesday for stopping the formal approval appears tough.
In fact, it sets up a long period of discussions between officials and eventually the setting up of an independent panel to hear the dispute.
It merely begins a process that will drag on for so long that any benefits of Horizon membership for British scientists will have dissipated by the time it is concluded. It is not even a lawsuit.
The UK agreed to a £15 billion membership fee for the seven-year programme and has warned it will use the money to set up a rival scheme if it isn't allowed in.
That new scheme may not at first be as optimal as Horizon but it is better than nothing and a much better "no deal" than WTO terms would have been.
Instead, the Government has given Brussels yet more evidence that it is all talk and no trousers when it comes to "no deal", undermined its belligerent Northern Ireland and made new concessions less likely.
James Crisp
August 22
| | |
| --- | --- |
| | By Danny Boyle |
Britain's next prime minister will be announced two weeks today. One of their key priorities will be the under-pressure NHS – as new figures today reveal how patients are being left on hold for 111.
NHS 111 patients left on hold 20 times too long
With hospitals and ambulance services under strain, the public is urged to use the NHS 111 service instead of going to A&E. Yet new figures show that patients are being left on hold on the telephone helpline for 20 times too long. The medical advice service aims to answer calls in 20 seconds or less on average, according to an NHS benchmark, but the latest official data shows the average "time to call answer" was 395 seconds – six and a half minutes. Patients have also reported being left on hold for up to an hour, while others have waited overnight for a call back from a doctor. The

Telegraph

disclosed on Saturday that the NHS had told hospitals to prepare a public awareness campaign for people to "minimise" pressures on urgent and emergency services. Some hospitals have already been telling patients not to come to A&E unless they are facing a "serious emergency", but experts warned the delays in answering 111 calls could put patients at risk and urgent services under even more pressure.

It comes after Liz Truss, the frontrunner in the race to become the next prime minister, pledged to halt the exodus of doctors from the NHS by reforming pension rules. And, amid the pressures on the NHS, Dame Esther Rantzen today demands that both Tory leadership candidates do more to boost social care and should commit to appointing a minister for older people to end the "victimisation" of the over-65s. Read her article for us. With two weeks until the next PM is appointed, here is a reminder of where Ms Truss and her rival, Rishi Sunak, stand on the key issues.
Top GCSE exam grades tipped for record fall
GCSE pupils are being warned to prepare for disappointment, with a record fall in top grades expected this week. According to analysis, 75,000 fewer pupils than last year are likely to get the equivalent of As or A*s. Some schools have arranged additional pastoral support, including mental health first-aiders and careers advisers. The exams watchdog was asked to rein in the number of top grades awarded after they reached an all-time high last year, when results were based on teacher assessments. As education editor Louise Clarence-Smith reports, the number of results marked grade 7 or above (the equivalent of A or A*) is set to fall by 230,000 compared with last year, according to analysis – affecting results for an estimated 75,000 pupils who would have received top grades last year. Our Q&A explains how grades can be challenged.
London monk who helped J-Lo to tie the knot
It is, perhaps, the greatest Hollywood love story of the 21st century. Jennifer Lopez finally married Ben Affleck at the weekend, 20 years after they were first engaged – and, according to reports, they had a former grammar school boy from north London to thank for making their fairy-tale romance finally come true. Jay Shetty, who grew up in a terraced house in Wood Green, reportedly officiated the ceremony. Robert Mendick has the story of how Mr Shetty, a Hindu monk turned life coach, will go down in history as the man who made "Bennifer" happen.
| | |
| --- | --- |
| | By Chris Price |
Prepare for eye-watering predictions about the scale of price rises in the months ahead as Rishi Sunak indicates he would not serve in a Liz Truss Government due to their differing economic plans.

The big story: UK inflation to 'almost double to 18.6pc'
It is a prediction that makes you draw breath. Inflation will almost double to 18.6pc in the coming months as energy prices continue to soar, according to experts. Gas prices jumped by a quarter last week, which the bank Citigroup said would push up the cost of living at rates not seen since the 1970s. This will force the Bank of England to raise interest rates to around 7pc, it predicted, if inflation drives widespread demand for higher wages. Meanwhile, experts said today that households will suffer a stunning 80pc increase in the average energy bills from October. Ofgem is due to announce the next price cap on Friday, which Cornwall Insights predict will reach £3,554 before rising further to a peak of more than £5,300 in the second quarter of 2023. The price cap increased to £1,971 on April 1. Here is a guide to what the rising prices mean for you.

To put the increases in context, the price rises will add the equivalent strain on household budgets as an extra 9p on the basic rate of income tax, a supplier warned today. Greg Jackson, founder and chief executive of Octopus Energy, also said that if the price of beer had risen in line with gas, a pint would cost £25. Telegraph readers have shared how inflation has affected their shopping habits, and revealed their chosen cost-saving methods. Many small businesses are already barely profitable and an outrageous power bill could be the final straw but Matthew Lynn reveals why we cannot afford corporate welfare for energy bills.
'Fiscal ruin'
What to do about these frightening predictions will be at the top of the in-tray for the next Prime Minister, whose identity will be revealed two weeks from today. Yet allies of Rishi Sunak have warned that Liz Truss's "magic money tree" approach could cause "fiscal ruin". Ms Truss, the clear favourite in the contest, would prioritise immediate tax cuts as part of an emergency Budget on taking office. Supporters of Mr Sunak have rounded on her plans, and the former chancellor himself has strongly hinted he would turn down a Cabinet job under his rival due to their differences over how to run the economy. Mr Sunak said "you can't have your cake and eat it" during a disarming interview with Vanessa Feltz on Radio 2, sketched here by Tim Stanley, but Andrew Lilico suggests we should end the scaremongering over Ms Truss's emergency budget.
Confronting pensioners
If not tax cuts, then what is the solution to the harsh financial winter ahead? Lucy Burton suggests the Tories must accept it is time to confront wealthy pensioners. The solution is yet to be found in Europe, where benchmark gas prices have surged to new records at around 15 times the typical summertime level amid fears of a Russian supply shutdown. The German people know tough times lie ahead but they want action, not mere platitudes, from their chancellor, as Katja Hoyer reveals how a cacophony of crises have brought Olaf Scholz to the brink.
World news: Russian tourists leak defence secrets
A new militant group of anti-war Russians were allegedly behind the audacious car bomb attack that killed the daughter of one of Vladimir Putin's closest allies, a former member of the Russian parliament has claimed. Daria Dugina was travelling in her father's Toyota Land Cruiser in Moscow on Saturday night when a suspected explosive device was detonated in what was perceived as the first attack in the Russian capital since the invasion of Ukraine. Russia's FSB intelligence agency has accused Ukrainian special forces of being behind the car explosion but a former Russian MP has made different claims. Meanwhile, Russian holidaymakers in Crimea are unwittingly giving away the position of Russia's missiles as they post holiday photos on social media posing next to missile systems, according to the Ukrainian ministry of defence.
Around the world: Car bomb kills Putin ally's daughter
Investigators had barely started picking through the crime scene when Russia began blaming Ukraine for a car bomb attack that killed Daria Dugina – the daughter of Vladimir Putin's favourite philosopher. But Kyiv, which denied any link to the murder, may have more pressing military concerns. Kremlin-linked officials vowed retaliation, yet James Kilner writes that the truth may be closer to home.
Daria Dugina – the daughter of Vladimir Putin's favourite philosopher Credit: East2West
Also in the news: Today's other headlines
Meta | Facebook's parent company risks a "grotesque betrayal" of children by introducing encrypted messaging without safeguards against child abuse, Priti Patel says today. Writing in The

Telegraph

, the Home Secretary urges Meta, which owns Facebook, Instagram and Whatsapp, to rethink its plans to roll out end-to-end encryption next year. As home affairs editor Charles Hymas reports, Ms Patel fears the move will prevent police from investigating child abuse.
August 23
| | |
| --- | --- |
| | By Danny Boyle |
Ahead of tomorrow's six-month anniversary of the Russian invasion of Ukraine, some UK families have warned they can no longer afford to house refugees. We look at plans to help them.
Fears thousands of families will ditch Ukraine scheme
As the cost-of-living crisis bites deeper into domestic budgets, many households face tough choices. Amid fears that squeezed finances will cause thousands of people who host Ukrainian refugees to drop out, the minister in charge of the scheme has said that monthly payments should double. Lord Harrington, the refugees minister, told The

Telegraph

that he expects around a quarter of the 25,000 households hosting refugees to pull out when the initial six-month term is up at the end of October – meaning new homes will have to be found. He has asked the Treasury to double the payment of £350 a month which hosts currently receive to £700, after some families warned they can no longer afford to house refugees because of soaring energy bills. His demand comes ahead of tomorrow's six-month anniversary of Vladimir Putin's invasion of Ukraine. Yesterday, wholesale gas prices in Europe soared to their highest on record after Moscow announced plans to close a key pipeline. With the new energy price cap set to be announced this week, see which of your household appliances will cost the most to run.

With predictions that the surge in energy costs means UK inflation is now likely to peak at a near 50-year high of 18 per cent next January, what will it mean for employment? Companies are continuing to grapple with a generation who, post-Covid, are resisting the nine to five – choosing not to work or prioritising flexibility over income and career prospects. Abigail Buchanan and Florence Goodhand predict that few businesses will be clutching onto the "quiet quitters", as they explain why generation "anti-ambition" faces a rude awakening.
Girl, 9, shot dead by gunman inside Liverpool house
A murder investigation is under way after a nine-year-old girl was shot dead by a gunman who opened fire inside a house in Liverpool. Police were called to a property in the Knotty Ash area of the city at around 10pm on Monday where they discovered the girl suffering from a gunshot injury to the chest. She was rushed to hospital, but medics were unable to save her. A man and a woman inside the house were also shot and taken to hospital for treatment. As police hunt for the gunman, crime correspondent Martin Evans has the latest developments.
Eight old-fashioned habits that could benefit health
It has long been known that an after-dinner stroll can help to aid digestion and clear the mind, but new research reveals that it can have surprising other health benefits too. Yet it is not the only "old-fashioned" habit that could yield surprising positive effects. From shopping locally to keeping a diary, Nicole Mowbray suggests eight old-school healthy living practices that it might be time to bring back.
Also in the news: Today's other headlines
Education | GCSEs and A-levels should be scrapped because they leave children "poorly prepared for work", Sir Tony Blair says today. Writing in The

Telegraph

, the former prime minister argues that the qualifications "do far too little" to meet the needs of the modern world of work and that employers are "increasingly disgruntled by what they are seeing". He is backing a plan to replace the current examination system in England.
By Christopher Hope,
ASSOCIATE EDITOR (POLITICS)
The rumbling of anger about the defenestration of Boris Johnson by a minority of Conservative MPs continues among the party's grassroots, with some members starting to take action into their own hands.

A new grassroots action group – the Alliance of Conservative Voters – has now amassed nearly 4,000 followers on Twitter in just four weeks.

The group is now planning to have some sort of representation at the Tory party's annual conference in Birmingham and is trying to formalise its organisation.

The scale of interest in this new group has surprised its founder Patrick Stoner, who tells me it started off as a "me and the dog enterprise".

Stoner – a member since 2019 – tells me he wants it to "provide voters and ordinary members of the Tory party with a voice – a voice denied to even the local associations as they are increasingly muffled by CCHQ demanding that all associations toe the line".

He adds: "The recent coup to depose Boris Johnson by a small number of MPs of the 1922 Committee, with help from CCHQ, is symptomatic of the level of regard our elected representatives have for our opinions.

"This trend can be reversed. All it takes is sufficient numbers of members to say that we want control back. Control over who selects and deselects our leader would be a good start."

Stoner, 75, a retired telecommunications manager, says has taken his cue from the Vote Leave slogan "take back control". He says: "We want to get more democracy back in the party."

It remains to be seen if Stoner's initiative will fire up party members. Other groups including the Campaign for Conservative Democracy have long been advocating that the views of members are listened to, but have failed to trouble the officials who run the party.

The campaign's demands are modest: better representation on the party's board and perhaps even a party chairman who is elected by the membership.

We still do not know how many party members there are though. The last estimate was 200,000 members declared by then-party chairman Amanda Milling in March last year.

But could the actual figure be far fewer than that? Lord Cruddas of Shoreditch – who has been campaigning for members to be given a say on whether Johnson should resign – thinks so.

The former party treasurer and major donor has written to CCHQ this morning with details of his own number crunching.

Rather than 200,000 members, Lord Cruddas says there may be fewer than half that number – 92,000 – based on an analysis of membership income.

"The figures are so widely different that there must be a simple explanation, something I am missing," he says in his letter to the party's co-chairman Andrew Stephenson, Ben Elliot and party director Darren Mott.

Conservative party sources say he is "miles out" largely because some of the local associations keep some of the subscription income for themselves.

But, if Lord Cruddas is right and there are far fewer party members than the 200,000 claimed by the party just 18 months ago, the Tory party might soon have to start asking itself why. And indeed whether members – who pay to support its work and help its MPs win power – deserve a bigger say in how it is run.

Cheerio!

Chopper
Chopper's Westminster (recess) Whisper
Exclusive: Treasury braced for Brownite clear-out if Liz Truss becomes Prime Minister
A hard rain looks like it is going to fall among senior civil servants at HM Treasury when, as expected, Liz Truss becomes prime minister in a fortnight's time (to misquote Dominic Cummings).
The hot money is on Business secretary Kwasi Kwarteng replacing Nadhim Zahawi at the Treasury, with Sir John Redwood drafted in as a junior minister to help provide support for the battles ahead.
Already some of Truss's team are looking through the LinkedIn pages of senior Treasury officials and noting how many of them played key roles in Gordon Brown's administration.
I am told on good authority that they are likely to be moved on over the next six months as Truss pushes ahead with her tax-cutting agenda.
You will be either with Liz – or against her – as Treasury civil servants are about to find out.
Young men fight at the Jaguar Boxing Club of Odesa. Credit: Oliver Marsden
Oleksandr Usyk's win shows there's no shortage of fighting spirit in Ukraine
By Campbell MacDiarmid,
ODESA
It's not all been unremitting war and misery when reporting on the war in Ukraine.

On Saturday we saw how Ukrainians at home and abroad were buoyed when their countryman Oleksandr Usyk defeated Anthony Joshua for a second time.

Ahead of the fight I went to a boxing gym in Odesa where Usyk trained as a teenager that was holding a youth boxing event ahead of the match that evening.

Usyk has unsurprisingly become a national hero, not just for his boxing prowess but also for rushing back to Ukraine to join the territorial defence forces after the Russian invasion.

He soon concluded that the best way to support his country was in the ring, a decision that doesn't appear to have cost him any fans.

"Great Britain is a close friend to Ukraine so we hope we don't win too quickly," our gracious host Sergi Paytetsky told us of his prediction for an Usyk victory.

But Mr Paytetsky, the president of Jaguar Boxing Club of Odesa, also said there were plenty of Joshua fans in the club.
Margot, 10, warms up before her fight at the Jaguar Boxing Club of Odesa Credit: Oliver Marsden
"Some people want Joshua to win so there can be a third fight," he told us in his sweltering gym as his young boxers battered each other in two round matches.

One of the young fighters competing on Saturday was Margot, a 10-year-old who has already amassed over 17,000 followers on her TikTok social media account with short videos of her six-day-a-week training regime.

"We plan to finish our career at the UFC," her father and eager trainer Dmitri told me.

Margot was more reserved, perhaps because she was about to go into the ring with a much larger girl. She held her own though and afterwards shrugged when asked how it went. "Normal," she replied.

It seems there's no shortage of fighting spirit in Ukraine.
As the prospect of a government led by Sir Keir Starmer becomes more likely, it seems we might be returning to the old debates of 2016. Credit: Danny Lawson/PA wire
Keir Starmer could face pressure to make concessions on Europe
By Tony Diver,
WHITEHALL CORRESPONDENT
For Eurosceptics, there has been much less "red meat" in this year's Tory leadership election than in previous years.

Back in 2019, and indeed in 2016, the campaigns were dominated by debates about Britain's departure from the EU and which candidate had the negotiating acumen and ideological vision to deliver it best.

It was partly Boris Johnson's rallying cry in his 2019 election campaign to "Get Brexit Done" that brought over thousands of traditional Labour voters to the Tories for the first time.

This time, there has been minor squabbling between Liz Truss and Rishi Sunak over the implementation of the Northern Ireland Protocol and both have pledged to exploit the benefits of Brexit, but for some time now, the question of whether leaving the EU was the right decision has been considered resolved.

Yet as Labour creeps up in the polls and the prospect of a government led by Sir Keir Starmer becomes a more likely one, it seems we might be returning to those old debates of 2016.

My colleague Camilla Turner revealed on Friday that a coalition of pro-EU Labour politicians is planning an intervention at this year's party conference in Liverpool in an attempt to soften the leadership's stance on Europe.

A quiet minority of Labour MPs are part of the Labour Movement for Europe group, led by the Walthamstow MP Stella Creasy, while the Momentum campaign group and some of the party's most Left-wing MPs have expressed doubts about Sir Keir's stance on the EU.

They are joined by Sadiq Khan, the London mayor, who has made no secret of his love of Europe and desire to be welcomed back into its political club.

The coalition of moderates and the hard Left are especially uneasy about a speech last month in which the Labour leader said he wanted to "make Brexit work" and would not ever countenance rejoining the Single Market.

He also promised there would be no return to the Customs Union and no embrace of freedom of movement.

They feel that if Labour wins the next election, Britain should start thinking about retracing some of its steps out of the EU in an attempt to resolve issues on the Northern Irish border and reduce the risk of a trade war.

All this spells danger for a Labour leader in Opposition who has quietly avoided discussing the details of his Brexit position for the last two years, preferring instead to treat the issue like an unfortunate incident to be mitigated, rather than celebrated.

Labour insiders seem unfazed by divisions in the ranks on Europe and point to the fact the Tories' own squabbling on Europe has brought down two of the last prime ministers and blighted a third.

But could it be that the Conservatives are now over their perennial factionalism on Europe – and that Labour becomes the divided party?

Labour has always been highly factional but has usually been split on more orthodox Left-Right issues, like the common ownership of public services and the party's relationship with the unions.

Now a Labour government could be on the cards for the first time in 12 years, Sir Keir could well be under pressure to make concessions on Europe in exchange for the unity of his party.

For Brexiteers, that is a very worrying prospect indeed.
For Germany, there are only superficial differences between the Thatcher-channelling Tory candidates
By Arthur Scott-Geddes,
IN BERLIN
Germans are following every turn of the race to succeed Boris Johnson with a diligent enthusiasm more usually reserved for reality TV shows in Britain.

Rishi Sunak and Liz Truss have nabbed coverage in the pages of German newspapers even with the competition of a scorching summer, the war in Ukraine, and an acute energy crisis.

In Germany, the contest is billed as a showdown between the wily husband of a billionaire and the "Thatcher-actress" who "needs to work on her performances".

Ms Truss's about-face on Brexit – from Liberal Democrat and Remain campaigner, to hardliner likely to continue Mr Johnson's combative approach to dealing with Britain's erstwhile EU partners – has drawn attention.

The Foreign Secretary's role in pushing through a bill to tear up the Northern Ireland Protocol, seen by Germans as the main cause of disagreement between Britain and the EU, has also not been forgotten.

Equally, Mr Sunak's love for Margaret Thatcher has caught the eye of German commentators, as have his frequent attempts to undermine Ms Truss's Brexiteer credentials.

But while the former chancellor is seen as a Thatcherite, he is also gently mocked as more Savile Row than pussy bow.

Could one detect a hint of schadenfreude in the German press poring over the candidates' clash over the price of their suits or earrings?

Perhaps, but for Germany the differences between the two candidates are superficial.

Gabi Biesinger, a veteran foreign correspondent at German broadcaster ARD, wrote that Tory members face a choice between two candidates who "claim the spirit of the conservative iron super-lady Margaret Thatcher for themselves".

Whoever ends up winning "doesn't seem to matter" as they both want to continue Mr Johnson's Brexit policies.

The only difference is they will do it "with better manners and less-tangled hair".
Owami Davies found 'safe and well' after eight weeks
Owami Davies Credit: PA
Student nurse Owami Davies has been found "safe and well" in Hampshire almost eight weeks after she went missing, the Metropolitan Police has said.
| | |
| --- | --- |
| | By Chris Price |
The horrors of the shooting which left a nine-year-old girl dead in Liverpool were laid bare in a shocking press conference today. Her family are "absolutely devastated, inconsolable and heartbroken".
Today's essential headlines
Liverpool shooting | A nine-year-old girl who was shot dead when a gunman chased another man into her home has been named as Olivia Pratt-Korbel by Merseyside Police. A murder investigation is under way after the assailant opened fire "with complete disregard," killing the girl and injuring two others in the property in Liverpool. Detective Chief Superintendent Mark Kameen explained in vivid detail how the balaclava-clad gunman gained entry to Olivia's home to commit the "abhorrent crime" despite the best efforts of her mother to keep him out.
The big story: What's next after six months of war
Tomorrow is a day that is about as significant as they come for Ukraine. Wednesday marks both six months since Russia's invasion and the 31st year of the nation's independence from Soviet rule. When Russia invaded Ukraine six months ago many thought Kyiv would fall within a week and that president Vlodomyr Zelensky would be captured – or worse. Nothing could have been further from the reality. Long since the capital came under attack, the war has now settled into a steady pattern of slow grinding conflict in the East and South. In the meantime the world has changed dramatically. But what does the future hold? With graphics, videos and images detailing the impact of the war, our editors and correspondents analyse what will happen in the next six months.

Today, three people have reportedly been killed after Ukrainian forces shelled a separatist government building in Donetsk with US-supplied Himars rocket systems. The fighting comes as the US Embassy in Kyiv has told all US citizens still in Ukraine to depart the country immediately ahead of fresh Russian strikes expected on Wednesday. The US on Monday issued a security alert warning that Russia was ramping up its efforts to launch strikes in the coming days, particularly during Ukraine's independence day.
'Half-baked' scheme
In Britain, where a minister has said the monthly payment to families hosting Ukrainian refugees should double, a "half-baked" scheme by Nicola Sturgeon's government to house Ukrainian refugees aboard a ferry has sparked pollution complaints after SNP ministers mistakenly believed the vessel could be plugged into the mains. The Scottish government has admitted that MS Victoria will be forced to run on diesel-powered generators while it is docked in Edinburgh for six months. Noxious fumes from the ship's engines have forced nearby residents to keep their windows shut during the summer and hold their breath while walking outside. Hundreds of Ukrainians are currently living onboard the vessel and there are plans to rent a second ship.
Ukraine tourism
With the Foreign Office travel advice page for Ukraine littered with phrases like "martial law", "leave immediately" and "real risk to life", and its map of the war-torn nation rendered in an unequivocal shade of red, only the brave or perhaps foolhardy would consider travelling there right now. But that has not stopped the emergence of a new tour operator – with more than 150 clients so far, including Britons – offering a range of trips to the country. Read how travellers are being allowed to ignore Foreign Office advice and head to war-torn Ukraine – and the famous faces who have been so far despite the logistical issues.
Around the world: FBI seized 300 files at Mar-a-Lago
Over 300 classified documents have been recovered from Donald Trump's Mar-a-Lago home since he left office. FBI agents pounced on the former president's Florida home this month to find more documents after an initial 150 marked as classified were retrieved by the National Archives in January, according to leaks. The January documents, alongside the unprecedented August 8 raid and another set provided by Mr Trump's aides to the Justice Department in June, bring the tally to over 300, sources close to the investigation have reportedly said. The update comes as Mr Trump sued the Department of Justice, with a lawsuit urging a court to name an independent party to screen files that the FBI seized for materials protected by personal privilege.
August 24
| | |
| --- | --- |
| | By Danny Boyle |
Ukraine is on high alert ahead of a feared increase in Russian strikes on its Independence Day, which coincides with the war's six-month anniversary. We look at efforts to keep up financial support.
EU feared to be losing will to back Ukraine
In the six months since Russia invaded Ukraine, Kyiv has received significant European support. But Britain fears that help could dry up amid the cost of living crisis. The

Telegraph

understands that UK diplomats have been travelling to European capitals to make the case against cutting aid. European governments were said to be increasingly concerned about spending on arms and humanitarian supplies in the face of soaring energy prices, according to a source briefed on the talks. Economists said the eurozone had already entered recession, with German businesses suffering their worst slump for two years. The US, which told all its citizens to leave Ukraine ahead of a feared increase in Russian strikes on its Independence Day, is about to announce $3 billion (£2.5 billion) of new weaponry in its single largest package to date. Meanwhile, Liz Truss, writing in today's

Telegraph

, pledges to increase intelligence sharing from MI6 if she were to become prime minister.

Britain's scheme of national generosity is a small beacon of hope. Launched in March, Homes for Ukraine has seen tens of thousands open their homes to refugees for a minimum period of six months. But, as the cost of living crisis bites ever deeper, some host families are starting to question whether they will be able to afford to house their guests for much longer. Peter Stanford and Abigail Buchanan meet some of those who are committed to their guests despite tough financial times.

PS: If you missed it last night, I can recommend our special report on what could come next for Ukraine after six months of war.
The city where firearms are all too easy to buy
After a nine-year-old girl became the latest victim of Liverpool's gangland gun violence, campaigners in the city said "something has got to change". Olivia Pratt-Korbel was shot dead when a balaclava-clad gunman chased a gang rival into her house in the Knotty Ash area of the city on Monday night. Crime correspondent Martin Evans examines how Liverpool has been plagued with gun-related violence as rival drug gangs carry out tit-for-tat attacks in which innocent people can be caught in the crossfire. And senior reporter Daniel Capurro learns about the ease with which guns can be bought on Merseyside.
The greatest county in England (according to science)
What are the ingredients for a perfect English holiday? Telegraph Travel has sought to identify the greatest county of them all – the corner of our green and pleasant land that offers what holidaymakers treasure in the greatest abundance. We have crunched the data across 33 categories to reveal which is the best. It was a closely fought contest, with just a handful of points separating some of the top 10. See the results here.
Also in the news: Today's other headlines
Spiralling energy costs | Industry chiefs are preparing for the energy crisis to last for another three years as National Grid draws up emergency plans to reduce power demand from factories across Britain. Large industrial companies would be paid to cut gas usage every winter until 2025 as National Grid attempts to avoid uncontrolled blackouts that would cause "a major economic and societal impact". It came as forecasts suggested a new high for the energy price cap in April. And Tom Rees explores how the energy crisis is already laying waste to the high street.
Around the world: Finnish PM sorry over topless snap
Finland's prime minister has apologised after an image emerged of topless influencers taken during a private party at her taxpayer-funded residence. In a since-deleted TikTok post, two social media personalities kissed each other and covered their bare breasts with a "Finland" sign at Sanna Marin's home. Ms Marin, whose private life has recently been in the limelight, confirmed the picture had been taken at her residence.
The now deleted picture that was taken at Sanna Marin's home and posted on TikTok
By Christopher Hope,
ASSOCIATE EDITOR (POLITICS)
Liz Truss last night showed why she is the darling of the Conservative grassroots in the leadership contest by vowing to divert billions of pounds for social care from the NHS to councils.The Foreign Secretary made clear that she does not regard the NHS as an untouchable part of Whitehall policy-making as she said wanted to see the £13 billion a year earmarked for the NHS from the recent National Insurance rise diverted to local authorities for older people's care. Truss told the Conservative hustings in Birmingham that she was worried that too much of the money going to the NHS goes towards "diktats" and layers of bureaucracy.

"What people who work in the NHS tell me is the problem is the number of layers in the organisation they have to go through to get things done, the lack of local decision-making," she said.

There are plenty who would agree with her. In today's Telegraph my colleague Allison Pearson asks what the NHS is doing with its £136 billion annual budget.

There are answers out there, if only ministers want to find them. Prof Tim Briggs, an orthopaedic surgeon, set up and leads the Get It Right First Time (GIRFT) initiative in the NHS.

Briggs' central idea is that the NHS can serve its patients better by becoming more efficient, standardising practices and identifying savings.

He discovered a wide range of different outcomes for patients after hip and knee replacements at selected hospitals and said that these could be improved by cutting infection rates.

A GIRFT report from five years ago suggested this approach could save £268 million annually for the NHS in England. GIRFT's website is full of ideas about best practice which deserve a wider airing.

The NHS is not alone. There is a sense of a wider drift in the standard of public services that we are all paying for through our taxes.

The new government has got to get a grip. Why can't ministes and officials also get it right the first time? An excellent column today by my colleague Madeleine Grant makes the point precisely. "I fear Britain has become the ultimate 'why?' country, or more specifically, a 'why bother?' country," she says.

If Truss wins the Tory leadership in 12 days' time she has the chance to address this – better later than never given her party has been in government for 12 years.

Whenever I have a chance to chat to ministers I often ask them whether they have actually tried to access the services their departments deliver, and find out how hard it is. It is striking that few say they have. Changing that might be a start.

Cheerio,

Chopper
Chopper's Westminster (recess) Whisper
Matt Hancock distances himself from his own avatar
Lots of excited chatter today that ex-health secretary Matt Hancock has become the first MP to "join the metaverse" by developing an avatar of himself.
The images of the muscle-bound Hancock might have cheered up Westminster in late August, but his team are playing down his role is involvement in creating the new image which apparently is not meant to be based on him at all.
His spokesman tells me: "People have every right to have a go at making an avatar of Matt, but he won't be joining the metaverse any time soon. He looks forward to being part of the conversation though."
Hancock, who famously has his own app and is keen on cryptocurrency, is passionate about the virtual world.
Here he is chatting about why the metaverse matters. It might be the future but it left me feeling dizzy.
| | |
| --- | --- |
| | By Chris Price |
Boris Johnson has made another surprise visit to Kyiv on Ukraine's independence day and told the British people that their struggle with rising bills comes as the Ukrainians are "paying in blood".
Today's essential headlines
Liverpool shooting | The man who was chased and shot by the killer of Olivia Pratt-Korbel is a former drug dealer who was jailed for 45 months in 2018 for a string of burglary offences, the Telegraph can reveal. Joseph Nee, 35, suffered gunshot wounds in Monday night's shooting, after bursting into Olivia's home to escape a balaclava clad attacker. He was arrested this morning in hospital where he was being treated for his injuries for breaching the terms of his licence and will be returned to prison once he recovers. Read more on his past offences.
The big story: PM says Britons must accept higher bills
The prospect of sky-high energy bills this winter has caused anguish in countless households across the UK. Yet Boris Johnson has called on Britons to bear higher gas bills as Ukrainians are "paying in blood" on a surprise Kyiv visit. The Prime Minister announced £54 million in further support to the war torn country's military as he met Ukraine's president Volodymyr Zelensky as the country marked its 31st year of independence from Soviet rule today. US President Joe Biden has also announced a record $3bn arms package for Kyiv. Mr Johnson called for a reduction on energy reliance that can be manipulated by countries like Vladimir Putin's Russia. It emerged today that North Sea gas production has surged by more than a quarter in just six months as the UK raced to wean itself off Russian energy imports. Domestic gas production in the first half of 2022 was 26pc higher, enough to heat almost 3.5m homes for a year. As figures show Britain's declining reliance on Moscow for energy, Mr Johnson said: "I believe Ukraine can and will win this war."

Meanwhile, a car bomb has killed the pro-Russian mayor of an occupied village in southern Ukraine. No one has yet claimed responsibility for killing Ivan Sushko in the village of Mikhailovka, but it comes in the wake of an increased campaign by Ukrainian partisans who are targeting officials who collaborated with the invading Russian army. In the UK, the Defence Secretary has said visa rules for Russians can be "toughened up" but there should not be a blanket ban on them travelling to Britain.
'Death of optimism'
Six months ago today Ukrainians were woken by a barrage of Russian missiles, Europe was plunged into war, and Volodymyr Zelensky said in an independence address that Ukraine itself was "reborn". Since then Western capitals have suffered what Mark Galeotti, an expert in the Russian security state, calls a "death of optimism". The long-held belief that political difficulties in dealing with Putin's government were just a blip has been replaced by a begrudging acceptance that there will be a Cold War as long as he remains in power. Roland Oliphant recalls the start of the war and reveals how the Ukrainian attitudes have changed since then – and analyses what's next. Vadym Prystaiko, the Ukrainian Ambassador to the UK and Piotr Wilczek, the Polish Ambassador to the UK, outline why Putin will never break their hunger for freedom.
Propaganda war
That is despite the Kremlin's unrelenting pro-war propaganda, a "disinformation and propaganda ecosystem" designed to spread Putin's lie that people living in parts of Ukraine were eager for Russian rule. Yet a new survey has shown bored Russian TV viewers are switching off from the messaging. A forthcoming bulletin from the US State Department's Global Engagement Center, seen by the Telegraph, details how the coordinated campaign has been used to back up the Kremlin's military "special operation" over the last six months. Nick Allen reveals the six ways Russia launched an all-out propaganda war on Ukraine.
Around the world: Marin's tearful speech after parties
Finland's prime minister today gave a forceful defence of her work record and her right to a private life after being swept up into a political scandal surrounding her partying antics. "I am human. And I too sometimes long for joy, light and fun amidst these dark clouds," Sanna Marin said as she fought to hold back tears at her Social Democratic Party's (SDP) event in Lahti city, north of Helsinki. The 36-year-old generated international furore after clips of her dancing at a private party and exclusive nightclub were leaked to the press last week. Opposition leaders have condemned her behaviour as unbecoming for a world leader. Yet read how hundreds of women across the world are posting footage of themselves partying in support Ms Marin.
August 25
| | |
| --- | --- |
| | By Danny Boyle |
As Ofgem prepares to announce a big energy price cap hike, the candidates for Number 10 are under pressure. One of them, Rishi Sunak, today reveals how he spoke out against lockdown.
Sunak: Wrong to 'empower scientists' during Covid
He was one of the few people involved in high-level conversations about shutting down the country during Covid. Now Rishi Sunak has said it was wrong to "empower scientists" in the pandemic, as he revealed how he spoke out in government about the costs of lockdown. The former chancellor said he was banned from discussing the "trade-offs" of plunging the country into restrictions, such as missed doctor's appointments and mounting NHS backlogs. He claimed that he at times became "very emotional" about the damage closing schools would cause to children, but that his objections were met with a "big silence" from colleagues. Read more of Mr Sunak's recollections about discussions at the heart of government during the early days of the pandemic.
Future-proof your home to avoid energy-bill horror
Energy industry regulator Ofgem will tomorrow make its latest announcement about the energy price-cap – the maximum that utility companies are allowed to charge their customers. Prices are expected to soar: the latest grim forecasts predict that the typical UK household will be paying £4,266 a year for energy in January – that is 116 per cent more than the current £1,971. There are fears the situation will only get worse if Russia shuts off gas supplies to Europe. Most families are simply expected to swallow this huge rise, with the aid of a £400 handout for every household from the Government. But the good news is that we do not merely have to sit and wait to be hit by the encroaching bills. There are some things we can do now – for a certain outlay – to invest in energy-saving upgrades to our homes that will last for this winter, and beyond. Alexa Phillips outlines the big-ticket upgrades to reduce the costs of running your home that are really worth the investment.
When the next prime minister is announced on September 5, they will come under pressure to act quickly and both candidates – Rishi Sunak and Liz Truss – have said they are examining ideas. The Treasury is drawing up a suite of options for the new leader, understood to include giving the green light to fracking in order to cut energy costs next winter. The Government is also considering Covid-style bailouts for small companies. Read where the candidates stand on the key issues.
PS: British homeowners in France will not be able to increase the rent on any property that leaks too much heat as part of a new climate law.
I'll fix you: Chris Martin to rescue of ailing Test star
He might seem an unlikely saviour of English cricket, but Coldplay's Chris Martin is giving it a go. The singer has come up with a solution to the fitness problems that have dogged the career of fast bowler Ollie Robinson. When Robinson, who has not played for the Test side after the Ashes last winter over concern about his ability to last for a five-day game, attended a Coldplay gig last week, Martin met him backstage – and gave him a gift to improve his performance. Robinson has been recalled to England's side for the second Test against South Africa starting today.
By Christopher Hope,
ASSOCIATE EDITOR (POLITICS)
A battle royale is brewing between grassroots Tories loyal to Boris Johnson and the party's hierarchy over who should be leader, I can disclose.

Conservative members furious over Johnson's defenestration by his MPs are tantalisingly close to forcing the party to give them a vote over whether to accept a leader's resignation.

The party has confirmed this week that 8,700 Tory party members have signed a petition demanding a veto on whether to accept Boris Johnson's resignation.

The figure is short of the 10,000 threshold which under the party's constitution could force the party to act.

Put another way, if a further 1,300 validated members sign the petition the party will have to look at changing its constitution.

This could in theory allow a ballot on whether to accept Johnson's resignation and throw the existing leadership election into chaos.

The petition demanding that members have a vote on Johnson's future was organised by Lord Cruddas of Shoreditch, a former party treasurer, amid grassroots anger over his removal from office.

In all, 20,000 people signed Cruddas' online petition which demanded that "Boris Johnson be added to the ballot as an option for the members to vote upon in the forthcoming election".

Cruddas and his team then went through the names, discounting several hundred joke names (like Vladimir Putin, ho ho!) and those without membership numbers.

He then submitted 14,000 of the signatures to the party at the end of July.

The party replied this week to tell him that it had been "thorough in checking all the information provided to us" digitally and manually.

It told Lord Cruddas: "The threshold of no fewer than 10,000 signatures has not been met… We are willing and able to confirm that you will still require 1,300 signatures to meet this threshold."

The party's constitution states that "any proposals to amend the constitution may be initiated by … a petition, delivered to the chairman of the board, signed by no less than 10,000 party members".

If the 10,000 threshold is passed then the change has to be approved by two thirds of the party's "constitutional college" made up of activists and MPs.

What Johnson will make of this is unclear. Cruddas claims that the PM told him at a lunch at Chequers last month that he "does not want to resign" and wishes he could "wipe away" his departure.

But when I reported this on July 25, his team swung into action, with a senior Tory source telling us: "He does not support any campaign to put him on the leadership ballot and will back whoever is the next leader."

Cruddas now wants the party to check fully the remaining 5,000 signatures it has received.

Cruddas is optimistic he will get his way. He tells me: "I believe it is only a matter of time before the 10,000 threshold is met. We have had 250 new signatures in the last 24 hours that look legitimate.

"The ballot will still go ahead regardless of who is elected. We want a simple ballot on whether to accept Johnson's resignation regardless of who the new leader is."

Cruddas is alive to the chaos which might be triggered if the 10,000 threshold is cleared, and some sort of confirmatory ballot is held.

He says: "If members vote not to accept Johnson's resignation, that would leave the new leader in an untenable position. They would have been elected against the wishes of members."

The party is digging its heels in and insisting it will not change the rules "retrospectively". Its spokesman tells me today: "If a petition with 10,000 signatures from members was received, we would follow the processes as laid out in our constitution.

"No such petition has been received. Neither the constitution or rules of this leadership election can be changed retrospectively."

This could be a mistake and rile thousands of the party's grassroots supporters. At the very least it looks like Johnson's forced removal from office by his MPs could lead to the party's members being given a veto in the future. And that could be part of Johnson's legacy.

Cheerio!

Chopper
Chopper's Westminster (recess) Whisper
Priti Patel quietly gets on with the job
While her colleagues have been busy whacking chunks out of each other to ingratiate themselves with Liz Truss or Rishi Sunak in the battle to be Tory leader, one Cabinet minister is quietly getting on with the job: Priti Patel.
The Home Secretary is on the front page of today's Daily Mail launching a 'rapid removal' scheme for Albanian migrants. Last weekend she was strengthening football banning orders.
Trusted by Johnson, she has also been active behind the scenes in other policy areas, quietly getting on with the job.
She can do this because she has not taken sides, meaning that civil servants trust her in the power vacuum that is gripping the top of Government. She deserves immense credit for this.
Whether it is enough to keep her as Home Secretary when the new Government is formed on Sept 6 is a different matter altogether.
Florida Gov. Ron DeSantis speaks to a crowd of supporters during the Keep Florida Free Tour Credit: Luis Santana/Tampa Bay Times via AP
Republican Ron DeSantis's anti-woke crusade seems to be hitting the mark ahead of the 2024 race
By Nick Allen,
US EDITOR
Before his potential run for the White House in 2024, Ron DeSantis has to navigate the small matter of getting re-elected as governor of Florida in November.

The good news for Mr DeSantis is that he is popular, and his anti-woke crusade seems to be hitting the mark with the state's voters.

The bad news is that Democrats are going to go all in to derail him before he even gets to the first fence in the presidential race.

Earlier this week, Democrats in Florida held their primary and chose Charlie Crist to take on Mr DeSantis for the governorship.

In his victory speech Mr Crist said: "This guy [Mr DeSantis] wants to be President of the United States of America and everybody knows it.

"However, when we defeat him on November 8, that show is over."

Mr Crist, 66, is regarded as a moderate, safe choice by Democrats.

He was a Republican for decades, even serving as the Republican governor of the state from 2007 to 2011.

During his governorship he was lambasted by Republicans for hugging Barack Obama, and ultimately became a Democrat.

Despite his Republican roots Mr Crist seems set to launch a confrontational, heated campaign.

He has already accused Mr DeSantis of being a "bully" and "against democracy".

"Those who support DeSantis should stay with him and vote for him, and I don't want your vote," Mr Crist said recently. "If you have that hate in your heart, keep it there."
US Rep. Charlie Crist greets supporters Credit: Dirk Shadd/Tampa Bay Times via AP
Mr DeSantis responded to Mr Crist's primary win by detailing how his new rival had opposed every decision he made to keep Florida open in the pandemic, including "keeping kids in school and saving businesses."

"We will never, ever surrender to the woke agenda," Mr DeSantis said. "Florida is a state where woke goes to die."

Mr DeSantis is currently polling seven points ahead of Mr Crist, suggesting he will cruise to victory.

The Florida Chamber of Commerce has Mr DeSantis's approval rating at a healthy 54 per cent.

Under his stewardship the economy of America's third largest state is booming and unemployment is at just 2.7 per cent.

Mr DeSantis has also collected a campaign war chest of $132 million, a record for a candidate in a governors' race.

Meanwhile, Mr Crist is keen to have Joe Biden campaign for him in Florida, calling Mr Biden a "great man," and his presidency "phenomenal".

That may not be a good idea, with only 38 per cent of Florida voters approving of Mr Biden's job performance.

For Mr DeSantis victory currently seems assured, but the campaign offers the chance for him to further enhance his profile.

If he can not just win but crush Mr Crist, a seasoned and well known political figure, then it would give him a launchpad for the 2024 presidential campaign.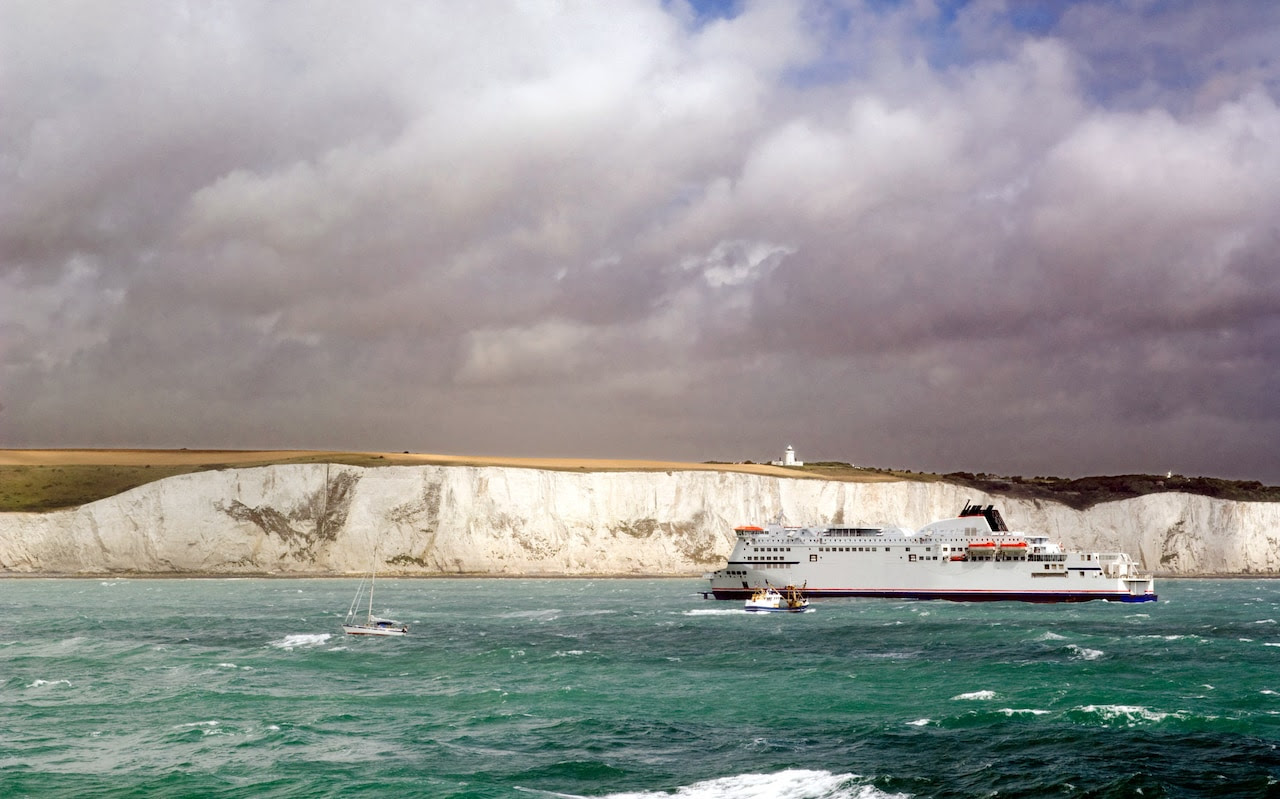 Britain has been accused of 'dirtying' the English Channel Credit: Alamy
UK and EU on the brink of sewage war after French complaint
By Joe Barnes,
BRUSSELS CORRESPONDENT
We've had fishing wars and vaccine wars, but now, is the latest cross-Channel battle between the UK and EU going to be over sewage?

The French – so often at the centre of our other great conflicts with Brussels – have launched an attempt to convince the European Commission to use every legal tool in its arsenal to challenge Britain after untreated sewage was dumped into the English Channel and North Sea.

Three MEPs, who are all members of Emmanuel Macron's centrist coalition, have penned a letter to Brussels, claiming Britain has allowed environmental standards to slip in the wake of Brexit.

"The English are literally in the process of dirtying the English Channel. They are doing the same thing in the North Sea," Pierre Karleskind, chairman of the European Parliament's fisheries committee, said.

He was joined by Nathalie Loiseau, who has perfected her Brexit-bashing rhetoric over the years, and the lesser-known Stéphanie Yon-Courtin.

Their message is simple: they want Eurocrats to sue Britain for allegedly allowing environmental standards to fall below levels expected under the Brexit trade agreement and the UN convention on the law of the sea.

"The violation of the principle of non-regression of environmental protection levels contained in the demands a response from the European Commission," their letter reads.

"We are calling on the commission to use all the political and legal means in its possession to end this situation."

It must be said, France and its leader, Mr Macron, have never missed an opportunity to take aim at Britain, whether the UK was in the right or wrong.

Acrimonious fallouts over coronavirus vaccines, post-Brexit fishing rights and migrants have all featured in our fractious relationship with Paris since leaving the EU.

Some argue that Mr Macron has deliberately sought to criticise Brexit amid fears it could one day face a similar campaign to remove France from the bloc.

Others, mainly those friendly to Paris, say the French president is simply holding Britain to account for the error of its ways.

While it is unclear whether his MEPs will be able to spark yet another conflict between Brussels and Britain, such attempts are now part and parcel of the Anglo-French relationship.
| | |
| --- | --- |
| | By Chris Price |
There are countless issues in the news but for 16-year-olds and their families today, what mattered was their GCSE results – and in at least one metric, state schools fared better than private ones.
The big story: Private schools' drop in top GCSE grades
These were the first grades for 16-year-olds who had actually sat exams since before anyone had ever heard of Covid-19. Yet GCSE results have remained close to their pandemic highs despite a government pledge to clamp down on grade inflation. More than half a million pupils collected their results this morning after sitting the first exams in three years. Schools were expecting a huge drop in top grades after exam boards were told to set grade boundaries at a "midpoint" between results in 2019 and in 2021. However, top grades have fallen by only 2.6 percentage points this year, despite the Government bringing an end to teacher assessments, which have inflated grades to record levels over the past two years. However, the decline was steeper in private schools compared to state schools. This graph shows how different kinds of school fared.

A pensioner has become the oldest person in Britain to ever pass a GCSE exam at the age of 92. Derek Skipper took his Maths GCSE in May and has passed with flying colours after he achieved a grade five – equivalent to a high B or low C – the highest possible on the foundation paper he took. What next then, for the pupils who have just found out their grades? Some will have done better than expected, and others will have received results worse than they had hoped. Read on for expert advice on retakes, re-marks and dealing with disappointment.
Who needs a degree?
Pupils will also be looking at what they can achieve even further ahead. While university students must pay through the nose for their degrees – and get saddled with debt for decades – apprentices can make tens of thousands while learning on the job. The average apprentice makes £16,673 a year, according to CV-Library, but some pay much higher. Here are the apprenticeships that pay the highest salaries. A university degree has traditionally led to better earnings but a tight labour market means employers are offering increasingly generous pay packets to non-graduates. Read on for the highest paying jobs without a degree.
Frat houses
Amid complaints that record numbers of privately educated British students are being snubbed for top universities, new stats have revealed that one in five teenagers educated in the private sector are exploring the opportunity of studying in the USA. However, the experience is not merely open to the elite. Numbers of British students studying abroad are soaring across the board, with a 45 per cent increase in students applying to study in the US between 2008 and 2018. According to 2021 stats from UNESCO there are currently around 10,000 British students at American universities. In 2016, Emma Hickson (now 24) from Poulton, Lancashire, travelled to South Carolina to begin her four-year degree. She looks back on her experience of frat houses and study halls.
Putin orders increase in Russian troops
Vladimir Putin has ordered the Russian army to recruit an extra 137,000 soldiers to boost it to more than 1.15 million – roughly 15 times larger than the British Army. This is the first formal increase to Russia's army since 2014. It comes as Russian units have lost an area of captured land larger than Denmark since Moscow's deepest advance into Ukraine as they struggle to turn territorial gains into operation successes, according to military analysts. The Kremlin's invasion has made little progress in recent months, after its troops were forced back from Kyiv in the early weeks of the war. Read how the situation has changed. Meanwhile, the Russian-occupied Zaporizhzhia nuclear plant has been disconnected from the national power supply, according to the the state energy operator, after fires broke out in the ash pits of a coal plant nearby.
August 26
| | |
| --- | --- |
| | By Danny Boyle |
An 80pc rise in energy bills has just been announced, piling more pressure on household budgets. We look at the measures the new Prime Minister might take to help ease the cost-of-living crisis.

Energy price cap leaps beyond £3,500

The energy price cap will jump to £3,549 in October, piling more pressure on strained household budgets ahead of a tough winter for British families.
New Prime Minister will offer urgent help with bills
The energy regulator this morning approved a record increase in bills – but households will have to wait to discover what the Government will do to help. In the last hour, Ofgem announced the cap on the cost of gas and electricity will almost double. From October, the average annual bill will rise to £3,549 – that is about £1,500 above the current level and around £2,200 more than last winter. The public will be assured today that the new prime minister will announce help with energy bills within days of taking office. Nadhim Zahawi, the Chancellor, said this morning that "help is coming" once the new Tory leader is declared on September 5. Our article explains the likely options under consideration. Experts believe the price cap could top £5,000 next year as Vladimir Putin chokes off Europe's energy supplies, threatening power shortages. But Ambrose Evans-Pritchard explains why he thinks the Russian leader has already done his worst and Britain will manage this crisis.

As they wait for more government help, many households will try to reduce their bills by using less energy. But how much can really be saved with techniques such as cooking in bulk or taking shorter showers – and are there other tricks you should know about? Anna Tyzack explains the simple energy-saving tips for every room in the home that will take the heat out of rising bills, but not have an impact on your quality of life.

PS: A campaign to force a Tory members' vote on whether Boris Johnson should have been forced to resign has nearly enough support.
Record UK visas | Migration has hit a new high as more than one million foreign nationals have been granted permission to live in the UK in a year for the first time. The number of visas handed to workers, students, relatives and other foreign nationals rose by 83pc to 1.12m – up 70pc on pre-Brexit levels, Home Office figures show. As Charles Hymas reports, it comes on top of a surge in illegal migrants crossing the Channel.
Vallance 'rolled his eyes' to crush dissent at Covid rules
Rishi Sunak's claim that the Government gave too much power to scientists during the Covid lockdowns has been backed by other Cabinet ministers. It came as Sir Patrick Vallance faced questions over how dissent raised in meetings of scientific advisers was handled, after the ex-chancellor alleged such concerns were left out of minutes and ministers were banned from talking about the "trade-offs". Chief reporter Robert Mendick hears how Sir Patrick seemingly rolled his eyes in apparent disapproval when an eminent sociologist called for a pilot study to examine the need for masks in schools. In her analysis, associate editor Camilla Tominey says Mr Sunak's defence could make him a scapegoat for leadership rival Liz Truss. And Fraser Nelson explains why he thinks the "great lockdown scandal" is about to unravel.
Identical twins who met their marital match
When you look at pictures of these families, yes, you are seeing double. In fact, double three times. Identical twin sisters married identical twin husbands – and both couples have had a son. The bizarre situation means the children, while actually cousins, are genetically more like brothers. It is an extremely rare phenomenon in which the one-year-old toddlers are known as "quaternary twins". See pictures and read their story.
Around the world: Fire cuts power in Ukraine
Swathes of southern Ukraine lost power after a fire near Europe's largest nuclear power plant forced its reactors offline, raising fears Russia would cut off electricity to Ukraine. The Russian-controlled Zaporizhzhia plant was cut off from the Ukrainian grid when blazes in the ash pits of a nearby coal-fired power plant caused by shelling twice severed transmission lines – and raised nuclear safety concerns.
By Christopher Hope,
ASSOCIATE EDITOR (POLITICS)
The apparently never-ending Tory leadership race is looking increasingly ridiculous given the challenges facing the country.

Today households are digesting the news that the price cap will jump to £3,549 a year, an 80 per cent increase in bills for a typical household.

These are eye-watering sums. Yet the Government's response has been wanting, with ministers absent from the airwaves in the hours after the price cap was announced.

Eventually Chancellor Nadhim Zahawi, who has been working on support options for households and businesses, popped up to say: "More help is on its way."

He added: "The reality is that we should all look at our energy consumption. It is a difficult time."

What else could Zahawi say? The country is waiting with bated breath for the Tories to decide who the next prime minister is. Zahawi is just minding the shop.

Instead Truss has triggered a predictable collective Twitter meltdown with some ill-advised comments about France's President Emmanuel Macron.

"President Macron friend or foe?" asked host Julia Hartley-Brewer. Truss replied: "The jury's out. If I become prime minister I will judge him on deeds not words." The usual Brexit-hating suspects like David Gauke, Gavin Barwell and Alistair Burt have piled in to criticise her. Anna Soubry was clearly unavailable.

Some context is needed here. Truss was taking part in a quick fire question and answer session at the end of the 90-minute leadership hustings in front of Tory members.

Hartley-Brewer's other questions included "Who would you rather be stuck in a lift with: Keir Starmer or Nicola Sturgeon?" and "Police officers – dancing the Macarena or investigating crimes?".

It was hardly the United Nations security council. But the temptation to take a tongue in cheek swipe at the French got the better of her.

And this was clearly a mistake – and one which she could have avoided as the same question was put to rival Rishi Sunak half an hour earlier (he answered: "Friend"). Despite what Macron privately thought of Boris Johnson (a "clown" in charge of a "circus"), the French president would not have said so in public.

It is time that Truss starts to behave and sound like a PM, rather than making quips about the French to curry favour with the Tory grassroots.

Truss is going to win. That is a near nailed-on certainty. New polling today from Techne of party members found that 64 per cent were backing her, against 36 per cent for Sunak.

Michela Morizzo, Techne's chief executive, told me: "It would now appear inevitable that Liz Truss will win the Conservative leadership race and become the UK's next prime minister.

"Every group we polled has her with a substantial lead over Rishi Sunak, including the people who are making the decision, Conservative members."

The challenges facing Truss are huge, starting with a meaningful (and costly) response to the soaring cost of energy within days of being handed the keys to 10 Downing St.

The country has waited long enough for the Conservatives to get their act together. It is time for them to step up.

Cheerio!

Chopper
Chopper's Ups and Downs
Good week for…
Sir Keir Starmer, after a GB news poll suggested Britons wanted him to be prime minister rather than Liz Truss or Rishi Sunak.
Boris Johnson, who made a final visit to Kyiv on Ukraine's independence day before his forced departure as Prime Minister, and said: "Ukraine can and will win this war"
Robert Halfon, the Tory chairman of the Education select committee who was vindicated for repeatedly saying during the Covid lockdowns that schools should not have closed.
Bad week for…
Liz Truss, the Foreign Secretary, who said "the jury is out" when questioned on whether French President Emmanuel Macron is a friend or foe.
Steve Barclay, the Health Secretary, who was heckled on the health crisis mid-interview by a woman outside a hospital who said: "Don't you think 12 years is long enough. Twelve years – you've done b***** all about it."
Sir Patrick Vallance, the chief scientific adviser to the Government, who it was claimed this week reportedly rolled his eyes in disapproval when experts questioned the need for masks during the pandemic.
The average family will have to find the money to pay for an 80pc increase in their energy bills this winter – and forecasters say this will rise more in the spring. At least MPs will be shielded from it…
The big story: 6m households' savings to be wiped out
The fact that everyone expected a huge rise in their bills does not make it easier. A bitter winter is coming as the cost of energy soars – on top of double-digit inflation. Ofgem confirmed today that the energy price cap will jump by an unprecedented 80pc to £3,549 per year in October. Yet that is only half the story, as the regulator has urged the Government to intervene immediately and warned the crisis for inflation-battered households "could get significantly worse through 2023". Economists have warned that around six million British households will have their savings wiped out completely following the increase, while forecasters fear that energy bills will almost double again to more than £6,600 per year by the spring, as Vladimir Putin chokes off Europe's gas supplies to send prices to record highs. Yet what will be the real impact on your bills? To help you budget your way through the cost of living crisis, use our energy bill calculator to see how your payments will change.

Faced with the terrifying update of the price cap, there is every chance the Conservatives will feel they have no choice but to prepare another Covid-style multibillion-pound bailout package. Yet Ben Wilkinson asks if pensioners really need any more help, given the state pension triple lock already protects them from rising energy bills. Andrew Lilico says the next prime minister should let the energy market do its job, while Kate Andrews warns that a Liz Truss premiership is starting to get quite expensive even without Government help on energy bills.
What groceries would cost
Larger households will be disproportionately hit by the rise in the energy price cap because of a quirk in the way it is calculated, experts have warned. The classic 2.4 family could end up spending £2,362 more than £3,549 cap when it comes into effect in October, according to calculations by broker Interactive Investor. Here is how. Rising bills threaten to wipe out the financial wiggle room of households up and down the country and to illustrate the extraordinary explosion in global markets, look here at what would be eye-watering cost of groceries if they rose as much as the price cap. How are you going to manage this winter as inflation and higher energy bills bite?
MPs are protected
The money-saving expert Martin Lewis has said that Liz Truss and Rishi Sunak must announce a "robust, strong policy" to help families cope with soaring energy prices amid fears lives could be lost this winter. He said "this is a catastrophe, plain and simple," and his reaction has been mirrored across the political spectrum. However, you will no doubt be relieved to learn that MPs will be shielded from the 80pc increase as there is no limit to what they can claim on expenses. Some politicians have been refunded amounts far higher than the current or forecasted energy price cap. Here are some of those who have made claims. In the face of crippling jumps in bills, mortgage rates and food costs, read how families can act now to minimise losses and protect their money. And read on for the complete guide to cutting your energy bill this year.
Liverpool shooting | A 36-year-old man has been arrested on suspicion of the murder of nine-year-old Olivia Pratt-Korbel. The man, from the Huyton area of Liverpool, was also arrested on two counts of attempted murder after a raid involving armed officers on Thursday night.
Around the world: Socialite 'jeweller' was Russian spy
A femme fatale Russian spy living undercover in Naples as a Peruvian jewellery designer lured Nato commanders into honeytraps, a new investigation has revealed. Olga Kolobova, whose 30-year-old husband had died suddenly and mysteriously in Moscow, actually sold cheap Chinese rings and bracelets bought off the internet when she spied for the Kremlin. Ms Kolobova fled to Moscow in 2018 after a decade of spying in Europe under the alias "Maria Adela Kuhfeldt Rivera" after the Bellingcat investigations agency started revealing the network of spies run by Russia's GRU foreign intelligence service. Read how she led a deliberately "chaotic personal lifestyle", befriending high-profile people.
August 27
As the energy price cap surges, the Chancellor has warned that middle-earners on salaries of £45,000 will need urgent help from the Government to pay bills that could jump more than 80 per cent.
Kay was forced out of her own dance company after some members disagreed with her views on gender – so she formed a new, different troupe.
"We are used to intolerance being imposed from the top down,"
"But what's taken people by surprise is that today the intolerance is coming from the bottom up. In particular from quarters traditionally viewed as liberal and open-minded, such as academia and the arts themselves."
…
Kay is fighting back. She has launched a new dance company, K2C0, which will encourage those who successfully audition to sign a Charter of Creation, agreeing that the workplace will be
"a safe space where we are free to express our thoughts and feelings without fear of being silenced, shut down or cancelled".
+
Rosie Kay was forced out of her own dance company after some members disagreed with her views on gender. She talks to Claire Allfree about hitting rock bottom, and her bold next steps
August 28
Liz Truss is considering a "nuclear" VAT cut of five per cent across the board to tackle the cost-of-living crisis, The

Telegraph

can reveal.
Headlines: Sunday's essential news
Around the world: Top stories