August 08
Metropolitan police / Revealed: Force strip-searched 650 children in two-year period
The children's commissioner for England has denounced the Metropolitan police's record on child protection after new data revealed that 650 children were strip-searched over a two-year period and the majority were found to be innocent of the suspicions against them.
Dame Rachel de Souza said she was not convinced that the force was "consistently considering children's welfare and wellbeing" after police data showed that in almost a quarter of cases (23%) an appropriate adult was not present during the search, despite this being a requirement under statutory guidance.
…
De Souza questioned how far this "intrusive and traumatising" practice was necessary after figures showed that in 53% of cases no further action was taken. "This low level of successful searches arguably indicates that this intrusive practice may well not be justified or necessary in all cases."
Appropriate adults were often absent during the search, and the majority of children were innocent
Deborah Coles of Inquest said: "This report is about state-sanctioned child abuse operating outside the law. It also reveals racist and discriminatory policing and the dehumanising of black children."

…

"The Met police continue to exacerbate the low confidence from the black community in the UK, and the new commissioner must admit the systemic nature of racism which manifests in the Met to ensure meaningful measures are developed to tackle the lack of trust and confidence."
Wagner / Russia's private military contractor comes out of the shadows in Ukraine war
Three billboards in the Ural city of Ekaterinburg shine a light on what was once one of Russia's most shadowy organisations, the private military contractor Wagner.
"Motherland, Honour, Blood, Bravery. WAGNER", one of the posters reads.
Another, which locals said first appeared on the outskirts of the country's fourth largest city in early July, depicts three men in military uniform next to the words "Wagner2022.org".
The billboards, which can be seen in several Russian cities, are part of Wagner's efforts to recruit fighters to join its ranks in Ukraine.
…
Wagner is believed to have played a central part in the capture of Popasna in May and Lysychansk in June, two strategically important towns that Russia largely razed to the ground during their seizure of the eastern Luhansk region. On Wednesday, British intelligence said that Wagner played a role in the capture of the giant Vuhlehirsk power plant in Ukraine's east.
As Wagner's role in Ukraine grew, so did its public image at home.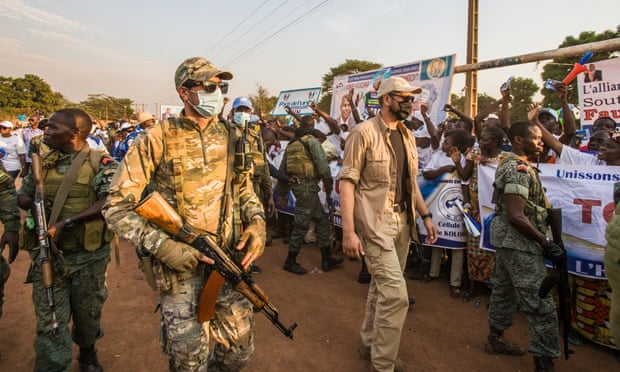 Russian and Rwandan security forces in Bangui in Central African Republic in December 2020. Photograph: Anadolu Agency/Getty Images
August 09
Conservative leadership / Liz Truss plans could cost £50bn a year, and will 'fail to help poorest cope'
Liz Truss's emergency tax and spending pledges could cost upwards of £50bn a year, with experts warning they will fail to help the worst-off deal with the rising cost of living.
Truss, the strong favourite to be the next prime minister, has promised to cancel the national insurance rise, scrap a planned increase in corporation tax, spend more on defence, and remove green levies on energy bills for households and businesses – all of which would cost billions. She has also suggested boosting freeports, which would entail tax cuts for business, and mooted an increase in the married tax allowance.
August 10
Crimea / Russian airbase on western coast damaged in explosions
Multiple social media videos showed explosions and clouds emerging from the Saky military base in Novofedorivka on the western coast of Crimea on Tuesday afternoon, prompting questions about how a location more than 100 miles (160km) from the frontline could have been attacked. Later a senior Ukrainian official appeared to claim responsibility, without giving details.
August 11
Gordon Brown / Former PM says energy firms unable to offer lower bills should be temporarily re-nationalised
Former PM calls for energy price cap to be scrapped and new lower prices renegotiated by government
Writing on the day after annual bills were forecast to top £4,200 by January, Brown said the government should "pause any further increase in the cap" and then negotiate separate company agreements to keep prices down after examining profit margins and available social tariffs.
Without urgent action, families are seeing nothing more than pain now and pain later.
..
Gordon Brown says
There were two great lessons I learned right at the start of the last great economic crisis in 2008: never to be behind the curve but be ahead of events; and to get to the root of the problem. And it is not tax cuts or, as yet, a wage-price inflation spiral that are the most urgent priorities for action, but dealing with the soaring costs of fuel and food: the cause of half of our current inflation.
…
instead of allowing Ofgem to announce an increase on a scale that will send shock waves through every household, the government should pause any further increase in the cap; assess the actual costs of the energy supplies being sold to consumers by the major companies; and, after reviewing the profit margins, and examining how to make standing charges and social tariffs more progressive, negotiate separate company agreements to keep prices down. They should work with businesses to cut consumption, as is happening in France and Spain, which have imposed their own cap on energy prices, dictated more by what people can afford than the current wholesale gas price in the marketplace.
Islamic State / Suspect Aine Davis arrested in UK on terrorism charges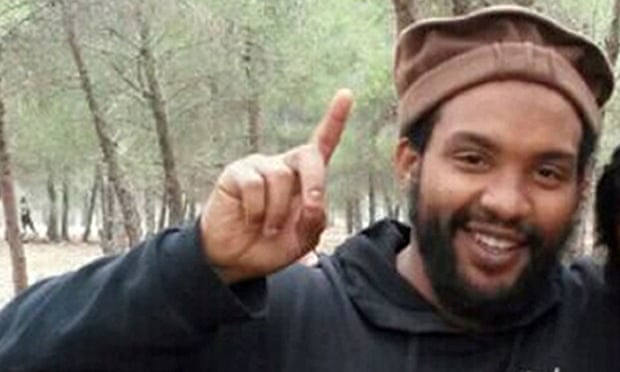 A man accused of being part of an Islamic State cell nicknamed the Beatles has been arrested on terror charges in the UK.
Aine Davis flew into Luton airport after his release from a jail in Ankara, Turkey, where he served a seven-and-a-half-year sentence for membership of the terrorist group.
The 38-year-old, from west London, was arrested at the airport by officers from the Metropolitan police's counter-terrorism command and taken to a police station in south London.
August 12
August 13
Trump raid / Potential violations of Espionage Act under investigation, warrant reveals
Donald Trump is under criminal investigation for potential violations of the Espionage Act and additional statutes relating to obstruction of justice and destroying federal government records, according to the search warrant executed by FBI agents at the former president's home on Monday.
The search warrant – the contents of which were confirmed by the Guardian – shows the FBI was seeking evidence about whether the mishandling of classified documents by Trump, including some marked top secret, amounted to a violation of three criminal statutes.
Zaporizhzhia / Russia rejects UN calls for demilitarised zone around Ukraine nuclear plant
Russia has rejected calls from the UN for a demilitarised zone around Europe's largest nuclear power plant, which has been occupied by Moscow's forces since early March and lies in a region of Ukraine that is set to become a new frontline of the war.
Russia's permanent representative to the body, Vasily Nebenzya, told Interfax on Friday that Moscow must "protect" the Zaporizhzhia plant. A withdrawal of its troops would make the facility "vulnerable … to provocations and terrorist attacks", he said.
Gas / UK fuel exports to Netherlands up by 67% in June, data shows
British exports of fossil fuels more than doubled in value in June compared with the same period last year, the latest trading data from HMRC shows.
More than £1bn of that went to the Netherlands, home to some of the continent's biggest gas storage facilities.
The figures come as countries across Europe rush to bank energy supplies for the winter as Russia restricts flows of gas via its Nord Stream 1 pipeline in an apparent attempt to press them to drop their support for Ukraine.
…
Dutch natural gas storage facilities were filled to 50% of their capacity at the end of June, about two months earlier than normal. The filling of the facilities accelerated in May when the Dutch government offered a €400m (£339m) subsidy for gas companies to fill storage facilities during the summer season.
August 14
A two-day weekend just isn't long enough, but I hope you've made the most of yours.
On Friday, it was announced eight areas across England are going through drought. For a notoriously damp island, this has understandably alarmed many. Instead of throwing in the towel however, these farmers decided to heal their soil through environmentally-friendly techniques. It won't make it rain, but it is one thing that they have control over and can do to make a difference.
Nimo Omer
Assistant editor, First Edition