Extending reach | Xi moved to consolidate the Communist Party's hold over the world's second-biggest economy, touting plans for sweeping changes to China's bureaucracy and more influence within private companies. He said the party would roll out plans for "deepening structural reform" in the financial sector and boost control over science and technology, as well as "step up party-building work" in private businesses.
China's economy is showing signs of a stronger rebound after it abandoned Covid restrictions, with manufacturing posting its biggest improvement in more than a decade.
Nuclear reaction | Russian uranium deliveries to a new Chinese reactor are raising US concerns about the potential to produce weapons-grade plutonium, Jonathan Tirone reports. The CFR-600 fast-breeder reactor on Changbiao Island is one of the world's most closely watched nuclear installations, with US intelligence forecasting it could help Beijing increase its stockpile of warheads by as much as four-fold in the next 12 years.
Read how a satellite network used throughout Europe and by the Ukrainian military faced an unprecedented cyberattack as Putin began his invasion of Ukraine.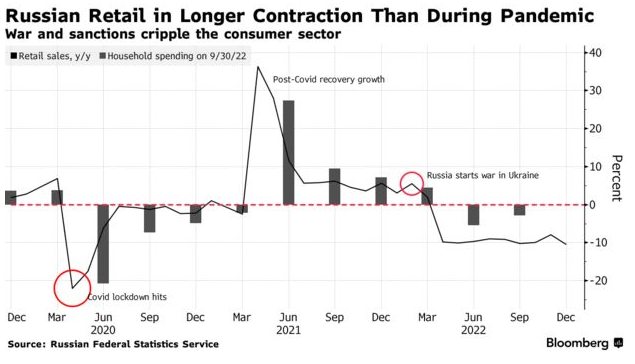 For all of Putin's upbeat talk of expecting "some growth" in the economy this year, Russian retail sales remain in a contraction more drawn out than during the pandemic. The downturn represents a "permanent drop" in living standards, similar to the impoverishment seen after the 2014 annexation of Crimea, according to Bloomberg Economics.
Powering up | The usually sleepy US Department of Commerce isn't a sought-after perch for those looking to make their mark in Washington. Jenny Leonard and Eric Martin report on how Commerce Secretary Gina Raimondo is injecting new energy into the role that under President Joe Biden has become more high profile and more politically perilous, overseeing a lot of what is China policy these days.
---
Best of Bloomberg Opinion
No letup | Even as Prime Minister Rishi Sunak basks in rare positive coverage following his Brexit deal with the European Union, the UK's economic and social malaise keeps intervening. Inflation in shops hit a record, while house prices fell at their steepest annual pace since 2012 last month. Meanwhile, treatment waiting times for cancer patients in England are at an all-time high.
Economic challenges | Bola Tinubu was declared the winner of Nigeria's presidential election, which was marred by glitches and delays in collating the results, prompting the two main opposition parties to boycott the process. The victory places him at the helm of Africa's biggest economy as it confronts a deepening fiscal crisis, acute shortages of local and foreign currency and gasoline, and widespread insecurity.
Tinubu during celebrations at his campaign headquarters in Abuja.  Photographer: Kola Sulaimon/AFP/Getty Images
And finally … You can fly for hours above Gabon over a nearly unbroken stretch of textured green carpet — one of the world's largest intact rainforests that absorbs and stores millions of tons of Earth-warming, ozone-destroying carbon dioxide each year. Yet as Antony Sguazzin and Natasha White explain, in today's financial markets, Gabon's trees are worth more dead than alive, critical to the African nation's timber industry. Despite the billions pledged worldwide to fight climate change, little has been distributed as compensation for the global benefit that trees provide.
Logs awaiting shipment in 2022. Photographer: Guillem Sartorio/Bloomberg
---