30 Jan
Firefighters and control room staff have voted to strike over pay, the Fire Brigades Union has announced. If they go ahead, the strikes will be the first nationwide fire strikes over pay since 2003. It comes as Rishi Sunak is under growing pressure to end the wave of public sector strikes. Up to half a million workers including teachers, train drivers and civil servants will start walkouts on Wednesday.
31 Jan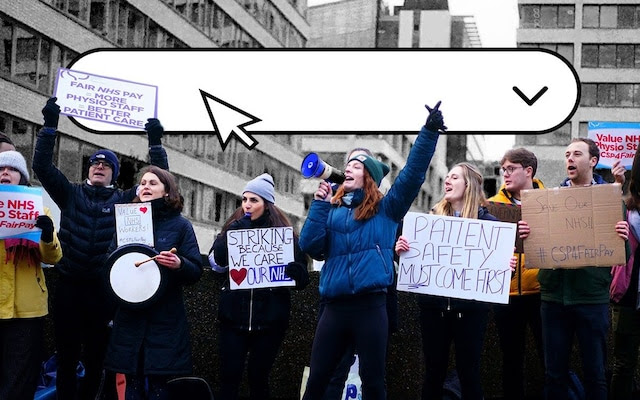 Britain is getting used to strikes, but the country is facing the biggest day of industrial action for over a decade tomorrow involving seven unions. Schools will close across swathes of the country as train drivers, civil servants, airport and university staff join teachers in industrial action in what is becoming a de facto general strike. It will see around half-a-million workers down tools, but some areas will be hit worse than others. Use our interactive tool to select your region to see the likely impact of public sector strikes in your area. Downing Street described tomorrow's day of mass strike action as "very difficult", as it warned people to expect disruption to their daily lives. "We are upfront that this will disrupt people's lives and that's why we think negotiations rather than picket lines are the right approach," said the Prime Minister's spokesman. Meanwhile, Unison announced that thousands of workers across five ambulance services in England will strike on February 10.
Commuters will bear the brunt of this week's action, as 15 train operators are set to run no trains both tomorrow and Friday. The walkouts by both the Aslef and RMT unions mean there will not even be reduced services for passengers left weary by months of strikes. Business live blogger Chris Price lists the affected companies. It came as rail union TSSA today received two formal offers for all members employed by the train companies in the national dispute over pay, job security and conditions. The union's executive is deciding whether to put the deal to members.
Mythbusting school strikes
When teachers go on strike, they have a history of not backing down. The Burston School Strike in Norfolk in 1914 was the longest in British history. They left the classroom and did not go back for 25 years, protesting at the unfair dismissal of a teacher. More than a hundred years on, the National Education Union is hoping the current industrial action will be much shorter and more successful. But what is it actually like to be a teacher and how do their salaries measure up to those in other industries? Ben Butcher and Alex Clark examine what the data really shows about working conditions in classrooms.
1 Feb

As one of the biggest strikes in a generation ground the country to a halt today, we have analysis of which groups of workers have the most, and least, support from the public.
Schools closed across swathes of the country today, as teachers joined train drivers, civil servants, airport and university staff in taking industrial action. The National Education Union (NEU) estimated that 85 per cent of schools in England and Wales were affected by teacher walkouts. Mary Bousted and Kevin Courtney, joint general secretaries of the NEU, said it was "no cause for celebration, but an indication of the level of anger amongst our members". Union leaders added that the Education Secretary, Gillian Keegan, needed to "step up with concrete and meaningful proposals" on teachers' pay to prevent further strikes. However, Ms Keegan said this morning that public sector demands for double digit pay rises were "economically incoherent". She added that reports of teachers having to rely on food banks because they are not paid enough were "not credible".
Rishi Sunak accused Sir Keir Starmer of siding with "extremist protesters and union bosses", as they clashed over public sector industrial action. The Prime Minister told the Commons that the Labour leader had voted "with the unions to oppose minimum safety levels" and "with Just Stop Oil to water down the Public Order Bill". Sir Keir hit back and said: "After 13 years in power, trying to blame the Labour Party for his failure to sort out the strikes is rank pathetic." Jack Maidment writes that today's PMQs was one of the most predictable in history, with the Labour leader only wanting to talk about allegations of Tory sleaze and the Prime Minister attempting to focus on Labour's failure to condemn public sector strike action.
2 Feb
| | |
| --- | --- |
| | As they descended on Cusco, Remo Candia insisted to his followers that their anti-government protests remain peaceful. Six hours later, he had been shot dead. |
| | |
| --- | --- |
| | In Beijing, people are disappearing quietly as police detain young demonstrators for as little as holding up a blank piece of paper. Meet the protestors paying the price for defying China. |
| | |
| --- | --- |
| | An alcohol-fuelled crime wave is underway in the remote Australian town of Alice Springs. Now it threatens one of prime minister Anthony Albanese's key election pledges. |
3 Feb
Raab accused of 'abusive and intimidating' behaviour
Anti-Brexit activist Gina Miller has accused Dominic Raab of being "abusive and intimidating" towards her following a debate. Millionaire Ms Miller said that after the pair appeared on Radio 4's Today programme in 2016, Mr Raab told her he "couldn't make up his mind" as to whether she had "too much money" or was "just stupid". Ms Miller also claimed Mr Raab "shouted" at a young runner to "go get me a "f***ing car". Speaking to the Independent, a source close to Mr Raab said: "These are baseless and malicious claims, timed to jump on a political bandwagon and give Gina Miller the publicity she craves."
There is a mystery in Westminster about the delay over the appointment. Priti Patel, the former home secretary who is popular with the grassroots, was reported earlier this week not to want the job.
One former Conservative Cabinet minister was not surprised, describing the role as a "poisoned chalice" because of the unhappiness among the members about Sunak's leadership.
4 Feb
Around the world: Top stories
Go beyond the headlines with our selection of the most interesting stories of the week.
Here is a selection of articles we think you'll be interested in today.
5 Feb
 Liz Truss is breaking her silence as she blames a "powerful economic establishment" and her own Conservative Party for her downfall.

In her first intervention since leaving No 10, the former prime minister has criticised Rishi Sunak's increase to corporation tax, while revealing she still stands by her radical policy agenda. However, she claims "the forces against it were too great" for it to succeed. In an exclusive essay for The Telegraph, she admits that she is not "blameless" for the premature end to her time in Downing Street, but believes was "not given a realistic chance" of seeing her policies through.

Plus, the United States on Saturday night shot down a Chinese spy balloon off the east coast of America, three days after it was first spotted flying over sensitive nuclear military bases.
Sunday long-read
Why private 'art islands' are the new status symbol of the super rich
Never mind fusty galleries in grey, rainy cities – the world's richest collectors are migrating their masterpieces to private islands
Online misogyny set to be outlawed
Misogynistic abuse should be banned online, the Government believes.

Michelle Donelan, the Culture Secretary, is understood to believe the Online Safety Bill has the power to stamp out attacks on women on the internet.

The plans to crack down on online misogyny come as leading Tory peers including Baroness Morgan, a former culture secretary, are pushing for the law to go further to include a legally-enforced code of practice requiring social media firms to prevent online violence and abuse against women and girls.

"Michelle completely agrees with what the peers are saying, but this is stuff that the Bill is already doing," said a government source.