Twee dagen na de stakingsdag in de openbare sector was er alweer een actie in België,waarbij nogmaals een oud zeer werd boven gehaald. Deze keer geen staking, maar wel een betoging van de non-profitsector.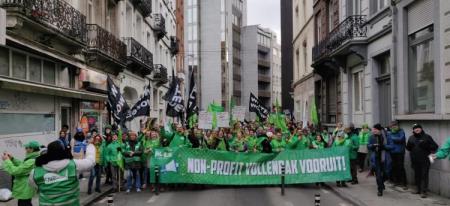 Met meer dan 20.000 waren de zorgverstrekkers gisteren op de Brusselse straten om de regering wakker te schudden. De zorg- en cultuursectoren vragen een duidelijk investeringsplan voor de komende jaren.
"Het moet verder vooruit",
zegt Mark Selleslach van de christelijke vakbond, de initiatiefnemer van de betoging.
Tijdens de Corona periode werd ere opgeroepen om voor het zorgpersoneel in de handen te klappen om 20.00 uur en om witte lakens buiten te hangen. Men zou denken dat er toen genoeg burgers en politiekers het nut inzage van het moeilijke of belastende werk van het zorgpersoneel, van artsen tot verplegers.
Maar eens de Corona perikelen achter de rug waren sprak niemand nog over al die mensen die toen in de bres stonden om overuren te doen en te helpen waar ze konden.
Opvallend ook en storend is dat men nu meermaals hoort praten over cliënten in plaats van patiënten. Zieken en zij die zorgbehoevend zijn zijn geen commerciële wezens of consumenten die als handelswaar moeten bekeken worden. Eveneens merken wij in België een zeer slechte evolutie waar ziekenfondsen de Amerikaanse toer op gaan en allerlei uitsluitingen brengen op de gewone ziekenverzorging, terwijl zij dan hun leden een dure extra ziekteverzekering aanprijzen om hen dan financieel naderbij te komen. Zo zijn hospitalia en dentalia verzekeringen nu in overvloed te vinden. Maar eens boven de 65 worden die onbetaalbaar voor de meeste mensen, en hebben de jaren aanbetalingen weinig opgebracht daar zij wanneer ze het meest nodig zijn niet meer van toepassing zullen zijn, wegens het afzeggen van het te dure lidmaatschap.
Beschamend dat de regering nu zelfs niet de moeite doet om er voor te zorgen dat de diensten die zorg verlenen hun werkmiddelen geïndexeerd raken en dat er niet alles wordt aan gedaan om het werk te verlichten.
Samen blijven die verzorgers gaan om meer personeel, betere lonen en investeringen in zorg, welzijn en cultuur te eisen! De meer dan 20.000 aanwezigen zal zelfs de Belgische regeringen niet ontgaan zijn. In Groot-Brittannië en Frankrijk zijn ze in hetzelfde bedje ziek. Op het eiland worden wel al heel wat buitenlanders in de zorg ingelast, maar toch blijven de tekorten nog enorm en zijn de verzorgers (ambulanciers, brandweerlui, verplegend personeel, ziekenhuisadministratie, hulpposten personeel met het spoedpersoneel) al weken hun stem aan het uiten terwijl ze het werk hebben plat gelegd. Wij kunnen slechts hopen dat het hier in België niet zo ver zal moeten komen.
Waarom wordt er hier niet, zoals in Engeland, de mogelijkheid gegeven aan buitenlanders met een medisch diploma op zak, om hier ook aan het werk gesteld te worden in de medische sector? Zulk een werkgelegenheid zou het werk van vele handen wat lichter maken.
Het wordt hoog tijd dat de regering eens gaat inzien dat scholing, ziekenzorg en cultuur ook lijken die sectoren niet bepaald geld op te brengen, dat deze een noodzakelijk iets zijn om een gemeenschap gezond te laten blijven. Mar daar ligt voor de meeste politici het probleem. Zij beschouwen zulke sectoren enkel als groepen waar men eindeloos geld blijft inpompen terwijl het hen niets financieel opbrengt. Wat zij niet zien is de menselijke factor, waar er een algemeen goed welzijn er voor zorgt dat de rest van de maatschappij wel normaal zal kunnen functioneren en zo voor een algemene welvaart van het land zal kunnen zorgen.
Het wordt hoog tijd dat de politici hun ogen en hun handen zullen open gaan. De sector verwacht nu van alle regeringen dat ze eindelijk de onderhandelingen zullen starten!
+
Voorgaande
++
Aanvullende artikelen
+++
Gerelateerd