Ukraine's Foreign Ministry spokesperson Oleg Nikolenko said on Sept. 24 that Ukraine
"has requested an urgent meeting"
of the UN Security Council over Russia's sham referendums in the occupied parts of Luhansk, Donetsk, Kherson, and Zaporizhzhia oblasts.
"Russia must be held accountable for its further attempts to change Ukraine's internationally recognized borders in a violation of the UN Charter,"
Nikolenko said. The illegal voting on joining Russia started in these four regions on Sept. 23 and ran through Sept. 27, often giving the people no choce to vote properly as they would like, because there were always others watching how they voted. There were even ladies accompanied by soldiers going from door to door to ask the inhabitants to bring out their vote.
The Federation Council, the Russian parliament's upper house, on Oct. 4 unanimously rubber-stamped the illegal annexation following its approval by the Constitutional Court and the State Duma, the parliament's lower house. To become Russian law, the annexation bill had to be signed by Russian dictator and war criminal Vladimir Putin, which he proudly did. On Sept. 30, Putin signed treaties to illegally annex Ukraine's Donetsk, Luhansk, Zaporizhzhia, and Kherson oblasts after staging sham referendums in the areas. The United Nations, the U.S., and other Western countries have opposed the annexation of the Ukrainian territories by Russia.
As a result of the annexation, Russian authorities have banned local men of the age subject to conscription from leaving Russian-occupied territories in Zaporizhzhia Oblast, Governor Oleksandr Starukh said.
"Ukraine will retrieve what it owns,"
President Volodymyr Zelensky said on Oct. 1.
"There is no trace of any pseudo-referendum there,"
the president said, adding that Russians will see a "more and more" different reality compared to what their officials say.
Russia also confirmed defeat in . According to Russia's Defense Ministry, Russian troops pulled out of the strategic city Lyman, fearing encirclement.
On the 5th of October President Volodymyr Zelensky said that dozens of settlements had been liberated in Kharkiv, Donetsk, Luhansk, and Kherson oblasts during the past week.
"Ukrainian forces are moving fast and powerful in the south as part of the ongoing defensive operation,"
Zelensky said in an evening address. Losing access to routes near Lyman that allowed Russia to supply its troops for offensives south and west of the city,
"presents a sort of a dilemma for the Russians going forward."
told U.S. Defense Secretary Lloyd Austin to reporters.
Already on Oct. 2 Ukrainian armed forces recaptured two settlements in the north of Kherson Oblast, Arkhanhelske and Myroliubivka, amid their counteroffensive. It looked like Ukrainian troops are making progress in Kherson Oblast due to their skills and strategic use of weapons supplied by Western countries. Ukraine has
"changed the dynamics, and it's created an opportunity for the Ukrainians to maneuver,"
said Austin.
Not one of the four annexed regions of Kherson, Zaporizhzhia, Donetsk and Luhansk, which supposedly voted to be absorbed into Russia in "referendums" that have no legitimacy under international law, is now fully under Russian control.
Behind the unconvincing pomp in Moscow, Andrew Roth describes a country in turmoil. Hundreds of thousands of men of fighting age have fled Putin's draft. Opinion polls show tensions have not been as high as they are now in Russia for decades.
In a video address on Oct. 7, President Volodymyr Zelensky said 29 settlements have been liberated, including six in Russian-occupied Luhansk Oblast. In total, over 2,400 square kilometers and 96 settlements have been liberated since the start of Ukraine's counteroffensive.
"The liberation of all our land is the basis of peace and security for all Ukrainians,"
Zelensky said.
At around 6 a.m. on Oct. 8 Ukrainian media reported an explosion at the Kerch bridge in Crimea. That bridge was the connection between the Crimea and Russian mainland.  The bridge is highly symbolic to Russia and is also an important logistical supply route for Russian forces in Crimea and in Russian-occupied southern Ukraine. Up to now it is not yet clear who brought the damage to the bridge. some even say it could be a false flag from the Kremlin to attack Ukraine more severely. Because the day after, everywhere around in Ukraine civilians came to suffer under atrocious bombardments far from military targets, so clearly meant to kill civilians and to discourage the Ukrainians.
We know that the Russian force suffered already from poor training, equipment, leadership and morale, and now the Russian soldiers as well the pro-Russians living in Crimea got a blow in the face and questioned also if this attack also could have come out of anti-war Russians or people against Putin.
The destruction of the 12-mile Kerch bridge, he longest bridge in Europe, has been a fantasy of pro-Ukrainian social media trolls – and the nightmare of their Russian counterparts – since the beginning of the war.
Mikhailo Podolyak, an advisor to president Zelensky, mischievously suggested the Russian military had blown up the bridge in order to discredit the Russia's Security Servic FSB, who are responsible for guarding it. Some people seemed to take his trolling seriously.
Other Ukrainian officials did not explicitly take responsibility, but posted enough mocking social media memes to make clear they wanted the world to believe they did it.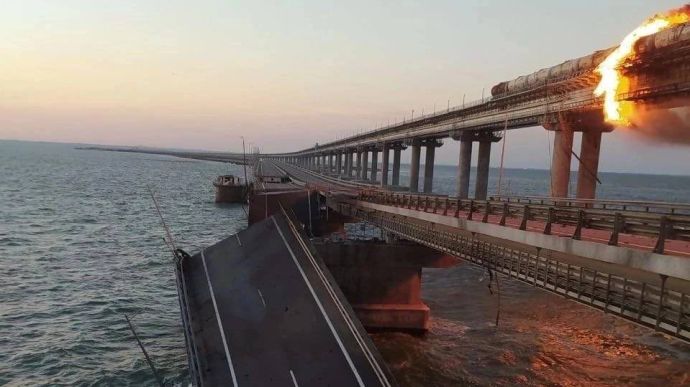 Following the early morning explosion at the Crimean Bridge, Mikhail Razvozhaev, head of the illegal Russian occupation government in Ukraine's Sevastopol, announced that rationing for grocery products and gasoline had been introduced in the city. About an hour later, Razvozhaev lifted the ban, claiming that the occupation authorities had established the logistics for food and fuel delivery and that there would be no shortages.
Russia's proxy in occupied Kherson Oblast, Volodymyr Saldo, said that 30,000 children with their parents could be sent to Krasnodar and Stavropol regions, as well as the Russian-occupied Crimea.
Vladimir Putin called the explosion a
"terrorist attack aimed at destroying Russia's critically important infrastructure,"
as quoted by TASS, a Russian state news agency. Weird to hear that he calls it a terrorist act whilst his troops seem to deliver a lot of terrorist attacks and war crimes in Ukraine.
Russian forces struck several communities in Sumy Oblast on Oct. 9 with various weapons, damaging the building of an agricultural company in one village, Sumy Oblast Governor Dmytro Zhyvytskyi reported. One woman was killed in the Myropil community as a result of the attacks, Zhyvytskyi said.
Facing multiple defeats on the battlefield, Russia intensified attacks on civilian infrastructure,
On the morning of Oct. 10, Russian missiles and kamikaze drones struck central Kyiv and other major cities in Ukraine in the largest-scale coordinated missile attack against Ukraine since the full-scale invasion began on Feb. 24. Dozens of other explosions were reported across Ukraine, including in Kharkiv, Kryvyi Rih, Lviv, Dnipro, Ternopil, Kremenchuk, Khmelnytskyi, and Zhytomyr.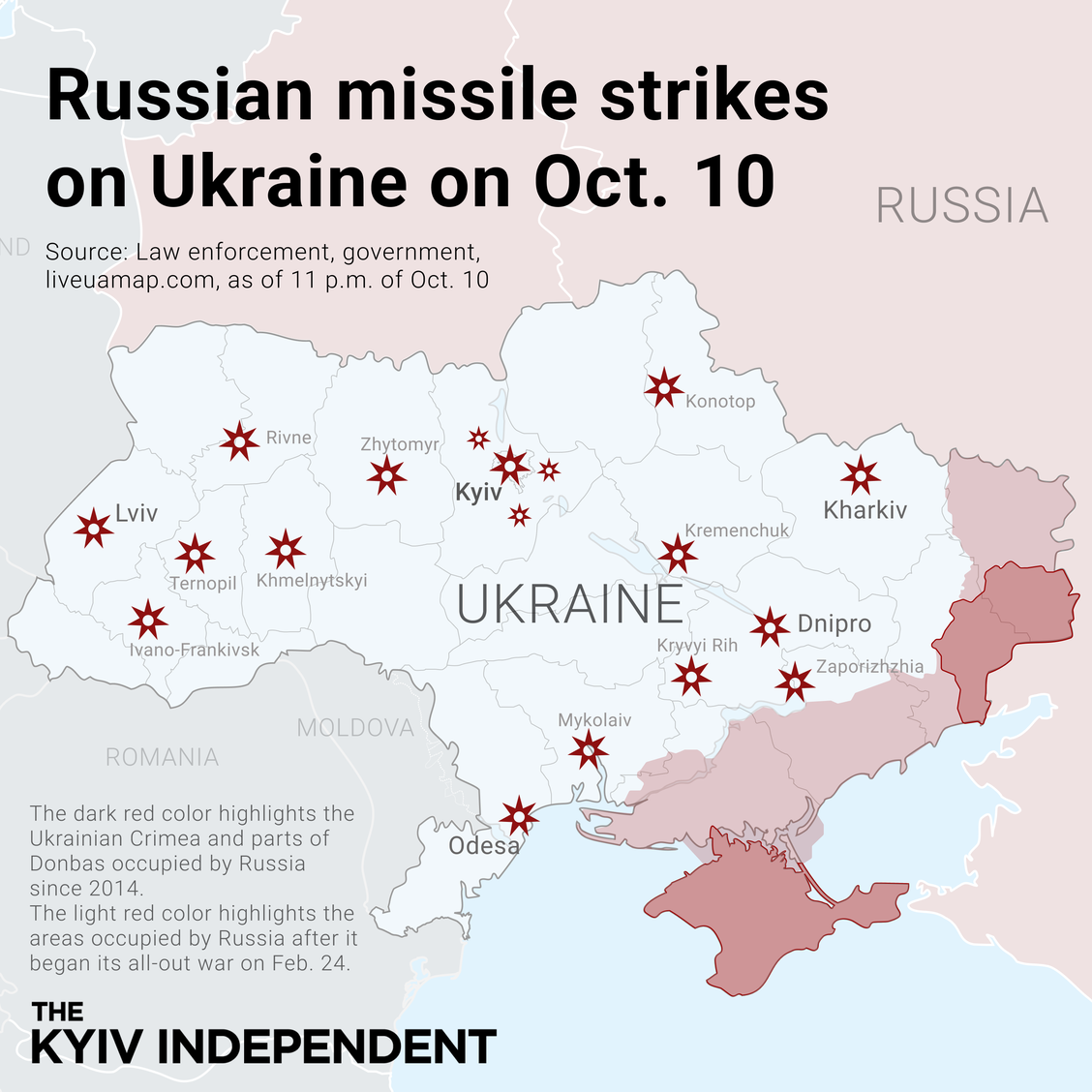 According to the General Staff, a total of 84 cruise missiles and 24 kamikaze drones were launched at Ukraine on Oct. 10, of which 43 and 13 were shot down respectively.
As a result of the attacks, at least 105 people were injured, and 19 were killed across the country. 117 different sites around the country were hit, dozens of which were residential. Eleven sites of critical infrastructure were reportedly hit in the attacks.
From the images reaching us here in Belgium, we can only conclude that mainly civilian targets were the target of Putin's revenge attack. The time of the attacks and the locations where the rockets came down clearly indicate that the intention of those rocket attacks was to inflict as many civilian casualties as possible in order to further undermine Ukrainians' hopes of victory.
Only blocks away from where some of the missiles hit, the president gave a video message to the Ukrainian people, telling them not to lose hope.
According to Zelensky, Russia aims to destroy Ukraine's energy system and to cause panic and chaos among people.
"They purposefully chose such a time and such targets to cause as much damage as possible,"
he said.
Also, some energy infrastructure facilities in Kyiv, Khmelnytskyi, Lviv, Dnipro, Vinnytsia, Ivano-Frankivsk, Zaporizhzhia, Sumy, Kharkiv, Zhytomyr, Kirovohrad oblasts and in the south of Ukraine, were struck by Russian forces according to the President.
"There may be temporary power outages now, but there will never be interruptions in our confidence in (Ukraine's) victory,"
added Zelensky.
**

The enemy launched a second wave of terrorist attacks against our country. As of this morning, there were 28 missiles, of which 20 were shot down. More than 15 drones, almost all of them are Iranian combat drones. Most were shot down.

Restoration works are taking place quite quickly and efficiently throughout the country. If it wasn't for today's strikes, we would have already restored the energy supply, water supply and communications that the terrorists damaged yesterday. And today, Russia will achieve only one additional thing: it will delay our recovery a little.

Where there was destruction, the infrastructure will be renewed everywhere. Where there were losses, there is already or will be construction. Where there were any hopes of the enemy, there will be ruins of Russian statehood.

Mankind and humanity are stronger than any terrorists. I am thankful to everyone who fights and works for our victory!
On Oct. 10, Russian forces hit critical and civil infrastructure objects in 12 oblasts and Kyiv, causing more than 30 fires, according to the officials.
On Oct. 10 it was the "first time from the beginning of the war" that Russia has "dramatically targeted" energy infrastructure, Energy Minister Herman Haluschenko told CNN. However, the Ukrainian energy system is stable, the minister said.
Volodymyr Zelenskyy informed President Biden about the consequences of the massive missile strikes against civilian infrastructure perpetrated on Monday by the Russian aggressor. Zelensky underscored that recent large-scale damages of critical energy infrastructure pose serious challenges ahead of the upcoming winter and the beginning of the heating season.
"Today's strikes against civilian targets throughout Ukraine are a sign of weakness of the Russian army which is losing on the battlefield. It is pure terror. But we will not succumb to the Russian missile blackmail,"
the Head of the Ukrainian State underlined.
Russia hit two of the substations in Lviv Oblast for the second time in two days, Governor Maksym Kozytskyi said. Four electrical substations were providing Lviv Oblast with electricity and were important for exporting electricity abroad, the governor said. More than 300 settlements, however, remain without power after Russia's mass attack, Ukraine's State Emergency Service reports.
The escalation we can notice should worry us more, now Belarus seems to be involved more. The Institute for the Study of War said in its latest assessment that open-sourced data supports Ukraine's military reports that Russia is loading trains with weapons, equipment, ammunition, and other unspecified materiel from Belarus to relocate to areas of engagement further south and east. The experts think such activity is
"incompatible with setting conditions for a large-scale Russian or Belarusian ground attack"
against Ukraine from Belarus. Though Ukraine did not plan and does not plan military actions against Belarus, President Volodymyr Zelensky said during an extraordinary G7 summit.
"In order to completely remove this provocation, to remove these narratives by Lukashenko, to remove even the assumption of any alleged threat from us, we offer our solution,"
said Zelensky.
President of Ukraine Volodymyr Zelensky held another meeting of the Staff of the Supreme Commander-in-Chief on Tuesday.
Information was heard about the current situation on the frontline and the recent actions of the enemy. The professional work of the units of the Armed Forces, which provide air defense of Ukraine, was noted. Those present also emphasised the urgent need to provide the army with modern air defense and missile defense systems.
The parties discussed steps for the further de-occupation of the temporarily occupied Ukrainian territories.
Minister of Internal Affairs Denys Monastyrskyi reported on the course of liquidation of the consequences of the destruction caused by the massive missile strikes of the Russian army, as well as on the measures taken to protect critical infrastructure facilities.
The participants also considered the preparation of the army for the winter period.
In the meantime Russia tries to "improve the delivery" of its war by appointing General Sergei Surovikin as overall commander of its Joint Group of Forces leading the war effort in Ukraine, the U.K. Defense Ministry reported. Surovikin
"will likely have to contest with an increasingly factional Russian defense ministry which is poorly resourced to achieve the political objectives it has been set in Ukraine,"
reads the report.
News also came to us that Russian troops have kidnapped Valerii Martyniuk, deputy head of the Zaporizhzhia Nuclear Power Plant, holding him in an unknown place and allegedly torturing him, according to state nuclear company Energoatom. Russian forces are trying to get information about the plant staff from Martyniuk
"to force (the plant's) personnel to work for (Russia's nuclear corporation) Rosatom as soon as possible,"
Energoatom stated. Allowing Russia to claim ownership of Zaporizhzhia would represent the biggest nuclear theft in history.
Tomorrow Vladimir Putin and Turkish President Recep Tayyip Erdogan will meet in Kazakhstan, Russian state-controlled news agency Interfax reported, citing Putin's spokesman Dmitry Peskov. They will discuss Ukraine and their countries' relations.
+
Preceding
++
Additional reading
+++
Related