August 29
After China's military drills following House Speaker Nancy Pelosi's visit to Taiwan, the ball was back in US President Joe Biden's court to respond.
His military generals did so by sending two guided-missile cruisers through the Taiwan Strait yesterday, in what the US Navy's Seventh Fleet called a "routine" trip. In many ways, it was: US warships regularly transit the waterway every few months on average.
Key reading:
The difference this time, however, was that the US sent two vessels at the same time, and they can hold more missiles than the destroyers that are typically used in transiting the Taiwan Strait.
The move indicated the Biden administration was seeking to send China a message without provoking Beijing into an escalatory response. While former President Bill Clinton sent aircraft carriers to the Taiwan Strait in the 1990s, this time around the USS Ronald Reagan carrier strike group monitored the drills from afar.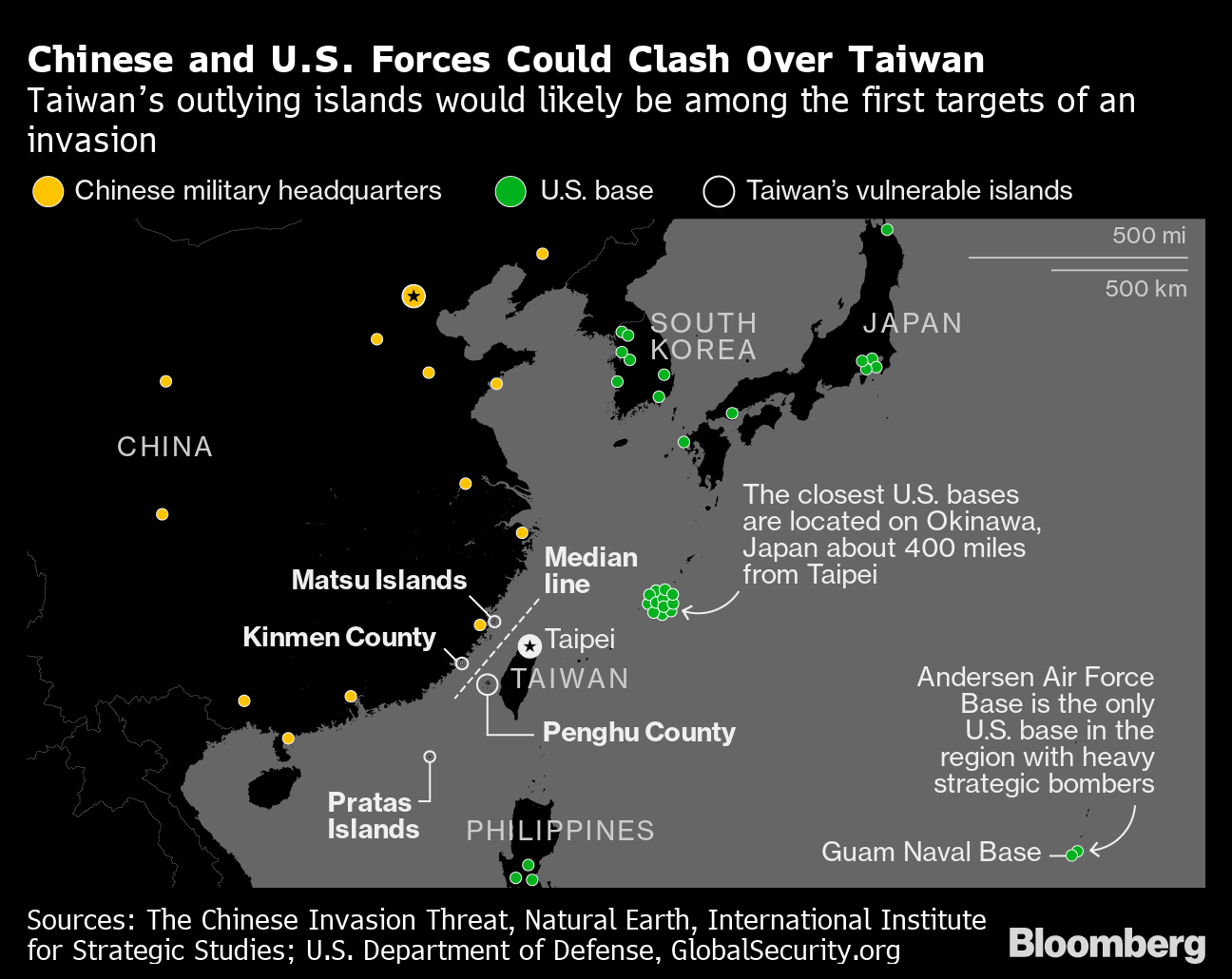 China's response was relatively muted. The Foreign Ministry made a comment about how the US ships were sabotaging peace, and the Communist Party-backed Global Times newspaper said the "old warships" couldn't "deter the PLA at all."
At a time when hawks in both countries are pushing for ever-tougher responses, any bit of restraint is notable. Still, it's hard to see the status quo returning to what it was even a year ago.
The next few months will be crucial to see if Biden and President Xi Jinping, who faces a leadership reshuffle in the next few months, can put the US-China relationship on a more stable footing. One sign will be whether they hold their first face-to-face meeting at the Group of 20 summit in Bali in November.
Even if they do meet, it's looking harder than ever for the two sides to find common ground on Taiwan over the long term. — Daniel Ten Kate
A Chinese military helicopter flies past Pingtan island, one of mainland China's closest points to Taiwan. Photographer: Hector Retamal//AFP/Getty Images
August 30
As it has in past crises, the European Union's decision-making machinery is lumbering into action at the edge of the abyss.
Instead of Greek debt or a pandemic, the stutter-step response of the 27 nation bloc aims to tackle soaring fuel costs, spiking inflation, and the threat of economic recession sparked by Vladimir Putin's weaponization of energy. With winter on the horizon, the Russian president sees an opportunity to punish the EU for supporting Ukraine in response to his invasion, and perhaps dent its unity, also.
Key reading:
So far, the EU's efforts have done little to soften the impact on businesses and consumers. Hitting Russia by cutting dependence on its energy (banning coal imports, phasing out most oil and pushing to cut gas usage) has only sent prices higher.
An agreement to spend $281 billion to shield people from the impact of soaring power prices now looks woefully insufficient. As the spike in electricity costs bleeds into the rest of the EU's economy, the risk of social unrest and political upheaval intensifies.
With an extraordinary meeting of energy ministers slated for Sept. 9, the bloc is preparing to take urgent action to curb prices in the short term, according to European Commission President Ursula von der Leyen. Later, it must sever the link between gas and electricity prices and fix a market that was "developed under completely different circumstances," she said.
German Economy Minister Robert Habeck suggested slapping a tax on utilities with excessive profits. Czech officials are proposing capping gas prices and easing limits on emissions.
Belgian Prime Minister Alexander De Croo warned last week that the next "five to 10 winters will be difficult" for Europe. The question facing the bloc's leaders is how to survive this one. — Michael Winfrey
Electricity towers, power lines and wind turbines near Barnstorf, Germany on Aug. 23.
Photographer: Krisztian Bocsi/
Bloomberg
Battle begins | Ukraine said it started an offensive in the south to retake Kherson, reporting heavy fighting in the region around the river port that was one of the first cities to fall to Russian troops in the war. Russia's Defense Ministry confirmed the attacks but said the push "failed miserably."
Liberty bell | President Joe Biden will travel to Philadelphia and the site of the signing of the US Constitution to deliver a speech challenging Republicans over what he sees as their threats to America's rights and freedoms. In his speech Thursday, Biden will address the continued "battle for the soul of the nation," as he seeks to bolster Democratic prospects in November's midterm elections.
China is battling Covid-19 in every province despite the world's strictest measures to keep the virus out. All 31 mainland provinces recorded at least one local Covid case over the past 10 days, reflecting the broadest exposure to the virus since at least February 2021. 
Information strategy | Germany and France want the EU to drive a wedge between Putin and the Russian people with a campaign to counter propaganda within Russia and a visa policy that signals Europe is still open to ordinary citizens. They call in a discussion paper for open channels of communication with the Kremlin, even as they urge broadening sanctions against Russian officials and continued support for Ukraine.
August 31
Feted abroad and despised at home in practically equal measure, Mikhail Gorbachev left a complex legacy as the last leader of the Soviet Union.
His death last night, aged 91, prompted no declaration of national mourning from the Kremlin, which couldn't even say whether Gorbachev will receive a state funeral. State TV reported Gorbachev's demise well down its news schedules.
Key reading:
The superpower leader who helped end the Cold War and argued for a "Common European Home" to rule out military conflict on the continent died as Russia continues its invasion of Ukraine in a confrontation between the two largest republics of his former Communist empire. Europeans now worry how to heat their homes in winter as Russian President Vladimir Putin squeezes gas supplies.
Where Gorbachev advocated "glasnost" (openness), Putin has restored Soviet-era repression to crush domestic dissent. Nationalists and Communists cheer his war in Ukraine as a reassertion of Kremlin power that Gorbachev betrayed by acceding to the Soviet Union's dissolution, with relatively little bloodshed, as republics declared their independence from Moscow.
Older Russians who experienced extreme hardship in the economic collapse that followed often share their disdain for the Nobel Peace Prize winner. They're joined by younger Russians who've been raised under Putin to romanticize the Soviet past, ignoring the mass killings and economic ineffectiveness, even as they strive to enjoy the greater freedoms that Gorbachev's rule ushered in.
More than 30 years after he stood down as Soviet leader, there's confrontation again between Russia and the US and its allies.
The indifference that mostly greeted his death at home and the effusive tributes abroad show that, for all the hopes Gorbachev inspired, the man who helped dismantle the Iron Curtain lived long enough to see much of his legacy undone.
Ronald Reagan and Gorbachev hold their historic "fireside chat" in Geneva in 1985. Photographer: David Hume Kennerly/Getty Images
The White House records that former President Donald Trump held at his Florida home may have been concealed or removed before an FBI visit in June, suggesting possible attempts to obstruct the investigation, the US Department of Justice said. Its assertion was a response to Trump's lawsuit seeking the appointment of a "special master" to review the documents.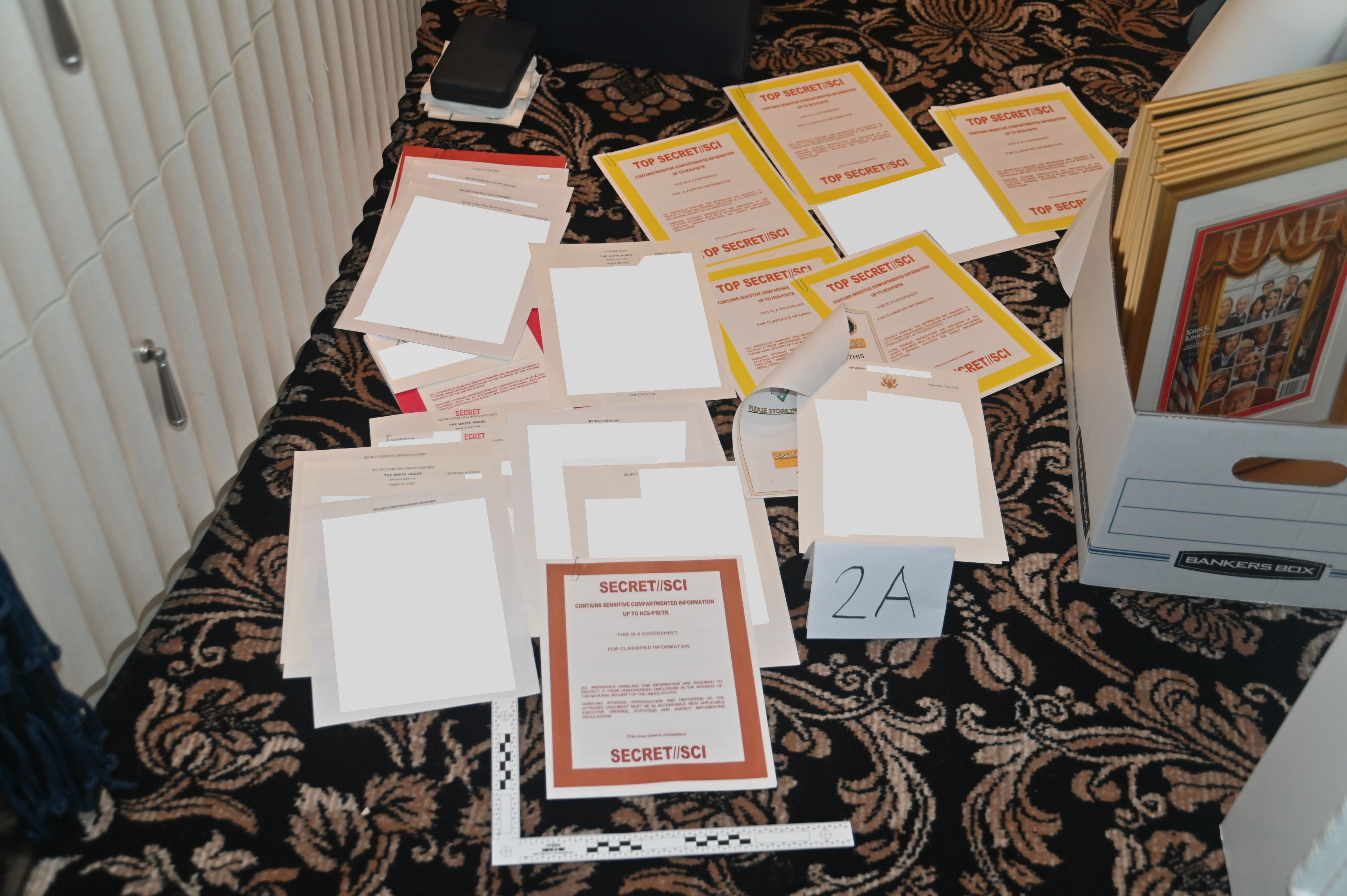 A photo of documents from Trump's home submitted as evidence by the DOJ. Source: Department of Justice
September 01
The line of hopefuls outside the Washington headquarters of the world's financial firefighter is looking busy.
Countries from multiple regions are again tapping the International Monetary Fund for loans as their economies teeter. Each case has its differences, but generally it's a combination of high inflation, dwindling foreign exchange reserves, rising borrowing costs and stuttering growth. Often with a dose of political turmoil thrown on top.
Key reading:
The IMF, part of the framework set up in the dying days of World War II to create greater global stability, has at times been controversial, given conditions attached to its programs including big spending cuts. But alongside China the IMF is arguably a lender of last resort and, as a barometer of risk and frailty, it's blinking red.
Pakistan, facing political turmoil and now deadly floods, just secured a loan of about $1.1 billion to avert an imminent default. Sri Lanka is close to finalizing nearly $3 billion, while Zambia won IMF board approval yesterday for $1.3 billion. Egypt is in talks for a new loan as investors fret about a broader default.
Six months after Russia invaded, Ukraine is desperate for IMF money and yet may not be able to get any, given the rule that any borrower must have a clear path for repayment.
Soaring energy and food prices are adding to the woes for countries buried by debt incurred during the pandemic. So quick fixes are needed. There are concerns about contagion for more robust economies.
But the world also finds itself in cycles of crisis in part because politicians with an eye on the electoral calendar lurch from one band-aid to another without undertaking the painful but necessary structural reforms that so many economies need in the longer term.
And countries may want to be careful what they wish for: Having taken years to navigate a $44 billion program, Argentina is now in the bind of needing to slash spending and cut subsidies even as utility bills soar. — Rosalind Mathieson
War games | Russia begins major military drills today involving China and India as President Vladimir Putin pushes back against attempts by the US and its allies to isolate him over his invasion of Ukraine. More than 50,000 troops and 5,000 pieces of equipment from at least 14 countries are involved in the weeklong Vostok-2022 exercises in Russia's far east.
Xinjiang abuses | United Nations High Commissioner for Human Rights Michelle Bachelet accused China of committing "serious human rights abuses" — and potentially crimes against humanity — in Xinjiang. The assessment, delivered just hours before her tenure expired, found "patterns of torture or other forms of cruel, inhuman or degrading treatment or punishment" as part of a campaign that Beijing has defended as an effort to fight extremism.
Taiwan escalation | Taiwan signaled it's pushing back against Beijing's efforts to encroach on its territory by downing a civilian drone after weeks of complaints about incursions by unmanned aerial vehicles from China. The action followed incidents in the past two days in which Taiwan fired warning shots and flares at civilian drones that approached its offshore islands.
Hong Kong Chief Executive John Lee has secured Beijing's preliminary nod for a "reverse quarantine" program where travelers isolate in the city and enter China quarantine-free to boost travel into the mainland, after two years of strict Covid controls throttled ties.
Eritrean and Ethiopian forces began an offensive in Ethiopia's northern Tigray region, a senior member of the dissident Tigray People's Liberation Front said, signalling an escalation in the conflict, a week after clashes ended a five-month humanitarian cease-fire.
September 02
After what looked like the dawning of a new era, Latin America's "pink tide" suddenly appears to have reached its limits.
During a particularly brutal pandemic, with scant government resources to help people and businesses survive the economic collapse, voters began turning to the left.
Radical leaders were elected in Peru, Chile and most recently Colombia on pledges to tackle glaring inequalities and address climate change.
The high water mark of change may have arrived.
A planned new constitution for Chile to deliver a more progressive and inclusive legal framework is facing defeat in a referendum this weekend. That would be a significant blow for Gabriel Boric, who made a rewrite of the Augusto Pinochet-era charter a priority when he came to office as Chile's youngest-ever president.
In Peru, Pedro Castillo's government stumbles from crisis to crisis, with barely a week going by without him losing a cabinet minister to some scandal.
Gustavo Petro has only just been sworn in as Colombia's first leftist leader and already the challenges look daunting.
An attempt on the life of Argentina's leftist vice president, Cristina Fernandez de Kirchner, yesterday came at a time when the country is bitterly polarized after years of economic crisis and political infighting.
True, polls suggest that former president Luiz Inacio Lula da Silva is on course to beat far-right incumbent, Jair Bolsonaro, to the Brazilian presidency next month. But whatever your views of Bolsonaro, the return of a 76-year-old former jail inmate is hardly indicative of a healthy democracy.
September 03 – September 04
Extreme weather swept across the planet as millions of people felt the worsening consequences of climate change.
Floods in Pakistan from the highest rainfall in over three decades killed at least 1,200 people since June, caused more than $10 billion worth of damage and left the nation on the brink of a food crisis.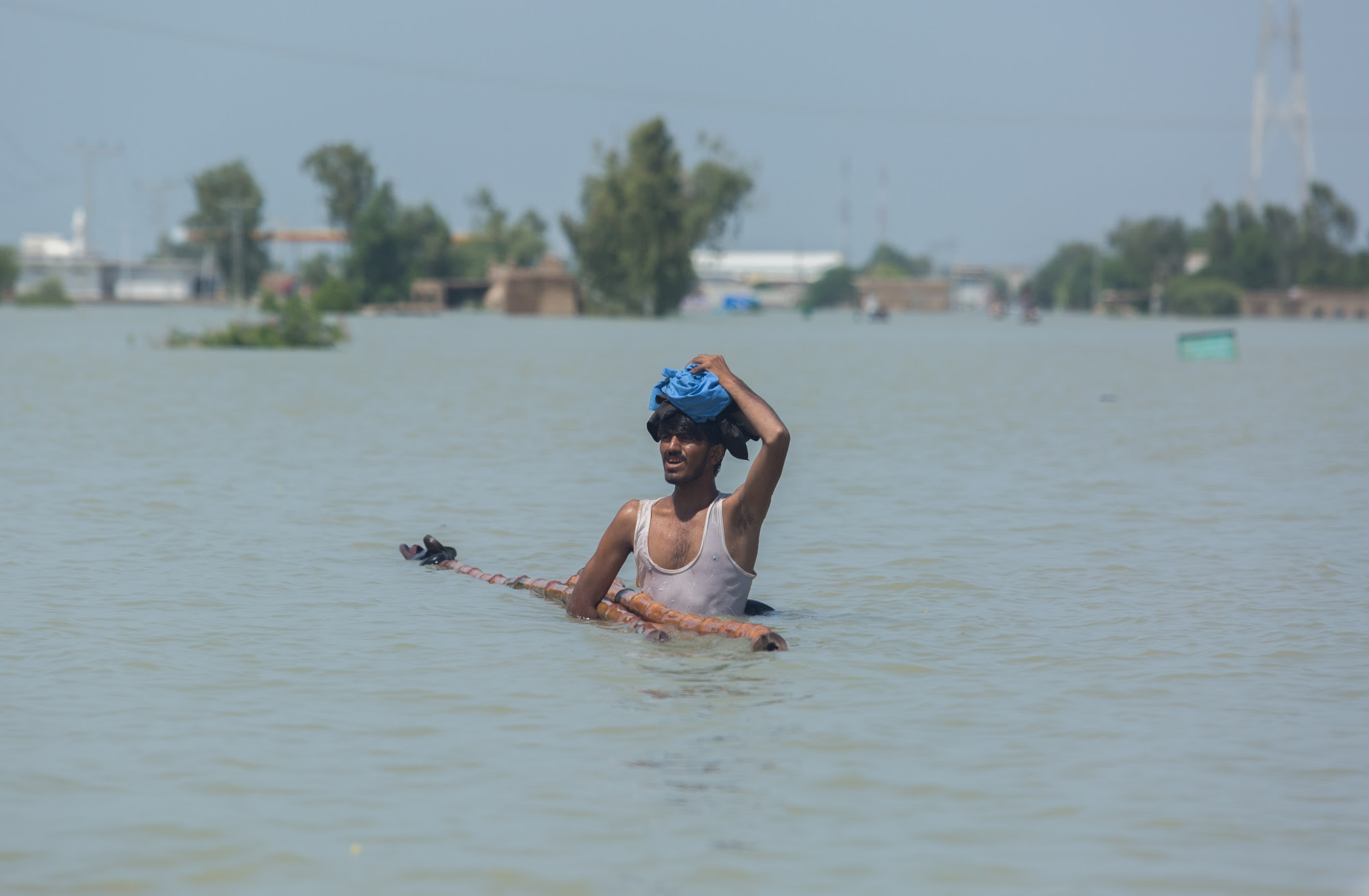 A man wades through flood water in Sindh province, Pakistan, on Thursday.
Photographer: Asim Hafeez/
Bloomberg
Floods Raging Alongside Drought Cost Billions, Kill Thousands
The world has been swept by a series of deadly floods in recent weeks, destroying homes, inundating croplands, snarling mining operations and wreaking economic devastation. In a paradoxical turn, Brian K Sullivan writes, the torrents have come at a time when the planet is also besieged by crippling drought and dwindling rivers.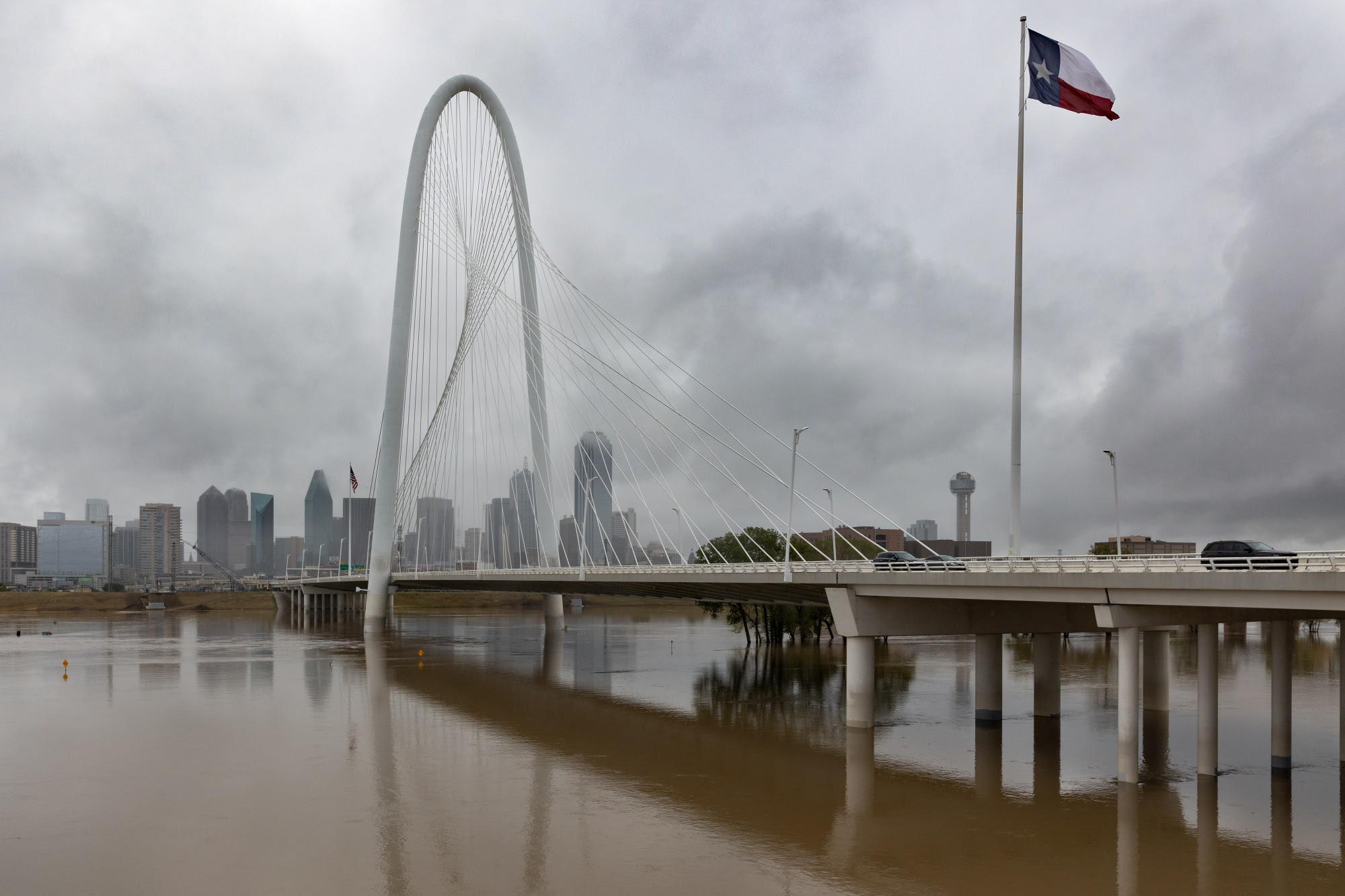 The Trinity River following floods caused from severe rainstorm in Dallas, Texas, on Aug. 23.
Photographer: Shelby Tauber/
Bloomberg
President Joe Biden accused Donald Trump and his most ardent supporters of endangering US democracy and urged Americans to reject any candidate backed by his predecessor in the congressional midterm elections in November.
Biden Banks on Democratic Outrage, Risking Deeper US Divisions
Biden is seeking to stoke voters' anger over the extremism of Trump and his supporters before the November midterms. As Jordan Fabian reports, the president used a prime-time address to the nation on Thursday from Philadelphia's Independence Hall to sharpen his criticism of his predecessor, saying "extremist" Republicans threaten democracy.
What the FBI Found at Trump's Mar-a-Lago Estate, by the Numbers
The "property inventory" unsealed by a federal judge of what FBI agents seized from Trump's Mar-a-Lago home shows they retrieved 325 documents with classified markings in the year and a half since the former president left office. Zoe Tillman lays out what has been found.
Ukrainian forces launched an offensive toward the captured southern city of Kherson, while international monitors visited a Russian-occupied atomic plant to evaluate the risks military attacks pose to the facility. Moscow tightened its squeeze on energy exports to Europe.
But as Marc Champion reports, whether it marks the start of a long-awaited attempt to retake large slices of territory lost at the start of Russia's invasion remains unclear.
Inflation and War Are Stoking Civil Unrest Across Globe, Research Shows
The risk of civil unrest is rising as nations grapple with spiraling inflation and upheaval exacerbated by Russia's invasion of Ukraine, Patrick Donahue reports. Of 198 countries tracked in the Civil Unrest Index, 101 showed mounting risk in the third quarter of 2022, intelligence firm Verisk Maplecroft said. That's the biggest increase since the ranking was developed in 2016.
Japan's Drying Rice Paddies Are Now a National Security Threat
Amid Russia's war in Ukraine and rising tensions over Taiwan, Japan is facing another security threat: shriveling rice paddies. Isabel Reynolds and Grace Huang report that for decades, Japanese have been eating less rice and fish in favor of more bread, meat and edible oil, leading the country's food self-sufficiency ratio to slump to the lowest among major economies.
Mikhail Gorbachev, whose attempts to shake up the Soviet Union's political and economic system unleashed a political avalanche that brought down the Berlin Wall in 1989 and ended the Cold War, died at the age of 91. Putin offered only muted praise for the leader who oversaw the Communist state's demise.
Ronald Reagan with Gorbachev in Reykjavík in 1986. Photographer: Dirck Halstead/The Chronicle Collection/Getty Images