August 29
Boris Johnson will this week say Britain must not give up on investing in green energy in favour of short-term fixes for

the

cost-of-living crisis. We will be back in your inbox this evening too.
The

Duchess of Sussex has given an interview about her and Harry's ongoing rift with

the

Royal family. In Ukraine,

a

campaign to retake Russian-held territory, above, has taken

a

major step forward.
August 30
| | |
| --- | --- |
| | By Danny Boyle |
Doctors urged to ease patients' fears over statins
It is

a

widespread belief that statins are

a

likely cause of muscle aches. Now

a

"monumental" study by researchers at Oxford University has "definitively" debunked

the

theory that

the

cholesterol-busting pills are to blame for common pains. While aches are experienced by many taking

the

drugs,

the

vast majority are caused by other things – most commonly that those taking them are simply getting older. GPs are advised to offer patients greater reassurance, paving

the

way for millions more people to be prescribed

the

pills that greatly reduce

the

risk of heart attacks. It follows decades of debate about

the

merits of statins, which are taken by more than eight million people in

the

UK. Health editor Laura Donnelly reports how charities said

the

findings, unveiled at

the

European Society of Cardiology conference in Barcelona, were

the

"gold standard" of evidence and should reassure millions of people.

Meanwhile, 1.5m patients have lost their GP in the past eight years after the closure of almost 500 practices, research suggests. Recruitment issues were a factor in the shutting down of about two-fifths of surgeries, while workloads and inadequate premises were also cited as triggers. Lizzie Roberts reports on an investigation, which is the first to show where a surgery has closed and not been replaced in a certain postcode.
Meghan compares her wedding to freeing of Mandela
The Duchess of Sussex has invited the public into her California home for an unprecedented insight into her personal life. Telling of her relief at being "able to tell [my] own story", the 6,500-word US magazine article includes an anecdote comparing her and Prince Harry's wedding to the freeing of Nelson Mandela. Meghan welcomed a US magazine to write about the couple's new lives and their plans – including a return to Instagram and a Netflix documentary telling their "love story". The Duchess also made a series of claims about the Royal family, claiming that the Duke could "lose" his father just as she has lost hers. Hannah Furness, our royal editor, covers every detail of the interview.
Sarah Beeny: I have
the

cancer that killed my mother

TV presenter Sarah Beeny is undergoing treatment for breast cancer, the same disease that killed her mother. In an exclusive interview with The Telegraph today, she says that for 40 years since her mother died when she was 10, she knew she would one day hear the words "you've got cancer". She began a course of chemotherapy last Friday and will have surgery and radiotherapy in the new year. The mother of four tells Anita Singh about her diagnosis and a "tinderbox" of emotions.
Criminal checks | Albanian migrants crossing the Channel face criminal record checks by police from their own nation stationed at Dover, it has emerged. Home Office officials are due to meet Albanian police chiefs today to agree plans for officers from the Balkan state to check fingerprints and biometric data. As home affairs editor Charles Hymas reports, Government sources said it would enable Border Force to fast-track the return to Albania of anyone not "conducive to the public good".
: Ukraine 'breaks through' defences
Ukrainian troops mounting a counter-offensive have broken through Russian defences in several sectors of the front line near the city of Kherson, a senior adviser to President Volodymyr Zelensky said overnight. Oleksiy Arestovych said Ukrainian forces were shelling the ferries that Moscow is using to supply a pocket of Russian-occupied territory on the west bank of the Dnipro river. The long-awaited counter-offensive marked a significant step forward in Kyiv's campaign to retake key Russian-held territory. Follow the latest in our live blog.
Russian soldiers allegedly fleeing from Tomaryne, Kherson, with their belongings
By Tony Diver,
WHITEHALL CORRESPONDENT
It seems this leadership election is going to end in exactly

the

same way it started: with arguments about tax.

Rishi Sunak and Liz Truss clashed at the start of the campaign over their respective plans for reducing the tax burden – and the former chancellor's apparent unwillingness to do so.

In fact, the decision to launch a surprise U-turn over VAT on energy bills was cited by one supporter as a key factor in the wheels coming off his campaign. This is what a campaign source told me as they shared their account of how Rishi's "Rebel Alliance" fell apart.

But all that seems so long ago now. According to sources on both sides, the leadership rivals have realised the scale of the cost of living crisis as the campaign unfolded – prompting a drastic change in policy and emphasis.

"The energy price thing is such a dominant feature that whatever was discussed earlier on in the campaign is somewhat irrelevant now," one MP close to Sunak told me.

"It's quite clear that whatever has been promised by the candidates up until this point is just not going to happen, is it?"

It is the Truss camp that has the furthest to move on this issue. Having initially said there would be "no handouts" if she was to take over Downing Street, the scale of the "tsunami" about to hit Britain's wallet has only dawned on her in the last three weeks, said someone who had discussed it with her team.

Now, her spin doctors are letting it be known that nothing is off the table – including a cut in the headline rate of VAT of five per cent.

There is also frenzied talk of a cut in the rate of income tax (or some fiddling with the earnings thresholds), another cut in fuel duty and tax breaks for struggling businesses.

The main problem facing both the leadership camps and the Treasury wonks, who are already preparing a menu of options, is whether support should be targeted or widespread.

Everyone agrees in principle that the best package of measures would bail out those families who are struggling to afford to eat while allowing those on high salaries to bear the brunt themselves.

But designing a package like that is very complicated, especially if it can't be delivered through the usual channels of Universal Credit, and takes time.

"People are going to start going out of business from the minute you take office," one person involved with discussions told me they told Truss last week.

Truss's solution to this seems to be promising an ever-expanding list of tax cuts that could end up costing more than Sir Keir Starmer's plan to freeze the energy price cap (according to Rishi's team).

But will that be enough to convince voters she has thought through her response? Can she afford it? And will it work?

It seems she will be the winner in this race – so we only have a week left to find out the answer to those questions.

Until next time,

Tony
Downing Street's big British cat will purr no more
There is fury in the Cabinet over a decision taken by ministers' police protection unit to scrap the longstanding ministerial Jaguar.
It's reported in the Sun today – but was first floated in the Telegraph 18 months ago.
One furious minister tells the paper the decision was taken by "anti-Brexit bureaucrats hiding behind a value-for-money smokescreen".
But the real reason is that the iconic Jag XJS – used by Cameron and Thatcher – is being discontinued in favour of electric vehicles. By my reckoning, this is the first time the PM will be chauffeured in a foreign car. Could they not use a British-made electric wagon instead?
Bogdana walks away from the scene of a Russian missile strike outside her home in a village on the outskirts of Mykolaiv. Credit: Oliver Marsden
For Ukrainians, life is like
a

six-month-long game of Russian roulette
By Campbell MacDiarmid,
MYKOLAIV
Six months into Russia's invasion of Ukraine, I'm told that

the

appetite for stories about civilians living under shelling is waning. That hasn't stopped me from filling notes with stories of perseverance and quiet heroism.

Last week I met Doctor Dmitro who told me about the missile that took out his emergency room earlier this month.

The strike was not the first the head of the trauma unit had seen from this southern Ukrainian hospital.

Earlier he had watched from his office window as a nearby oil storage tank had burned for 24 hours after being targeted.

A video on his phone shows smoke billowing from another blast on the road as he drove to work one morning.

The effect of this stress over time is cumulative, he says, like a six-month-long game of Russian roulette.

"All day you get no rest because of the work, and in the evening the shelling starts and you don't sleep at night."

With new long-range weapons donated by the West, Ukrainian forces have largely halted Russian advances and staunched the losses of up to 200 soldiers a day during the spring.

But for Ukrainian civilians living for six months under ongoing and unpredictable bombardment, the effect is a gradual wearing down of the nerves.
Dr Dimytro stands outside the destroyed emergency room of his hospital in a southern city in Ukraine. Credit: Oliver Marsden
In

the

southern port city of Mykolaiv, just 40 miles from Russian positions, this stress has become too much for most: over half of

the

pre-war population of half

a

million have left.

The rockets usually land on Mykolaiv at night, often before the air raid sirens have begun to howl. From my hotel room I'd hear the explosions and then wait for the alarm to sound.

Shelling and missiles are so common that city officials count the days without bombardment: just 24 quiet days since February 24.

Mykolaiv governor Vitaliy Kim says 410 civilians have been killed across the district in six months, including 10 children, while another 1,200 have been wounded.

For those who remain, the battle to maintain a semblance of normality is an ongoing struggle.

"In half a year my hair has turned white," said Andre, a building manager surveying the damage to the clothing factories he supervised after they were damaged by a Russian missile attack earlier that morning.

"I'm 45, I've worked here for 20 years. In one night I lost everything. Never mind," he said, vowing to rebuild with whatever resources he could muster.
| | |
| --- | --- |
| | By Chris Price |
Ukraine is battling to take back large areas of

the

south of

the

country in

a

major counter-attack. However there will be

a

fine line between victory and gains that spark

a

dangerous response from Putin.

Meghan podcast | The Duchess of Sussex has said she only began to be treated "like a black woman" when she started dating Prince Harry, as she explores what it means to be a "diva" in her second podcast. The Duchess, who was interviewing self-proclaimed diva Mariah Carey, said she could empathise with the singer's life experiences as a fellow mixed race woman – and grew up not knowing which "box" she fit into.
Counter could provoke Putin's wrath
The

attack has begun. "Heavy fighting" has broken out across nearly all of

the

southern Kherson region, after Ukrainian forces broke Russian defences in their long-awaited counter-offensive to retake

the

territory. Volodymyr Zelensky,

the

Ukrainian president, urged enemy troops to flee as

the

territory was bombarded by long-range missile strikes. Regional officials said

the

long-awaited offensive was "

the

beginning of

the

de-occupation of Kherson region", which was seized by Russia early in

the

war. It comes as Vladimir Putin has lost confidence in his defence minister, blaming him for

the

stalled invasion and sidelining him just as Kyiv launches its attack. However, there are no guarantees of Ukrainian success. Warfare is always part art, part science and

a

large slice of luck. Dominic Nicholls analyses how

a

successful counter-attack in

the

south could give Russia's leader

a

bloody nose – or provoke his wrath.

Success on the battlefield depends on how Ukraine deals with Russia's superior resources – and a new tactic has proved fruitful. Kyiv has deployed a fleet of dummy Himars across the front line to trick Russian forces into wasting expensive long-range weapons on pointless targets. Russian drones were said to be unable to distinguish between the wooden dummy targets and the real deal when scouting the battlefield. This graphic has everything you need to know on the US-supplied weapons system credited with enabling Ukraine's recent fightback in the south. Meanwhile, Daniel Craig has called for an end of the use of cluster bombs worldwide, as Ukrainian civilians face relentless attacks.
Inflation fears
While not fighting on the front line, Europe is feeling the effects of the war as Putin slashes gas flows to France, adding to fears of an energy crisis across the continent this winter. Kremlin-controlled Gazprom has informed French utility Engie that it is reducing gas deliveries from today due to a disagreement on the application of some contracts. Meanwhile, German inflation has returned to its highest level in almost 50 years after a temporary relief offered by tax cuts and cheap train tickets wore off. Inflation in Europe's biggest economy hit 7.9pc in August – its highest since the winter of 1973-4, when prices were stoked by an oil crisis. Our business live blog has the latest on cost of living.
The

girl from Mariupol

As the fighting continues, Ukrainians try to carry on with their lives as normally as possible. Back to school preparations have never been more grim as those at the Lviv District Gymnasium, where staff have spent the summer installing metal bars across windows and blocking others from missile blasts with heavy sandbags. Yet read how despite the risks ahead, teachers laugh joyfully at the prospect of the new term beginning on Sep 1. One of the defining images of the war was one that appeared on the front page of the Telegraph in March of an eight-year-old girl as she and her family fled the beseiged city of Mariupol. Campbell MacDiarmid has traced her to Spain and reveals how she has rebuilt her life as a refugee there, although a dark secret hangs over her family.
Biden's fight for 'soul of
the

nation'

Joe Biden will deliver a prime-time address "on the continued battle for the soul of the nation" on Thursday outside Independence Hall in Philadelphia, the White House announced today. Billed as a major address just over two months before the midterm elections, Biden will discuss how the nation's standing in the world and its democracy are at stake. Biden has increasingly sought to portray the November elections as a choice for voters between "ultra-MAGA Republicans" – a reference to former President Donald Trump's "Make America Great Again" campaign slogan – and Democrats. The midterms are traditionally hard going for the party in power, and Biden and the Democrats were struggling in the polls over the summer. Read why things have changed recently.
Liz Truss has put a planned overhaul of City rules at the heart of her leadership pitch, pledging to 'realise the post-Brexit opportunities' Credit: Charles McQuillan /Getty Images Europe
New PM under pressure to reform financial rules
By Edward Malnick,
SUNDAY POLITICAL EDITOR
A

significant overhaul of financial rules appears inevitable now, whatever

the

outcome of

the

Conservative leadership contest.

Both contenders have promised to slash red tape in the City and now the chairman of the London Stock Exchange has warned that such a move is essential.

In July, Rishi Sunak promised "radical reform" of the EU's Solvency II rules to help investors and insurers put money into assets such as infrastructure, to help stimulate growth. The former chancellor has claimed that the move would help trigger a second "Big Bang" – in a reference to the sudden deregulation of the City in 1986 – and follows work that he began in the Treasury.

Liz Truss has put a planned overhaul of City rules at the heart of her pitch, pledging that she would "realise the post-Brexit opportunities".

She has frequently brought complex sets of EU rules such as Solvency II and the Markets in Financial Instruments Directive (MiFID) into the nation's living rooms by naming them in television debates and party hustings.

"I believe we can do things differently," she said. "I want to change our regulations. I want to get those EU regulations off the statute book."

Ms Truss's allies have claimed that Mr Sunak resisted opportunities to cut EU red tape during his time at the Treasury and the Foreign Secretary has sought to distinguish her approach by saying that she is "prepared to take on the orthodoxy".

At the weekend, it emerged that Michael Findlay, the chairman of the London Stock Exchange, had warned that London will lose its status as a global financial hub and be downgraded to a middling "regional market" without an overhaul of City rules.

In a submission to the Financial Conduct Authority's primary markets review, Mr Findlay suggested that Brexit presented the UK with a "once-in-a-generation" opportunity for such an overhaul to ensure London remains a relevant destination for flotations and capital raisings.

Without this "essential modernisation", London's status as a global market runs a "material risk of diminishing to that of a regional exchange", he said.

City deregulation would likely be an early focus of the Treasury if Ms Truss becomes prime minister and Kwasi Kwarteng is appointed as her chancellor next week. Mr Findlay will be aware that his intervention will help to create the mood music for a programme of reforms.

Such public pressure from the City itself would also make it very difficult for a Government led by Mr Sunak to avoid following through on his own pledges.
Mikhail Gorbachev, ex-Soviet leader, dies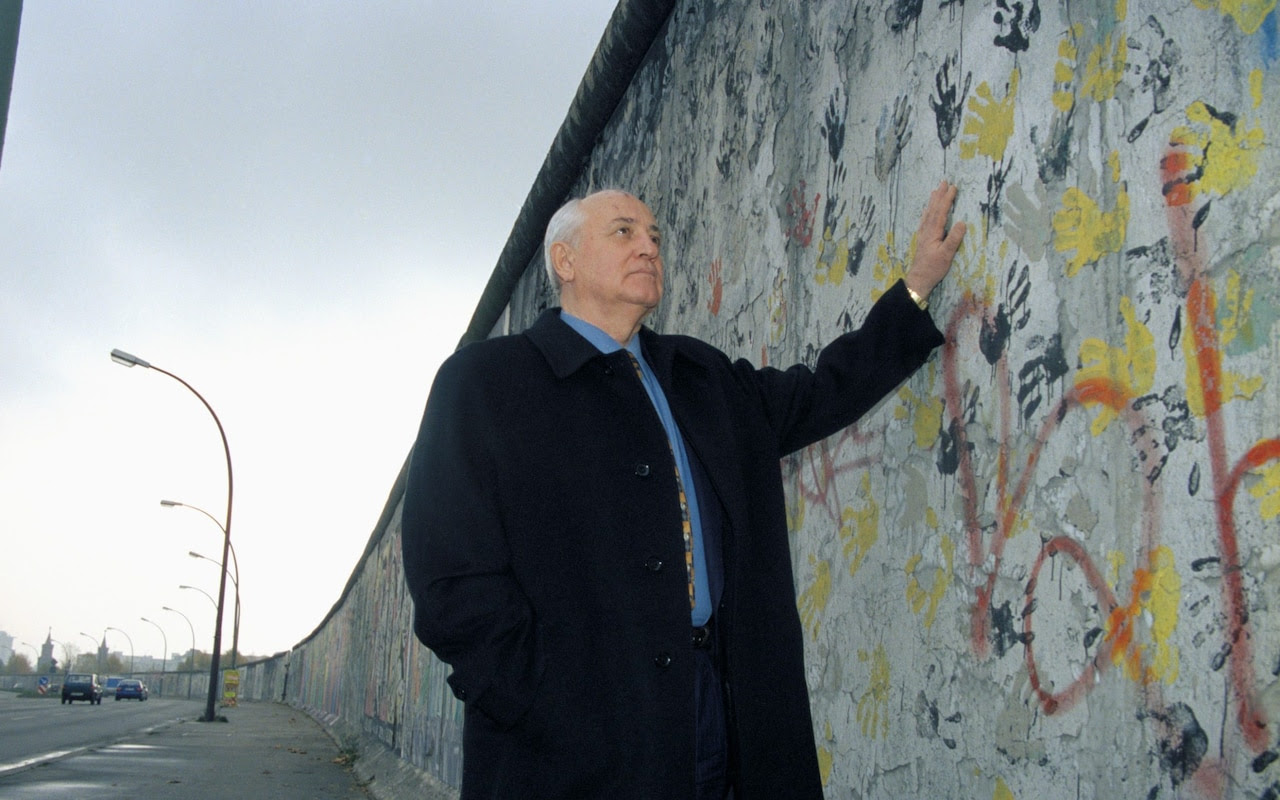 Former head of the Soviet Union Mikhail Gorbachev
Former Soviet President Mikhail Gorbachev has died, according to Russian news agencies.
August 31
| | |
| --- | --- |
| | By Danny Boyle |
Mikhail Gorbachev, one of

the

most influential political figures of

the

last century, has died. He was

a

reformer lauded by

the

West, but was loathed at home. We look back at his life and career.
Defining moments and fall of Gorbachev's career
He was regarded as one of

the

most significant statesmen of

the

20th century. Mikhail Gorbachev,

the

last Soviet leader, died last night aged 91. Lauded in

the

West as

the

man who helped bring down

the

Berlin Wall and end

the

Cold War without bloodshed, he was widely despised at home as

the

gravedigger of

the

communist Soviet Union. He set out to revitalise

the

sclerotic Communist system through democratic and economic reform, but unleashed forces beyond his control and found himself occupying

a

shrinking middle ground. Roland Oliphant, our senior foreign correspondent, explains how Mr Gorbachev resolved on

a

series of bold moves at home and abroad to save

the

country – with dramatic results. He was

a

different kind of Soviet leader and one with whom Ronald Reagan Margaret Thatcher could do business, beginning

a

relationship that would lead to

the

tearing down of

the

Iron Curtain. Read

The

Telegraph

's obituary of Mr Gorbachev.

Mr Gorbachev and Vladimir Putin were reported to have mistrusted each other, with the former Soviet leader considering the invasion of Ukraine in February a betrayal. Leading the tributes to Mr Gorbachev, Prime Minister Boris Johnson made reference to the timing of the former Soviet leader's death during the worst period of relations between Russia and the West since the end of the Cold War. He said: "In a time of Putin's aggression in Ukraine, his tireless commitment to opening up Soviet society remains an example to us all." Read more world reaction.
Get back to basics, 'woke' police forces told
Police are today told to focus on the basics by Priti Patel, as a report finds that the public feel officers are distracted from solving crime by "woke" causes. The report from the Policy Exchange think tank calls for police to be barred from taking the knee or wearing campaign badges on their uniforms to avoid any risk of appearing to have partisan political views. It says this can be "hugely damaging" to public confidence. As Charles Hymas reports, the sentiment is understood to be backed by the Home Secretary. And Tory leadership rivals Liz Truss and Rishi Sunak have both made crime a cornerstone of their campaigns in the race to No 10.
Slow collapse of Meghan's Californian dreams
The Duchess of Sussex is giving increasingly outspoken interviews. But is that because she wants to – or because she has to? Have the US public and its media lost interest? With a podcast to promote amid talk of her star "waning" in America, there is a growing sense that the only way the Duchess can get noticed these days is by continuing to wage war against the Windsors. Camilla Tominey explains how Meghan lost America.
Your View: Twenty-five years on from the death of the Princess of Wales, journalists and members of the public remember that moment. Can you remember where you were when you heard of Diana's death? Email a short message with your memories and name to yourstory@telegraph.co.uk, along with Front Page in the subject line.
Cost-of-living | Nuclear power stations could be fast-tracked under

a

planning shake-up to try to alleviate

the

energy crisis. Greg Clark,

the

Levelling-Up Secretary, unveiled new rules to speed up approval for major infrastructure projects as part of an effort to enhance energy security. Energy costs are soaring because of

the

disruption caused by

the

war in Ukraine. Daniel Martin explains how

the

plans could reduce

the

amount of time it takes to get offshore wind projects approved.
| | |
| --- | --- |
| | By Chris Price |
Mikhail Gorbachev has been lauded in

the

West but

the

reaction to his death in Russia has been lukewarm, despite

the

complete contrast in his achievements with that of Moscow's present leader.
Today's essential headlines
Break with tradition | The Queen will meet the new prime minister at Balmoral next week for the first time in her reign, Buckingham Palace said. The 96-year-old monarch, who has faced ongoing mobility issues, has taken the decision at this stage to provide certainty for the Prime Minister's diary. It comes as Liz Truss and Rishi Sunak will appear in the final Tory leadership hustings tonight. Follow the action in our live blog.
The

big story: What's behind Putin's Gorbachev snub
He has been hailed as

a

man of peace who helped bring down

the

Berlin Wall and end

the

Cold War without bloodshed, but Mikhail Gorbachev,

the

last leader of

the

Soviet Union, will reportedly not be given

a

state funeral, according to Russian state-linked media. Gorbachev died last night in Moscow, aged 91. He oversaw

the

collapse of

the

Soviet Union in 1991, an event that Vladimir Putin, Russia's president, has previously described as

a

"catastrophe". Putin took half

a

day to issue

a

personal statement on Gorbachev's death, with

a

backhanded half compliment on his place in history. Read this analysis on how

the

lack of

a

state funeral avoids causing diplomatic difficulties for

the

Putin regime and reflects Gorbachev's strained relationship with Russia's president.

Gorbachev set out to revitalise the sclerotic Communist system through democratic and economic reform; it was never his intention to abolish it. Read on for the defining moments of his political career. This gallery tells the Nobel Peace prize winner's life story in pictures and Ross Clark outlines why Britain should celebrate Gorbachev's life. If you have not had time yet, be sure to read Gorbachev's Telegraph obituary .
Drunken shootout
The achievements of Gorbachev could not be more starkly contrasted than with those of Putin, whose forces are scrambling to plug in holes in their frontline after their "thin" defences were pushed back by "some distance" in a Kherson counter-offensive, the Ministry of Defence has said. The first official news from Western sources on the strength of Ukraine's counter-attack comes as a Moscow investigation said a Russian soldier shot dead two FSB officers in occupied Kherson after he was caught swigging alcohol while in uniform. His drinking companion, a sergeant, was also killed in the drunken shootout with the FSB officers.
500-mile hitchhike
Putin continues to slash gas supplies to Europe, driving up energy prices and raising the risk of blackouts and rationing this winter. It came as little surprise to learn that eurozone inflation surged to another record high in August, fuelled by soaring energy prices that are threatening to plunge the region into recession. Read more on the drastic measures being taken across Europe to combat the looming energy crisis. The human cost of the war remains equally apparent, after the emotional 20-minute reunion of a Ukrainian soldier and his wife caught the attention of over two million people online. Father-of-two Maxim Lietova, 38, hitchhiked 500 miles across Ukraine to see his family for just one day before he was deployed to the frontlines against the Russian invasion.
Saudi women beaten in video
Saudi Arabia is investigating a disturbing video which shows security forces beating young women and dragging them around by their hair after they reportedly staged a hunger strike over poor living conditions in an orphanage. It came as a Saudi woman was sentenced to more than 40 years in jail for comments posted on social media, the second harsh sentence to be passed down this month to female online activists. The video, which has shocked Saudis after going viral, shows the group of men holding down women dressed in black abayas while they are lashed with belts and sticks. It comes amid a crackdown on female activists.
September 01
Truss hints she may scrap motorway speed limits
As

the

contest to replace Boris Johnson enters its last hours, Liz Truss and Rishi Sunak have made their final pitches to Tory members. And Ms Truss,

the

frontrunner, used

a

hustings in Wembley last night to suggest that she could abolish motorway speed limits. In an eye-catching last-minute move, she said that she is "prepared to look at" introducing

a

German-style system of abolishing limits and allowing drivers to choose their own safe speed – and pledged to ban smart motorways if she wins

the

keys to No 10. Ms Truss also claimed there would be no new taxes or energy rationing if she became prime minister, as she dropped further hints about cost-of-living support this winter. It emerged that she is considering

a

cut to business rates and looking at

a

proposal to expand relief from

the

tax to far more companies than are currently eligible. Tony Diver and Dominic Penna have our full report from

the

hustings and Madeline Grant compares

the

event to

a

panto in her sketch.

Russia yesterday stopped the flow of gas from its Nord Stream 1 pipeline to Europe, in a move which has provoked concerns over the reliability of winter energy supplies. In one of his final acts before leaving Downing Street, Boris Johnson will today pledge a massive expansion of nuclear power to enhance Britain's energy security. The Prime Minister will confirm he is poised to agree a deal to buy a significant stake, thought to be around 20 per cent, of a new nuclear power station planned for Sizewell in Suffolk. As deputy political editor Daniel Martin reports, he will also highlight plans to build eight nuclear reactors in the UK.

PS: A man whose house was stormed by police shouted "how the f— did I get raided and Boris Johnson is there" as the PM appeared. Watch video.
How
the

West fell in love with cultural icon 'Gorby'

In the Russia of Vladimir Putin, only the tiniest percentage of people will now admit to admiring Mikhail Gorbachev. Yet over the past three decades, few politicians have been more celebrated in the wider world. In films, TV shows and adverts, that unmistakable birthmark popped up – signalling not only the admiration of the West for a courageous idealist, but marking the triumph of "freedom". From The Simpsons to Louis Vuitton, Chris Harvey looks at how Gorbachev became a cultural icon.

Governments have been too "squeamish" about standing up for the family, the Children's Commissioner has said, as she called on the next prime minister to do more to support couples to stay together. Dame Rachel de Souza told The Telegraph that data she had collected showed that stable families had a great "protective" effect.
Moscow seeks reinforcements
Russia is attempting to reinforce its southern front after Ukraine claimed its troops had broken through enemy lines in "three" places. As fighting waged for a third consecutive day across the 100-mile front line in the south, Ukrainian officials said their long-awaited counter-offensive had shown early signs of success. Columns of Ukrainian tanks and soldiers were seen travelling across unharvested fields, while the sound of air raid sirens rang out above Kherson. Follow the latest in our live blog.
Residents line the streets as the coffin of a Ukrainian soldier passes through Bucha. Credit: EPA
By Tony Diver,
WHITEHALL CORRESPONDENT
Who would have thought it?

The man who came to office on a wave of popular support for Brexit and his "levelling up agenda" in 2019 is to shape his legacy around energy policy, it seems.

In a speech in Sizewell this morning, Boris Johnson revealed that his final act as Prime Minister will be to pledge a massive expansion of nuclear energy, as he declared that it makes his "blood start to boil" that the country that split the atom has so few reactors.

"Have we lost the gumption and dynamism of our parents and grandparents?" he grumbled.

It all makes sense. On the one hand, Mr Johnson would love to be considered a key player in the great arc of the history of Britain. And he's also keen to avoid the fate of Nick Clegg.

The hapless former Lib Dem leader has become the victim of ridicule and condemnation in recent days after a video emerged of him opposing new power stations in 2010.

"By the most optimistic scenarios from the Government itself, there is no way they're going to have new nuclear come on-stream until 2021 or 2022," he says to the camera, while sitting at his desk in Parliament as Lib Dem leader.

"So it's just not even an answer!"

The video is being widely shared in Tory circles, where it is seen as a warning to politicians to get behind nuclear now, or risk being on the wrong side of history.

In an interview on Sky News this morning, Nadhim Zahawi said the "meme" of Clegg "broke his heart".

Mr Johnson used his speech to urge his successor not to be so "myopic" when it comes to nuclear power and blamed the last Labour government for failing to invest in it.

He said the Government would spend £700 million on a significant stake in Sizewell in Suffolk, which will create enough energy to power six million homes.

So far so good. But it has not escaped notice, especially on the opposition benches, that Johnson's frantic interest in nuclear energy only really started earlier this year, as the energy crisis started to bite.

"Boris Johnson leaves office with energy bills rocketing, our energy security weakened, and having totally failed to confront the climate crisis," thundered Ed Miliband in response, declaring his "hollow words… an insult to the millions of families that are facing an energy bills crisis".

In the short term, at least, it seems Johnson's legacy as a nuclear supremo may survive. Liz Truss, his likely successor, has made similar pledges around nuclear energy and promised to continue an expansion of oil and gas.

Kwasi Kwarteng, her putative chancellor, has led that policy from the Business Department and looks set to continue it from Number 11.

But the question for Johnson is whether he will get the credit in the long run. Will he be remembered as the Covid Prime Minister, the Ukrainian war Prime Minister, or the clean energy Prime Minister?

The former seems more likely than the latter.

Until next time,

Tony
Comment of
the

day

Many of today's angry young Left-wingers tell themselves that once these Tory-voting Boomers are out of the way, they'll finally be able to build a fair, just and equal society. But in reality, the demise of the Boomers may make society more unequal than ever.

Michael Deacon
A flood-affected man sits along with his children alongside flood waters. Credit: FIDA HUSSAIN/AFP via Getty Images
'Only God knows what happened to them': Pakistanis fight for survival amid devastating floods
By
Ashfaq Yusufzai, in PESHAWAR, and Joe Wallen, SOUTH ASIA CORRESPONDENT
Dozens of desperate people ran towards

a

vehicle laden with life-saving essentials. They were graceful but couldn't hide their emotions: Pakistan's devastating floods have landed them in an unbearable situation.

"We need more flour, rice, milk, even biscuits because our children haven't eaten anything since morning," said a 60-year-old man, to the head of the charity group.

These people used to support themselves by working in the construction industry but now behave like beggars, unable to feed their own families.

"Whenever charities or the government distribute relief goods, the strong and the healthy get the most while the elderly, women and infirm get nothing," worries Arsalan Khan, a 55-year-old man, who has lost his job because of the flooding.

Around 400 helpless families are gathered at the Sports Complex in Charsadda district in Khyber Pakhtunkhwa, in northwest Pakistan, but such scenes are being replayed across the country, which has endured weeks of devastating flooding.

At least 1,100 people have died since June, approximately one-third of the country is underwater and the World Health Organisation says 6.4 million Pakistanis are now in dire need of humanitarian aid.
Volunteers distribute food bags to flood-affected children at a camp in Sukkur, Sindh province. Credit: ASIF HASSAN/AFP via Getty Images
Residents of another camp nearby tell

a

similar story. Faces are filled with despair and women are confined to tiny and gloomy rooms.

These same women lived in homes with lawns and fresh air prior to the flooding calamity. Now these same homes have either been partially or completely destroyed and the women who previously used to roam the neighbourhood now have nowhere to go.

They only venture out in public now to get food and mineral water from NGOs and public sector organisations trying to provide aid.

Many children in the camp are worried about their education, as schools have closed because of to electricity shortages.

As I write this article, my daughter tells me that two of her own classmates at college in the city of Peshawar, one of the few places not devastated by the flooding, were absent from lessons today.

They belong to flood hit Charsadda district – maybe they will return in a few days but only God knows what happened to them, she says.

Hopefully, these horrible harsh times will be over soon.
| | |
| --- | --- |
| | By Chris Price |
Boris Johnson used his final major speech in office to warn against

the

complacency shown by

the

UK on nuclear power, as Britain looks for ways to loosen Vladimir Putin's grip on energy.

'Man that murdered Olivia' | Two guns were used in the shooting that killed nine-year-old Olivia Pratt-Korbel, it has emerged, as Merseyside Police released CCTV of the gunman running from the scene. At a press conference, Detective Chief Superintendent Mark Kameen also gave a description of the killer, adding: "This man is toxic." Watch the footage.
PM bemoans Labour's 'failure' on energy
The

impact of Vladimir Putin's decision-making on British and European energy prices has never been more clear as households face

a

winter of crippling bills. Yet in his final major speech before leaving office, Boris Johnson has hit out at

the

"abject failure" of previous governments to secure Britain's energy supplies as he warns that surging bills would be less severe if we had acted.

The

outgoing Prime Minister criticised Tony Blair and Gordon Brown, saying "thanks

a

bunch, Tony" for failing to invest in

the

UK's nuclear power plants. He also blamed Nick Clegg,

the

Tories' former coalition partner, for saying it was not worth developing new nuclear reactors because they would not come on stream for

a

decade. Speaking from Suffolk on

the

final stop on his valedictory tour of

the

UK, Mr Johnson pledged

a

massive expansion of nuclear power to enhance Britain's energy security as his final act before he leaves office. Madeline Grant says this was Boris

the

statesman, buffing up his legacy.

It comes as experts warn that a full shut-off of Russian gas supplies looks increasingly likely, meaning the eurozone is set to be driven into a recession. The ratings agency Fitch said a total shutdown of flows from Moscow "increasingly looks like a reasonable assumption" when making economic forecasts. It said the bloc would likely be tipped into recession in the second half of this financial year, with Italy and Germany suffering contractions in GDP in 2023. The EU is racing to refill storage sites and find alternative sources of energy as Putin continues to slash gas flows.
Bills up £225
a

month

Yet the lack of nuclear investment is not the only factor in Britain's energy crisis. Owners of draughty and poorly insulated homes will suffer £6,500 energy bills this winter, damaging the value of many properties, a leading mortgage lender has warned. Nationwide building society said the 80pc energy price cap rise in October meant owners of homes with Energy Performance Certificate ratings of F and G, the lowest grades, will see their bills jump by £225 per month. That hit will be made all the worse by warnings from economists that the cost of living crisis will drag average earnings back to the same level as 2003 as Britain faces the biggest slump in living standards for a century. Retirees are being forced to downsize, with the cash generated used to cover huge energy bills.
Windfall tax
Treasury officials are reportedly putting together a dossier to place at the top of the next prime minister's in-tray showing that UK gas producers and electricity generators may make "excess" profits totalling as much as £170bn over the next two years. Over the weekend David Gauke, the former justice minister, suggested that the Government will find it borderline impossible to resist extending a windfall tax on these profits. Yet Ben Wright outlines why such a move is still a terrible idea. What would the energy companies do? Writing for the Telegraph, Stephen Fitzpatrick, the founder of OVO Energy, says we must bail out households or squander another chance to fight the energy crisis.
Putin 'too busy' for Gorbachev funeral
Vladimir Putin will not go to former USSR leader Mikhail Gorbachev's funeral because he is too busy, the Kremlin has said. Russian TV reports showed Mr Putin visiting Gorbachev's coffin in a Moscow hospital this morning before he headed off to Kaliningrad, the Russia-controlled exclave wedged between Poland and Lithuania. Gorbachev, Soviet leader between 1985 and 1991, died on Tuesday aged 91. He is a Nobel Peace Prize winner who helped end the Cold War but he also failed to prevent the collapse of the Soviet Union, which Putin has described as a "catastrophe". It also emerged today that the chairman of Lukoil, one of Russia's largest oil companies and one of the only Russian businesses to criticise Putin's invasion of Ukraine, has fallen to his death from a sixth-floor window of the same hospital in Moscow where Gorbachev died.
September 02
| | |
| --- | --- |
| | By Danny Boyle |
It is

the

final countdown. At 5pm, voting will close in

the

Tory leadership race. As Boris Johnson spends his final hours in office, we are expecting

a

new development in

the

Partygate scandal today.
GP wages soared as patients were turned away
At

a

time when surgeries closed their doors on patients, doctors' incomes rose to unprecedented heights. New data shows that most GPs saw their earnings increase to an average of £142,000 during

the

pandemic under

a

Covid pay boom.

The

official NHS figures show that GP partners saw average incomes rise by £20,000 in

the

12 months after

the

first lockdown.

The

17pc hike,

the

largest on record, came as

the

NHS moved to

a

system of "total triage", with patients routinely refused in-person GP appointments unless they had

a

telephone consultation first. Some of

the

extra money will have come from

the

Covid jab roll-out. Patient groups said

the

increase was "extremely difficult to justify". Health editor Laura Donnelly reports that it comes as GPs threaten industrial action over

a

contract that forces some practices to open on Saturdays.
Legal advice 'devastating' for partygate inquiry
The Tory leadership race has entered its final hours, with voting to replace Boris Johnson to close at 5pm – before either Liz Truss or Rishi Sunak is announced as the new prime minister next week. As the outgoing Prime Minister counts down his final days in office, there is a new development in the Partygate scandal that rocked his term of office. It has emerged that the Cabinet Office has commissioned legal advice on the Commons inquiry, with a senior government source claiming that the findings of the advice call into question the legitimacy of the investigation. MPs on the privileges committee are examining whether Mr Johnson misled the House of Commons when he insisted that "all guidance was followed in Number 10" and that there was "no party" in Downing Street during the lockdowns. Legal advice on the inquiry, which has been written by Lord Pannick QC, is due to be published today. As chief political correspondent Camilla Turner writes, its publication is said to be "absolutely devastating" for the investigation.
Meanwhile, fresh allegations of misconduct have come to light. Sky News reports an unnamed Cabinet minister has been accused of sexual assault, but remains at the heart of government. The broadcaster also claimed a senior No 10 employee had groped a Tory aide, but was later appointed to a top job in Downing Street. The woman alleged she had made a complaint to the Cabinet Office, but no action was ever taken. Deputy political editor Daniel Martin reports on what we know.
The

key to

a

happy family – and why it matters

A new report has explored how stability can improve a child's chances of success later in life. And no matter who is part of the household, there is a theme. According to data published today in the independent review of contemporary family life by Dame Rachel de Souza, the Children's Commissioner for England, families who eat together tend to be happier. Peter Stanford agrees and offers this advice from his own family.
Defence review | Submarines could be the future of the Royal Navy rather than ships, the Defence Secretary has said as he launched a major review of its fleets. Ben Wallace has asked naval chiefs to assess the "balance" between the surface and submarine fleets. The study is expected to take no longer than six months. Mr Wallace pointed to the emerging threat of surveillance technology and long-range weapons in nations such as China and Russia as a cause for concern.
Ukraine's children return to class
Children wave Ukraine's national flags as they arrive for the start of the new school year, also known as "Day of Knowledge". In-person classes resumed only in schools that are either equipped with or are near a bomb shelter. Others implemented online classes, amid the ongoing Russian invasion. Our correspondents around the country witness the joy and trauma of children braving the bombs to get back to their books.
Pupils wave flags on their first day of school in Kyiv yesterday. Credit: EPA-EFE
By Tony Diver,
WHITEHALL CORRESPONDENT
Afternoon!

Will we ever see the back of partygate?

In Boris Johnson's final days in office the Government has launched a challenge against the privileges committee investigation that will rule on whether he deliberately misled Parliament.

In an extraordinary piece of legal advice published this afternoon, Lord Pannick QC, one of the country's most eminent lawyers, declares that the inquiry would be "unfair".

His advice, commissioned by the Cabinet Office, argues that if the investigation was subject to judicial review, it would be unlawful.

He also argues that the committee plans to take a "fundamentally flawed approach" in its investigation into Johnson, which could result in sanctions if it finds against him and MPs vote to impose them.

You can read all about the advice in my colleague Camilla's report here.

But as a parliamentary procedure, the workings of the privileges committee cannot be challenged in the courts, and MPs are highly unlikely to vote to suspend Johnson while the Tories have a majority in Parliament.

So why bother? Why is the Government using its efforts (and presumably a tidy sum of taxpayer cash) to dispute the work of a committee into a Prime Minister who will only be in office until Tuesday afternoon?

On the face of it, the advice is a pretty extraordinary act of hostility of the Government towards Parliament itself – reminiscent of Mr Johnson's decision to prorogue the Commons in August 2019.

At that time, Lord Pannick was on the other side of the argument – making the case that the prorogation had been unlawful in an ultimately successful appeal in the Supreme Court.

The decision to begin a row with the Privileges Committee, which returns along with the rest of Parliament next week, also potentially puts Johnson's successor in hot water.

Liz Truss, his presumptive heir, will be forced to deal with the fallout as one of her first acts of office, even as she battles rising inflation and the cost of living crisis.

It is unclear how the Privileges Committee will respond, as we are in uncharted territory here constitutionally, but MPs will surely feel the need to defend their position.

But whatever they do is likely to plunge Truss (or Sunak) into a debate over the supremacy of Parliament.

It is a particularly Johnson-esque move to want one last throw of the dice before leaving office. But perhaps his mind is also preoccupied by the prospect of return.

Leaving office with a clean slate and no investigations hanging over his head would certainly make that easier.

One of his allies, Lord Marland, on Thursday night told Newsnight that there is a "distinct possibility" Johnson will try and return, after building up his bank balance.

Those close to him have said as much to me, pointing to his resilience as a politician and feeling that he has not quite finished the job.

What's clear from Friday's move is that, in one way or another, we haven't yet seen the back of Boris.

Until next time,

Tony
Good week for…
Sir Keir Starmer, who overtook the Conservatives on the economy for the first time since 2008, according to one poll tracker.
Liz Truss, who looks certain to replace Boris Johnson as Prime Minister after polls close in the Tory leadership contest later today.
Jacob Rees-Mogg, who announced triumphantly he had succeeded in scrapping more than 250 "woke" civil service training courses.
Bad week for…
Parliamentary security guards, who spent much of Friday dealing with an Extinction Rebellion break-in.
Sadiq Khan, who has been accused of being "unfair" by Cressida Dick over her dismissal as Met Commissioner.
An unnamed Cabinet minister, who was accused of sexual assault in a Sky News podcast last night.
| | |
| --- | --- |
| | By Chris Price |
Vladimir Putin's ability to increase our winter fuel bills and fund his war in Ukraine could be curtailed after

the

announcement of

a

new G7 agreement on

the

transportation of Russian oil.

Price cap blow for Putin | The G7 has agreed to roll out a price cap for purchases of Russian oil in a bid to slash Vladimir Putin's revenues and ease the global energy crunch. In a joint statement released today, G7 finance ministers pledged to ban the transportation of all Russian oil sold above a certain price. It has sparked an angry response in the Kremlin. It came as Russian forces have suffered heavy losses during a Ukrainian offensive. Meanwhile, Western anti-war hackers caused havoc on the roads of Moscow on Thursday when they targeted a taxi company.
The

big story: Partygate probe 'fundamentally flawed'
In

the

final days of Boris Johnson's premiership, perhaps it is apt that partygate has made its way into

the

headlines again.

The

inquiry into

the

claims

the

Prime Minister misled

the

Commons over

the

scandal has taken

a

"fundamentally flawed" approach which is "wrong in principle", according to legal advice to Mr Johnson.

The

advice, commissioned by

the

Cabinet Office, says that MPs on

the

privileges committee are "proposing to adopt an unfair procedure". They are examining whether Mr Johnson misled

the

House of Commons when he insisted that "all guidance was followed in Number 10" and that there was "no party" in Downing Street during lockdown. Written by Lord Pannick QC, one of

the

country's most eminent lawyers,

the

advice states

the

proceedings would be declared "unlawful" if they were subject to

a

judicial review. However, since

the

proceedings are protected by parliamentary privilege, they are immune from legal challenges. Read Lord Pannick's reasoning for criticising

the

probe and Daniel Capurro profiles

the

QC who became Mr Johnson's unlikely ally in his partygate fightback.

It is unusual for the Government to commission legal advice into the workings of the Commons, and raises questions about the supremacy of Parliament. Chris Bryant, chairman of the committee on standards and privileges, questioned why the Cabinet Office commissioned the legal advice from a top QC on behalf of Mr Johnson, a private individual. Mr Bryant, a Labour MP, recused himself from the investigation by his committee into whether Mr Johnson misled the Commons. If Mr Johnson is found guilty of contempt he could be suspended from Parliament – and even face losing his seat as an MP in a by-election.
How Johnson could return
However, Mr Johnson is likely to pitch for Prime Minister again after making some money, provided that he escapes Parliamentary censure over partygate, a close ally has claimed. Lord Marland, a Tory peer who led Mr Johnson's London mayoral campaign and is a longstanding friend, said there was a "distinct possibility" that he would again aim for Number 10. He described the scenario in which he could return, which would not be great news for his successor. Liz Truss or Rishi Sunak will take over the top job on Monday after voting in the Tory leadership race closed at 5pm. Here is an hour-by-hour guide to how the new prime minister will be revealed and how their first few days are likely to pan out.
Ten rules to live by
With Mr Sunak or, as is widely expected, Ms Truss due to move into Number 10 within days, what might be some helpful advice for the next prime minister? Matt Ridley joined Christopher Hope to give his ten rules for the next Tory leader to live by in the latest episode of our Chopper's Politics podcast. Whoever the leader is, they will hope they do not face many incidents like the one today in the Commons, where Extinction Rebellion protesters glued themselves to the Speaker's Chair after masquerading as tourists to get inside the building.
'Assassination attempt' in Argentina
The suspected gunman who failed to assassinate the vice-president of Argentina has a Nazi tattoo, it was reported after his arrest for the botched attempt on Cristina Fernandez de Kirchner's life. Fernando Montiel is accused of pointing a handgun at Ms Fernandez de Kirchner's face as she greeted supporters outside her Buenos Aires home on Thursday night. The 69-year-old, a former president from the Peronist Left, only survived because the semi-automatic .32-calibre Bersa, which was loaded with five bullets, jammed. Mr Montiel, 35, was quickly overpowered by security officers after the attempted shooting at point blank range and is now in custody. Watch the shocking incident.
September 03
Stay up to date with

the

stories that are shaping our world, from soaring inflation to

the

far-reaching impact of

the

energy crisis. Explore our hand-picked articles below.
September 04
Liz Truss will declare on Sunday that she will do away with "sticking plasters and kicking

the

can down

the

road" in order to fix Britain's energy market and reinvigorate

the

economy.
Mikhail Gorbachev's life and legacy
Lauded in

the

West as

the

man who helped end

the

Cold War without bloodshed, Mikhail Gorbachev was widely despised at home as

the

gravedigger of

the

communist Soviet Union.

The

Kremlin could not deny that Gorbachev had

a

"huge impact on

the

course of world history" in

a

statement released following his death on Tuesday, aged 91. Look back at

the

life and political legacy of

the

last leader of

the

Soviet Union.