August 22
Ukraine is showing off wrecked Russian tanks in Kyiv for this year's Independence Day celebrations. It's not the military display President Vladimir Putin had in mind when he launched Russia's invasion.
The war that Russia — and some of Ukraine's allies — expected to end in days with a victory parade for Putin will hit the six-month mark on Wednesday, the day Ukrainians observe 31 years of independence from the Soviet Union.
It's a bittersweet moment for Ukrainians daily asserting their independence in the face of enormous suffering and destruction inflicted by the Russian army.
Key reading:
For Putin, the day is a measure of how much has gone wrong in the war, with Kyiv defiant and Russian forces making little headway in eastern Ukraine after taking huge casualties.
The Ukrainian army, buoyed by explosions at Russian military facilities in Crimea, sounds increasingly confident it can push back the invasion, backed by advanced weaponry from its US and European allies.
Putin marked Russia's State Flag Day today with a speech saying the emblem symbolized the "victories of our ancestors." He's wrapped his war in patriotism, appealing to Russians for support while hiding the scale of losses and crushing any protest.
It's worked so far — there's no widespread dissent in Russia, where many have tuned out the war. But a car bombing outside Moscow at the weekend that killed the daughter of a far-right ideologue and advocate of the invasion may hint at tensions below the surface.
While it's unclear so far who was responsible, an exiled former Russian lawmaker claimed it was the work of anti-Putin partisans.
For all the setbacks, the Russian leader hasn't abandoned his aim of subjugating Ukraine.
But the fact Ukrainian President Volodymyr Zelenskiy is delivering an Independence Day address at all symbolizes the scale of Russia's failure after six months of war.
A mural by street artist Sasha Korban depicting the hands of a military man sewing together parts of the Ukrainian flag in Kyiv. Photographer: Sergei Supinsky/AFP/Getty Images
Reliance on Russia | China's purchases of crude, oil products, gas and coal from Russia rose to $35 billion since the war in Ukraine began, from about $20 billion a year earlier. While import values have been inflated by the global spike in energy prices, China is still taking more volumes, sometimes at discounted rates, from its strategic ally.
Chinese banks lowered their benchmark lending rates while authorities stepped up support for the property market with additional loans to help ease a worsening housing crisis and bolster borrowing demand.
Germany may have to turn to nuclear power to plug its energy gap as it struggles to replace all of its imports of Russian natural gas for the winter, Chancellor Olaf Scholz and Economy Minister Robert Habeck said. With Europe gripped by its worst energy crisis for decades, politicians are looking at all alternatives including atomic power, a technology Berlin had decided to exit permanently by the end of the year.
Iran chat | President Joe Biden spoke yesterday with the leaders of the UK, France and Germany as the US and the European Union seek to revive the 2015 nuclear deal with Iran that was abandoned when the Trump administration backed out in 2018. The leaders discussed talks toward reaching a deal, including the need to strengthen support for partners in the Middle East.
Marriage hurdle | Singapore Prime Minister Lee Hsien Loong said the government will repeal a colonial-era law that criminalizes sex between men, but will bolster rules preventing same-sex marriages by amending the Constitution, in a compromise with conservative and religious groups. "We need to find the right way to reconcile and accommodate both the traditional mores of our society, and the aspiration of gay Singaporeans to be respected and accepted," he said.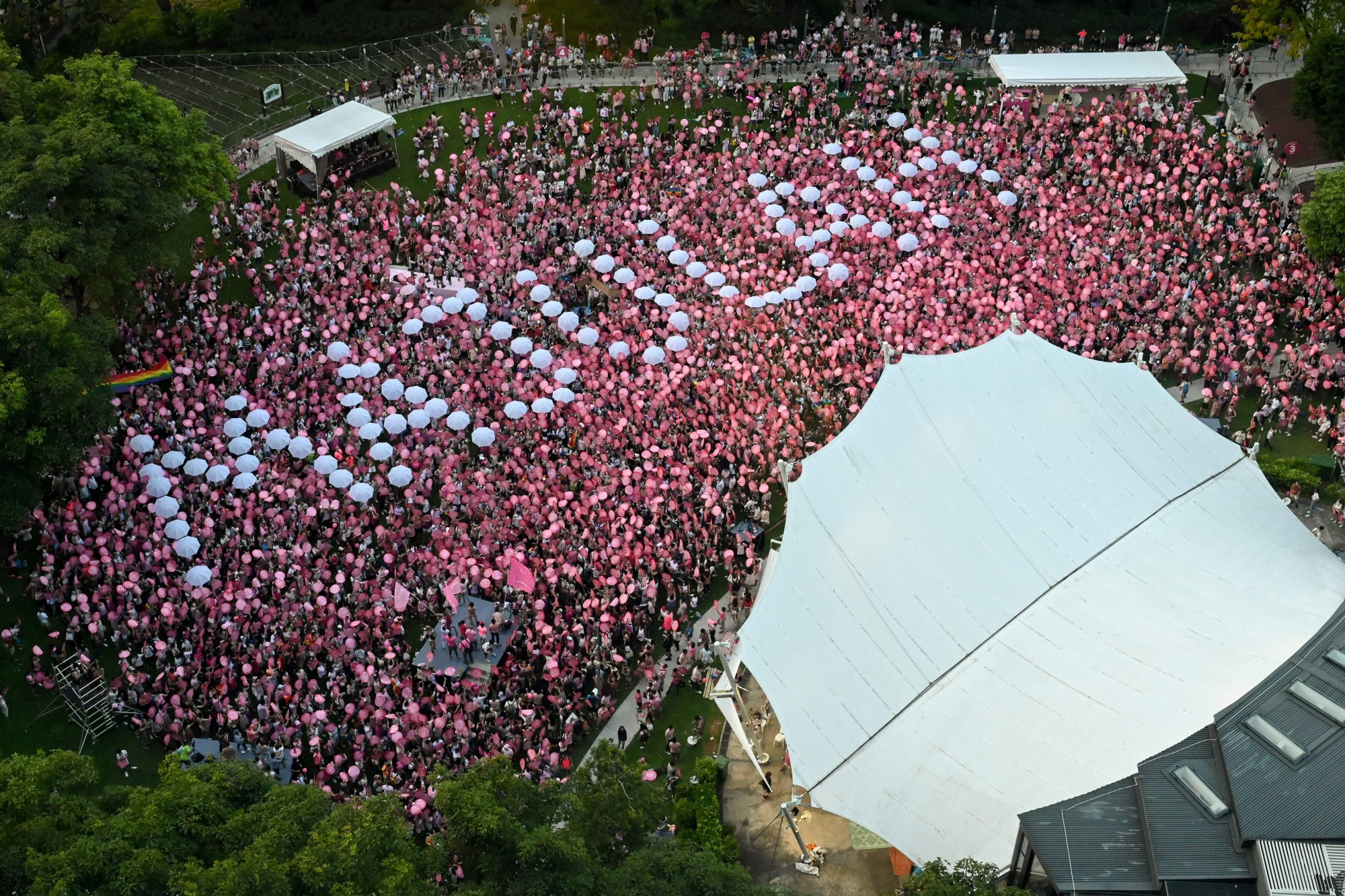 Supporters attend the annual "Pink Dot" event in support of the LGBTQ community in Singapore on June 18. Photographer: Roslan Rahman/AFP/Getty Images
Saudi Crown Prince Mohammed bin Salman has centralized power and increased political repression since being elevated by his father to become the kingdom's de facto ruler. Yet he's also ended or relaxed restrictions on entertainment and how men and women can mix, developments being given flight by a gusher of oil revenue that means Saudi Arabia's economy is the fastest growing in the Group of 20. As
Vivian Nereim
reports, the resulting social and economic shift is
reshaping
the kingdom.
August 23
With the campaign for Brazil's presidential election intensifying, defeat for the incumbent, Jair Bolsonaro, suddenly looks less of a given.
Bolsonaro and his main challenger, Luiz Inacio Lula da Silva, set out their stalls in separate media appearances yesterday, less than six weeks before Latin America's most significant vote.
Key reading:
Lula, the leftist former president who holds a wide lead in all polls, talked trade and the role of industry in Brazil's economy, and backed free elections in neighboring Venezuela, toning down his party's traditional support of the socialist regime.
But it was Bolsonaro who surprised by moderating his tone.
In a rare interview with the country's most-watched television show — like his US soulmate Donald Trump he prefers communicating via social media — the combative right-wing president sought to reach out to Brazilians, pledging to accept the election result and playing down clashes with the Supreme Court.
Bolstering Bolsonaro and undercutting Lula's appeal is the reality that the outlook for the region's biggest economy is a little less dire.
Unemployment is near a seven-year low and demand has been bolstered by a multibillion-dollar blitz of government aid.
That money, which began flowing to voters this month, may be having an impact: One poll last week showed Bolsonaro closing the gap on Lula to 15 percentage points, down from 26 points in December.
Few would bet on a Bolsonaro victory amid widespread poverty fueled by rampant inflation. Still, tax cuts have helped reduce gasoline and cooking gas costs, even if prices of some staples like milk are still soaring.
The question is whether government action can sway voters by the expected Oct. 30 runoff.

Either way, inflation, rather than his disastrous handling of the coronavirus pandemic, now looks to be key to Bolsonaro's fate. —  Alan Crawford
People watch Bolsonaro's interview on a big screen in Minas Gerais State yesterday. Photographer: Douglas Magno/AFP/Getty Images
Tough test | The predominant political force in Angola since independence from Portugal in 1975 will face its sternest electoral challenge in 30 years when it squares off tomorrow against a rejuvenated opposition. Henrique Almeida and Candido Mendes report how the Unita party's new leader Adalberto Costa Junior has tapped into public outrage over rampant poverty, graft and unemployment, threatening the MPLA and President Joao Lourenco's rule in Africa's second-biggest oil producer.
Constitutional quandary | Thailand's Prime Minister Prayuth Chan-Ocha is under pressure to step down as political opponents and activists argue he has completed a maximum of eight years in office today. Yet many of his supporters say years as junta leader starting in 2014 should not be counted and that his term only officially began when the military-backed constitution became effective in 2017.
August 24
Six months into Russian President Vladimir Putin's invasion of Ukraine, and the war on the ground is bogged down. Moscow's forces are struggling to advance, but equally Kyiv's troops aren't pushing them back.
Six Months of Putin's War Unravels Russia's Superpower Image
The war has exacted a terrible toll on Ukraine and its people, while inflicting heavy casualties among Russian troops and destroying large parts of its military machinery. What Putin gains from it in the end in Ukraine, if anything, remains to be seen.
Ukraine Strategy Targets Russian Army's Lifelines in Kherson
Putin's War Sends Russian Economy Back to 2018 in Single Quarter
If his goal though was also to sow turmoil more broadly, he has arguably already succeeded.
The war has reverberated far beyond Ukraine's borders. It has added to existing food shortages as inflation runs rampant in many countries, expanding poverty and despair in poorer corners of the world. Ukrainian grain may be on the move again after months, but it's still slow going.
Putin is using energy as a weapon with Europe, toying with governments by turning the spigot of natural gas on and off and sending prices spiking, with warnings of an awful winter ahead for businesses and consumers alike.
Europe and the US have rallied behind Ukraine, sending weapons and financial aid and slapping sanctions on Russia, while NATO has grown more cohesive and is expanding its membership to Sweden and Finland. Still, the war has exacerbated the divide between the Group of Seven nations and what is often termed the Global South.
Countries in Africa, Asia, and the Middle East have refused to sign onto sanctions and have largely acted like it's business as usual with Moscow. Some have resented being called upon to take a more critical stance against Russia, saying for starters that they can't afford to economically.
Very little has gone right for Putin in Ukraine, a reflection both of his own military's missteps and the hardy resistance of Ukrainians.
But as someone who thrives on creating disarray around the world to leverage Russia's influence, he may feel he has accomplished at least a version of his mission. — Rosalind Mathieson
A memorial of flowers and flags at Independence Square in Kyiv.
Photographer: Julia Kochetova/
Bloomberg
Running dry | The Yangtze River is at its lowest level for this time of year since records began in 1865, affecting farms that provide much of China's food and disrupting massive hydroelectric stations. Read how the drought is hitting megacities like Shanghai, adding to the challenges China faces in reviving an economy battered by Covid lockdowns and posing yet another test for President Xi Jinping as he closes in on an unprecedented third term in power.
Exposed banks along the Yangtze River in Wuhan on Monday.
Source:
Bloomberg
Hitting back | US forces carried out airstrikes in Syria against groups tied to Iran's Islamic Revolutionary Guard Corps. US Central Command said the strikes were in response to attacks like one on Aug. 15 that hit an American military base near a key border crossing in Syria. President Joe Biden's administration is signaling it will remain tough on Iran even as it weighs a return to the nuclear accord abandoned in 2018 by then-President Donald Trump.
Security concerns | The US National Archives engaged in a sometimes tense back-and-forth for months with Trump and his representatives as the government sought to assess potential national security damage from documents he took from the White House. While Trump returned 15 boxes with 100 classified documents, including some with the highest-level classification, in January, the FBI seized more than 20 additional boxes in its Aug. 8 search of his Mar-a-Lago residence.
Term limit | Thailand's constitutional court ordered Prayuth Chan-Ocha to stop performing his duties as prime minister until it rules on a petition by opposition parties seeking his removal on grounds that he exceeded an eight-year term limit. Deputy Prime Minister Prawit Wongsuwan will act as a caretaker leader from today until the court makes a final decision.
August 25
Momentum appears to be building toward a new nuclear deal between Iran and world powers that could unleash oil onto global markets grappling with supply in the wake of Russia's invasion of Ukraine.
Washington and Iran have now responded to a European Union rescue plan for the 2015 accord that limited Tehran's nuclear program in exchange for easing economic sanctions, including on crude exports.
It's still not clear just how enthusiastic the US is about the plan, but the EU has said Iran has been "reasonable" in its response.
The hardline leadership in Iran, under growing economic pressure, has dropped a demand that a US terrorist designation of its Islamic Revolutionary Guard Corps be rescinded. The fact that both sides have responded privately without too many public barbs is a sort of progress in itself after some 18 months of fraught diplomacy.
In another sign of change afoot, Israel dispatched its defense minister to the US to discuss the deal — which it vehemently opposes.
A successful nuclear accord would lead to an additional 500,000 to 1 million barrels per day entering international markets from Iran at a time when high energy prices are stoking inflation with oil back at $100 a barrel. A European ban on seaborne imports of Russian crude in December could exacerbate the continent's energy crunch.
At the same time, OPEC+ members are backing caution from group leader Saudi Arabia, which has floated the prospect of actually cutting output.
This comes as the clock ticks for US President Joe Biden ahead of midterm elections in November. He's faced opposition to reviving the deal from both Republicans and Democrats and Congress looks set to become even more hostile.
While John Kirby, spokesman for Biden's National Security Council, acknowledged progress has been made, he cautioned: "Gaps remain. We're not there yet." — Sylvia Westall
A banner depicting Iran's Supreme Leader Ayatollah Ali Khamenei in Tehran. Photographer: Morteza Nikoubazl/AFP/Getty Images
Energy crisis | The spike in European energy prices is threatening to dwarf the $279 billion in funds that politicians have earmarked to shield businesses and households. With Russia squeezing gas deliveries and power-plant outages further sapping supply, governments have focused mainly on lowering utility bills, an approach that may not only be overwhelmed by the price surge but risks making the crisis worse.
Economic rescue | China announced 19 new policies to ignite economic growth, which is weakening due to a resurgence in Covid cases, a deepening property crisis and power shortages spurred by a severe drought. The measures — unveiled by the State Council, the country's Cabinet — include more than 1 trillion yuan ($146 billion) in new funding to boost investment and consumption.
Deadly toll | The US and Europe condemned Russia for a missile strike on a railway station in Ukraine's Dnipropetrovsk region that killed at least 25 people, including two children, and wounded 31. The attack late yesterday "fits a pattern of atrocities," US Secretary of State Antony Blinken said. Hours earlier, Russian Defense Minister Sergei Shoigu claimed Kremlin forces had slowed their offensive to limit civilian casualties.
Time is ripe | Kosovo and Serbia have no alternative but to reach an agreement on normalizing ties, Prime Minister Albin Kurti said in an interview, adding that the "time is ripe" to do so during his term in office. Kurti, who took power last year, said he's ready for a deal to move both nations closer to EU membership, which can only happen once they mend their relationship.
Popular appeal | Pakistan's military-backed establishment faces a dilemma: The more they seek to boot Imran Khan out of politics, the greater the risk the former premier becomes even more popular. Since his ouster in a no-confidence vote in April, Khan has sought to rally his supporters to hit the streets and push for a fresh national vote. The campaign has been paying off lately, with Khan's party winning key by-elections.
Supporters of Khan at a rally to celebrate the 75th anniversary of Pakistan's independence in Lahore on Aug. 13. Photographer: Arif Ali/AFP/Getty Images 
August 26 – 27
Europe is tightening its collective belt in the energy confrontation with Russian President Vladimir Putin, who's counting on a winter of economic pain and social distress to weaken the continent's resolve in opposing his war in Ukraine.
European Union leaders have already earmarked almost $280 billion to ease the crisis but face mounting pressure to do more to curb soaring energy bills.
Thermostats are being dialed down and lights dimmed to reduce consumption as record prices intensify an inflation spike and roil economies. UK consumers learned today it will cost almost three times as much to heat their homes this winter compared to last year.
Blunt message | Biden cast Republicans as committed to "destroying America" and said he had no respect for adherents of former President Donald Trump. At a rally in Maryland kicking off his midterm election campaign with sharpened critiques of the GOP, Biden touted a recent stretch of legislative wins and told voters they needed to turn out to protect those policies.
Call to arms | Putin ordered his army to boost its troop total by 137,000 to 1.15 million, the highest level in more than a decade, as Russia digs in for its war against Ukrainian forces backed by the US and its allies. The decree didn't explain the reason for the increase or where the new recruits would come from but avoided a mass mobilization and an official declaration of war.
Keeping power
| Angola's ruling party maintained its 47-year
grip on power
and secured a second mandate for President Joao Lourenco in the OPEC-member's closest election since the end of a civil war two decades ago. The electoral commission said the MPLA won just over 51% compared with about 44% for the main opposition Unita party, which has threatened to refuse to concede defeat.
Stability pledge
| Brazilian presidential front-runner Luiz Inacio Lula da Silva promised to run a stable and
credible administration
if elected in October. During a prime-time interview on the nation's most-watched news show, the former president who governed between 2003 and late 2010 sought to reassure voters who have doubts about a third mandate for the leftist.
August 28
Intercepted foreign communications and intelligence gathered by spies were among the classified defense and intelligence material that former US President Donald Trump stashed improperly at his Mar-a-Lago estate, according to an unsealed FBI affidavit.

Joe Biden said the philosophy espoused by supporters of Trump is "like semi-fascism" as the US president started his campaign for the congressional midterm elections in November.

Ukraine celebrated 31 years of independence from the Soviet Union this week as Vladimir Putin's invasion passed the six-month mark, with Russian forces suffering huge casualties and causing enormous suffering and destruction.

China pumped a further 1 trillion yuan ($146 billion) into the economy, with funding largely focused on infrastructure spending.

And in Europe, with Russia squeezing gas deliveries and power-plant outages sapping energy supplies, pressure mounted on governments to ease the burden on consumers ahead of the approaching winter.

Delve into these and more of this week's top political stories in this edition of Weekend Reads. — Karl Maier
A man mourns during a ceremony for the fallen soldiers of Ukraine at the Lychakiv Cemetery in Lviv on Wednesday. Photographer: Yuriy Dyachyshyn/AFP/Getty Images
Trump's Return of Top Secret Files Convinced FBI He Had More
The FBI indicated in the affidavit supporting its search of Trump's Mar-a-Lago estate that records he kept contained information about clandestine human sources and data collection authorized under a secret body known as the Foreign Intelligence Surveillance Court, Jack Gillum writes.
Six Months of Putin's War Unravels Russia's Superpower Image
Putin's invasion has upended fundamental assumptions about Russia's military and economy. Marc Champion outlines how wrong expectations of officials and analysts in Washington and Europe proved to be.
Biden Touts Debt Relief, Climate Wins in Test of Midterm Message
The president kicked off his campaign for the midterm elections by casting Republican candidates as committed to "destroying America." As Jordan Fabian and Nancy Cook write, Biden touted recent legislative wins and said "the very survival of our planet is on the ballot."
Trump, DeSantis and Cheney Expose Fault Lines in GOP Identity
The US Republican party is searching for its identity ahead of the crucial midterms, with confidence waning that it can reclaim control of Congress and face the 2024 presidential vote from a position of strength. Mario Parker explores what is going wrong for the GOP.
Japan Set to Become One of World's Biggest Defense Spenders
Prime Minister Fumio Kishida's ruling party is looking to double spending over five years from this year's 5.4 trillion yen ($39.5 billion), Isabel Reynolds writes. That could propel Japan from ninth in the world for military spending to a likely third spot behind the US and China, according to the Stockholm International Peace Research Institute, or SIPRI.
Kishida rides in a tank in Tokyo on Nov. 27, 2021.
Photographer: Kiyoshi Ota/
Bloomberg
US, Iran Near Nuclear Deal Whose Final Push May Still Take Weeks
Washington and Tehran may need several weeks to resolve their differences over key details of an emerging deal to revive a landmark nuclear agreement, sources say. Jonathan Tirone, Golnar Motevalli and Samy Adghirni detail the gaps that remain.
China's Historic Drought Spawns Power Crisis in Test for Xi
Drought is hitting megacities like Shanghai, adding to the challenges China faces in reviving an economy battered by Covid-19 lockdowns and posing yet another test for President Xi Jinping as he closes in on an unprecedented third term in power.
Goodbye Hot Showers. Here's How Europe Is Slashing Energy Use
Europeans are taking colder showers, offices are turning down thermostats and stores are dimming lights to avoid blackouts and freezing homes this winter in the fallout from Russia's war in Ukraine.
Part of the Guadiana river has dried up in the central-western Spanish region of Extremadura on Aug. 16. Photographer: Thomas Coex/AFP/Getty Images
Singapore Housing Barrier Becomes Even Higher for LGBTQ Buyers
The authorities' move to bolster rules preventing same-sex marriages could be a serious blow to the nation's lesbian, gay, bisexual, transgender and queer community in one of the city-state's most important wealth and lifestyle areas: housing. Natalie Choy explains why.
Angola President Wins Second Term in Closest Vote in Decades
The ruling MPLA party maintained its 47-year grip on power in Angola and won a second mandate for President Joao Lourenco in this week's election — a result the opposition rejected. Henrique Almeida and Candido Mendes write that the vote was the most hotly contested in Africa's second-biggest oil producer since a civil war ended in 2002.
Imran Khan's Street Politics Sets Up Showdown With Army 
Pakistan's military-backed establishment faces a dilemma: The more they seek to boot Imran Khan out of politics, the greater the risk the former premier becomes even more popular. Kamran Haider and Ismail Dilawar explain how his campaign to rally supporters for a fresh national vote is paying off.
Pakistan has appealed to foreign donors for help as unprecedented rains trigger a humanitarian crisis and threaten the economy.
Border Reopening Stalls as Maduro Mulls Impact of Colombia Trade
Gustavo Petro's inauguration as Colombia's first leftist president was expected to lead to a quick reopening of the border with Venezuela and a reboot of their often acrimonious relations. Patricia Laya looks at why the process has stalled.
Even From Jail, Najib Will Remain a Kingmaker in Malaysia
Najib Razak is in prison after Malaysia's top court upheld the former prime minister's conviction for his role in one of the world's largest financial scandals. Yet as Niluksi Koswanage, Philip J. Heijmans and Ravil Shirodkar write, he will loom large over the next battle for control of parliament.