August 15
Chinese President Xi Jinping's hopes for stability ahead of a historic Communist Party congress are quickly dwindling.
His country's economic slowdown deepened in July as strict Covid Zero measures and a slumping real-estate market threaten the chances of a recovery to a "reasonable" range.
Key reading:
Xi, who's expected to secure an unprecedented third term at the congress meeting later this year, now has just a few months to rein in spiraling economic crises as well as flaring tensions with the US since his government responded to House Speaker Nancy Pelosi's visit to Taiwan with its most provocative military drills in decades.
Economic data for July suggest confidence is collapsing among China's businesses and households — retail sales, industrial output and investment all slowed last month, and youth unemployment climbed to a record 19.9%. That means even a surprise interest-rate cut by the central bank is unlikely to help much because there's little appetite to borrow.
It's a precarious moment for the authorities.
They're already dealing with protests across more than 100 cities in China from homebuyers who are facing delays in receiving apartments they purchased. Add to that fresh outbreaks of Covid-19 in restive areas like Xinjiang and Tibet and the challenges are stark.
And Beijing's commitment to sustaining its new normal around Taiwan, encroaching into a buffer zone that's helped keep the peace around the democratically governed island, is already being tested.
Another US congressional delegation is in Taiwan today, prompting China's military to say it held fresh patrols to "fight back" against the visit.
It's another unwanted headache for Xi in a year that's proving anything but calm. — Rebecca Choong Wilkins
Xi in Hong Kong on July 1.
Photographer: Justin Chin/
Bloomberg
Trump search | US Senate Intelligence Committee leaders requested the government provide them with classified documents the FBI seized at former President Donald Trump's home last week. Agents took away files that included some with the US government's highest secrecy rating during the raid, touching off political recriminations before November's midterm congressional elections.

Strengthening ties | Russian President Vladimir Putin offered to expand "comprehensive" relations with North Korea in a congratulatory message for its Liberation Day holiday, the official Korean Central News Agency reported. Pyongyang recognizes the independence of the self-proclaimed Donetsk and Luhansk peoples republics in Russian-occupied eastern Ukraine, leading some analysts to speculate it could be a source of armaments for Putin's war.
Russia allowed trading from today in debt securities for investors from "friendly" countries that haven't joined sanctions imposed by the US and its allies.
The risk of a euro-area recession has reached the highest level since November 2020 as energy shortages threaten to drive already record inflation higher still, a Bloomberg survey showed. The rising cost of living is hurting companies and households, with Russia's energy threats exacerbating the problem.
Covid curbs | To combat new Covid-19 outbreaks in outlying areas like Xinjiang and Tibet, Beijing is drawing on a security apparatus previously used to quell dissent against the Chinese government. Surveillance methods used against Tibetan Buddhists and mainly Muslim Uyghurs are helping enforce Covid Zero rules, ensuring there are no public displays of anger like those seen during the months-long lockdown in Shanghai.
Best of
Bloomberg

Opinion
Tight contest | Kenya's electoral commission is close to announcing the final results of last week's presidential election. Deputy President William Ruto clung to a narrow lead of 51.2% to 48.1% over former Prime Minister Raila Odinga, according to data on the Nairobi-based Nation Media Group's website.
Elections billboards for Odinga and Ruto.
Photographer: Michele Spatari/

Bloomberg
Winter planning | Germany's gas storage facilities have reached a fill level of 75% two weeks ahead of schedule, the country's top regulator said, as Europe's biggest economy tries to shore up supplies cut by Russia. Germany's rules stipulate that storage facilities must be at least 75% full on Sept. 1, rising to 85% on Oct. 1 and 95% on Nov. 1.
August 16
The sweeping Inflation Reduction Act just passed by Congress will not only slash planet-warming greenhouse gas emissions, Democrats say, it will steer record funding to programs supporting environmental justice — that is, addressing the legacy of disproportionate environmental harm in low-income and minority communities and ensuring they are treated fairly in the future.
…
Soon after taking office, Biden signed an executive order mandating that 40% of the benefits of select federal climate and energy programs flow to disadvantaged communities. The administration released the Climate and Economic Justice Screening Tool this past February that would define how "disadvantaged" or "vulnerable" could be measured in concrete terms, but the tool doesn't explicitly account for race or ethnicity.
Although the president's infrastructure bill passed, it was in a whittled-down form, and his big economic and climate bill was on life support for another nine months. Margaret Walls, a senior fellow with Resources for the Future, a climate and energy think tank, noted in an analysis of the legislation that environmental justice concerns haven't always been a priority in climate policy because they're not really an ideal fit with climate concerns.
"We are linking these two things in our policy environment at the moment, and they aren't that well linked. The environmental justice concerns, which have been around for decades, are often not linked to greenhouse gas emissions," she said.
Afghanistan
A year has passed since the Taliban stormed into Kabul, taking advantage of the power vacuum left by the departure of US and allied troops from Afghanistan.
The militant group made big promises as it established its Islamic Emirate and offered a fresh start. Women would be free to work and study, there'd be no safe haven for terror groups and old foes would receive amnesty.
Instead, as the country unraveled further, the new Taliban has proved to be just like the old Taliban.
Key reading:
For women it's been a journey back in time to the era when the group held sway for five years before US troops arrived in Afghanistan after the 9/11 attacks on America in 2001.
For most other Afghans too, it's hard to see a normal future.
The economy has cratered in the absence of foreign aid. Surging global food prices following Russia's invasion of Ukraine have combined with the worst drought in three decades to intensify the risk of famine. Aid agencies estimate nearly 23 million people, or more than half the population, face acute hunger.
Some Afghans are so desperate they've resorted to selling their young children, mostly girls, into marriage to feed the rest of the family. Teenage girls can no longer attend school and few women are allowed to hold jobs.
There's little respite in sight.
After the US killed al-Qaeda leader Ayman al-Zawahiri in a drone strike in Kabul last month, Washington indicated it has no plans to release $3.5 billion in frozen funds to the Taliban-controlled central bank. The Taliban said it didn't know Zawahiri had been living in the Afghan capital.
But his presence was a reminder for the US and its allies that the new Taliban either can't or won't shake off its past on that front either.  — Muneeza Naqvi
Women rally at the education ministry in Kabul on Aug. 13.  Photographer: Nava Jamshidi/Getty Images
Dangerous territory | The US and China may "sleepwalk into conflict" if they don't de-escalate rising tensions over Taiwan, Singapore's prime minister-in-waiting, Lawrence Wong, warned in an interview with

Bloomberg

Editor-in-Chief John Micklethwait. The relationship between the world's biggest economies was on a "very worrying" trajectory in the wake of House Speaker Nancy Pelosi's visit to Taiwan and China's subsequent military drills around the island, he said.
The announcement by the US, Japan and South Korea that they had conducted a joint missile-defense exercise off Hawaii showed their willingness to work together in the face of perceived threats posed by North Korea and China.
Pelosi's Taiwan trip was only the most high-profile in a series of moves by Congress that are forcing President Joe Biden to test Beijing's red lines — whether he wants to or not.
Tehran's stance | Iran sent the European Union its official response to the bloc's proposal for reviving the 2015 nuclear accord after signaling it may be nearer a deal. While Foreign Minister Hossein Amirabdollahian said yesterday an agreement is possible "if the US shows a realistic approach and flexibility," State Department spokesman Ned Price said the Biden administration planned to share its views privately with the EU's top envoy, Josep Borrell.
The historic US deal devoting $374 billion to climate and energy measures over the next decade is being touted as one of the most ambitious decarbonization commitments made by any government to date. Yet when you combine public and private investments aimed at accelerating the energy transition, China is by far and away the biggest spender, according to data compiled by energy research group Bloomberg NEF.
On tenterhooks | Tension was high in Kenya as the East African nation waited to hear from five-time losing presidential contender Raila Odinga on whether he will ask the courts to overturn William Ruto's victory in last week's election. A number of Odinga's supporters took to the streets of Nairobi, the capital, late yesterday and set tires alight, but the situation was largely calm today.
Scuffles at the electoral center before the announcement of results. 
Photographer: Michele Spatari/
Bloomberg
Best of
Bloomberg

Opinion
Union question | The rival contenders to be the UK's next prime minister, Liz Truss and Rishi Sunak, head to Scotland today to pitch themselves to the Scottish Conservatives on their ability to hold Britain together. The party faithful will want to hear how they plan to head off Scottish First Minister Nicola Sturgeon's demand for another independence referendum.
Gold and chaos | The Central African Republic is defending the use of Russian assistance to take back rebel-held territory, despite claims of indiscriminate killings of civilians and looting of gold-mining sites. While analysts say the Wagner Group, a Russian private military company, has been key to keeping President Faustin-Archange Touadera in power, Simon Marks and Mohammed Alamin write, the government denies the mercenaries are operating in the country.
And finally … As Covid-19 lockdowns, political upheaval and soaring costs drive expats from Hong Kong, and rival Singapore raises the bar for imported labor, young professionals looking for adventure and careers abroad are facing a dilemma. Which will be the cosmopolitan hotspots of the future with high-paid jobs and affordable luxury lifestyles? Read how a clutch of cities is emerging to challenge the old order, luring companies and start-ups to burnish their credentials as global hubs.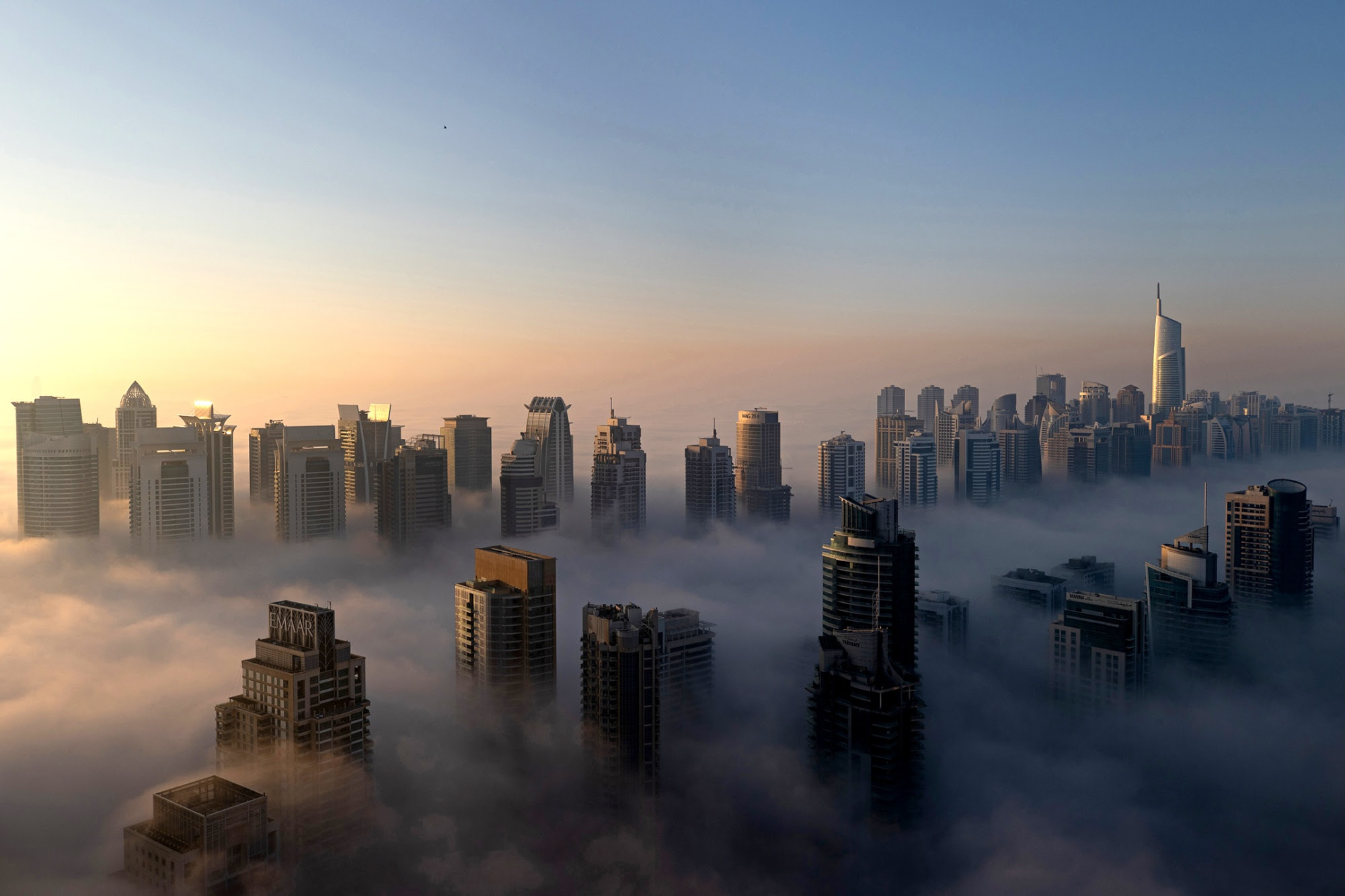 Morning fog in Dubai.
Photographer: Christopher Pike/
Bloomberg
August 17
Donald Trump just claimed one of his most coveted scalps: that of Liz Cheney, the House representative from Wyoming who is the highest-profile Republican to reject his false claim that the 2020 election was stolen from him.

Cheney was particularly loathsome to Trump for her role as the vice chair of the Congressional committee investigating the storming of the US Capitol by his supporters on Jan. 6, 2021. She repeatedly called the former president a threat to American democracy, for failing to concede defeat to Joe Biden and for encouraging the rioters.

Key reading:

While expected, her landslide loss late yesterday in the Republican state primary to a Trump-backed candidate emphasizes his grip on the party and success in transforming it from conservative to populist.

Eight of the 10 Republican House members who voted to impeach Trump over the Capitol riot have been defeated in primaries or announced their retirements. Of the 270 candidates for international, federal, state, local and political positions Trump has endorsed since leaving office, 216 have won or advanced to the general election — almost a third ran unopposed — and 17 have lost.

Now the party's most immediate target is to win control of at least one house of Congress in November's midterm elections. Trump's most avid supporters are also anticipating that he will make another run for the White House in two years.

In her concession speech, Cheney vowed to keep confronting Trump head on.

In the meantime, the former president faces a myriad of legal cases over everything from his taxes to his handling of classified documents and his role in the insurrection. While last week's FBI raid on his Mar-a-Lago home rallied Republican support, the possibility of criminal charges loom.

Winning the Republican nomination isn't yet a lock, if he seeks it. A lot is still in play before anyone casts a ballot in 2024. — Bill Faries and Karl Maier
Cheney swears in witnesses at a hearing of the House committee investigating the Jan. 6 insurrection. Photographer: Win McNamee/Getty Images
Democratic milestone | Biden signed the Democrats' sweeping tax, climate and health-care law yesterday, sealing a major victory that Democrats need to help improve their chances of protecting congressional majorities they're in danger of losing in the midterms. The measure, which no Republican lawmaker supported, caps a tumultuous effort that began last year when Democrats took control of Congress and the White House to approve new social and economic programs.

Iran optimism | US and European officials signaled optimism over a European Union proposal aimed at reviving the 2015 international nuclear agreement abandoned by Trump. While the Biden administration is weighing Iran's response to the plan, State Department spokesman Ned Price said the big issues have been "largely settled" and that it is close to what Washington was looking for.
The EU views Iran's response to the proposal as constructive, sources say, the first sign that the Iranian position might not further stall the negotiations.
Mounting concern over semiconductor demand is sending shudders through North Asia's high-tech exporters, which historically serve as a bellwether for the international economy. South Korean behemoths Samsung and SK Hynix have signaled plans to dial back investment outlays, while across the East China Sea in Taiwan, the world's biggest contract chipmaker indicated a similar expectation.
War strategy | For weeks, Ukrainian forces have methodically targeted supply lines of Russian troops occupying the strategically important southern city of Kherson. Yet a large-scale offensive to retake it may not be close. Outgunned despite supplies of new weapons from its US and European allies, Ukraine's military has so far focused on a policy of attrition, blowing up bridges to isolate and wear down Russian forces.
Best of
Bloomberg

Opinion
Vote challenge | Former Kenyan Prime Minister Raila Odinga rejected his narrow loss in last week's presidential elections and is widely expected to challenge the official results in court, setting the stage for a protracted battle over control of East Africa's biggest economy. The dispute and delay in swearing in William Ruto as the new leader poses a risk to political stability in Kenya, where previous votes were marred by violence.
Odinga arrives at the Azimio La Umoja party headquarters yesterday.
Photographer: Michele Spatari/
Bloomberg
Talking peace | South Korea doesn't back the use of force to bring down the North Korean regime, President Yoon Suk Yeol said. He added that he's open to speak with leader Kim Jong Un and has an "audacious plan" of food, energy and infrastructure aid for Pyongyang if it decides to give up its atomic weapons.
News to Note
And finally … One of the world's richest men played an important role in getting the Democrats' landmark climate, tax and health-care bill across the line. In an interview with Bloomberg Green, billionaire philanthropist and clean-energy investor Bill Gates revealed how he tried to keep the legislation alive by lobbying senators including West Virginia's Joe Manchin, who had shut down an early version.
Biden hands a pen to Manchin after signing the climate, tax and health-care bill yesterday.
Photographer: Sarah Silbiger/
Bloomberg
August 18
With Boris Johnson still in power but not in the office, the challenges awaiting whoever replaces him as UK prime minister grow more daunting by the week.
Whether ruling Conservative Party members vote for Liz Truss or Rishi Sunak, the next occupant of 10 Downing Street faces a baptism by fire.
Key reading:
Inflation is at a 40-year high, with soaring food and energy bills fueling a cost-of-living crisis as the economy lurches toward a lengthy recession. Rising interest rates are piling further pressure on hard-pressed households.
Nationwide rail strikes resuming today continue a summer of industrial discontent over pay, while an eight-day walkout starting Sunday by dock workers at the country's largest container port threatens shortages of goods in supply chains still stretched by the Covid-19 pandemic.
The UK may struggle to keep the lights on this winter as Russia threatens European energy supplies in its war against Ukraine — London dodged a blackout last month by paying a record price to import electricity. Britain is among Ukraine's strongest supporters in the war, which shows no sign of ending.
There's unfinished business over Brexit and the Northern Ireland protocol with the European Union. And Scotland's ruling nationalists are demanding another independence referendum.
Truss, the foreign secretary, is favorite to defeat Sunak, the former chancellor of the exchequer, when the result is announced Sept. 5.
They have clashed fiercely over the government's record, sparking fears among Conservative allies that the contest has been a gift to the opposition Labour Party as it strives to win back so-called "red wall" voters who switched to support Johnson in 2019 elections.
With the next ballot a little more than two years away at most, Johnson's successor inherits an unenviable legacy. Whoever is the new prime minister won't have much time to savor the achievement.
The first in a series of 50 rallies across Britain organized by the union-led Enough Is Enough group in London yesterday.
Photographer: Chris J. Ratcliffe/
Bloomberg
Flashpoint talks | The US and Taiwan plan to start formal talks on a trade and economic initiative amid opposition from China. The world's leading supplier of semiconductors has become the most volatile issue between Washington and Beijing, as China's military ratchets up exercises near what President Xi Jinping views as his country's lost territory while Taiwanese voters reject closer ties with the mainland.

Biden calling | US President Joe Biden called Liz Cheney after the Wyoming congresswoman and vocal Trump critic was defeated in her state's Republican primary. Following her landslide loss, Cheney said she would do "whatever it takes" to block Trump's path back to the White House and is considering a run for president.
Former Vice President Mike Pence said he would give "due consideration" to testifying before the House Committee investigating the Jan. 6, 2021 insurrection and criticized Republicans for attacking the FBI over the search of Trump's Florida home.
President Jair Bolsonaro poured big money into the Brazilian economy to improve his re-election chances. So far, it hasn't paid off. Opinion polls released this week show the incumbent behind his rival, former President Luiz Inacio Lula da Silva, by more than 10 percentage points despite the passage of an aid package worth some 41.3 billion reais ($8 billion).
Diplomatic effort | Ukrainian President Volodymyr Zelenskiy will meet his Turkish counterpart, Recep Tayyip Erdogan, and United Nations Secretary-General Antonio Guterres in the western city of Lviv to consider possible diplomatic steps to end Russia's war. They're also expected to discuss increasing exports of Ukrainian grain to world markets.
Best of
Bloomberg

Opinion

Distant promise | In the face of high inflation and unemployment, Prime Minister Narendra Modi has repeatedly told voters that India is just beginning a "golden era" that will run for the next quarter century. Modi used the Hindi term "amrit kaal" 14 times in a speech this week to mark the 75th anniversary of independence from British rule, the most on a single day this year. An analysis of dozens of speeches shows the mention of the term seems to spike when the government is under pressure.

Big hole | The US dollar's relentless climb is blowing a hole in the finances of developing nations, fueling inflation, deepening poverty and fanning unrest. Worldwide, 36 currencies have lost at least a 10th of their value this year, and policy makers are, collectively, burning through the equivalent of more than $2 billion of foreign reserves every weekday to prop up them up.
And finally … As record-breaking temperatures arrived earlier this year and lingered longer, the Indian subcontinent is facing the possibility that punishing heat may be the new normal. Pakistan's Jacobabad district is one of the few places in the world to have breached the so-called wet-bulb temperature threshold of 35C — the combination of heat and humidity that's considered the theoretical limit for survival and roughly equivalent to a heat index of 160F. With governments struggling to put in place funds and plans, our team of reporters takes a look at how communities are cobbling together their own coping strategies.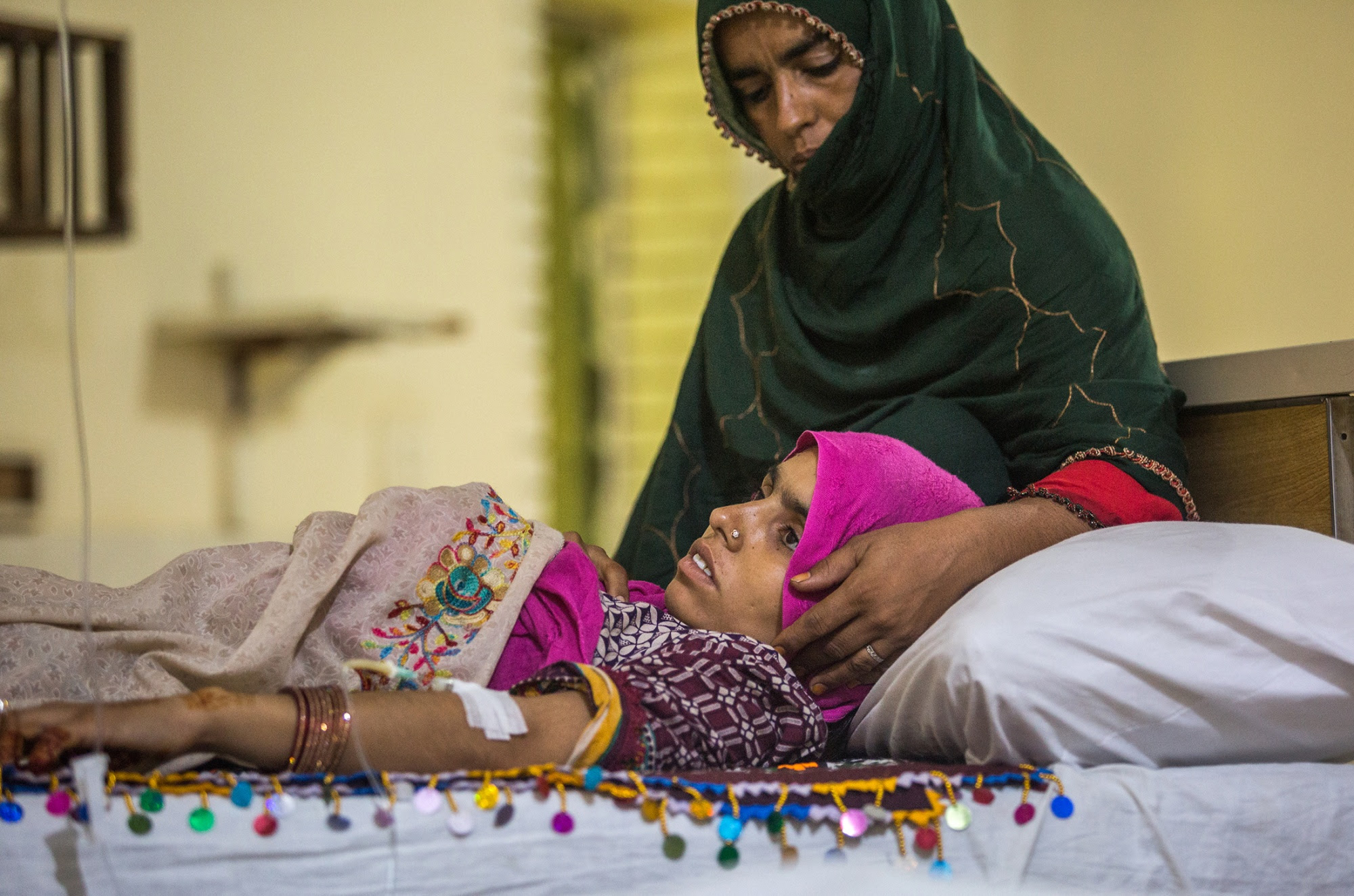 A patient being treated for heatstroke at a government hospital in Jacobabad, Pakistan.
Photographer: Asim Hafeez/
Bloomberg
August 19
Indonesia's Bali is nicknamed the "Island of Gods" for its vibrant beauty that lures tourists worldwide. Its charms will be on display to Vladimir Putin and Xi Jinping in November, too.
The Russian and Chinese leaders plan to attend the Group of 20 summit in Bali, Indonesian President Joko Widodo told Bloomberg News Editor-in-Chief John Micklethwait in an interview yesterday, the first confirmation that Putin and Xi intend to show up at the meeting of the world's largest economies.
Key reading:
That presents major challenges for US President Joe Biden and other Group of Seven leaders.
Xi hasn't left China since the Covid-19 pandemic erupted. His presence in Bali would open up the prospect of a first face-to-face meeting with Biden as China and the US navigate surging tensions over Taiwan.
The G-7 pushed to exclude Putin from the Bali summit. Indonesia resisted, arguing it must stay neutral as host nation, and instead invited Ukrainian President Volodymyr Zelenskiy as a guest as well.
If Zelenskiy comes, Putin risks a confrontation with a leader he's refused to meet.
Still, the Russian president's readiness to go to Bali indicates confidence he won't be an international pariah, underscoring divisions between the G-7 and states in the global south over isolating his country for the invasion.
Biden and his allies will have to decide whether to sit in the same room as a man the US president has condemned as a "war criminal."

Neither Xi nor Putin attended last year's G-20 in Italy. British Prime Minister Boris Johnson said in June he'd be "amazed" if the Kremlin leader came to Bali.

Instead, Johnson's the one who'll miss the paradise island summit. It's far from the first time Putin has confounded the expectations of his opponents.
Putin and Xi in Beijing in February. Photographer: Alexei Druzhinin/AFP/Getty Images 
Weak spot | Putin's invasion of Ukraine has put the geopolitical spotlight on Europe's southeastern flank, a region that has long struggled to catch up economically with the continent's richer west. As NATO races to bolster its military posture along the Black Sea, the efforts are raising questions over why it wasn't done before.
Russia is likely using the Zaporizhzhia nuclear power plant in southern Ukraine to shield its troops and equipment, undermining the safety of operations at Europe's biggest atomic-power station, according to European intelligence officials.
Challenges ahead | Soon after Xi took power in 2012, he outlined his "Chinese Dream" for national rejuvenation. A decade later, he's entering his most challenging period yet for turning that vision into reality. With economic growth forecasts slashed, Covid-19 cases rising to a three-month high and the US pushing back over Taiwan — Xi has just a few months to ensure they don't overshadow his greatest achievement yet: securing a precedent-breaking third term as leader at a Communist Party congress later this year.
China yesterday reported its worst week of Covid infections since mid-May, spurred by outbreaks in vacation hotspots that risk spreading across the country as travelers return.
Fueling unrest | While Putin's war has sent Europe scrambling to secure enough fuel to keep its people warm in the coming winter, poorer nations are struggling to ensure energy flows to their citizens already hit by surging inflation and food shortages. With gas prices more than 150% higher since the Russian invasion, and wealthier nations able to pay more to ensure adequate supplies, developing countries can't compete.
Best of
Bloomberg

Opinion
Ally caves | The FBI search of former US President Donald Trump's Florida residence and his taking the fifth in a deposition by New York's attorney general ratcheted up pressure on the CFO of the Trump Organization to plead guilty to tax fraud. Patricia Hurtado and Erik Larson report on the radical turn by Allen Weisselberg, who had fought the charges for more than a year before entering a guilty plea on 15 counts.
Fighting words | The influential sister of North Korean leader Kim Jong Un rejected a disarmament-for-aid deal offered by South Korea's president, calling it a "stupid" plan and dismissing the idea of engaging with Seoul. "We just don't like Yoon Suk Yeol as a human being," Kim Yo Jong said of the conservative leader in Seoul who took office in May and pledged to take a hard line toward Pyongyang.
August 20 – August 21
US President Joe Biden scored a major victory before the midterm elections by ratifying the Democrats' tax, climate, and health-care law, while legal troubles increased for former President Donald Trump concerning his efforts to overturn the 2020 election.

Biden is also headed for a showdown at the November Group of 20 summit in Indonesia, where Russian President Vladimir Putin and Chinese leader Xi Jinping are also slated to show up.

Putin's war in Ukraine is grinding toward a standstill, with questions rising whether Kyiv will be able to mount a counterattack this year as it pounds Russian forces' logistics and command structures deep behind the front lines.

Political tensions are also flaring again in Africa, where the loser of Kenya's presidential election contested the results and a fragile truce frayed between Ethiopia and rebels in its Tigray region in a conflict that has devastated the lives of millions.

Delve into these and more of this week's top political stories in this edition of Weekend Reads. — Michael Winfrey 
Biden shakes hands with Senator Joe Manchin after signing the Inflation Reduction Act at the White House on Tuesday.
Photographer: Sarah Silbiger/
Bloomberg
Click here for this week's most compelling political images.
Biden Signs Tax-Climate Bill, Marking Long-Sought Democratic Win
The US president signed the sweeping climate law, cementing a major legislative win ahead of the midterms. Jordan Fabian reports how the measure, which no Republican lawmaker supported, caps Democrats' tumultuous effort to approve new social and economic programs.
Trump's Deepening Peril Put Squeeze on CFO to Take Deal, Testify
The FBI search of Trump's Florida residence and his taking the fifth in a deposition by New York's attorney general ratcheted up pressure on the CFO of the former president's Trump Organization to plead guilty to tax fraud. Patricia Hurtado and Erik Larson report on the radical turn taken by Allen Weisselberg, who had fought the charges for more than a year.
The historic US climate deal is being touted as one of the most ambitious decarbonization commitments made by any government to date. But when you combine public and private investments aimed at accelerating the energy transition, China is by far and away the biggest spender.
Putin's War in Ukraine at a Standstill, Western Officials Say
Russia's invasion of Ukraine is at a near-operational standstill, with neither side currently able to launch an offensive that would materially affect the course of the conflict, according to an assessment from Western officials. Now the question is whether Ukraine can mount a credible counterattack in the fall,  Emily Ashton and  Marc Champion report.
Ukraine Strategy Targets Russian Army's Lifelines in Kherson
Ukrainian forces have methodically targeted supply lines of Russian troops occupying the strategically important region and city of Kherson. But that doesn't mean they may be close to launching a large-scale offensive to take it back.
The influential sister of North Korean leader Kim Jong Un rejected a disarmament-for-aid deal offered by South Korea's president, calling it a "stupid" plan and dismissing the idea of engaging with Seoul.
NATO Races to Counter Russia's Threat in Europe's Weak Spot
Putin's war has put the geopolitical spotlight on Europe's southeastern flank, a region that has long struggled to catch up economically with the continent's richer west. As NATO races to bolster its military posture along the Black Sea, the efforts are raising questions over why it wasn't done before, Michael Winfrey and Andra Timu report.
Biden Faces G-20 Quandary Between Joining Putin or Staying Home
Biden is facing a dilemma after Indonesia announced that Putin and Chinese President Xi will attend this year's G-20. Courtney McBride explains how he can either join the event with leaders he has sought to isolate or skip it and forgo a chance to shape its outcome.
Germany's Summer of Near-Free Rail Travel Is Almost at an End Germany's three-month experiment giving people a monthly 9-euro ($9.20) ticket to travel anywhere on regional trains, trams and buses is leaving many consumers wanting more. Carolynn Look, Agatha Cantrill and Josefine Fokuhl look at how the popular program has caused the use of public transit to soar.
UK Travel Chaos Stretches Into Weekend With National Rail Strike
Disruptions to Britain's transport system are extending into the weekend as train workers seeking to preserve jobs and earn more walk out again. Siddharth Philip reports how the latest strike comes a day after London's subway network ground to a halt.
Xi Starts March to Third Term With Problems Mounting Everywhere
China's president is entering the most challenging period in his decade-long rule. As Rebecca Choong Wilkins writes, Xi must tackle everything from tension over Taiwan to Covid-19, a real-estate crisis and economic weakness as he closes in on clinching an unprecedented third term.
Best of
Bloomberg

Opinion:
Odinga Rejects Kenya Election Outcome, Plans Legal Challenge
Former Kenyan Prime Minister Raila Odinga, who narrowly lost last week's presidential elections, rejected the official results, setting the stage for a protracted battle over control of East Africa's biggest economy. David Herbling and Simon Marks look at how the dispute poses a risk to political stability in Kenya, where previous votes were marred by violence.
Toxic Plastic Kills in Africa While Corporations Play Blame Game
Plastic pollution is a scourge in West African countries such as Ghana, once the world's seventh messiest nation and now hailed as a cleanup success story. As Kit Chellel and Ekow Dontoh explain, an initiative to re-use waste backed by major Western companies is better at deflecting blame than recycling.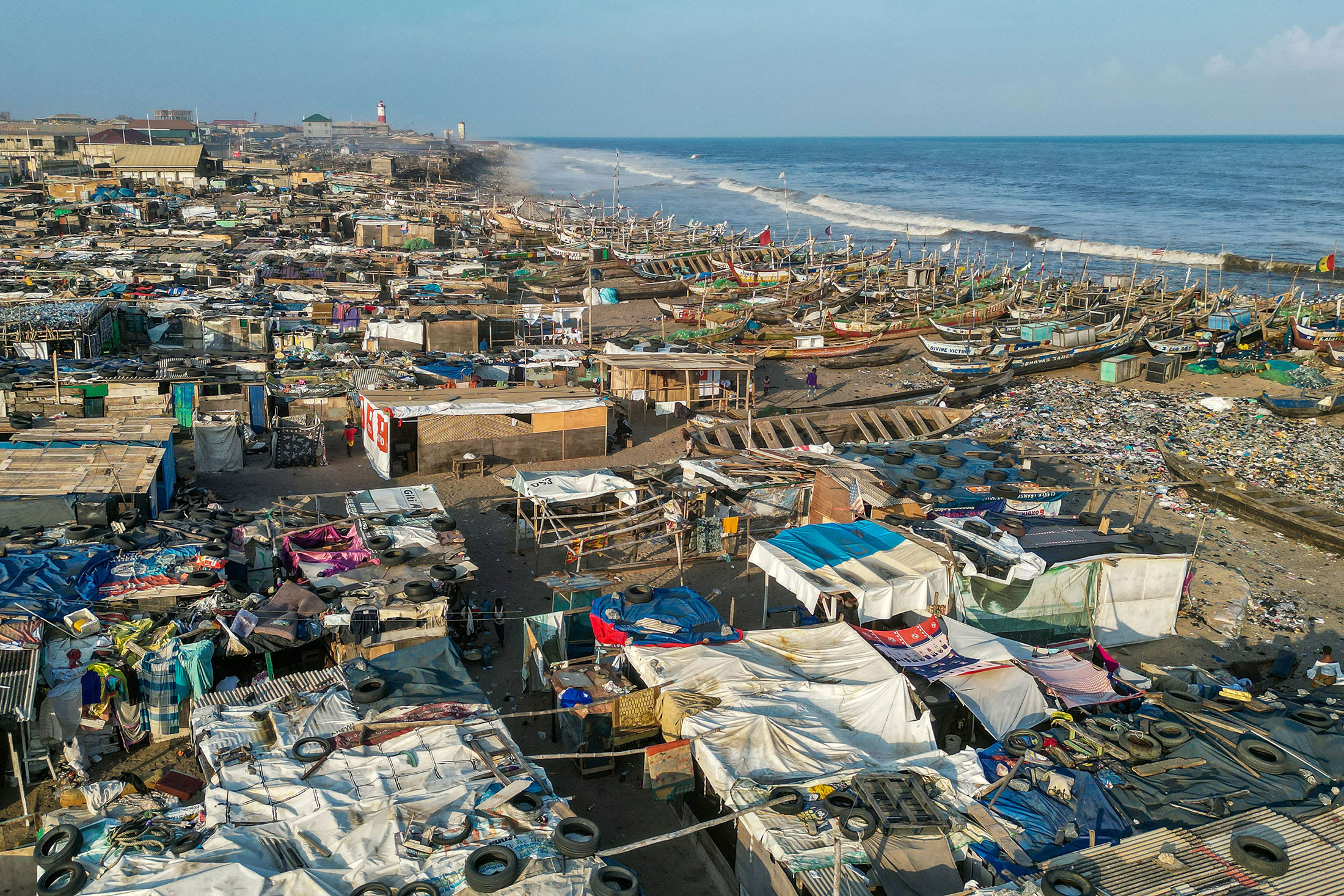 The beach at Jamestown in Accra, Ghana in July
Photographer: Nipah Dennis/
Bloomberg
Flare-Up in Ethiopia Tensions Dulls Hopes of Lasting Peace Deal
Ethiopia's government and rebels from the Tigray region accused each other violating a March truce after more than 16 months of fighting, dampening hopes that a permanent peace deal is within reach. Simon Marks and Samuel Gebre report on the conflict that has devastated the lives of millions.Covid's Harmful Effects on the Brain Reverberate Years Later
Covid-19 survivors remain at higher risk of psychotic disorders, dementia and similar conditions for at least two years, according to a study from Oxford University researchers. Cognitive deficits known as "brain fog," epilepsy, seizures and other longer-term disorders remained elevated 24 months later, Jason Gale reports.And finally … As many as 100 million people — more than 1% of the global population — were fleeing conflict, violence, human-rights violations or persecution worldwide in May, according to the UN Refugee Agency. Annmarie Hordern tells the story of one such family from Afghanistan who were among the thousands forced to flee their homes after the fall of Kabul a year ago.
The family's passport photos.