In the last few days, we could see how Queen Elizabeth II marked a defined distinction for her nation and the world and has become a symbol of unity, wisdom, humility and grace.
When we look at the number of people who are willing to stand hours in the line to greet "their Queen" we can see such a sign of this uniting figure in Britain, superseding the divide and onslaughts of the dysfunctional political spectrum at times with her selfless service and commitment as the unifying monarch. For us at the continent it seems unimaginable that members of the public would be willing to queue for more than 12 hours to pay their respects filed past, occasionally doing a double take as they noticed the royals in their midst, with the Queen Consort and Countess of Wessex watching on from chairs.
Mourners in the capital have been warned they may have to wait up to 30 hours, with the continuously moving queue expected to stretch more than three miles from Westminster to Tower Bridge.
Tens of thousands of people want to show how they feel about the royal family and how they respect that towering figure, who strived to play her best part in bringing messages of peace, progress and hope and to shape stability and norms with a lifetime of service and sacrifice.
Throughout her monarchy, Britain finds itself in a new footing of global power shifts and transitions, serving as the bedrock of guided strength and unapologetic rooting for national and global rejuvenation with civilisational impact.
All what is going on is so special to see, like thousands of troops that staged an early-morning rehearsal for Queen's procession in London, we can imagine lots of people not wanting to miss this exceptional occasion.
The early-morning rehearsal saw the horse-drawn carriage of the King's Troop Royal Horse Artillery being led along the route.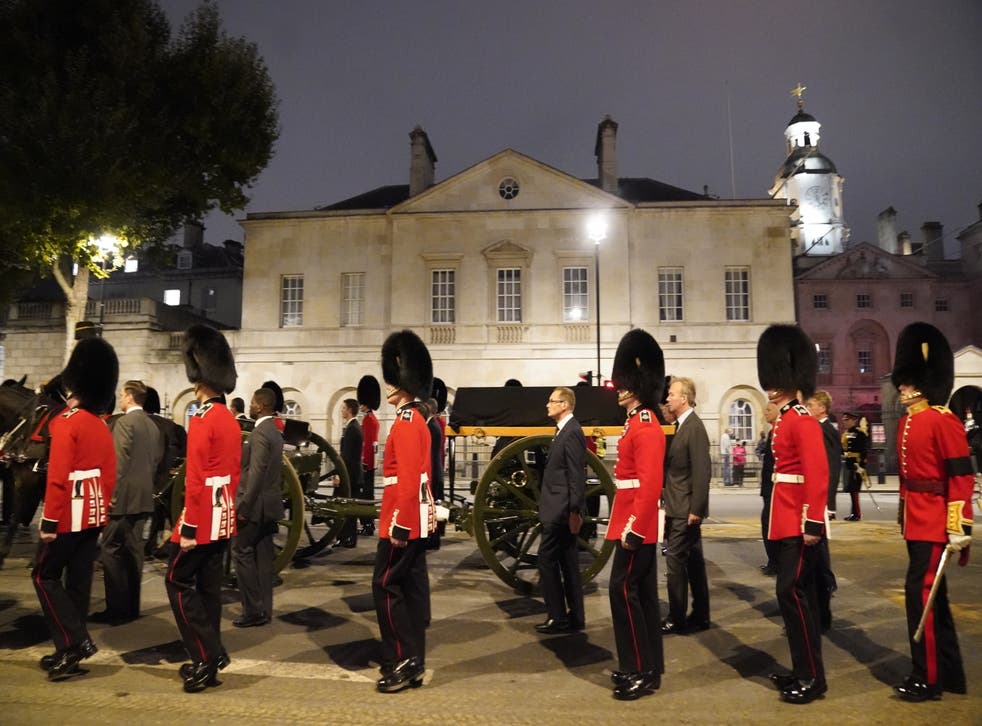 A black coffin was placed on the gun carriage and, at around 4am, the procession was ordered to march and the carriage, pulled by seven black horses, made its way via Queen's Gardens, The Mall, Whitehall, Parliament Street, Parliament Square and New Palace Yard.
Many of central London's streets were sealed off for the massive operation. The real procession begins at 2.22pm on Wednesday, and it will last 38 minutes.
Several people did come to London for a few days and even camp there. Though people have been warned not to wait or camp along the route where the Queen's coffin will be taken for the lying in state. Viewing areas along the route with limited capacity will open at 11am on the day, with people admitted in order of arrival time amid expected long queues, the Department for Digital, Culture, Media and Sport (DCMS) said.
Members of the public will have the opportunity to visit Westminster Hall to pay their respects during the lying in state but security staff said the queue is likely to snake for miles, potentially all the way along the River Thames to Tower Bridge.
With such a rush, ordinary life in the capital is thrown into disarray. Therefore, the government is urging Londoners and London commuters to work from home and avoid the streets, where more people are expected to go to the memorial sites, as much as possible, to prevent the city's infrastructure being overwhelmed.
A spokesman for the Prime Minister said:
"London will be busy. Some people may wish to change their working patterns accordingly."
As well-wishers are set to flock to London ahead of the funeral on Monday. A special train timetable will include services running through the night. When we saw the life pictures yesterday night, there were still long lines of people wanting to greet the Queen, who had afterwards still had to be able to go home.
Officials have been finalising plans for extra rail services to be laid on to manage demand, with timetables to be updated by operators over the coming days.
+
Preceding
++
Additional reading
+++
Related