August 15
Cost of living crisis / Labour announces plan to freeze energy price cap with reinforced windfall tax
Keir Starmer says people won't pay 'a penny more' and that plan would reduce inflation
Keir Starmer has put a beefed-up £8bn windfall tax on energy company profits at the heart of a new plan to stop people having to pay "a penny more" on fuel bills this winter.
The Labour leader confirmed that under his plan the energy price cap would be frozen at the current level, meaning that an expected 80% rise in October – taking an average household bill to about £3,600 – would not go ahead.
Starmer said the country was facing "a national emergency" and that Labour "wouldn't let people pay a penny more" on energy bills as a result of his "fully funded plan". A typical family would save £1,000, he claimed.
He said: "Britain's cost of living crisis is getting worse, leaving people scared about how they'll get through the winter. Labour's plan to save households £1,000 this winter and invest in sustainable British energy to bring bills down in the long term is a direct response to the national economic emergency that is leaving families fearing for the future."
Brexit / Number of EU citizens moving to UK plunges – report
Data shows just 43,000 EU citizens received visas for work, family, study or other purposes in 2021

…

Home Office statistics show there has been a sharp increase in migration amid the easing of pandemic restrictions. The data shows 277,069 work-related visas were granted in the year ending March 2022 (including dependants), a 129% increase on the year ending March 2021 and a 50% increase on the year ending March 2020.
Environment / England 'failing to invest in water networks to avoid future droughts'
England is failing to invest in the water networks needed to avoid a future of recurrent serious droughts, with current policies amounting to the government "keeping [its] fingers crossed", the UK's infrastructure chief has warned.
The current drought was a warning that water systems could not cope with the changing climate, with more hot dry spells interspersed with heavier rainfall, said Sir John Armitt, chair of the National Infrastructure Commission.
…
England has experienced its driest July since 1911, with only about 10% of the average rainfall for the time of year in the south of England. The period since November has been the driest eight-month period in England since 1976.
'The west doesn't want Russians partying in the streets of Europe' / Calls grow for visa ban
Thousands of Russians have flocked to Europe on short-term visas since the country invaded Ukraine. Some sought an escape from repression, while summer has brought Russian tourists just looking to escape to the beach. Now some European politicians are calling for an end to the short-term visas that allow Russians to holiday in the EU as the war in Ukraine rages on.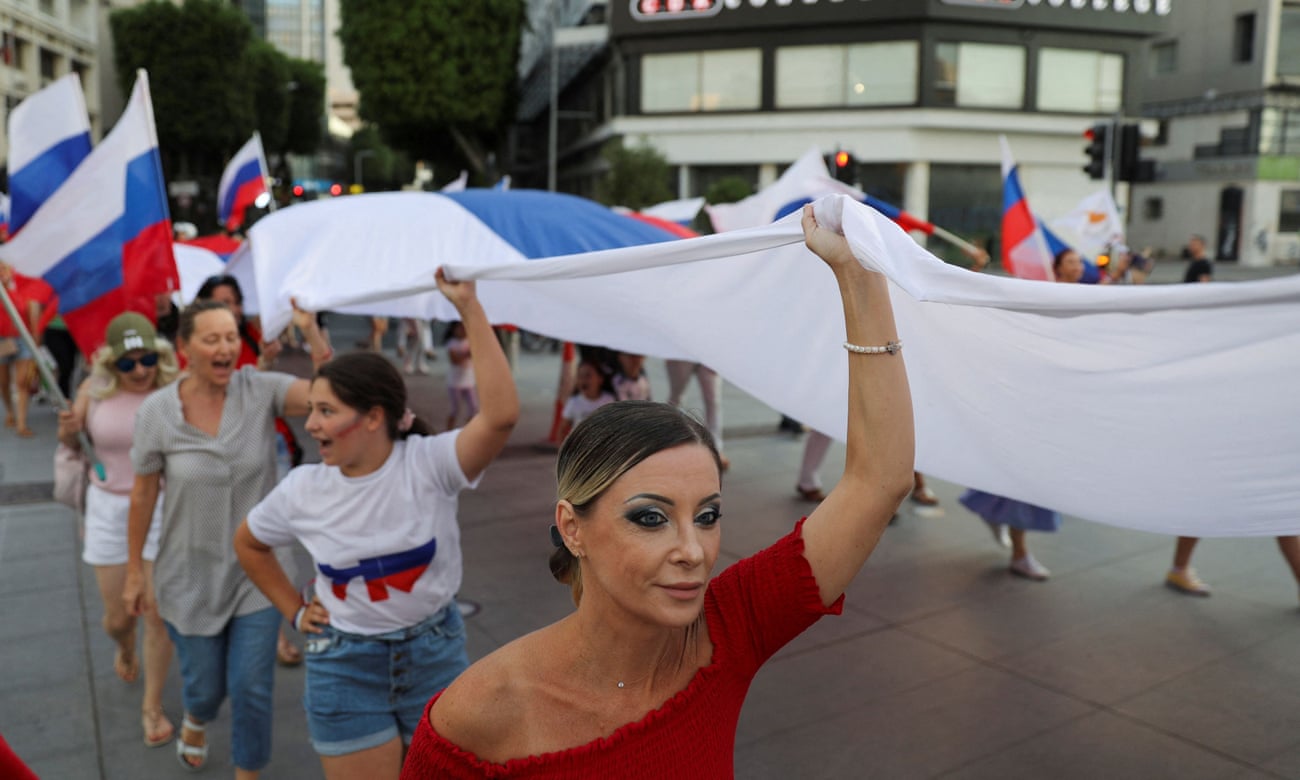 'It's madness' / Ukraine holds breath as Putin turns nuclear plant into frontline
On one side of the Dnieper River is the Zaporizhzhia nuclear power plant, visible in the haze. Six nuclear reactors and a cooling tower loom over a Soviet-built reservoir. On the opposite bank is Nikopol, a city in southern Ukraine known for its Cossack past and modern tube and metallurgical factories.
The distance between them is seven kilometres. Or, measured in rocket terms, about 15 seconds: the time it takes for a Grad missile fired by Russian soldiers ensconced in the atomic station to slam into Nikopol's chestnut tree-lined boulevards. It is a small and terrifying interval between life and death.
…
The Kremlin is trying to do something unprecedented: to steal another state's nuclear reactor. Engineers are working to connect the facility to the electricity grid in occupied Crimea and cut it off from Ukrainian homes. One reactor has already been knocked out. It is a ghoulish game of radioactive Russian roulette, in a country that has known the 1986 Chornobyl atomic disaster.
August 16
Europe seems more preoccupied at the moment with drought at home rather than the war on its flank. Our reporters considered the consequences in the UK and continental Europe. Green MP Caroline Lucas wrote for us about political and commercial failings making matters worse in Britain. And for all the exasperated gardeners out there, Alys Fowler gave us six ways to protect your plot from the shrivelling heat. (My own hot tip: do not leave teenagers in charge of the watering while you are on holiday).
Elsewhere, Emma Graham-Harrison was back in Kabul on the anniversary of the Taliban takeover of Afghanistan. Do read this piece about the secret underground schools continuing to educate girls in defiance of a Taliban ban (or, if you prefer, listen to the podcast).
In the UK, we are fascinated by the long hard slog that is the Tory leadership race. Our visuals team has a nice little tale of the tape. And who better to make us laugh at the whole exhausting process than Marina Hyde.
Mark Rice-Oxley
Executive editor, reader revenues
The Guardian
Cost of living crisis / Interest-free loans to be rolled out to help with food bills
A zero-interest loans scheme aimed at helping thousands of people who are struggling to put food on the table is being rolled out across the UK.
The initiative, the result of a link-up between the supermarket chain Iceland and a charity-owned lender, is the latest interest-free loans scheme to launch in response to growing concern about households who find themselves at the sharp end of the cost of living crisis and are unable to access or afford existing forms of credit.
The scheme is designed to enable them to cover school holiday grocery bills or smooth out gaps in their income by providing interest-free "microloans" of between £25 and £100 to buy everyday items.
Wagner Group / Ukraine claims it has struck base used by paramilitaries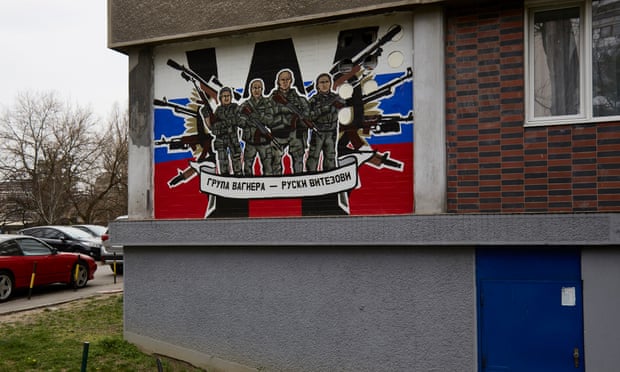 Ukraine says it has struck a base used by the shadowy Wagner Russian paramilitary group as well as a bridge near the occupied city of Melitopol.
Serhiy Haidai, the governor of the Luhansk region in eastern Ukraine, said the base was "destroyed by a precision strike" after its whereabouts were established "thanks to a Russian journalist".
'

A

referendum is not right' / Occupied Kherson looks to uncertain future
Over the past five months, Moscow has appointed an occupation administration to run the Kherson region and ordered schools to teach the Russian curriculum. Local people are encouraged to apply for Russian passports to access pensions and other benefits.

…

Even those who described themselves as largely apolitical said they were firmly opposed to voting in a referendum or joining Russia.
August 17
Contaminated blood scandal / Survivors awarded interim payments
Survivors of the contaminated blood scandal have been awarded interim government payments after a 40-year battle, but thousands of parents and children of the victims have still received nothing.
Ministers have accepted the urgency of the need to make the £100,000 payments to about 3,000 surviving victims, after being warned that those mistakenly infected with HIV and hepatitis C were dying at the rate of one every four days.
…
Contaminated blood products administered in the 1970s and 1980s to up to 6,000 people have already led to the deaths of more than 2,400 people in the biggest treatment scandal in NHS history.
US / Liz Cheney loses Wyoming Republican primary to Trump-endorsed rival
Liz Cheney has paid the price for her staunch opposition to Donald Trump's assault on American democracy by losing her seat in Congress to a challenger backed by the former president.

The vice-chair of the January 6 committee was beaten by a conservative lawyer, Harriet Hageman – who has echoed Trump's false claims of widespread voter fraud – in a Republican primary election to decide Wyoming's lone member in the House of Representatives.
Ukraine / Kyiv hints it was behind latest attack on Russian supply lines in Crimea
Why Ukraine's counteroffensive marks

a

decisive point in

the

war
Russia's onslaught on Ukraine will be six months old next week and, while it won't end any time soon, it's hardly gone

the

way Moscow planned.

A

view is gradually forming that Vladimir Putin's invasion is "faltering" and even "starting to fail".

That doesn't mean Ukraine is not in for six more months – or maybe much longer – of misery. But in the face of unexpected western resolve and unity (while they last), the idea that Russia will capture its neighbour is looking increasingly far-fetched.

In an exclusive interview with Dan Sabbagh and Luke Harding, Volodymyr Zelenskiy's key adviser outlined Ukraine's counteroffensive strategy: "Destroy the logistics, the supply lines, the ammunition depots. Create chaos within their own forces."

So far, it's working: witness the series of recent mysterious strikes in occupied Crimea (pictured above) that destroyed key military infrastructure, including railway junction and a military airbase. Suddenly, Russia's southern bases look vulnerable.

But the next few weeks could be decisive for Ukraine's de facto borders. As Luke described in a powerful dispatch from the frontline, Russia may be advancing in the eastern Donbas, but its grip on the south appears to be distinctly shaky.

Kyiv may not yet have the clout to retake the key southern city of Kherson with a traditional counteroffensive, but it looks capable – helped by US-supplied Himars missiles – of eroding Russian superiority to the point where Moscow pulls out.

Meanwhile, as Shaun Walker and Pjotr Sauer reported, Putin plans a referendum in occupied Kherson "to create a pretext for bringing … occupied parts of southern Ukraine into Russia using an updated version of the 2014 Crimea playbook".

So the next few weeks will be critical. Just as the past few weeks may prove critical to governments' – and the public's – growing realisation of what exactly the climate crisis could mean for western Europe without radical action to curb emissions.

It has been a summer of records: record areas of land destroyed (double the average of the past 15 years) by record numbers of wildfires; record low water levels in Europe's rivers, vital for the continent's energy, industry, agriculture and freight.

Global heating has silenced the cicadas of Provence, halted cheese production and, in a sign that all may not yet be lost, will see a European court consider if the climate policies of 32 European government are so inadequate as to be a human rights issue.

Until next time,

Jon Henley
Europe correspondent
| | |
| --- | --- |
| | |
Second world war / Last veteran of Belgian SAS dies aged 97

The last veteran of the Belgian SAS has died aged 97, marking the loss of another living link with the second world war in Europe.

Jaak Daemen, a founder member of the Belgian SAS, which was created in 1944 to carry out sabotage and intelligence gathering behind enemy lines, died earlier this month.

He helped liberate the Netherlands and capture Karl Dönitz, the German admiral who created the U-boat fleet and briefly led the Nazi regime after the suicide of Adolf Hitler.
August 18
A

-level results / Students face last-minute scramble for university places
Tens of thousands of students discovering their A-level results face a last-minute scramble to secure places at UK universities, many of which have said that competition will be fierce and places hard to find for the most popular courses.
On Wednesday, the eve of results day for A-levels, BTecs and the government's new T-levels, university admissions teams reported a surge in interest from students looking for places through clearing, a process that matches unplaced students with unfilled courses.
Crimea / Russians are realising peninsula is 'not

a

place for them', says Zelenskiy
In his latest video address Zelenskiy said long queues of cars streaming across the Crimea Bridge leading to the Russian mainland proved that the "absolute majority" of Russian citizens had got the message. At least 38,000 cars crossed on Tuesday – a record.
The mass exit came after an ammunition dump and electricity sub-station blew up near the town of Dzhankoi, a significant railway hub. Another apparent Ukrainian strike took place outside the regional capital Simferopol, where a Russian airbase was destroyed.
August 19
'Crucial deadline' / Recall parliament early to tackle soaring energy bills, Labour urges PM
Letter to Boris Johnson, Liz Truss and Rishi Sunak calls for action to help households before price cap rises
Annual energy bills are expected to hit £4,500 a year from January, and £5,456 from April, with warnings that households across the country face serious hardship without government intervention.
Labour this week unveiled a £29bn plan to freeze the cap at the current level of £1,971 for six months from October, which would save the average household £1,000, piling pressure on the next prime minister to follow suit.
Water companies / Bonuses for bosses in England up 20% last year despite sewage failures
The annual bonuses paid to water company executives rose by 20% in 2021, despite most of the firms failing to meet sewage pollution targets.
Figures show on average executives received £100,000 in one-off payments on top of their salaries, during a period in which foul water was being pumped for 2.7m hours into England's rivers and swimming spots.
The analysis of water companies' annual reports found that their bonus pool for executives now stands at more than £600,000 a company on average.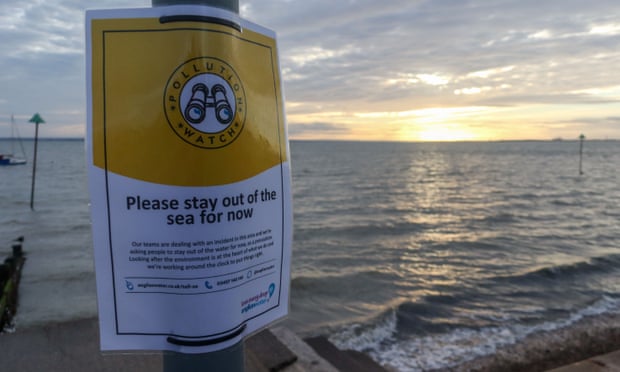 August 20
Zaporizhzhia / Macron calls Putin over fears Russia is weaponising captured nuclear plant
Macron spoke to the Russian president, Vladimir Putin, on Friday and said the call was necessary because of the urgent nuclear threat to Europe. Putin agreed to allow independent inspectors to go to the plant, Macron's office said, and had "reconsidered" allowing the mission from the International Atomic Energy Agency to travel to the facility from Ukrainian territory.
…
Russia has controlled the plant in south-east Ukraine since March, although it is still run by Ukrainian scientists. If it stopped generating electricity, its technicians would have to rely on backup power systems to continue cooling the nuclear reactors, which raises the risk of accidents.
"The Russian military is looking for suppliers of fuel for diesel generators, which must be turned on after the shutdown of power units and in the absence of external power supply for nuclear-fuel cooling systems," Energoatom said.
Putin agrees to allow inspectors to travel to Zaporizhzhia plant, French president says, amid fears of radioactive accident if it is taken off grid
August 21
'We are being abandoned' / When

the

energy bill goes up by £100,000

a

day
If domestic bills are climbing, so too are those of schools, sheltered housing and museums. We speak to the people grappling with the soaring costs of keeping vital services running this winter

…

The government's energy price cap and £400 bill rebate only apply only to domestic customers who buy their own electricity and gas. They do not help people living in sheltered housing or care homes, where the energy to heat and power their homes is purchased on the wholesale market by a charity or private provider. The vast majority of Brunelcare's residents are on low incomes, with 70% entitled to benefits including universal credit and pension credit. However, these benefits do not cover increased energy costs