August 15
| | |
| --- | --- |
| | By Danny Boyle |
 

The

heatwave is set to be broken by thunderstorms, but they are unlikely to help shrinking water supplies. And, as

A

-level students await their results, we explain why they might be disappointed.
Prepare to be disappointed with
A

-levels, pupils told
A

-level students are receiving their results this week – and are being warned to be prepared for "disappointment".

The

Office for Students predicted

a

significant increase in applicants being rejected from their preferred universities after exam boards were told to crack down on rising grade inflation. Even

the

brightest pupils who normally "wouldn't dream" of missing

the

terms of their university offer may struggle because results on Thursday will be worse than

the

grades predicted by teachers,

the

higher education watchdog said. Chief political correspondent Camilla Turner reports that

the

exams fallout will be

the

latest blow to

a

generation that have had their education severely disrupted by Covid. Join

the

debate with fellow

Telegraph

readers.
Sir Keir Starmer's energy price freeze is 'an illusion'
Labour leader Sir Keir Starmer today unveils his plan to help households struggling with household bills. But his proposal for a fully funded energy price freeze is based on an "illusion", the Institute for Fiscal Studies said. Sir Keir will say the cap on electricity and gas prices should be frozen at £1,971 for six months from October to protect people from the planned rise of up to £3,600. He will claim the £29bn cost could be funded by increasing the windfall tax on firms to £8.1bn, diverting £14bn of planned spending by the Government and Tory contenders, and £7.2bn from saving on debt interest payments from lower inflation. But the IFS warned the £7.2bn saving was an "illusion". Sir Keir's intervention increases pressure on Tory candidates Rishi Sunak and Liz Truss. Two former party chairmen today warn in an article why Tories must unite behind Ms Truss. In another exclusive article for us, Grant Shapps reveals a plan to ease the cost-of-living burden. And The Telegraph view argues how Sir Keir's energy plan must be countered.
Meanwhile, pub, restaurant and hotel chiefs have warned the industry could face mass closure this winter without "urgent" support from the Government. In a joint letter to the Prime Minister, the Chancellor, and the Business Secretary – seen by The Telegraph – the UK's leading hospitality groups said the situation was "no less of a threat" than the current drought. As Hannah Boland reports, the sector is calling for a cut to VAT or an energy price cap, such as that in place for customers.
Three easy ways to absorb more nutrients from food
"Eat the rainbow" has been the healthy-eating mantra for some time, but even those of us with the most colourful salad drawers are up against it as we age. A reduction in stomach acid is estimated to affect 20 per cent of the population over the age of 65. This matters because micronutrient deficiencies can increase our risk of disease. Sam Rice has three easy tips when preparing vegetables to help your body absorb more nutrients.
Also in
the

news: Today's other headlines
UK weather |

The

heatwave is expected to be broken by thunderstorms as

the

Met Office warned they could bring flash floods and even fresh wildfires. Yellow alerts for thunderstorms will be in place everywhere except

the

north of Scotland today, while all of England and Wales will remain under

a

yellow warning tomorrow, with

the

danger continuing into Wednesday for southern England. Despite

the

flood risk,

the

storms will not bring relief from

the

drought. See

the

latest forecast.
Around
the

world: Kremlin command in retreat

Russia has begun withdrawing troops across a key river to escape a Ukrainian counter-offensive, officials claimed. Vitaliy Kim, the Ukrainian governor of Mykolaiv district, said the entire Russian command staff was retreating from the west bank of the Dnipro which flows through the occupied city of Kherson in the south east. Campbell MacDiarmid, in Odesa, says that would leave an estimated 20,000 Russian soldiers isolated from their commanders and cut off from supply lines.
Family members mourn at a funeral ceremony at a cemetery in Bucha. Credit: AFP
Dear Reader,

Almost six months on from Vladimir Putin's invasion of Ukraine, a new Iron Curtain is being drawn across Europe. As the Russian leader exploits geographic weaknesses to gain support at home, Tim Marshall explores how the new global divisions will shape the future.

Chris
By Christopher Hope,
ASSOCIATE EDITOR (POLITICS)
Afternoon

I'm back after two weeks camping on a cliff in Cornwall! Did I miss anything? I see the two Tory leadership contenders are still going at each other as though they don't have to worry about Labour firing the various personal and policy attacks back at them when a winner is announced three weeks today.

But, wait, something has changed – Labour has come up with a meaningful policy idea!

After some pitch rolling by his predecessor Gordon Brown, Labour leader Sir Keir Starmer has chosen the dog days of August to produce a policy to tackle the soaring cost of energy.

Starmer today formally unveiled a plan to freeze the cap on electricity and gas prices at its current level of £1,971 for six months from October. It would shield households from the predicted rise to £3,600 this autumn and beyond that in the New Year.

The early signs are good for Labour: it has gone down well, even among Conservative supporters according to polling in today's Times newspaper, with three in four Tory voters backing it.

But already concerns are emerging, not least how it is all going to be paid for. Labour said it would cost £29 billion for six months – roughly the same pro rata cost as the Covid furlough scheme – funded by extending the windfall tax on oil and gas giants and diverting some government spending. A further £7.2 billion would come from debt interest payment savings.

If nothing else Starmer has got in early with a bold attempt at tackling eye-watering energy bills we are all facing this autumn and winter. And the response from the next PM next month is unlikely to be as bold as what Starmer has offered today.

This is – as my old boss Neil Collins, The Telegraph's longserving former City Editor, used to tell me somewhat despairingly – "a start".

Labour had to offer an alternative vision to the one offered by the Tories to running our country. Starmer had to do something.

Despite the daily 'blue on blue' fighting over the Tory leadership, and with Labour's cheerleaders relentlessly attacking the Government (see: nearly all of Twitter), it is striking that Starmer's party is not further ahead in the polls.

Starmer was challenged by the party's miserly four per cent lead on the BBC's Today programme this morning. Do you need to give it more wellie, asked the BBC's Mishal Husain. "I have moved the Labour party from a party that hopes it can be in Government to one that believes it can be in Government," Starmer replied.

The question is whether this is enough. I was struck by an article earlier this month from my colleague Philip Johnston who suggested Starmer was less Tony Blair pre-1997 and more Neil Kinnock pre-1992.

Today's energy policy has to be the first of several serious policy ideas demonstrating why Starmer should be given the keys to Number 10 at the next general election. He still has much work to do.

Cheerio!

Chopper
| | |
| --- | --- |
| | By Danny Boyle |
Britain's heatwave is set to be washed away by heavy rain, but it could be

a

blessing in disguise as dangerous flash flooding is also expected. We have

the

latest warnings and forecast from

the

Met Office.
Today's other essential headlines
New Covid jab | The UK is the world's first country to authorise an omicron-specific booster vaccination, with an updated version of the Moderna jab set to be available in time for an autumn campaign. The US-based company's so-called bivalent jab combines both the original form of the Covid vaccine with a version tailored for omicron. Science correspondent Joe Pinkstone explains the levels of protection.
The

big story: Thunderstorms set to sweep Britain
After

the

latest heatwave, comes

the

rain, storms – and floods.

The

Met Office has warned that an "incredible deluge" expected in

the

UK over

the

next few days would hit hard ground and could cause flooding within an hour, with people urged to pack up their valuables now and move them to

a

higher level.

A

yellow warning for thunderstorms is in place across Monday and Tuesday, but meteorologists said it is not clear exactly where

the

storms will strike. Up to 50mm (2in) of rain is expected within two hours in some parts –

a

volume that is likely to flood low-lying areas quickly. Met Office spokesman Grahame Madge said anyone travelling by car should be "prepared to get stuck" and expect flooded roads and run-off from fields. Environment correspondent Olivia Rudgard has

the

latest warnings and weather forecast. It comes after weeks of little rain and warm conditions have caused droughts in large areas of Britain, leaving land parched. See some of

the

most striking pictures and search for water restrictions by postcode.

With fears over the drought ravaging British crops, farmers say shoppers must be prepared to buy wonky vegetables. The National Farmers' Union urged people to "pull together" and accept buying wonky vegetables, as the lack of water threatens to produce shrunken onions and potatoes that might not ordinarily meet supermarket quality standards. If your home-grown fruit and vegetables (and plants) are suffering in the drought, try our top tips for watering even if you do have a hosepipe ban.
'If you can see me, weep'
As drought continues to also afflict Europe, severe dry conditions have caused water levels of the river Elbe to drop – exposing centuries-old "hunger stones" that are embedded into the banks to mark water levels during famines. One stone, now visible in Děčín, where the Elbe flows from the Czech Republic into Germany, was carved with a warning in 1616 that reads: "If you see me, weep." Read about other stones, which were common from the 16th to 19th centuries, that have been exposed with inscriptions with similarly macabre warnings.
The

hobby enjoying

a

boom

There is, at least, one positive to come from the drought: there has never been a better time to go mudlarking. If you are unfamiliar with the hobby, it involves sifting through river banks for lost items of value or historical significance – and it has made a comeback during the recent high temperatures. India Sturgis explains how the lack of rain that has caused water levels to drop means the activity is enjoying a boom.
Around
the

world: Russian reporter gives up location

Ukraine used US-supplied Himars to destroy the military headquarters of notorious Russian private military contractor Wagner after a state TV reporter appeared to have given away its location by posting photos online in what was described as a "stunning security blunder". A Ukrainian official today confirmed Russian media reports that the base in Popasna in eastern Ukraine was targeted by a missile strike, with some estimating that as many as 100 fighters were killed. Meanwhile, see photos of public prison cages that captured Ukrainian fighters face being paraded around in during an anticipated "show trial".
August 16
| | |
| --- | --- |
| | By Danny Boyle |
Despite soaring Channel migrant crossings,

the

Navy plans to end its role in charge of combating

the

practice. Read on for our exclusive report – and surprising details of

the

healthiest breakfasts.
Exclusive: Home Office told 'taxi service' will end
The

number of Channel migrant crossings has already doubled this year to more than 20,000, despite

the

Royal Navy's intervention. Now, we have learnt that

the

Ministry of Defence plans to relinquish responsibility for dealing with migrants crossing illegally to

the

UK on January 31 next year. It comes only four months after Boris Johnson brought in

the

first Navy vessels to patrol

the

Channel, insisting

the

move would help ensure "no boat makes it to

the

UK undetected". MPs have complained that policing

the

Channel has turned

the

hard-pressed Navy into

a

"super taxi service" at

a

time when its ships are needed for other key military duties. As home affairs editor Charles Hymas reports, Home Office officials are understood to be concerned that

a

sudden end to

the

Navy's role could send

the

wrong message to people smugglers.

The disclosure comes amid criticism of a "zombie" government that is rudderless while the two Tory leadership contenders – Rishi Sunak and Liz Truss – fight it out to be crowned prime minister next month. See pictures of two removal vans loaded up with the contents of Mr Johnson's flat yesterday while he and his wife Carrie are away on holiday in Greece. Number 10 sources told chief reporter Robert Mendick where it is understood Mr Johnson will spend the rest of his premiership before he formally hands over power to his successor on September 6. Use our live tracker to check the latest odds on each candidate.
Healthiest breakfast options, according to science
Go to work on an egg, or so the slogan goes. But not according to a new study of the healthiest breakfast options. Scientists at Tufts University in America have devised a system that rates more than 8,000 foods on a scale of one to 100 based on how good they are for you. Science correspondent Joe Pinkstone reports how the system, which reviews 54 "nutritional attributes", has thrown up some surprising results.
…
The system reviews 54 "nutritional attributes" for each food which are grouped into nine categories linked to diet-related diseases such as obesity, diabetes, cardiovascular problems, and cancer.
The nine categories included are: nutrient ratios, vitamins, minerals, food-based ingredients, additives, processing, specific lipids, fibre and protein, and phytochemicals.
Banks accused of marooning savers | High Street banks have failed to pass on the Bank of England's latest interest rise to millions of savers, leaving their customers stuck with rates as low as 0.01 per cent. The country's 10 largest banks have still not raised rates on their easy access savings accounts following a 0.5 percentage point increase in the base rate two weeks ago. Alexa Phillips reveals the worst offenders.
'Hustler-in-chief' wins presidency
Kenya's deputy president William Ruto, the son of a goat herder who has styled himself as the nation's hustler-in-chief, has been declared winner of the presidential election in a stinging rebuke of the entrenched political dynasties. The results were announced after a brawl erupted in the main counting centre in the capital Nairobi and senior members of former prime minister Raila Odinga's campaign refused to accept them.
Protesters on the streets of Nairobi yesterday. Credit: Marco Longari/AFP via Getty
By Christopher Hope,
ASSOCIATE EDITOR (POLITICS)
Even Boris Johnson loyalists are depressed at

the

way

the

Prime Minister seems to have surrendered

the

keys to 10 Downing Street.

We report today how Johnson and his wife Carrie are now planning to spend most of the remaining three weeks of his time as PM at Chequers, their grace and favour country home.

The removal men spent yesterday loading up two lorries with the contents of the flat above Number 11, including a huge, white rattan wardrobe.

Johnson is – apparently – available if needed, although his spokesman told us yesterday that the PM is now "on leave" with his deputy Dominic Raab "able to deputise in meetings should they come up". None is planned presently.

The power vacuum at the top of the Government has meant that other ministers have been left alone to do their own thing.

Some ministers have taken to freelance on other policy areas, perhaps in the hope that either Rishi Sunak or Liz Truss will notice and move them to their favoured departments when they become PM.

What else can explain an article in today's Telegraph from Lucy Frazer, financial secretary to the Treasury, calling for, er, judges to be stripped of timetabling powers to speed up justice.

Others like Home Secretary Priti Patel, Defence Secretary Ben Wallace and Chancellor Nadhim Zahawi are just getting on with their day jobs, perhaps aware that the privilege of running a government department is not one to be spurned.

Take Zahawi. I can disclose that the Chancellor has just hired Duncan Simpson, formerly research director at the TaxPayers' Alliance, to shake the tree at HM Treasury and develop policies that focus on growth.

One friend tells me Zahawi "wants to look at why there aren't more pro-growth policies in HMG, and why HM Treasury doesn't look into optimal tax rates or do any dynamic modelling of tax changes", apart from some work on corporation tax rates, and the fuel duty freeze.

Simpson is also now looking at "ways to help make the financial services bill more aligned to pro-growth policies".

Simpson almost certainly won't be around for long on Whitehall. But who wouldn't want the experience of working at the Treasury if only for a few weeks?

You can look at this in two ways: either Zahawi is making a pitch to the next PM to keep him on as Chancellor. Or he is just trying to help get the economy going in the dog days of August.

Either way Zahawi's initiative is to be commended. And it sits in sad contrast to the behaviour of Johnson, who inexplicably appears to have checked out from his job running the country three weeks before he actually has to.

Cheerio!

Chopper
Chopper's Westminster (recess) Whisper
Boost for Liz Truss as she signs up

the

whips – but

the

chief and his deputy sit it out



A

big boost for Liz Truss in

the

Tory leadership campaign today after 11 government whips declared their support for

the

Foreign Secretary.



The

mass sign-up was organised in

a

ring-round by James Duddridge, now

a

whip who was formerly parliamentary private secretary to Boris Johnson.When I last took

the

temperature of

the

whips' office on

the

leadership before MPs broke for their summer holidays, it was made clear to me that

the

whips had to remain neutral.

So what has changed? I am told that while the whips felt they could not discuss their preferences when Parliament was sitting, the Chief Whip Chris Heaton-Harris has ruled things are different now MPs are in recess.

One Whips' Office source tells me: "The Chief Whip has allowed whips to declare their leadership allegiances since the contest moved out of Parliament. This follows the Chief Whip allowing for whips to inform their local members of their personal preference."

What we are not going to get are endorsements for either Sunak or Truss from either chief whip Chris Heaton-Harris or his deputy Kelly Tolhurst.

The source says the pair are sitting it out to preserve a degree of neutrality. For what it is worth both are said to be "long term friends" of Truss.

Sunak's team say he is "very much in contention" in the race as it enters its final three weeks. But momentum is growing – and it is flowing towards Truss's campaign.
Five must-reads for today
Sunak's war on Whitehall 'groupthink'
"The bloated post-Covid state is in need of a shake-up so I will create a sharper, leaner Civil Service" Credit: Simon Walker
All senior civil servants will be encouraged to spend

a

year away from Whitehall if Rishi Sunak becomes prime minister.

Performance, not longevity, would be the basis for pay under Sunak's new raft of policy proposals – read them here.
Comment of
the

day

"It is time to recognise what self-financed university for the masses actually amounts to: the McDonaldisation of academic endeavour and the privatisation of the welfare state. The Right's market utopianism and the Left's hatred of elitism have merged to create a hideous monster."

Sherelle Jacobs
| | |
| --- | --- |
| | By Danny Boyle |
Another week, another batch of rail strikes.

The

impact of two days of walkouts this week has become clear today – as new figures showed

the

biggest real-term slump in wages on record.
Today's essential headlines
More transport chaos | Just one in five trains will run due to strikes on Thursday and Saturday, with only half of Britain's lines open. Network Rail confirmed that only 20pc of services will operate due to a walkout by members of the Rail, Maritime and Transport union. Read on for the knock-on impact of the action, which comes after a string of strikes shut down services on London's Tube and the UK rail network this summer.
The

big story: Wages fall at fastest pace on record
Workers are earning more but, increasingly, have less to spend.

The

biggest real-term slump in wages since records began was revealed today. According to official figures, UK employees saw their pay lag behind inflation at record levels over

the

past quarter. In cash terms, regular pay picked up

a

little more pace to grow by 4.7pc in

the

quarter compared to

the

same period of 2021, marking

the

strongest growth since last September. At

the

same time, inflation accelerated to hit

a

new four-decade high of 9.4pc in June – leaving price rises far outstripping any rise in earnings. In real terms, regular pay in

the

quarter dropped by 4.1pc compared with

the

same period last year,

the

Office for National Statistics said, which is

the

steepest drop since records began in 2001. Tim Wallace examines

the

impact on household finances.

One of the biggest dents in domestic budgets will be made by energy bills. Analysis today showed that, when the price cap is raised in January, heat and power costs will eat up one-sixth of the average person's pay. This chart shows how the energy price cap is expected to climb. Associate editor Ben Wright says, after decades of government failure, the long-term solution to energy security is clear. And, after Sir Keir Starmer announced how his party plans to tackle the crisis, Matthew Lynn says it proves Labour has nothing left to say on the economy.
Jobs market '
a

malfunctioning mess'

In other figures released today, the number of job vacancies fell for the first time since the early months of the pandemic. While it raises the prospect of the skills shortage easing as the economy slows, chief city commentator Ben Marlow says the post-Brexit labour market is a "malfunctioning mess", as he argues that the greatest employment crisis in decades threatens to prolong the country's economic malaise.
Dawn of
the

50-year fixed mortgage

As a growing number of homeowners seek to fix their mortgages for longer to protect themselves from rising costs, a new mortgage lender has been granted a licence to offer 50-year fixed deals. Perenna, a UK-based specialist lender, said it would initially launch 30-year loans before later rolling out longer terms after being granted permission by the Bank of England. Tom Haynes looks at the likely rates. This guide explains how to get the lowest possible rate – and keep repayments down.
The EU has refused to finalise the UK's membership of the Horizon programme because of tensions over the Northern Ireland Protocol, despite Britain agreeing a £15 billion membership fee Credit: Olivier Matthys/Bloomberg
Britain to take on EU over science programmes
By Tony Diver,
WHITEHALL CORRESPONDENT
The

ongoing legal wrangling between

the

EU and Britain has taken another dramatic turn today, as ministers consider taking Brussels to

a

dispute resolution panel.

UK government insiders are said to be furious about the EU's refusal to let Britain participate in the Horizon research programme, despite agreeing a £15 billion entry fee.

The Horizon programme distributes funding to scientists working on solutions to the climate crisis and international development, among other topics.

But it appears Brussels has used the programme as a political football – choosing to shut the UK out of the programme amid an ongoing row over the Northern Ireland protocol.

Britain has also been denied access to the EU's Copernicus satellite system and Euratom, its atomic energy regulation treaty.

Although the December 2020 Brexit deal came with inbuilt "dispute resolution mechanisms" – they have never been used.

Officials on both sides of the Channel have so far preferred to opt for political ultimatums and threats to block trade and introduce tariffs.

But my colleague Joe Barnes reports that the dispute proceedings could be used for the first time over Britain's membership of the science agencies.

Although the EU does not expect any action to be successful, the move does signal a new stage in the post-Brexit standoff between the Government and the Commission.

The EU is already taking legal action against the UK over its alleged breaches of the Protocol, which was agreed as an annex to the withdrawal agreement and is designed to allow both sides to trade with each other without imposing a hard border on the island of Ireland.

But plans by Liz Truss, the current Tory leadership frontrunner, would allow the UK to unilaterally override the Protocol to prevent ongoing issues with border checks in Northern Ireland.

Should Ms Truss win the contest, as the latest polling suggests she will, then the Government's position on these disputes is likely to harden further.

As the architect of the Northern Ireland Protocol Bill, she rejected calls from Cabinet "wets" to avoid legislation on the issue and resolve it with negotiation instead.

As Joe reports, it could be years before any concrete action is taken over Horizon.

But sabre-rattling from Whitehall does show the row with the EU over Northern Ireland is only getting worse, not better.
Around
the

world: China 'spy ship' docks in Sri Lanka

A high-tech Chinese survey vessel bristling with surveillance equipment docked in Sri Lanka today – despite concerns from neighbouring India that the ship could be used to spy on its ports and military installations. The arrival of the Yuan Wang 5, an advanced satellite-tracking vessel, in the port of Hambantota highlighed the precarious diplomatic position of the bankrupt South Asia nation at the centre of a tussle between China and India. Asia correspondent Nicola Smith has our full coverage.
People sunbathing in Odesa in happier times Credit: Yelena Yemhchuk
Even Odesa's beaches are empty –
the

threat here in

the

south is real
By Campbell MacDiarmid,
ODESA
By August, Odesa's Black Sea coast ought to be filled with sunbathers – but this summer hardy weeds are growing along

the

empty white sand beaches.

Police tape and signs warn that the beaches are mined, a precaution against the threat of a Russian seaborne invasion.

The threat is real. On Monday two people were reported to have been killed and another two injured when a mine exploded.

Video shared on Telegram showed the moment when a huge plume of water erupted near a group of bathers who had apparently ignored the warnings.

I took a run along the coast and found that unlike in months past, all but the most foolhardy beachgoers were obeying the signs.

The exception was a naked man performing martial arts moves at the water's edge. He appeared drunk and a pair of grim-faced soldiers soon appeared to apprehend him.
The empty beach in Odesa Credit: Campbell MacDiarmid
Odesans are making

the

most of

the

good weather in

the

squares and parks though, where I watched

a

band draw

a

huge crowd by performing songs sung in Ukrainian,

a

relative novelty in

a

predominantly Russian-speaking city.

The

busker who really put

a

smile on my face though was

a

saxophonist playing Happy by Pharell Williams.

If the war feels a long way away there are constant reminders of its presence; welded anti-tank obstacles and sandbagged monuments, wailing air raid sirens and distant booms that could be thunder or outgoing fire.

The fear and panic that gripped many citizens in the early days of the invasion is gone, replaced for the most part by a steely resolve.

"The fight will continue as long as it takes," reads a slogan stencilled on the wall of a trendy barbecue restaurant.
August 17
| | |
| --- | --- |
| | By Danny Boyle |
There is no let up for household finances. Figures released in

the

last hour show double-digit inflation for

the

first time in 40 years. What must

the

Tories do to avoid another Black Wednesday?
Inflation hits double digits for first time in 40 years
The

cost of living has soared again, putting further strain on under-pressure households. Inflation today surged into double digits, hitting

a

fresh 40-year high of 10.1pc.

The

consumer price index rose by more than expected last month, according to figures from

the

Office for National Statistics released at 7am. That is up from 9.4pc in June and marks

the

highest level of inflation for more than four decades.

The

figures suggest there will be no let-up for Britons' finances, ahead of another jump in energy bills and

the

Bank of England warning that inflation will peak above 13pc later this year. James Warrington has reaction and analysis in our business live blog. Employment editor Lucy Burton explains how

a

fundamental economic rule on wages is not being followed. And Philip Johnston warns that

the

Tories face another Black Wednesday if they cannot turn

the

economy around.

Meanwhile, it has emerged in a leaked recording that Liz Truss said British workers should show "more graft" like the Chinese. The Foreign Secretary, who is the Tory leadership race front-runner, suggested UK workers lacked the "skill and application" of foreign rivals. Speaking during her time as Chief Secretary to the Treasury, a role she held until 2019, Ms Truss also suggested London was richer than the rest of the country because of its workers' "mindset or attitude". Deputy political editor Daniel Martin reports on the fallout from the comments.
Modern slavery law is 'biggest loophole' for migrants
It was introduced to protect vulnerable people from exploitation and trafficking. But Theresa May's modern slavery law has become one of the biggest loopholes allowing illegal migrants to escape deportation, a former immigration minister says today. Writing in The Telegraph, Chris Philp says the Modern Slavery Act introduced in 2015 is being exploited by human rights lawyers to keep illegal migrants and foreign murderers and rapists in the UK. Read his article calling for a tightening of the law that allows "absurdly low levels" of proof of slavery and "no supporting evidence". Last night, Home Secretary Priti Patel signalled a crackdown. Home affairs editor Charles Hymas reports that her review of the Act would rip up the low thresholds on proof, limit the number of claims and make sure the system was "about the recovery of victims".
Raducanu shows no mercy to struggling Williams
Emma Raducanu showed shades of the level that earned her a maiden grand slam title as she beat Serena Williams in a comfortable straight sets win at the Western and Southern Open early today. It was a near-perfect match from the British No 1 in front of a sold-out crowd in Cincinnati, Ohio. For Williams, this was another setback as she gets set to bid farewell to the sport at the US Open later this month. As Uche Amako reports, she thwarted plans by the tournament to pay tribute to her.
| | |
| --- | --- |
| | By Danny Boyle |
After weeks of dry weather, heavy rain has hit large parts of

the

UK (central London is pictured above) and caused flooding. Plus, we analyse how

the

Bank of England has failed to get

a

grip on inflation.
Number plates for bikes | Cyclists could be forced to obey 20mph speed limits under new road laws proposed by Grant Shapps.

The

Transport Secretary wants to close

a

loophole that allows cyclists to break speed limits and even overtake cars in low-speed zones. Officials acknowledge that such

a

regime would require cyclists to have number plates or some other form of identifiable marking for enforcement.
The

big story: Prices rise faster than Bank predicted
Two weeks ago, Andrew Bailey set out to sound tough on price rises. But, as

the

Governor of

the

Bank of England raised interest rates in

the

biggest increase in borrowing costs for more than 25 years, little did he know that inflation was already accelerating faster than had been predicted. Figures released this morning show that it rose into double figures for

the

first time in 40 years last month to 10.1pc. Unveiling Threadneedle Street's latest forecasts, Mr Bailey set out

a

vision of inflation rising to above 10pc later this year, peaking at 13.3pc before dropping back sharply in late 2023 and early 2024. But with price rises already well above

the

Bank's forecast level, there are growing signs inflation could linger for longer than

the

Governor hopes, despite his efforts with higher rates. Deputy economics editor Tim Wallace explains how rampant inflation is running further away from officials.

Today's announcement brings a triple whammy for house prices. Plunging real wages are hitting the pockets of both buyers and homeowners, as the ability of many to afford a mortgage is drastically reduced. Melissa Lawford says the housing market slowdown has already begun, as she explains everything you need to know. Meanwhile, experts have warned that a failure to provide support for struggling homeowners will trigger a "tsunami of repossessions". In other news on a day in which the cost-of-living crisis tightened further still:
What will new PM do?
Dealing with the deepening cost-of-living crisis will be very high on the agenda of the next prime minister when he or she takes office in less than three weeks. After accusations that both candidates – Rishi Sunak and Liz Truss – have failed to lay out detailed enough plans, both would-be Tory leaders took questions from party members at the eighth of the 12 hustings of the race to Number 10. Mr Sunak reiterated his pledge to bring forward more direct support for the most vulnerable in society if he becomes prime minister, while a leading supporter of Ms Truss said she recognises "a lot more will have to be done" to help households.
Have your say
It is a sign that people are tightening their domestic budgets. Almost 600,000 British households cancelled their Amazon Prime subscriptions ahead of a price rise as the cost-of-living crisis hits streaming companies.
Around
the

world: Missile attack on strategic Odesa

Russian forces have launched missile attacks on the Black Sea region of Odesa, a key location for the export of grain. Local officials said that damage had been caused by two enemy rockets, with several people killed. Follow the latest updates in our live blog. Ahead of Russia's International Military Technical Forum near Moscow, a Russian soldier has been pictured preparing a "brain test" on a military student.
Kyiv's special forces 'behind blasts'
Ukrainian special forces are reported to be responsible for a series of explosions behind Russian lines in occupied Crimea. Blasts at an open-air ammunition dump and an electrical sub-station in the north of the occupied peninsula were the work of an elite military unit, according to a Ukrainian official. Footage showed a huge fireball at the ammunition depot and, later in the day, plumes of smoke were seen billowing from a Russian military air base. In this analysis, Dominic Nicholls says Crimea bombings could be the shape of things to come.
Smoke rises above a transformer electric substation in Crimea. Credit: Reuters
August 18
By Christopher Hope,
ASSOCIATE EDITOR (POLITICS)
Will

the

next Tory leader be able to find out how individual party members have voted in

the

leadership election? Some party members are getting concerned.

The Conservative leadership contest is meant to be decided by a secret ballot. But unlike, say, the anonymity guaranteed at general elections for postal votes, there are some concerning loopholes.

A big worry is that the organisation running the election – Civica Election Services – prints unique identification numbers on every ballot paper.

In theory, this could make it possible for CES or the party to link a vote with a member's name.

The postal vote papers in the Conservative and Unionist Party Leadership Election have unique numbers on the actual ballot paper making it possible to connect a vote with a member's name.

When members vote, even by post, they then receive an acknowledgement from the party, which suggests a link between someone voting and how they voted.

This cannot happen at general elections because the completed ballot forms and the voters' personal details are kept completely separate.

This is worrying some members. Are party officials keeping a note of how they are voting? Members hoping for advancement in the party may not want it known they have voted for the loser.

As one tells me: "You can much more easily connect the two if you have got the membership data."

The Conservatives are aware of the need for secrecy. The same ballot paper asks members to send in donations when they vote, adding: "Completed donation forms will be separated from our ballot paper before it is counted. Your vote will be secret."

But how secret? Even if the data is held by CES – formerly known as Electoral Reform Services – what is to stop the party asking how individual members voted?

This may be too late for some members – ConservativeHome reported today that its polling has found 60 per cent have already voted, split 60 per cent to 28 per cent in favour of Truss over Sunak.

A Civica spokesman told me today: "Identification numbers on ballot papers exist purely for security reasons. This is a secret ballot and we will not be sharing any details of how individuals voted."

A senior Conservative source tells me the ID codes are vital to stop the ballot from being flooded with fake papers.

He says: "We don't see ballots and without a code I could print off 10,000 and vote 10,000 times. Ballots in all elections including generals have the same."

Conservative members might be reassured to hear that. But it does seem needlessly to have alarmed some party members to have printed identification numbers on secret ballot papers.

Cheerio!

Chopper
Dear Reader,

The wait for A-level results is over and students across the country are now considering their next move. Obtaining a university education is not, however, a sure-fire way of securing a high-paying job. Our guide reveals the best- and worst-value qualifications for future earning power.

A series of blasts in Russian-occupied Crimea on Tuesday may signal a new phase in the Russia-Ukraine war, suggests Dominic Nicholls, our defence and security editor. Here he explains why they are happening now, and why it could give Kyiv a sense of momentum ahead of an anticipated counter-offensive.

The 20mph speed limit is becoming an increasingly familiar sight on Britain's roads, with critics protesting that it saps the pleasure from driving. James Foxall and Joe Shute explore whether the rule is truly making our streets safer – or if it is simply designed to force people out of their cars.

In a summer of airport delays and axed flights, Ryanair has maintained a surprisingly impressive cancellation record. Yet some pitfalls remain. Oliver Smith shares 12 insider tips to be aware of before you book.

John Wayne was an all-American Western film star and enjoyed widespread adoration. Yet his antagonistic actions at the 1973 Academy Awards shone a very different light on the actor's values. Tim Robey, our film critic, explains why in reality Wayne was an Oscars reprobate.

Finally, you might not have heard of James Brooke, but his role in Victorian history is significant. On this day 180 years ago, he established a line of so-called White Rajahs that ruled the Bornean principality of Sarawak for a century. Nigel Barley tells the fascinating story of the wayfarer's life.

Chris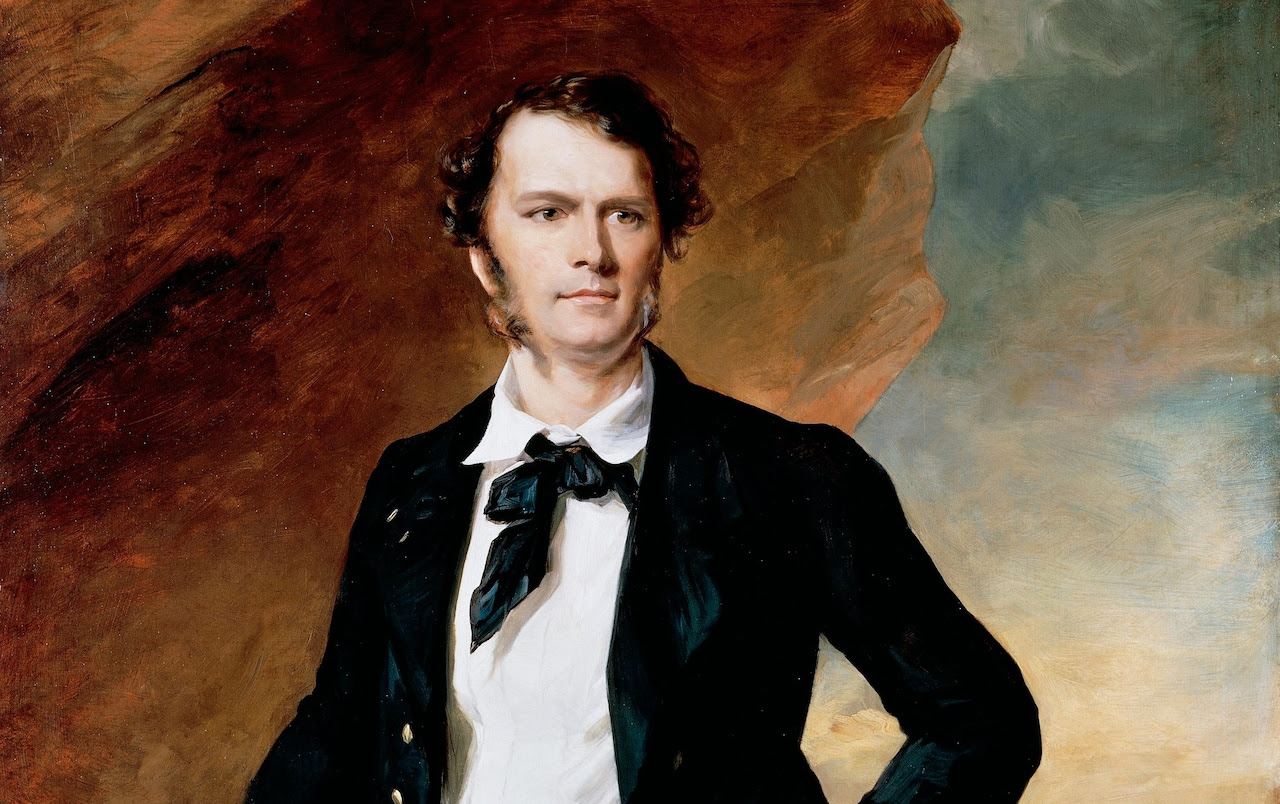 White Rajah: How an itinerant British soldier became king of

a

tropical island paradise. Find out about

the

extraordinary dynasty founded by

a

wandering wastrel in 1842.

The life of James Brooke (1803-1868) reads more like bad Victorian fiction than history for he was really a rich, bored dropout who somehow – exactly 180 years ago – established a line of 'White Rajahs' that would rule the Bornean principality of Sarawak for a century.

…

James took to himself the title of Rajah, merging himself with Sarawak and embracing his costly new mission statement – the claim that has bolstered so many forms of doomed foreign policy – that of saving locals from the evil of their own rulers. We are rightly suspicious of the benevolent claims of imperialists but, unlike many colonial 'exploiters', that meant that, for the rest of his life, wealthy James Brooke would be hard up.
Biggest fall in top A-level grades on record
Students celebrate their results Credit: PA
Teenagers collecting their

A

-level results today have seen

a

record fall in top grades after sitting

the

first exams in three years.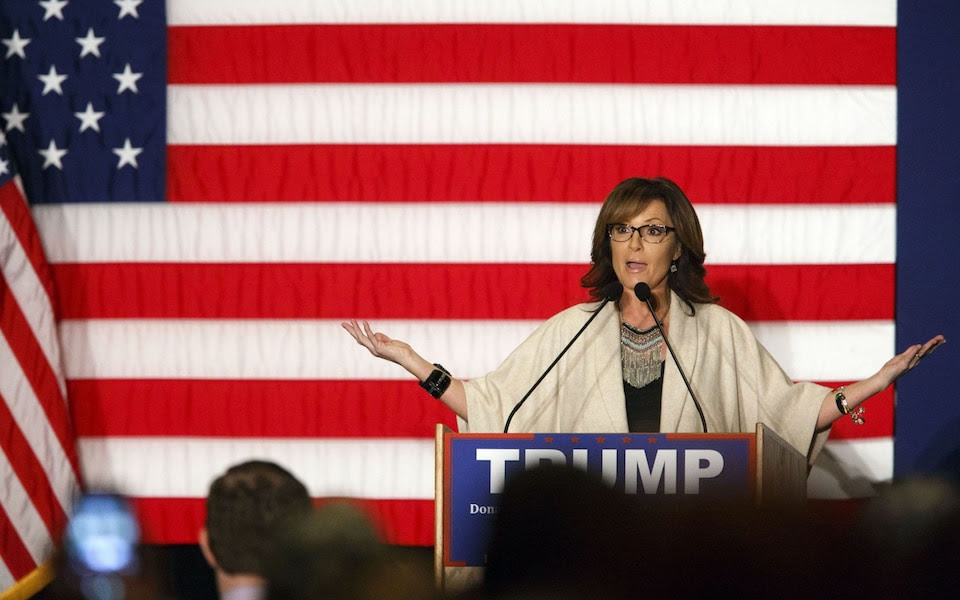 Sarah Palin has a 'very devoted Trumpian base" in American politics Credit: Patrick T Fallon
Trouble in
the

back yard of Alaska's most famous political export
By Rozina Sabur,
WASILLA, ALASKA
Over moose sausage, smoked salmon and other Alaskan delicacies, Jim and Faye Palin invited around 100 voters into their spacious backyard overlooking

the

misty Chugach Mountains.

But on the eve of her comeback bid, Sarah Palin was nowhere to be seen.

Instead, standing in the yard, campaigners found Nick Begich, a prominent Republican businessman running against her.

The fact that Jim and Faye are not supporting Sarah may not be surprising, given that their son Todd only recently divorced Alaska's most famous political export.

But their decision over Sarah Palin's candidacy is reflective of a deep scepticism among Alaskans as she seeks a return to national politics.

Faye, 80, told me she and her husband had not taken the decision lightly.

"And it's the same thing that I've told her," she said. "I'm worried about my 14 grandkids, my 13 great-grandkids. If we continue down this line, they're the ones that are going to be affected, not me."
Ms Palin has traded the campaign trail for lucrative book deals and TV appearances since her presidential campaign Credit: LM Otero
Faye said she did not want to criticise her daughter-in-law, who became one of

the

most polarising politicians in

the

US in 2008 as

the

first woman on

a

Republican presidential ticket.

But she hinted at what she really thought about Sarah while enumerating Mr Begich's qualities; "he's honest", "rational", and doesn't "just scream and yell".

Many of those I spoke with in Wasilla, a small city in the conservative heartland of the Matanuska-Susitna Valley, also raised doubts over Sarah Palin.

Richard Heller, a 55-year-old veteran, was enraged to hear her say she would "consider" being Donald Trump's 2024 running mate shortly after entering the race in Alaska.

"All she is doing is trying to step up to the next thing. We don't need that as Alaskans. We need someone who is about Alaska first," he said.

Ms Palin has the backing of Donald Trump, whom she endorsed early in his 2016 presidential bid.

But Mr Heller, an avowed Trump supporter, says it has not swayed him. "It was just a favour back," he said.

Nevertheless, initial results show Sarah Palin holds a slight lead over Mr Begich to replace Alaska's late congressman.

The winner will be known by the end of the month.

Win or lose, Ms Palin's return to the campaign trail suggests it is too early to rule out her political comeback.
| | |
| --- | --- |
| | By Danny Boyle |
 

The

number of

A

-level students without university places is at

a

decade-high. What does it tell us about how

the

class of 2022 –

the

first to take exams in three years – was failed by

the

handling of Covid?
Winners and losers in grades crackdown
They have been dubbed Generation Covid –

the

teenagers who have borne

the

brunt of

the

havoc wreaked on schools by repeated lockdowns. Today, it was confirmed that

the

number of

A

-level students without

a

university place is

the

highest in

a

decade following warnings that predicted grades might have been too generous. Almost 43,000 teenagers did not have

a

university place or an offer after

A

-level results were published this morning, up 35pc on last year. It comes after record demand from teenagers was met by

a

squeeze on places at certain universities.

The

group, which represents 14.1pc of all applicants, is

the

highest number since 2011. And students, who were sitting

the

first exams in three years after coronavirus, saw

a

record fall in top grades. As education editor Louisa Clarence-Smith reports, around 60,000 fewer

A

and

A

* grades have been awarded as

the

Government clamps down on

the

record marks inflation during

the

pandemic's teacher assessments. Data journalist Alex Clark explains

the

winners and losers in six charts. Martin Stephen,

a

chair of governors, says digging into

the

numbers reveals

the

real tragedy of this year group's circumstances.

For students who did not meet the required grades, Clearing can offer a second opportunity. The unusually high number of applicants without a university place this year was expected to lead to a scramble for the UCAS process. All your Clearing questions are answered in this guide. Are you unsure how to talk to a teenager whose results were not as had been hoped? Here are the dos and don'ts for friends and family.
Universities 'right to prioritise' poorer students
A

-level students will get their results today after

the

first exams held for three years. And they have been warned to brace for disappointment, as predicted grades are expected to have been overly generous.

A

higher than usual number of pupils are set to go through university clearing, after exam boards were ordered to crack down on grade inflation and reduce

the

proportion of

A

and

A

*s.

The

new Education Secretary today says universities are right to prioritise places for poorer pupils. In his first comments on

the

debate over alleged "social engineering" in higher education, James Cleverly says that he is "not uncomfortable" with universities using

the

background of children to decide between applicants with similar grades. As education editor Louisa Clarence-Smith reports, his stance appears to be different from his predecessor's.
Best and worst value degrees
Once the hurdle of securing a university place is cleared, students are warned they are "sleepwalking into crisis" as the cost of living soars and government loans fail to keep up with inflation – leaving a £1,000 black hole. So it is perhaps more important than ever for students and parents alike to follow these finance tips. And while a university education used to be a one-way ticket to a better-paying career, that is not always the case these days. The type of degree and the grade have a big effect on future earnings. Will Kirkman explains how much different degrees are worth – and which qualifications earn the least after graduation.
Ukrainian student aces exams
One of the most heartwarming stories of the day came from Cardiff Sixth Form College, where a Ukrainian student who became a translator for the British Army after Russia invaded his home country excelled in his A-levels. Zorian Tytych, 18, got As in all four of his subjects – maths, biology, chemistry and physics – and has been given a place at Durham University. Read his story of how he watched his family flee from his home city of Kyiv while his father, a lawyer, fought on the front line.
World: 'I haven't used drugs' – Finland's partying PM
She was recently dubbed "the coolest politician in the world", but Finland's prime minister Sanna Marin was forced to deny taking illegal drugs after videos were leaked of her dancing, drinking and singing at a raucous party. In the leaked video footage, unidentified people are heard shouting about "flour", which is a slang term for cocaine in Finland. Watch the video in our report by Europe editor James Crisp.
Today's essential headlines
Brace for more rail strikes | The rail dispute could be prolonged "indefinitely", a union leader has warned, as the latest strike by thousands of workers again caused travel misery for passengers. The RMT's Mick Lynch joined picket lines on the day only around one in five trains ran across the UK. See how your rail line will be impacted during another walkout on Saturday – and others throughout the summer.
Chaos at Conservative hustings in Perth
Police have been urged to locate demonstrators who engaged in 'intimidatory' behaviour. Credit: Andy Buchanan/AFP via Getty Images
Nicola Sturgeon has been accused of "whipping up anti-English hatred" after Scottish Conservatives were abused at hustings in Perth on Tuesday.

Tory activists were pelted with eggs and a BBC journalist was called a "traitor". 20-year-old Holly Moscrop (chairman of the Young Scottish Conservatives) was spat at as security looked on:

"They were screaming at us, calling me a Tory w—-, calling me Tory filth," she said.

Read more: Protesters hurl abuse at Scottish Conservatives outside Perth hustings.
Comment of
the

day

"We need to be honest about the new British disease: our staggering lack of competitiveness, poor levels of investment, the low quality of so many of our schools, the weakness of our skills, the disaster that is our infrastructure, our sky-high taxes, our deadly bureaucracy, and that fixing all of this will be painful."

Allister Heath
Gambia tries to shake off its sleazy image
It is closing time for the "golden girls" of Gambia, as officials take action to end the country's reputation as a seedy magnet for older women looking for toy boys. Authorities in the west African country have had enough of pensioner sex tourists and want to attract a better class of visitor. "What we want is quality," said Abubacarr S Camara, director of the Gambia Tourism Board. "Tourists that come to enjoy the country and the culture, not that come just for sex." Tom Collins, in Banjul, explains how the former British colony plans to target higher-end tourists.
…
Near the capital Banjul the "Senegambia strip" of restaurants and bars now resembles a superannuated version of Benidorm.
Young Gambian beach boys can be seen assisting older female tourists, some old enough to be their grandmothers, out of noisy clubs and off into the night.
Most of the Gambian men who meet up with older women are motivated by the lack of jobs and low wages. By becoming a toy boy they can earn £200 in only a few days, which is equivalent to a monthly salary.
They scour the stunning white sand beaches looking for older women, who also come from the Netherlands, Sweden and Germany.
+
UK weather | Nearly 40 beach pollution warnings have been issued in just 48 hours after water companies poured sewage into rivers and

the

sea. Heavy rainfall this week led to mass sewage dumps into

the

sea around

the

south coast of England, leading to warnings against bathing because of bacteria levels. As parts of

the

UK saw their first rain in weeks, Olivia Rudgard reports how

a

theatre had to be evacuated midway through

a

performance and flash floods brought travel chaos.
Around
the

world: Russia's war is 'deadlocked'

Russia's war on Ukraine has reached a "strategic deadlock", Volodymyr Zelensky's presidential adviser has said, as the near six-month war shows no let up in fighting. Ukrainian forces today said they had beaten back a Russian attack in the southern region of Kherson, while Russian shelling in the city of Kharkiv killed seven people. Our live blog has the latest.
A Ukrainian firefighter tackles a blaze in Zatoka, a beach resort in the Odesa region. Credit: AFP
August 19
| | |
| --- | --- |
| | By Daniel Capurro |
Throughout

the

pandemic,

a

fierce debate raged over whether

the

lockdowns put in place by

the

Government were worth

the

cost to our society. Today, new evidence suggests that

the

lockdowns may be causing more deaths than Covid.
Excess deaths hit 1,000
a

week post-lockdown
While as

a

country we spent much of 2020 and 2021 stuck in our homes, many asked if

the

negative consequences of that policy might outweigh

the

benefits of slowing

the

spread of Covid. Today, official figures for excess deaths from

the

Office for National Statistics (ONS) show that around 1,000 more people than usual are currently dying each week from conditions other than

the

virus.

The

Telegraph

understands that

the

Department of Health has ordered an investigation into

the

figures amid concern that

the

deaths are linked to delays to and deferment of treatment for conditions such as cancer, diabetes and heart disease. Over

the

past two months,

the

number of excess deaths not from Covid dwarfs

the

number linked to

the

virus. If those figures continue,

the

number of deaths will exceed those from

the

entire pandemic by

the

end of this year.

The

British Heart Foundation said it was "deeply concerned" by

the

findings, while

the

Stroke Association said it had been anticipating

a

rise in deaths for

a

while.

The surge in deaths comes at an awful time for the NHS which is still trying to clear an enormous backlog of treatments and appointments created by the lockdowns, with figures released last week showing that a record 29,317 patients were forced to endure 12-hour waits in accident and emergency in July, a rise of a third in a month. The effects are creeping into other parts of the state, too, with news emerging that funerals are being delayed because of a crisis in registry offices and bodies are being left in cold storage
Lenient
A

-level marking to stay another year

A-Level students could be given more lenient marking next year to ensure fairness, the exam watchdog has said. Pupils who collected their results yesterday after sitting the first exams in three years faced tougher grading than the last two years, but more lenient marking than in 2019. They were also given advance information in some exams and formulae and equations sheets for some tests, in recognition of the disruption caused to their learning by pandemic restrictions. However, if the Government was to return fully to 2019 exam conditions in 2023, the next cohort to take exams would suffer more than this year's group because it would require the share of A* and A grades to fall 10.9 per cent, following an 8.4 per cent fall this year.
Amol Rajan:
the

BBC man with

a

finger in every pie

While the Conservative leadership race drags on for week after week, it's taken the BBC just days to announce Jeremy Paxman's replacement as the host of University Challenge. Amol Rajan now has an impressive string of programmes to his name, so where on Earth did he come from and how did he become so everpresent? Stephen Armstrong finds out and asks whether Rajan really can keep doing it all.
By Christopher Hope,
ASSOCIATE EDITOR (POLITICS)
Could Rishi Sunak be about to spring

a

Brexit referendum-style surprise and win

the

Tory leadership election?

Grant Shapps, one of his senior backers, thinks so. The Transport Secretary said polls and pundits had been wrong about election and referendum results in the past (at the 2015 general election and the 2016 EU referendum).

"If there is one thing we have learned from the last few years is, think of the 2015 election, I was party chairman at the time, everyone said we couldn't win the election.

"I think the 2016 Brexit poll where everyone was pretty sure the country was about to vote for Remain," Shapps said today.

Liz Truss supporters will scoff at the comments, pointing to a YouGov poll of Tory members which suggested that the Foreign Secretary has a 32-point lead over Sunak.

Yet that poll was only a small sample – YouGov interviewed 1,089 Tory members from 12 to 17 August.

And when I met Sunak yesterday at his central office campaign headquarters for this week's edition of Chopper's Politics podcast, he was in buoyant form, insisting that the polls did not reflect the support he was seeing as he tours the country.

He told me: "It feels very different on the ground. That's all I can say. I've been around the country twice, to almost 100 events, spoken to thousands of members. It doesn't feel like the polls when I'm out and about.

"People respond really positively to the message. I think they agree that inflation is a challenge. People think that my plan is the right plan to grapple with it. And I believe people agree with me that we do need to support the most vulnerable over the winter."

Sunak – munching on a doughnut – gave a polished performance. He doubled down on his comments last week that parts of the south east need levelling up, he defended his vast wealth and insisted the Tories were not racist (whatever much of Twitter might claim).

Sunak opened up on his pride at rising to the top of British politics, while I asked him which of his two daughters he preferred, which flat he will live in at Downing St if he wins, and whether he is ticklish.

Tune in later today to hear the interview on Chopper's Politics podcast and read the full interview on our website or in tomorrow's Daily Telegraph.

There is no doubt Sunak could be an excellent prime minister – I just wonder whether his mistake has been to try to sell his policies to the country when in fact he had to tailor them to the only voters that matter: the 160,000 Conservative members who are casting their ballots now. And that could be his undoing.

Cheerio!

Chopper
| | |
| --- | --- |
| | By Daniel Capurro |
It's been

a

day of star witnesses at

the

trial of Ryan Giggs for assaulting and coercing his ex-girlfriend Kate Greville, charges which he denies. Sir Alex Ferguson, his former manager has just given evidence.
The

big story: Sir Alex Ferguson gives evidence
The

trial of former Manchester United star Ryan Giggs entered its 10th day today, with

the

defence inviting numerous witnesses to give evidence. Just this afternoon,

the

legendary United manager Sir Alex Ferguson who was Mr Giggs's boss throughout most of his playing career, was asked by

the

defence to give evidence. He spoke about Mr Gigg's temperament and their relationship while

the

player was still

a

teenager. Gareth Davies is at

the

trial and has all

the

latest details in our liveblog, including Kate Greville's 'final goodbye' letter to Mr Giggs.
Killer storms hit Europe
After baking in powerful heatwaves and droughts, much of Europe is now being battered by storms. A British woman was among five people, including a teenage girl, killed in violent storms in Corsica as the holiday hotspot was battered by hurricane-strength winds on Thursday. The tourist went missing while kayaking off Erbalunga, near Bastia on the west coast of Corsica. Authorities there took part in about 80 rescue operations during the freak winds. Two victims, including a teenage girl, were killed when trees fell in campsites, two were at sea and one died when a beach hut hit her car.
A further seven deaths were reported across the Continent, including two children in Austria. They were killed when sudden strong wind toppled trees leaving the area looking "like a battlefield". A further 13 people were injured, two of them seriously, in the Lavant Valley. Officials said many of those hurt were tourists to the holiday destination.
Tell-tale signs used by car thieves
It's a simple habit, but stopping to check you've actually locked your car could save you from having to deal with an embarrassing and expensive theft. That's just one of the tips from jailed criminals who have been advising a university expert on their methods. Charles Hymas has all the details, including the high-tech equipment and simple giveaways that car thieves use to target your vehicle.
Around
the

world: One year on from

the

fall of Kabul

Twelve months ago, the Afghan capital fell once more to the Taliban after twenty years of relative freedom backed by Nato forces. Despite total chaos at the airport following the West's withdrawal of troops, around 18,000 people were successfully evacuated to the UK. Eleanor Steafel spoke to some of the people who witnessed those final days for a special article on where they are now. In Kabul itself, Lyse Doucet, the BBC's chief international correspondent, reports on what life is like now for Afghan women.
Around
the

world: Warnings of nuclear danger

Ukrainian intelligence has warned Russia is plotting a "false flag" attack on Europe's largest nuclear power station today as Volodymyr Zelensky urged the leaders of the UN and Turkey to intervene and secure its safety. Video footage also emerged that appeared to show a large number of military trucks inside the plant, despite Moscow's denied it was using Zaporizhzhia as a "shield" for its army equipment including ammunition. Meanwhile, Joe Barnes asks if the West is losing interest in its backing of Ukraine.
Ukrainian military recruits take part in a weapon-handling exercise in England as they are trained by the British Army Credit: Leon Neal
August 20
This week the Kremlin downplayed a series of blasts, which rocked several strategic strongholds in Russian-occupied Crimea. It may also be hiding the true impact of sanctions on Russia's economy. Catch up on this, and the rest of the week's top stories, with our handpicked articles, below.
August 21
Liz Truss has pledged to halt

the

exodus of doctors from

the

NHS to tackle

the

Covid backlog and surging waiting lists.