August 08
US Democrats finally have something to celebrate.
President Joe Biden emerged from a prolonged period of isolation due to Covid-19 right as a massive $430 billion climate, energy and tax bill that was critical to his domestic agenda was passed by the Senate yesterday. His party was disciplined in just getting it done, showing the kind of unity that until now had eluded them.
Key reading:
The result is a compromise and a shadow of Biden's early ambition. It's however an important political lesson that Democrats are learning as they gird themselves for the prospect of losing both houses of Congress in the November midterms.
Looking ahead to a long summer of recess, they know gasoline prices are still too high and that Republicans will relentlessly hammer them on the economy. Yet the chances of a recession have receded after last week's blowout jobs report showed unemployment plunging to 3.5% — the lowest in five decades.
And last week's results in Kansas — the nation's first statewide referendum on abortion rights after Roe v. Wade was overturned in June — showed voters care deeply about the issue. That is something for Democrats to campaign on, and passionately so.
The optimism doesn't stop there. A deep dive by Bloomberg into efforts by Republicans to change how elections are run in response to former President Donald Trump's conspiracy theories showed that they'll fail to demonstrably alter the November ballot. The fear was that the GOP was going to be able to rig elections by changing the US voting system in their favor ahead of 2024.
And that takes us back to Biden, who is facing what will start to feel like endless campaigning. His age (he is now 79) was an issue back in 2020 and is again now. The question of whether he should run — though he seems determined to — is an open one again. — Flavia Krause-Jackson & Michael Winfrey
Senate Majority Leader Chuck Schumer at a press conference after the bill was passed. 
Photographer: Ting Shen/
Bloomberg
Tensions persist | China's military announced a new exercise today "near Taiwan" as it keeps up pressure on the island beyond a series of drills announced immediately after US House Speaker Nancy Pelosi's visit. The Defense Ministry in Taipei said Beijing is seeking to hurt Taiwan's morale and affect regional safety.
Shipping in the Taiwan Strait shows signs of returning to normal, and experts say the penalties for not delivering cargo to customers on time may be too costly to avoid the area.
Rightist gain | The chances of a right-wing landslide election victory in Italy significantly improved after a centrist party quit an alliance with the left-leaning Democrats. As a result, the rightist bloc led by Brothers of Italy may take two-thirds majorities in both houses of parliament in the ballot called after the collapse of Prime Minister Mario Draghi's government.
The UK economy probably shrank for the first time since a coronavirus lockdown at the start of 2021, with gross domestic product for the second quarter contracting 0.2%, according to a survey of economists by Bloomberg News. The drop would mark a pause in the recovery from the pandemic and the start of a more protracted downturn, which the Bank of England expects to last into early 2024.
Cutting back | Hong Kong will reduce the time people entering the city must spend in hotel quarantine to three days from seven, a bolder-than-expected easing of its Covid-19 travel curbs. Even so, it leaves the Asian financial hub isolated in a world that's mostly moved on from the pandemic.
Best of
Bloomberg

Opinion
Ceasing fire | Three days of violence between Israel and the Islamic Jihad that left 44 people dead in the Gaza Strip, including two senior militants and 15 children, ended late yesterday after mediation by Egypt. Both Biden and United Nations Secretary-General Antonio Guterres welcomed the pause in hostilities.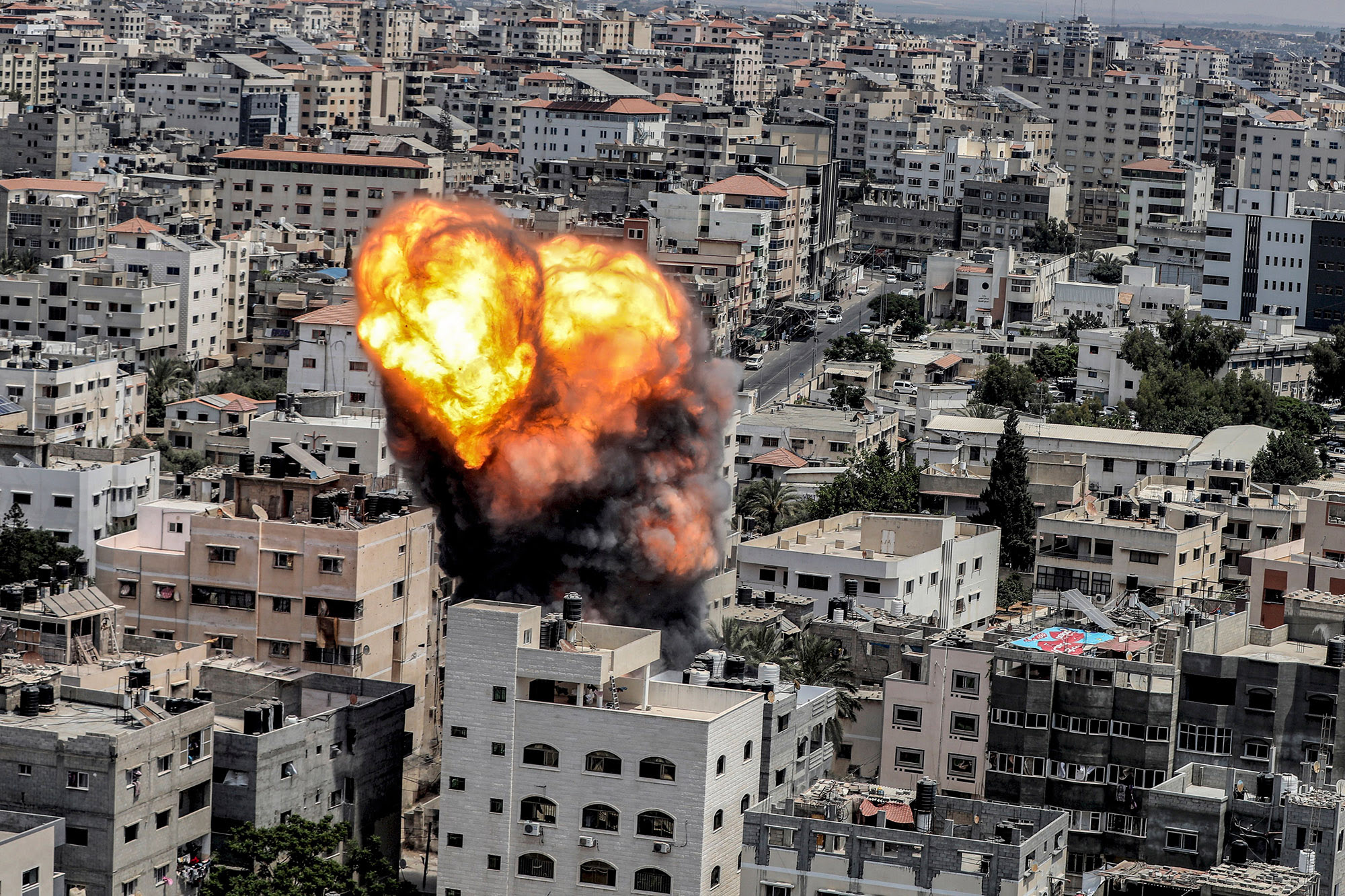 A fireball erupts after an Israeli air strike in Gaza City on Aug. 6. Photographer: Ashraf Amra/AFP/Getty Images
New era | Gustavo Petro was sworn in as Colombia's first leftist president yesterday, pledging to redistribute wealth and re-think the "failed" war on drugs. The ex-guerrilla assumes control of an economy with government debt near record levels, making it tough for him to meet promises of more education and welfare spending. The nation's first Black vice president, Francia Marquez, also took office.
Despite the first shipments from Ukraine of grain since being invaded by Russia, many challenges remain before the millions of tons of food stuck in the country can be released. The biggest perhaps is the willingness of shipowners to send vessels into harm's way, as the waters are littered with mines and Russia could repeat the attack against the port of Odesa it launched after the safe-passage agreement was signed.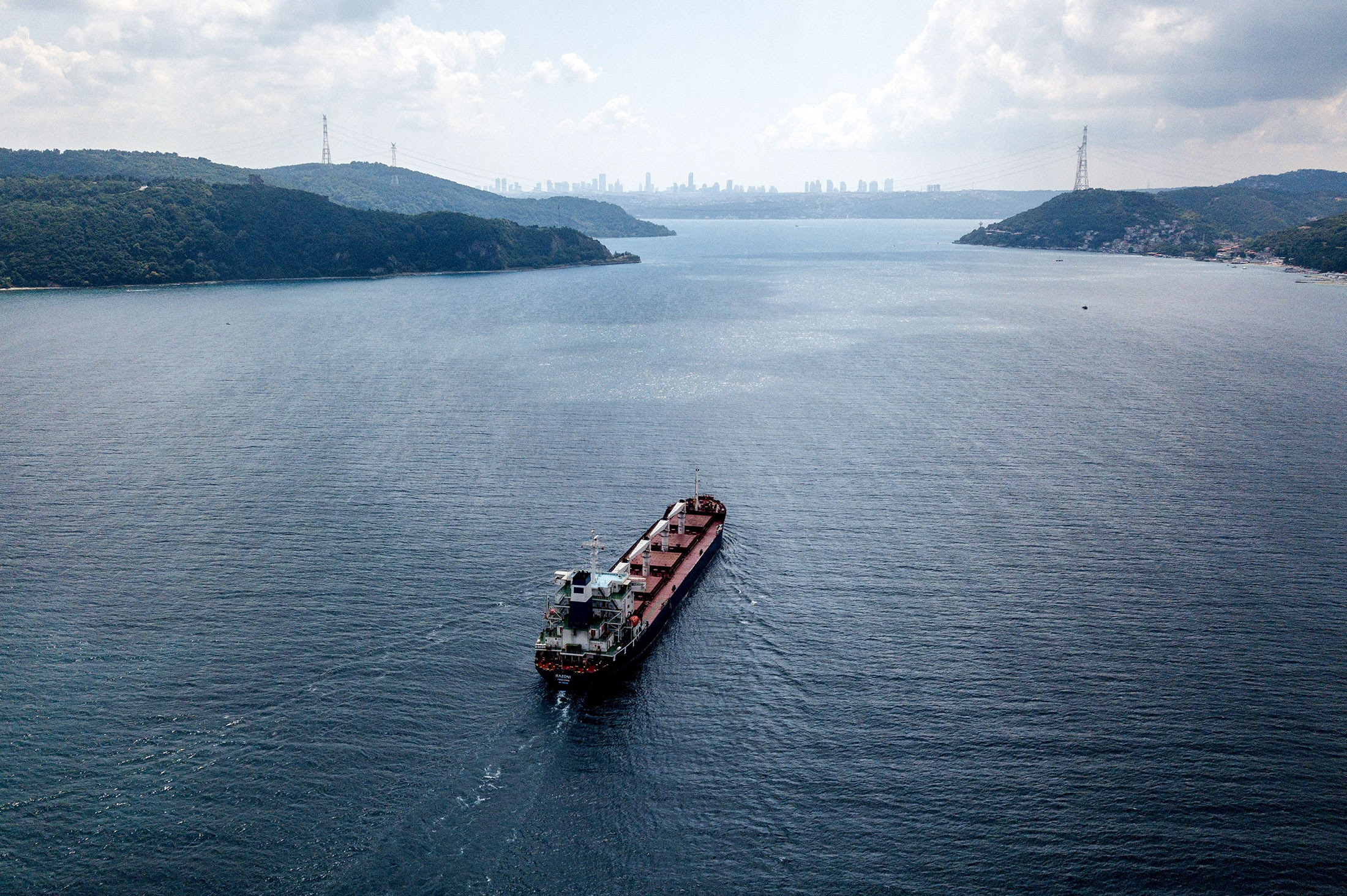 The cargo vessel Razoni sailing to Tripoli, Lebanon on Aug. 3. Photographer: Ozan Kose/AFP/Getty Images
August 09
By any measure, the FBI raid on Donald Trump's Mar-a-Lago residence was an extraordinary move — search warrants aren't normally executed at the homes of former US presidents.

Even Richard Nixon received a subpoena for the Watergate tapes that helped doom his presidency.

The risk for Trump is obvious. It's yet another legal case hanging over a re-election bid in 2024 he's poised to announce. Put simply, being president gives the kind of immunity he is sorely missing these days.

Key reading:

But the federal probe into whether he removed classified documents from the White House will just as easily further radicalize his base.

As with the congressional hearings into the Jan. 6, 2021, insurrection at the Capitol, Trump will fire up his MAGA fans by casting himself as the victim of a political witch hunt by the Washington establishment.

The raid comes at an awkward time for Trump's successor, Joe Biden, threatening to divert attention from political momentum gained by the president's Democratic allies with the Senate passage of a $430 billion climate, energy and tax bill ahead of congressional midterm elections in November.

Trump, already facing numerous federal and state investigations, immediately described the probe as "the weaponization of the Justice System."

Legal experts are still debating whether a conviction on removing classified materials would be enough to block another Trump run for the presidency. While Republican lawmakers are split over the wisdom of backing his candidacy, many supporters remain devoted to him.

However the investigation develops, the search of Trump's home by federal agents will be red meat to those followers and ensure that America's toxic political divide will only get nastier. — Karl Maier
A police car outside Mar-a-Lago yesterday.   Photographer: Giorgio Viera/AFP/Getty Images
'New normal' | China used the visit of US House Speaker Nancy Pelosi to Taipei as a pretext to prepare for a possible invasion of Taiwan and expand its control throughout the region, the island's foreign minister said. Joseph Wu added Taiwan believes that Beijing is determined to exert control over the East China Sea and South China Sea at either end of the Taiwan Strait, making the whole area its internal waters.
Taiwanese soldiers fire artillery today during an anti-landing drill. Photographer: Sam Yeh/AFP/Getty Images
Iran accord | European Union diplomats presented a final draft nuclear accord that could deliver a major expansion of Iranian oil exports to global markets, giving the US and Tehran just weeks to choose whether they want to revive the 2015 deal. The blueprint resulting from 15 months of talks in Vienna now requires a decision by Biden and Iranian President Ebrahim Raisi on whether to sign off on the agreement.
Losing patience | China's leadership has grown increasingly frustrated with a years-long failure to develop semiconductors that can replace US circuitry, an embarrassment capped by a flurry of anti-graft probes into top industry officials and the $9 billion rescue of Tsinghua Unigroup. Senior figures are angry that tens of billions of dollars funneled into the industry haven't produced the sorts of breakthroughs seen in previous national-level scientific endeavors, sources say.
Voting day | Kenyans began casting ballots today in a presidential election dominated by the spiraling cost of living and growing inequality. Both the leading candidates, Deputy President William Ruto and ex-Prime Minister Raila Odinga, have promised people squeezed by a slowdown in East Africa's biggest economy a grab bag of subsidies and social programs. Violence and vote-rigging allegations have marred previous elections.
Bloomberg TV and Radio air Balance of Power with David Westin weekdays from 12 to 1 p.m. ET, with a second hour on Bloomberg Radio from 1 to 2 p.m. ET. You can watch and listen on Bloomberg channels and online here or check out prior episodes and guest clips here.
And finally … Mexico, the world's largest beer exporter, faces severe water shortages in the country's north that threaten output after President Andres Manuel Lopez Obrador said brewers there should halt production. Months of water scarcity in drought-plagued Monterrey, an industrial region where beermakers like Heineken NV have facilities, led Lopez Obrador to declare beer production in the north "over," telling companies to focus on the south and southeast instead.
Residents wait to fill water containers in Monterrey.
Photographer: Marian Carrasquero/
Bloomberg
August 10
Massive explosions at a Russian military airfield in Crimea were greeted with jubilation in Ukraine and consternation in Moscow.
Russian authorities quickly denied rumors of a Ukrainian missile strike, blaming the destruction on munitions detonating at the base. While Ukrainian officials didn't directly claim responsibility, a top aide to President Volodymyr Zelenskiy called yesterday's blast "just the beginning."
Key reading:
Crimea is hugely sensitive and symbolic for both Zelenskiy and Russian President Vladimir Putin. His 2014 annexation of the Black Sea peninsula from Ukraine pushed Putin's popularity with Russians to unprecedented heights. He repeatedly declares Crimea an inseparable part of Russia, even as the international community rejects that.
With shocked holidaymakers seen on social media watching the explosions from a nearby beach, Putin now risks being regarded at home as incapable of protecting Russians from a war he started if it emerges Ukraine attacked the airfield.
Russia's war against Ukraine "began with Crimea and must end with Crimea — with its liberation," Zelenskiy said in his nightly video address to his nation. "We will never give it up."
Ukraine received powerful weapons including long-range artillery such as the US-supplied HIMARS systems that have proved effective on the understanding it wouldn't strike inside Russia. What's unclear is how Kyiv's supporters would regard their use in Crimea.
While they back Zelenskiy's ambition in principle, the US and its European allies face tough questions about how far they'd go in practice against a nuclear-armed Russia.
For Ukraine, a huge road and rail bridge connecting Crimea to Russia across the Kerch Strait presents an obvious target for its military striving to sever supply lines to an important staging post for the Kremlin's forces.
For Putin, who called construction of the bridge an "historical mission," any such attack would likely represent an intolerable humiliation.
Smoke rises after the explosions at the Russian airbase in Crimea. Photo Credit: UGC/AP
Click here to follow Bloomberg Politics on Facebook and share this newsletter with others. They can sign up here.
Backing Trump | Supporters rallied behind Donald Trump a day after US federal agents searched his Mar-a-Lago home as part of a widening investigation of the former President. Everyone from the Republican National Committee to potential 2024 presidential primary rivals like Florida Governor Ron DeSantis echoed Trump's assertion that the Justice Department's actions were politically motivated.
Trump confirmed via his social media account he will testify in New York in the civil investigation into his real estate dealings.
Angry words | China concluded its military exercises held around Taiwan in response to US House Speaker Nancy Pelosi's visit, while pledging to continue regular patrols. It comes as Beijing accuses Taiwan's ruling party of damaging the chances of peaceful unification. President Tsai Ing-wen's Democratic Progressive Party must change course to reduce tensions, the Taiwan Affairs Office in Beijing said, in its first white paper published since President Xi Jinping took power.
Pelosi's swing through Asia aimed to convey the US's "strong and unshakable" support for the region, but ended up leaving many countries in stunned silence.
China's ambassador to Australia warned Canberra to take Beijing's stance on Taiwan seriously, saying it regards the island as Australia does its offshore state of Tasmania.
In the midst of an arid summer that set heat records across Europe, the continent's rivers are evaporating. While disruptions to waterways would be a challenge at the best of times, the region is already on the brink of recession as Russia's invasion of Ukraine fuels inflation by squeezing food and energy supplies. The situation — just four years after a historic halt to Rhine shipping — adds urgency to European Union efforts to make inland shipping more resilient.
Covid warning | A top Communist Party newspaper urged Chinese officials to avoid becoming "slack" and "war weary" in fighting Covid-19, as infections rise and tourist spots impose restrictions to stamp out cases. The call by the state-run Economic Daily in a front-page commentary follows a Politburo meeting last month where senior officials reinforced the strict Covid Zero policy.
Best of
Bloomberg

Opinion
Weather woes | South Korean President Yoon Suk Yeol apologized for "inconveniences" caused by some of the heaviest rainfalls in over a century, having asked authorities to recalibrate disaster management plans to take into account the effects of global warming. The flooding is a major challenge for Yoon, who only took office in May and whose support has slumped due to a series of policy stumbles.
A junction in Gimpo yesterday.
Photographer: SeongJoon Cho/
Bloomberg
Kenya latest | Deputy President William Ruto took an early lead over former Prime Minister Raila Odinga in the race to become Kenya's next president in unofficial results published by the Nairobi-based Daily Nation. The electoral agency said turnout for yesterday's election was significantly down from the 2017 vote, while the National Police Service said the "country remains relatively calm and peaceful."
Power cuts, crime, and scandal have embroiled South African President Cyril Ramaphosa as the country hurtles toward crisis. What will it mean for one of the continent's biggest economies? Tune in at 8 a.m. ET for our weekly global Twitter Space and a conversation with reporters in South Africa. You can listen via this link which will be available for a week afterward.
And finally … Russia's war in Ukraine has sent millions of refugees into Poland, including 11 members of the Trushchenkov family, living in a cramped ground floor apartment in the capital. To pay the rent, they needed jobs. And whether families like the Trushchenkovs find jobs, return home, or move on carries enormous stakes for Poland, grappling with a labor shortage and an aging population. As cruel as it is, Piotr Skolimowski explains how the conflict in Ukraine could turbocharge Poland's $670 billion economy.
Volodymyr Trushchenkov at a Warsaw refugee aid center.

Photographer: Piotr Malecki for

Bloomberg

Markets
August 11
In North Korea, Kim Jong Un is often portrayed as a demigod, pictured riding a white stallion near Mount Paektu, considered the spiritual origin of the Korean kingdom and where his father was said to have been born — or so the narrative goes.
Which makes the revelation by his sister in state media that he had been "seriously ill" with a "high fever" during a recent Covid-19 outbreak unusual.
Key reading:
​For years there has been speculation about Kim's health, with long periods away from public view. The comments by Kim Yo Jong could mean several things. It could be designed to paint Kim as having bravely fought an illness and survived even as the coronavirus swept through the masses in his isolated nation.
It may also be a rare pointer to domestic troubles.
North Korea has always been largely cut off from the world, but arguably became even more so during Covid. Its economy and people probably suffered severely during the pandemic — much more than its leaders have let on. Kim's grip depends on him being seen as all-powerful and able to create a harmonious society, standing proudly against threats from the US.
Internationally, North Korea has also fallen off the radar somewhat, given the attention on Russia's war in Ukraine and more recently tensions between China and the US over Taiwan. That's even as the regime has continued to carry out missile tests.
Kim Yo Jong has blamed "South Korean puppets" for sending "dirty objects" across the border in leaflets carried by balloons for the "fever" outbreak. That suggests the regime may up the ante with missile tests — perhaps firing an intercontinental ballistic missile or testing a nuclear weapon — as it seeks to blame others for whatever Covid mess has happened at home.
Doing so could both shore up Kim Jong Un domestically and regain the spotlight for him internationally, providing a win-win for someone who desires to be powerful at home and feared abroad. — Rosalind Mathieson
Kim Yo Jong with Kim Jong Un in 2018. Source: Inter-Korean Summit Press Corps
If you missed our weekly Twitter Space conversation yesterday on the challenges facing South African President Cyril Ramaphosa you can still listen back via this link as our reporters based in South Africa discuss the crisis threatening one of the continent's biggest economies. Also click here to subscribe to our weekly newsletter Next Africa.
Global Headlines
Blast impact | Russia lost nine combat aircraft in blasts that shook an airbase in Crimea, Ukrainian President Volodymyr Zelenskiy said in a video address. Russia has denied Ukrainian strikes caused Tuesday's explosions, blaming them on munitions detonating amid safety lapses, while aides to Zelenskiy have hinted at Kyiv's involvement. Satellite imagery showed apparently extensive damage at the base used by Russia to support its invasion.
Follow our rolling coverage of the war here.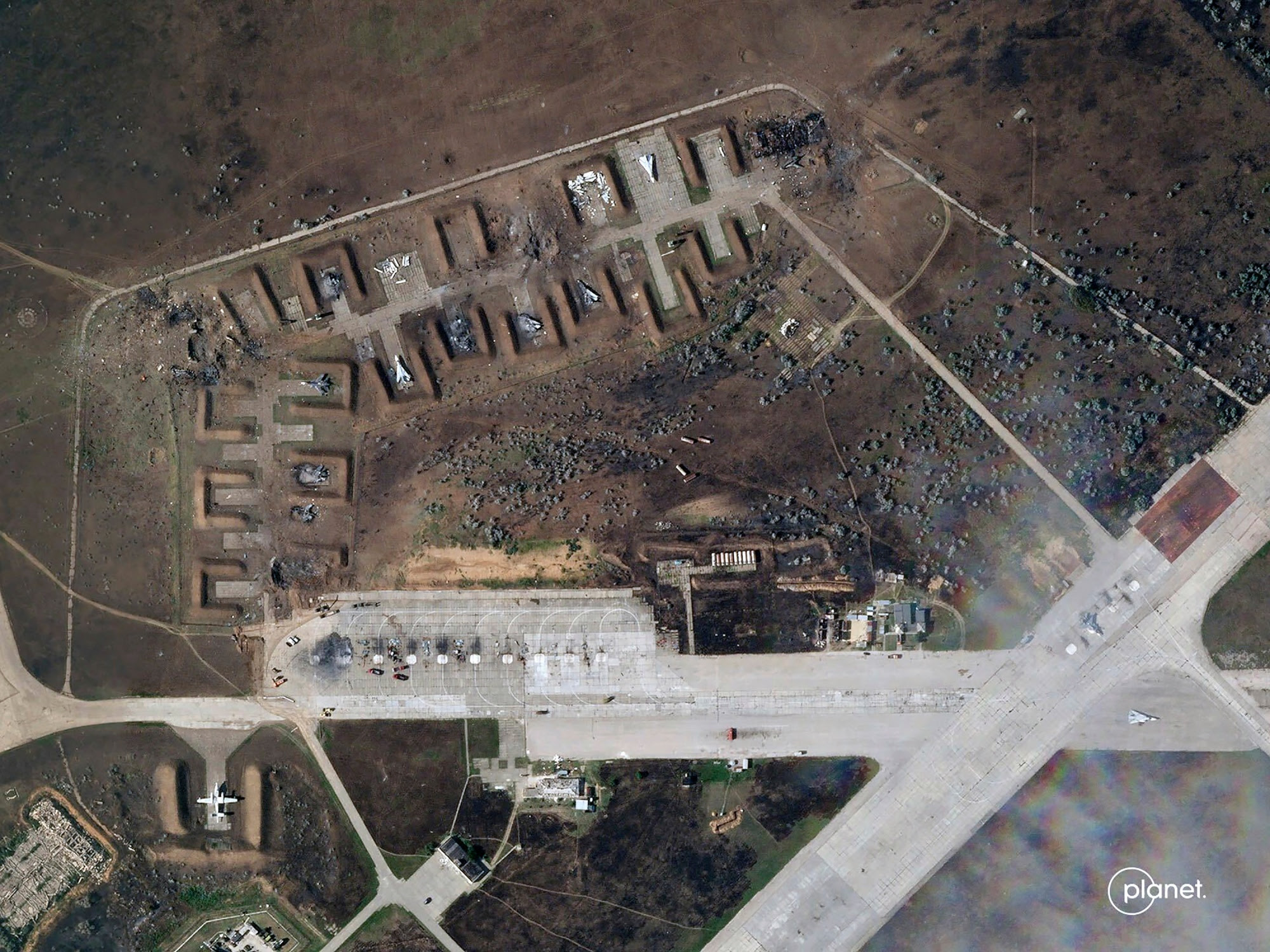 A satellite image shows destroyed Russian aircraft at Saky airbase. Source: Planet Labs PBC 
August 12
Second run | President Joe Biden is preparing to launch his re-election bid after the congressional midterms in November, aides and allies said, setting up a potential re-match with Trump. Biden's resolve to run is hardening, even with polls showing most Democrats prefer a different candidate, as he's buoyed by legislative, economic and foreign policy victories, sources say.
Putin warning | Ukraine's envoy to Washington cautioned the US and its allies against fatigue over a war that's consuming billions of dollars in security assistance. In an interview, Ambassador Oksana Markarova said it would be far costlier in the end to let Russian President Vladimir Putin go unchallenged and that if he isn't stopped he'll attack more countries in Europe.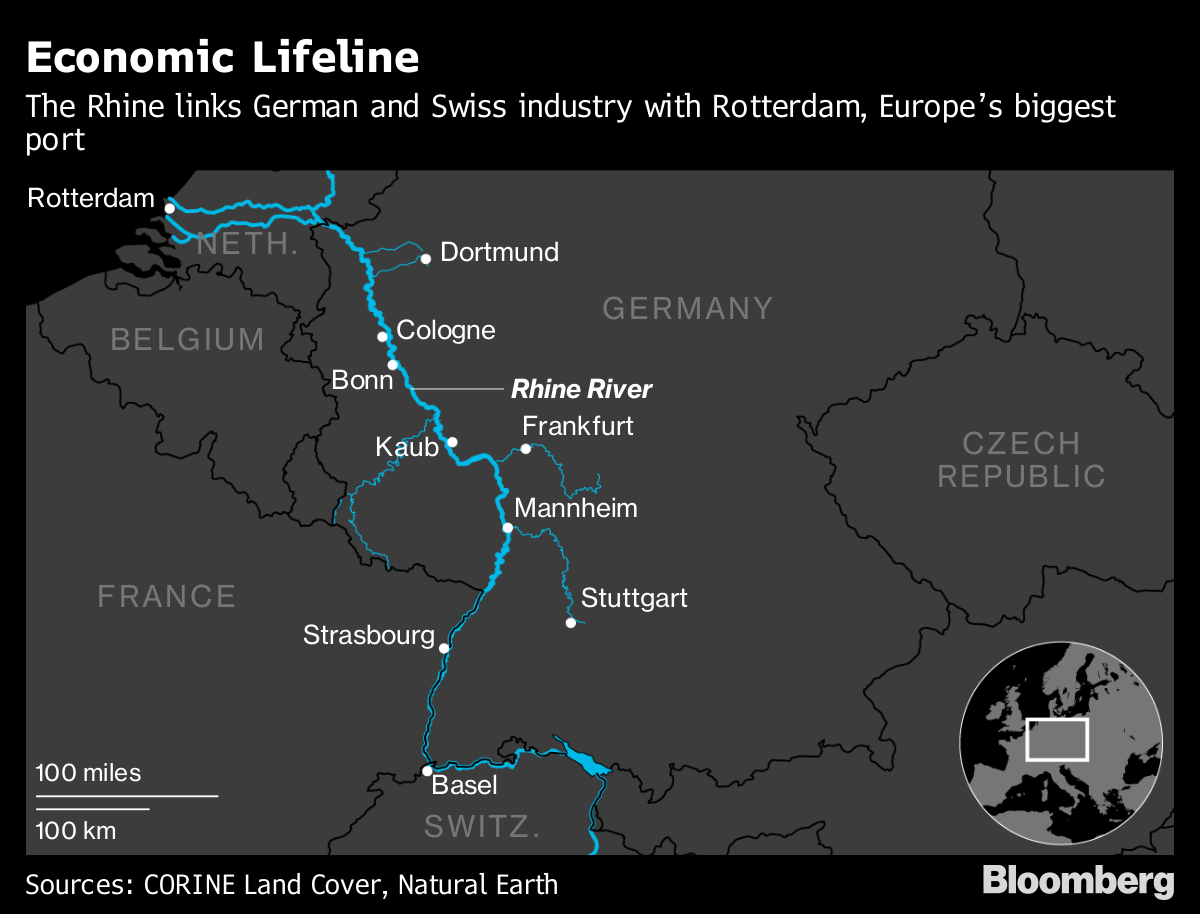 CORINE Land Cover, Natural Earth
CORINE Land Cover, Natural Earth
The Rhine River — an artery for European industry — is set today to wither to a crucial level that could upend the transport of fuels, with the effects potentially rippling through the continent for months. The water level at Kaub — a key waypoint west of Frankfurt — is poised to breach 40 centimeters (15.75 inches) and continue dwindling in subsequent days. 
Rethinking ties | European Union members Latvia and Estonia abandoned the so-called 16+1 eastern European framework with China, under which Beijing provided investment for infrastructure projects. With Russia's war in Ukraine prompting a rethink of ties with countries rivaling western powers, the decision weakens an arrangement that was criticized for giving China a way to sway EU policy.
Best of
Bloomberg

Opinion
Shy of victory | Neither of Kenya's two leading presidential candidates have secured a majority in this week's election, with the latest tallies by three local media houses almost complete. If either Deputy President William Ruto and former Prime Minister Raila Odinga fail to secure the 50%-plus-one-vote threshold, a fresh ballot must be held within 30 days.
Warm news | European households fretting over turning on the heating and governments worried about running out of gas may take some solace from weather forecasts: The start of winter looks mild. Above-normal temperatures are projected in October, which could curb the need to use the fuel and give more time to refill critical reserves.
August 13 – August 14
Pelosi Trip Sets Back Biden's Effort to Woo Asia Against China
House Speaker Nancy Pelosi's swing through Asia aimed to convey the US's "strong and unshakable" support for the region. But, as Sarah Zheng and Philip J. Heijmans report, it ended up leaving many countries in stunned silence as China conducted unprecedented military drills around Taiwan.
Soldiers lower the Taiwanese flag during a ceremony at the Chiang Kai-shek Memorial Hall in Taipei on August 4. 
Photographer: Lam Yik Fei/
Bloomberg
Crimea Base Blast Deals Blow to Russia's War Machine 
Explosions at the Russian airbase in Crimea that Ukraine says destroyed nine fighter aircraft may indicate new Ukrainian offensive capabilities that complicate Kremlin efforts to support its invading forces, according to European intelligence officials and defense analysts.
Tories Fear UK Fallout With Johnson Absent and Rivals Feuding
Replacing Boris Johnson was meant to let the UK's Conservatives move on from the chaos and distractions turning off voters. Instead, a long leadership battle has exposed deep divisions in the ruling party and bolstered the sense of inertia at the heart of government.
Five US States Will Decide If the 2024 Election Can Be Stolen
Trump's loyalists have never stopped trying to turn the election system into one that'd return him to the White House — fairly or otherwise. So we set out to find which states are most vulnerable to political election interference. You can see the results in this interactive graphic.
Chile to Focus on Land Restitution to Stem Indigenous Conflict
The government plans to speed up land restitution as it pours money into parts of the south scarred by an increasingly violent conflict with indigenous communities. Eduardo Thomson spoke with Social Development Minister Jeanette Vega about the challenge of working out the territory to be handed back.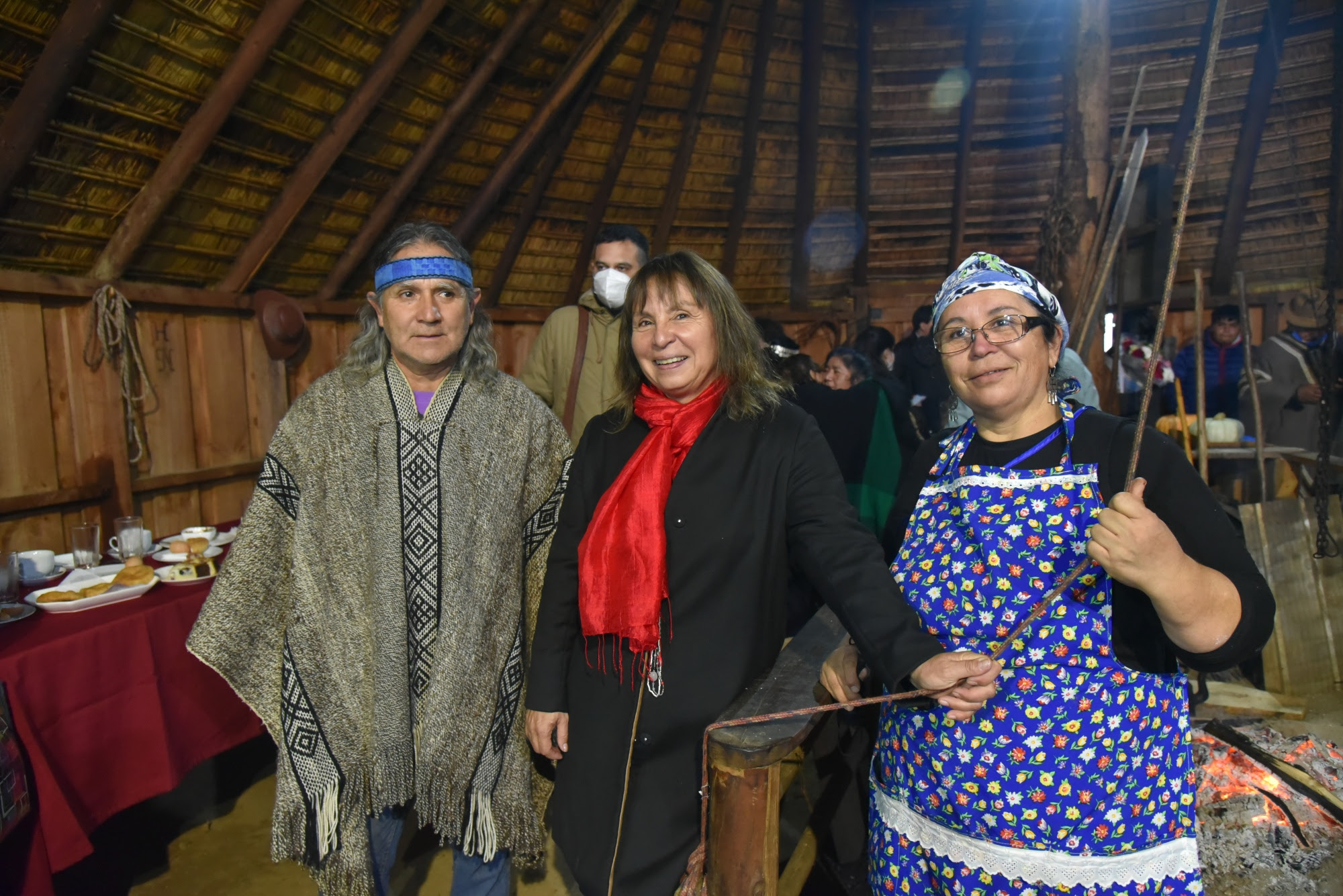 Vega, center, with members of the Mapuche community.
Photo Credit:
Bloomberg
Poland's Gain, Ukraine's Loss: Hot Job Market Welcomes Refugees
Poland rose out of communist-era poverty to achieve one of the highest living standards in Eastern Europe. Today the country has a labor shortage and an aging population. Piotr Skolimowski explains how, as cruel as it is, the war in Ukraine could turbocharge Poland's $670 billion economy.
Extreme heat this year has triggered wildfires, drought and melting glaciers. Less expectedly, it's also revealed some weird and dark things about our past — shipwrecks, corpses, ghost villages, ornamental gardens and ancient cities. Here's a look at some of those discoveries.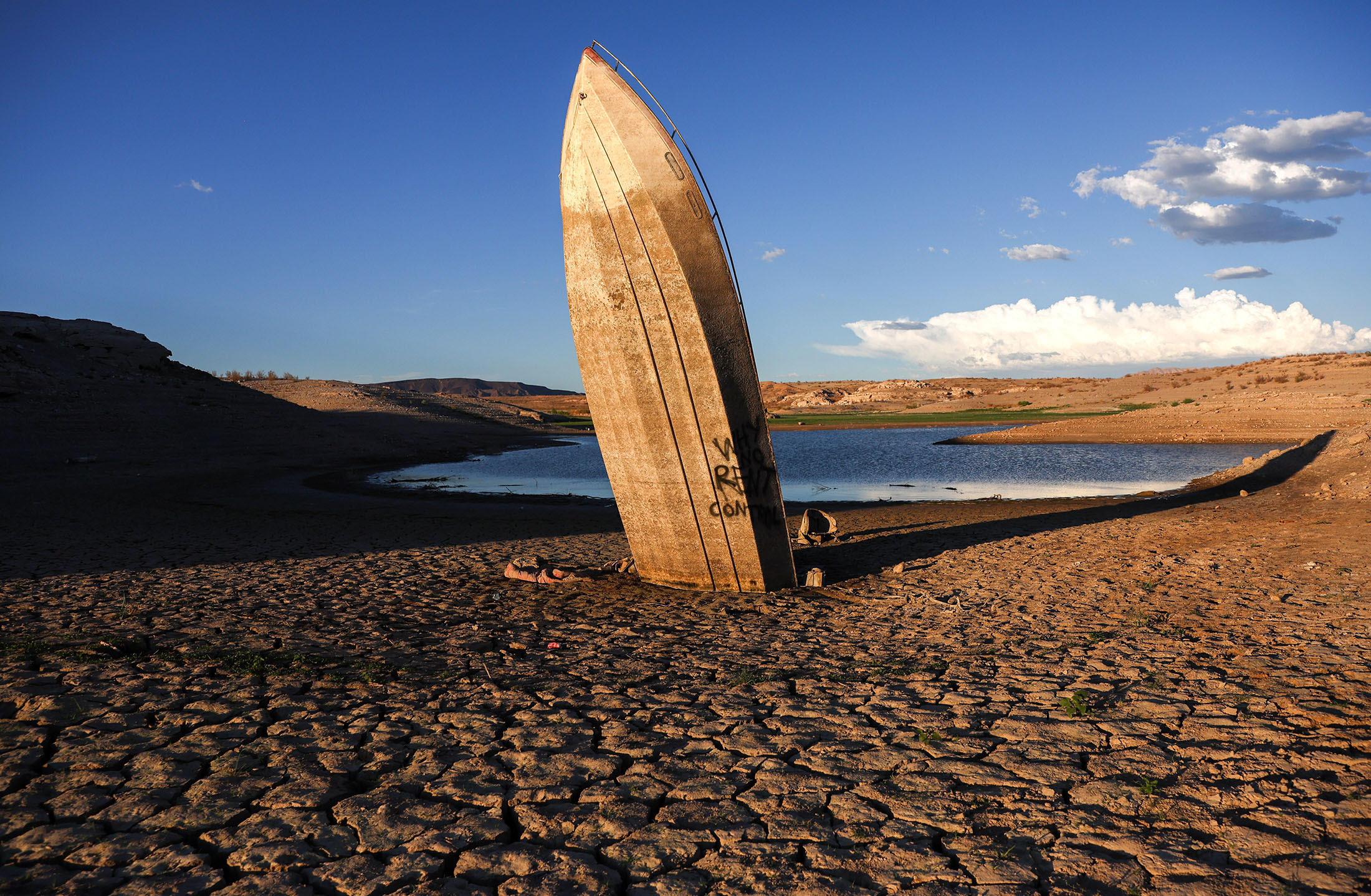 A formerly sunken boat stuck nearly upright in the drought-stricken Lake Mead in Nevada.   Photographer: Mario Tama/Getty Images North America