August 01
There was some rare good news out of Ukraine today when a vessel loaded with 26,000 tons of corn left the port of Odesa — the first legal shipment of grain since Russia's invasion began in late February.
It's a small step but potentially significant for some of the world's poorest countries as they wrestle with soaring food prices caused in part by uncertainty over supplies of millions of tons of Ukrainian grain blocked by Russia's assault.
Key reading:
Yet the fragility of the July 22 agreement brokered by Turkey and the United Nations for safe shipping corridors from Black Sea ports is all too apparent as the war rages in its sixth month.
Russia shelled Ukraine's southern city of Mykolaiv again today after a weekend of intense missile strikes that killed a grain-exporting tycoon and his wife in what officials in Kyiv called a targeted attack. A Ukrainian counter-offensive against Russia's occupation of nearby Kherson is gaining momentum, with fighting reported across the region.
President Vladimir Putin threatened a "lightning" response to what he called any encroachments on Russia's sovereignty and freedom under a new naval doctrine he signed yesterday.
Even as Putin's military struggles to make headway in eastern Ukraine against forces bolstered by new US and European long-range artillery, Russian strategists haven't abandoned their goal of seizing southern regions of the country. Their aim is to cripple Ukraine's economy by choking off vital exports through its Black Sea ports.
The Razoni cargo ship's voyage to Lebanon via Istanbul could just be a starter. Ukraine says at least 16 more ships are waiting their turn near Odesa if the journey goes smoothly. The Kremlin today called the shipment a "positive" development.
It's a slender maritime lifeline for Ukraine and for the global fight to avert famine.
But it's the battle on the ground that will determine how long it survives.
The Razoni is heading to Tripoli, Lebanon, with Ukrainian corn. Source: Ukrainian Ministry of Infrastructure
UK race | Boris Johnson leaves his successor a monumental set of problems. The UK is wrestling with an energy crisis, spiraling inflation, strikes across multiple industries, and a health system under strain. But it's not all doom and gloom. We lay out three reasons for the incoming prime minister to be cheerful when assuming office in September.
Keeping watch | US House Speaker Nancy Pelosi held meetings in Singapore today as part of a swing through Asia, as questions swirled around whether she would defy Chinese warnings and travel to Taiwan, the self-governing island Beijing regards as its territory. Pelosi left Taiwan out of the itinerary in a statement announcing the trip, which includes stops in Japan, South Korea and Malaysia. China's military won't sit idly by if she visits Taiwan, the foreign ministry warned today.
Mounting strain | The presidential palace in Berlin is no longer lit at night, Hanover is turning off warm water in the showers of its pools and gyms, and municipalities across Germany are preparing heating havens to keep people safe from the cold when the winter comes. Much of Europe is feeling the strain from Russia's squeeze on natural gas deliveries, yet no other country is as exposed as the region's biggest economy, where nearly half the homes rely on the fuel for heating.
Best of
Bloomberg

Opinion
Talks hope | Talks to revive the nuclear deal between Iran and world powers will "probably" resume within days in Vienna, a senior Iranian lawmaker told the ISNA news agency. The potential resumption of indirect dialogue between Tehran and the US follows "efforts by the European parties to conclude the negotiations," the parliamentary National Security Commission member said, according to the the semi-official news organization.
Still behind | Jair Bolsonaro's popularity grew among women, the poor and voters from Brazil's northeast after he started his re-election campaign hand-in-hand with his wife and announced bigger cash handouts, a new poll shows. While the far-right president would win 27% of female votes, up from 21% in June, that's still far behind the standing of his main challenger, Luiz Inacio Lula da Silva, who would get 46% of their votes.
Bloomberg TV and Radio air Balance of Power with David Westin
August 02
When a plane carrying a very senior US politician touches down in Taiwan as soon as tonight, a key question will remain — why now?
Nancy Pelosi has been House Speaker (second in the line of succession to the presidency) across two stints starting in 2007, and in Congress for 35 years. So why pick this moment to visit the democratically ruled island that China claims as its territory and has threatened to take by force?
Key reading:
Her trip, still unconfirmed publicly but which officials say includes a potential meeting tomorrow with President Tsai Ing-wen, has already caused ructions in US-China relations. It overshadowed a call last week between President Joe Biden and his Chinese counterpart Xi Jinping.
It comes at a very delicate time in ties, with tensions soaring over everything from trade to human rights and, more recently, China's refusal to condemn Russia for its invasion of Ukraine.
It puts both Biden and Xi in a bind. The White House is clearly uneasy about the trip, but Biden has to be careful not to be seen to be ordering her to cancel it. China has been so vocal in its displeasure, warning of potential military or economic retaliation (or both), that Xi might have to do something simply to avoid being seen as weak.
Why then might Pelosi push on?
She too has her reputation at stake in not backing down. She has for decades been a strong critic of China over human rights, most famously raising a banner in Tiananmen Square in 1991.
And with the US midterm elections coming and Democrats sliding in polls, she is at a high risk of losing her role. Xi, meantime, is likely to soon be endorsed for another term.
As someone watching Xi's increasingly authoritarian tilt, for Pelosi this might be now or never — no matter the fallout. — Rosalind Mathieson
A television image of Pelosi holding the banner with other congressional members in September 1991. Source: AP
US strike | Biden said a US drone killed the leader of al-Qaeda, Ayman al-Zawahiri, in Afghanistan over the weekend, describing him as a key planner of the 9/11 attacks. He said the strike showed Washington could reach its enemies in the country even after its withdrawal almost a year ago.
Osama bin Laden and al-Zawahiri pictured in this still image from video aired by Al-Jazeera. Source: Al-Jazeera
Trade imbalance | The Kremlin is leaning toward rejecting a prisoner swap with the US unless it gets two Russians in return for the two Americans Washington wants, sources say. The US has called on Russia to free professional basketball player Brittney Griner and former US Marine Paul Whelan in return for convicted arms dealer Viktor Bout. Moscow views the deal as unequal.
Savings target | Liz Truss said she'd slash "waste" in the UK's civil service and align the pay of public-sector workers to local living costs to save $13.5 billion if she becomes prime minister. The pledges aim to shore up her support on the right of the ruling Conservative Party as members receive ballot papers in her contest with Rishi Sunak to succeed Boris Johnson.
Best of
Bloomberg

Opinion
Just guidance | China's top leaders told government officials last week that this year's economic growth target of "around 5.5%" should serve as guidance rather than a hard target and acknowledged that the chances of meeting it were slim, sources say. The meetings came in the same week as a key gathering of the Politburo, the Communist Party's top decision-making body, to discuss the economy.
August 03
After Russian President Vladimir Putin invaded Ukraine in late February, many people in Asia wondered if China might seize the moment to follow suit and attack Taiwan.
Nancy Pelosi's trip this week to Taiwan, the first by a US House speaker in 25 years, provided a firm test for Chinese President Xi Jinping. Ahead of her visit, he warned Joe Biden's administration would get "burned" while nationalist Chinese commentators suggested her stopover would "ignite the powder keg."
Key reading:
China quickly announced plans for missile tests, as well as military drills starting tomorrow that show a capability of surrounding the main island of Taiwan. It also halted trade in some areas with the island, which Beijing claims but has never controlled.
Still, the failure to deter Pelosi from visiting in the first place left some of China's most outspoken hardliners disappointed. While Beijing is clearly in a stronger position than the last major cross-strait crisis in the mid-1990s, it's also far from being able to push the US around.
Despite the bellicose rhetoric, Xi and other officials are much more concerned about keeping the Communist Party in power and eliminating risks to their rule.
The leadership wants to look tough, but it doesn't want to take any steps that could unleash a conflict where there is any doubt about the outcome. It will bear in mind that while the US was never going to send troops into Ukraine, Taiwan could be another matter.
Foreign Ministry spokeswoman Hua Chunying today appealed for patience while vowing that China would follow through on its threats to make the US and Taiwan pay. So far, however, Xi appears to view the costs of outright military confrontation as too high to bear. — Daniel Ten Kate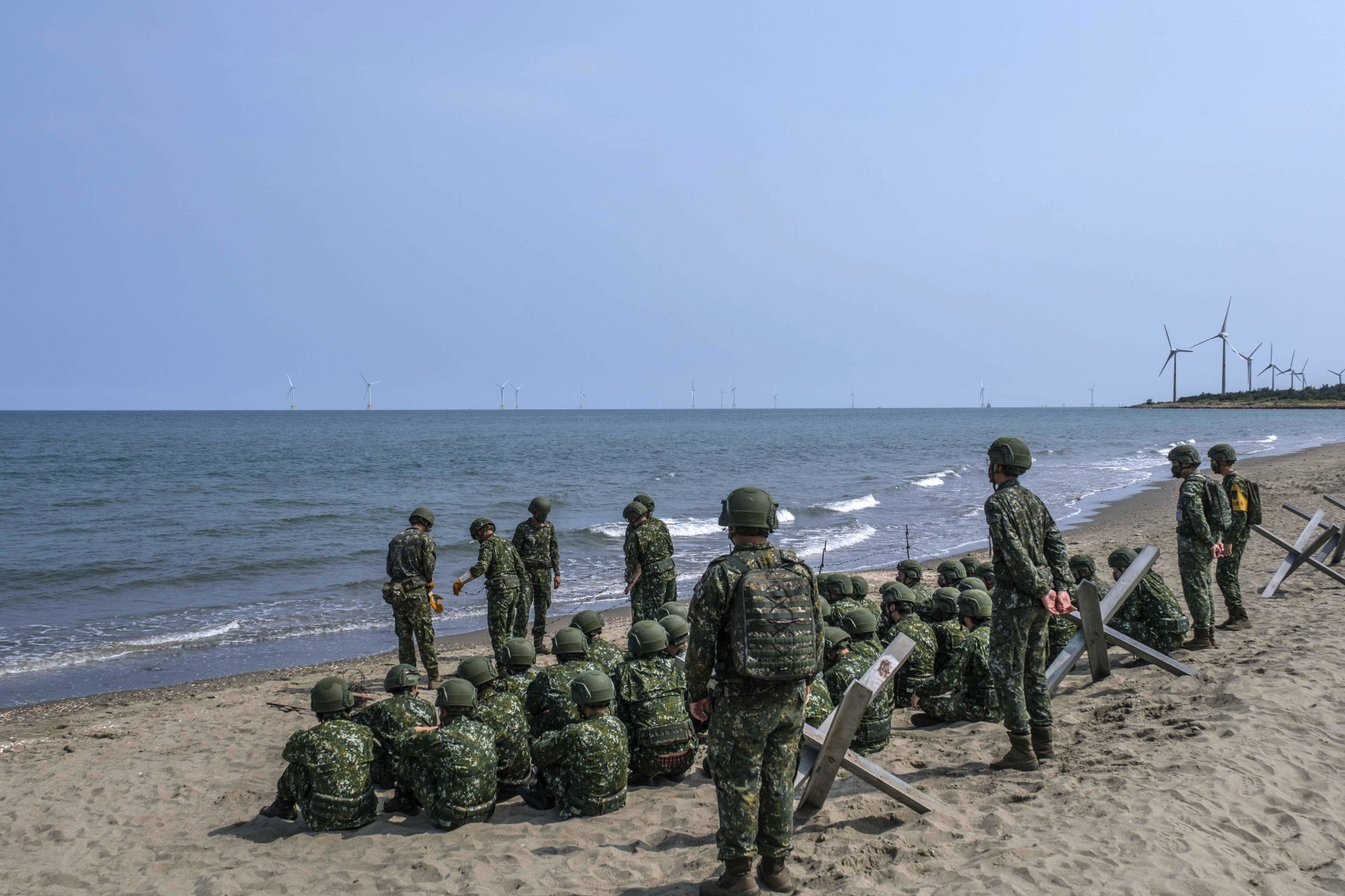 Soldiers set up barricades during a military exercise in Miaoli, Taiwan, on July 26.
Photographer: Lam Yik Fei/
Bloomberg
Taiwan vow | Pelosi met with Taiwanese President Tsai Ing-wen today and pledged the US wouldn't abandon her democratically elected government despite fresh trade curbs and military actions by Beijing. Her promise to stand by Taiwan comes amid long-running uncertainty over whether Washington would help Taipei if China attacked the island. The US has faced calls for a clearer commitment to defend Taiwan following Russia's invasion of Ukraine.
Pelosi with Tsai Ing-wen. Source: Getty Images
Buffer zone | It's "wishful thinking" to expect relations between Russia and the West to return to their pre-war status soon after the fighting stops in Ukraine, Romanian Prime Minister Nicolae Ciuca said in an interview. Russia's invasion has re-opened a rift between democracies and autocratic countries akin to the Cold War that will require NATO to maintain an expanded troop presence on its eastern frontier for at least the medium term, he said.
Water levels on the Rhine River are set to fall perilously close to the point at which it would effectively close, putting the trade of huge quantities of goods in jeopardy. Europe is already facing its worst energy-supply crunch in decades and governments are trying to avert a recession as Russia chokes off natural gas, stoking inflation, with climate change adding to the continent's woes.
Effective protest | In a country that only tolerates dissent in small doses, a mortgage boycott by hundreds of thousands of middle-class homebuyers has become one of the most effective protests China has seen. With social stability a must ahead of this year's Communist Party Congress, Xi's Politburo has asked local officials to "ensure the completion" of housing projects, and state-owned banks are being strong-armed to finance the work.
Best of
Bloomberg

Opinion

Shaky ground | Libya's oil production has risen in the past two weeks, bringing hope the OPEC member's exports can provide relief to a tight global market. Yet as Salma El Wardany writes, anyone looking for signs of how sustainable the rebound is should consider the catalyst: the gunpoint ouster by government troops of the state oil company's chairman.
Explainers you can use
Fellow travelers | Former US President Donald Trump called Hungarian Prime Minister Viktor Orban his friend as he welcomed him to one of his luxury golf resorts barely a week after remarks by the Central European leader about a "flood" of migrants drew comparisons to Nazi rhetoric. Both men are due to speak to the Conservative Political Action Conference in Dallas, Texas.
Tune in for our weekly Twitter Space global politics chat today at 8 a.m. ET. We'll be dissecting Pelosi's trip to Taiwan with reporters from both Asia and the US. You can listen via this link, and the recording will be available for a week afterward.
"0" width="100%" cellspacing="0″ cellpadding="0″>
News to Note
And finally … China's announcement of military drills around Taiwan — one of the world's busiest waterways — is creating ripple effects across global supply chains, prompting detours and delaying energy shipments. Gas suppliers are rerouting or reducing speed on some liquefied natural gas vessels en route to North Asia, sources say, and shipments to Taiwan and Japan this weekend will be affected.
August 04
As the outside world debated war risks, Taiwanese tourists flocked to glimpse China's most provocative military drills in decades from their closest vantage point.
Ferries today to Little Liuqiu island — less than 10 kilometers (6.2 miles) from where the drills nearest to Taiwan's mainland were scheduled to kick off — were busy, local media reported. Tourists carried cameras and telescopes to witness the People's Liberation Army encircle their island with exercises that included firing missiles into the sea.
Key reading:
US House Speaker Nancy Pelosi's visit to Taipei this week has escalated tensions between China and America, triggering the military response alongside Chinese economic penalties against Taiwan, the self-governing island that Beijing regards as its own territory.
Top Southeast Asian diplomats are urging "maximum restraint" in the Taiwan Strait. China called off a face-to-face meeting between Foreign Minister Wang Yi and his Japanese counterpart after the Group of Seven nations issued a statement expressing concern about Beijing's "threatening actions" around Taiwan.
But for those living in Taiwan, it is not all that startling. They are similar to the residents of South Korea, long living in the shadow of nuclear-armed North Korea, who shrug off Kim Jong Un's regular vows to destroy his neighbor.

The people of Taiwan have seen bouts of high tension before. China has for years parked missiles on its coast that point out toward the Taiwan Strait, and its military planes fly almost daily into Taiwan's air defense identification zone.

That relatively calm attitude also reflects a broader reality that the Taiwanese perhaps know best: None of the three sides involved want a war, however much President Xi Jinping warns the US against "playing with fire." — Jenni Marsh and Cindy Wang
Chinese military helicopters today fly past Pingtan island, one of mainland China's closest points from Taiwan. Photographer: Hector Retamal/AFP/Getty Images
If you missed our weekly Twitter Space conversation yesterday on Pelosi's trip to Taiwan you can still listen back via this link as our reporters from the US, Israel and Saudi Arabia talk about the imperatives for all sides. Click here meantime to subscribe to our weekly newsletter Next Africa.
Global Headlines
Reaching out | Ukrainian President Volodymyr Zelenskiy is seeking talks with Xi but says Beijing hasn't replied to the request since Russia invaded his country in February. A dialog "would be helpful," Zelenskiy told the South China Morning Post, adding Beijing could "sort of put the Russian Federation in a certain place" to help end the war.
The US Senate ratified adding Sweden and Finland to NATO membership by a 95-1 vote, a move aimed at bolstering the military alliance in response to the war.
Little reward | US President Joe Biden's expectation after his visit to Saudi Arabia that oil producers would act to cool prices was dashed after OPEC+ nations announced a token supply increase yesterday. The hike of 100,000 barrels a day — just 1/1000th of global demand — offers little respite for consumers suffering the inflationary squeeze of energy costs.
United Nations Secretary-General Antonio Guterres yesterday skewered global energy firms, saying it's "immoral for oil and gas companies to be making record profits from this energy crisis" spawned by the war in Ukraine. He called for nations to impose excess profit taxes.
Deepening crisis | High river temperatures driven by scorching weather will probably force Electricite de France to extend cuts to nuclear generation that have turned Europe's biggest producer of atomic energy into a power importer. That is adding to the region's woes as gas reductions made by Russia in retaliation for sanctions drive a surge in prices.
Best of
Bloomberg

Opinion
Bouncing back | UK Foreign Secretary Liz Truss regained the momentum in the race to succeed Boris Johnson as prime minister after an embarrassing policy U-turn on public sector pay. She received the backing of former chancellor and leadership contender Sajid Javid late yesterday, a blow to her rival Rishi Sunak who'd previously worked with him in the Treasury.
August 05
Turkey's attempts to mediate between Russia and Ukraine go beyond a delicate diplomatic balancing act. It's about prestige and strategy for President Recep Tayyip Erdogan.
Erdogan and Russian President Vladimir Putin are meeting for a second time in less than a month in Russia's Sochi today to discuss the war in Ukraine. They'll also hold talks on Turkey's plans for a military incursion into northern Syria, after they failed to reach agreement on the issue last month.
Key reading:
They've had a volatile relationship for years. But a shared skepticism and suspicion toward the US and its European allies also allowed them to cultivate ties on trade, energy and even defense that survived a crisis when NATO member Turkey's military downed a Russian fighter jet near the Syrian border in 2015.
The Turkish president has sought to cast himself as a pivotal player in the global arena in conflicts ranging from Syria to Libya and in tensions between Russia, the US and the European Union. This partly explains his efforts to broker agreement between Ukraine and Russia that led to last month's deal on grain exports.
As a major importer of wheat and energy, Turkey has been hit hard by the economic fallout from Russia's war in Ukraine, with domestic inflation racing to 80%. While Turkish officials insist the price spikes are temporary, Erdogan is aware the situation threatens his popularity ahead of presidential elections scheduled for June.
Erdogan will press Putin at today's talks to accept a Turkish operation in northern Syria against Kurdish militants. The Russian leader has often held the upper hand at previous discussions on Syria, determined to stall Ankara's ambitions and maintain his own dominance in the country.
With Russia consumed by its war in Ukraine, the outcome may be different this time. — Beril Akman
Ukrainian gunmen fire a US-made howitzer on the front line in the Kharkiv region on Monday. Photographer: Sergey Bobok/AFP/Getty Images
Sustained pressure | China sent warships across the Taiwan Strait's dividing line today, officials in Taipei said — an unusual move signaling its largest drills in decades around the islands will continue. The show of force comes after Beijing broke another precedent by firing four ballistic missiles over Taiwan yesterday, according to the Japanese Defense Ministry.
A screenshot from a video of missiles fired from land. Source: The Eastern Military Command of the People's Liberation Army Weibo
Tax deal | US Democrats have agreed on a revised version of their tax and climate bill after Kyrsten Sinema, one of their pivotal lawmakers in the 50-50 Senate, said she would back the plan. Her decision removes one of the last hurdles for legislation carrying core components of President Joe Biden's domestic agenda.
The front-runner to be the UK's next prime minister, Liz Truss, said a recession isn't inevitable hours after Bank of England forecasts posted yesterday showed a deepening economic crisis, with Britain weeks away from a downturn that will last for more than a year.
Donor fatigue | International aid to West Africa's Sahel region has slumped, threatening the lives of 900,000 people, a medical association working in the area said. Compounding the situation, Russia's invasion of Ukraine has distracted world attention from the crisis, halted supplies of grain and vegetable oil and created a worldwide fertilizer shortage, according to the Alliance for International Medical Action.
Best of
Bloomberg

Opinion
Fitting in | Hungarian Prime Minister Viktor Orban is used to being pigeonholed as a pariah in Europe. But in Texas yesterday, before an audience of die-hard supporters of former President Donald Trump at the Conservative Political Action Conference, his spiel against progressives, immigrants and the media was warmly embraced.
August 06 – August 07
The blowback from US House Speaker Nancy Pelosi's trip to Taiwan was swift and heavy: China carried out its most provocative military drills in decades around the island and cut off defense and climate talks with Washington, as relations between the world's biggest economies nose-dived.
Taiwan described the military exercises as an apparent simulation of an attack on its main island.
Pelosi's trip highlighted a whipsaw week for President Joe Biden. His tax and climate bill gained key support in the Senate and the US unemployment rate fell to pre-pandemic lows. But American basketball star Brittney Griner's nine-year drug sentence in Russia ramped up pressure on him to seal a prisoner swap with the Kremlin to free her.
US, European and Iranian diplomats resumed talks in Vienna after months of deadlock in an attempt to save their moribund nuclear deal, with scant optimism of a breakthrough.
In Europe, there were worries about how countries will keep their people warm in the winter as deepening concerns over Russian gas supplies shake the regional economy.
Delve into these and other top political stories from the past seven days in this edition of Weekend Reads. — Karl Maier
Pelosi's Taiwan Trip Left Fuming White House Scrambling for Plan
Behind the scenes, Biden administration officials were fuming at Pelosi's insistence on using the trip as a capstone for her career at a moment of highly delicate relations with Beijing. Jenny Leonard and Billy House describe how it played out.
White House Lobbies Democrats Against Bid to Deepen Taiwan Ties
The Biden administration is lobbying Democratic senators to put the brakes on a bill that would alter US policy toward Taiwan. Jenny Leonard and Erik Wasson report that the changes would include designating the island nation as a major non-NATO ally, sources say.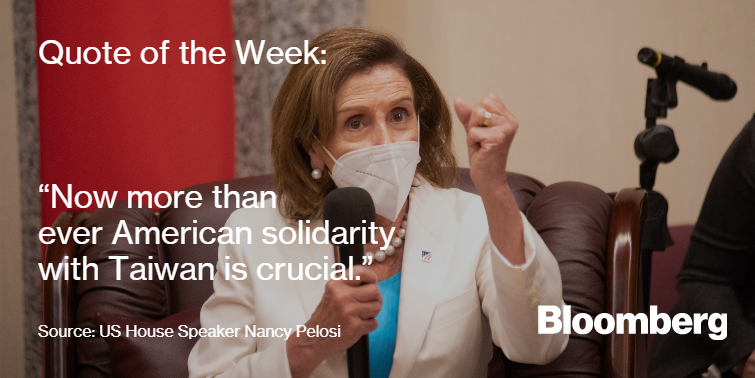 Pelosi made her comments on Wednesday during a Presidential Office ceremony with Taiwanese leader Tsai Ing-wen. "We will not abandon our commitment to Taiwan and we are proud of our enduring friendship," she said.
China Disappointment Over Taiwan Response Puts Pressure on Xi
Beijing's failure to follow through on some of the more extreme measures proposed by nationalists to stop Pelosi's visit to Taiwan left some on the mainland disappointed.
Taiwan Faces Urgent Fighter Pilot Shortage as Xi Tests Defenses
If a war were to break out between the US and China, one trigger may be the increasingly frequent fighter-jet encounters near Taiwan. And as Cindy Wang writes, the risk is even higher now, not just because China is sending more jets but due to the longer-term problem Taiwan's military faces: a dire shortage of pilots.
Sweeping Mortgage Boycott Changes the Face of Dissent in China
In a country that only tolerates dissent in small doses, a mortgage boycott by hundreds of thousands of middle-class homebuyers has become one of the most effective protests China has seen. With social stability a must ahead of this year's Communist Party Congress, Xi's Politburo has asked local officials to "ensure the completion" of housing projects.
Best of
Bloomberg

Opinion
Ukraine's Grain Corridors Still Need Ships to Ease Food Crisis
The first legal shipments of grain from Ukraine since the Russian invasion are a harbinger of relief for squeezed global markets. Aine Quinn, Ann Koh and Vivian Iroanya outline the many challenges to be overcome before the millions of tons of food stuck in the country can be released.
The cargo vessel Razoni sailing to Lebanon along the Bosphorus Strait on Wednesday. Photographer: Ozan Kose/AFP/Getty Images
Biden Hails 'Powerful' Kansas Vote on Abortion, Signs New Order
The president predicted the threat to abortion rights would drive people to the polls in the November midterm elections after Kansas voters rejected an effort to strip protections in the state constitution. Jordan Fabian and Nancy Cook report on how Democrats hope the issue will help stem losses in the congressional vote.
Global energy firms came under fire from United Nations Secretary-General Antonio Guterres, who said it's "immoral for oil and gas companies to be making record profits from this energy crisis" spawned by the war in Ukraine. He called for nations to impose excess profit taxes.
Iran Deal Slipping Further Out of Reach as Nuclear Talks Resume
European Union diplomats say the gulf between Iran and the US has widened since the last round of talks in Vienna as negotiations resume to revive the 2015 nuclear agreement. As Jonathan Tirone reports, their downbeat outlook suggests there's limited prospect for a deal that could ease the global energy crunch by lifting sanctions on Iranian exports..
Bolsonaro Is Luring Evangelicals to Reduce Lula's Lead in Brazil
Brazilian President Jair Bolsonaro is courting Christian evangelicals in the run-up to the October election to block inroads made by frontrunner Luiz Inacio Lula da Silva into the crucial voting base. Daniel Carvalho explains that he won in 2018 in large part due to the support of the community of faithful that makes up about a third of the country's 210 million people.
Italy's Great Divide Tests Europe's Ambitious Recovery Efforts
To grasp the European Union's ­challenge in reinvigorating economic growth through its biggest-ever package of spending, Jana Randow and Alessandra Migliaccio take a close look at two flagship projects at either end of Italy, the country receiving the most money.
Germany Has Three Months to Save Itself From a Winter Gas Crisis
The presidential palace in Berlin is no longer lit at night, Hanover is turning off warm water in gym showers, and German municipalities are preparing heating havens to keep people safe from the cold of the coming winter. Much of Europe is feeling the strain from Russia's squeeze on natural gas deliveries, yet as Vanessa Dezem, William Wilkes and Arne Delfs explain, no other country is as exposed as the region's biggest economy.
Lights remain off in apartment and commercial buildings at night in Frankfurt, Germany.
Photographer: Ben Kilb/
Bloomberg
Forgotten Zimbabwe City of Bulawayo Gets a Dam as Elections Loom
President Emmerson Mnangagwa's government is pushing a development bonanza in the region around Bulawayo, Zimbabwe's second-largest city, As Godfrey Marawanyika and Antony Sguazzin explain, it's part of a strategy to win votes in next year's election in a traditional opposition stronghold dominated by the minority Ndebele ethnic group.
And finally … The pledge by Group of Seven leaders to stand by Ukraine for the long haul isn't resonating with their Group of 20 counterparts. As Alan Crawford, Jenni Marsh and Antony Sguazzin report, only half of the G-20 nations that account for some 85% of global economic output have joined the international sanctions imposed on fellow member Russia over its invasion of Ukraine.