August 01
Queen hails 'inspiration' as Lionesses make history
The

Queen hailed England's women footballers as "an inspiration for future generations" after they thrilled

the

country with an epic victory in

the

final of Euro 2022.

The

Lionesses' 2-1 win over Germany, after

a

near-perfect run to

the

final, was watched at Wembley Stadium and on television by record numbers of fans in

a

tournament that has been transformational for

the

women's game. England won their first major trophy in heart-pounding style, as Chloe Kelly's extra-time goal thwarted old rivals Germany. Tom Garry has

the

match report on

the

day of high drama, intense nerves and ultimately immeasurable joy. Kelly's journey to

a

place in English football history came after an incredible fightback from

a

serious knee injury. While her match-winner was

a

scrappy affair, Ella Toone's opening strike was

a

moment of pure class. Luke Edwards analyses

the

Beauty and

the

Beast of goals. Oliver Brown says

the

Lionesses have purged

the

deepest ache in England's sporting psyche.

For generations of fans too young to remember 1966, it was the first time they had seen their team win a major tournament – and how it showed as spectators and the players soaked up the moment of glory. The Lionesses returned to their London hotel celebrating with cans of lager and dancing with their newly-won trophy in joyous scenes that matched those around the nation. England's European Championship heroines will celebrate their triumph with fans in Trafalgar Square today. Read on for details. However, Germany were left fuming by a "clear handball" on the goal-line by England captain Leah Williamson after their defeat. Manager Martina Voss-Tecklenburg criticised referee Kateryna Monzul for not rechecking the first-half incident herself. German newspapers described the defeat as hurtful and dramatic, as Germany missed out on their ninth title. Amid the echoes of 1966, Jane Shilling sets out why the Lionesses are not the same as male footballers – they are far better.

Chris Price
Dear Reader,

England's women made history yesterday, winning in front of the largest ever crowd at a European Championship. Ahead of the final, our journalists spoke to former and current team-mates, coaches and managers to hear their stories about the players in a passionate tribute to what makes this football squad so special.

Ballots for the Conservative Party leadership race will land on members' doormats today and many won't take long to send them back. In his column, Charles Moore considers why this contest is so different to any other and why, in the end, he has plumped for one candidate over the other.

A settled routine is one of the best ways to improve your well-being but, perhaps, the hardest to master. Hattie Garlick looks at the small tweaks you can make to perfect your day, including the ideal moment to drink coffee and the best time for exercise, depending on whether you are a man or a woman.

It seems that Prince George, Princess Charlotte and Prince Louis may all be heading to a new school: Lambrook. Nina Dempsey explores how it will be very different from what they've known so far and why the Duke and Duchess of Cambridge might have chosen it over their own alma maters.

Are we simply talking too much about our feelings and emotions? Author Gillian Bridge argues that wallowing in sentiment has exacerbated the mental health crisis afflicting the Western world. She talks to Celia Walden about where we've gone wrong and what we can do to fix it.

Finally, August has arrived and the summer is well and truly upon us. If you are yet to book a holiday and fretting that it may be too late, worry not; the Aegean is a fail-safe destination. Chris Leadbeater reveals the best places to visit for every kind of traveller.

Chris
| | |
| --- | --- |
| | |
| | |
| --- | --- |
| | By Chris Price |
 If you want to see what unbridled joy looks like, watch

the

videos of

the

Lionesses partying through

the

night and later with fans.

The

question now is where

the

women's game goes from here.

Question: On this day in 2012, which two women claimed Team GB's first gold medal of

the

London Olympics? See

the

answer below.
Today's essential headlines
Tory leadership race | Rishi Sunak has appeared to concede that no other country has raised taxes during the cost of living crisis, as he defended his record as chancellor. Mr Sunak said if he becomes prime minister, he will slash the basic rate of income tax from 20pc to 16pc by the end of the next parliament. He also accused Liz Truss of showing her "true Remainer colours" as the Tory leadership rivals clashed over plans to help farmers. Read how much each candidate's tax cuts will save you.
The

big story: England's heroines celebrate with fans
England's captain Leah Williamson has already set her sights on even greater achievements with

the

Lionesses after their historic victory at Euro 2022, declaring in front of thousands of fans: "what comes after Europe?

The

world." England's players celebrated their success in front of

a

packed Trafalgar Square today, after celebrations had gone on throughout

the

night. Manager Sarina Wiegman, captain Williamson and goalscorers Ella Toone and Chloe Kelly led

the

squad on to

the

stage to raucous cheers after beating Germany 2-1 after extra-time at

a

sold-out Wembley on Sunday to win

the

first major trophy in their history and

the

first for

a

senior England side since

the

1966 World Cup. These pictures and videos capture

the

atmosphere, with Williamson adding she hoped

the

tournament could lead to lasting change for

the

game across

the

world. From Celine Dion to lagers at

the

Lensbury, see how

the

Lionesses celebrated their triumph and received

a

guard of honour from hotel staff.

If this tournament is the lift-off moment for women's football as the BBC coverage has frequently hoped, it will be interesting to see if increased money increases skulduggery not just in the penalty area but with agents, with scandal, with unscrupulous grifters wanting a piece of these marketable young people. Alan Tyers details how women's football has thrived on the BBC cheerleading so far: but asks what comes next? One hopes that accusations of casual sexism will begin to fade as the women's game is more widely accepted. Gary Lineker deleted a tweet amid a backlash over a "misogynist" pun he made about Chloe Kelly's goal celebration after scoring the winner. Whatever is next, Luke Edwards picks out three lessons England men can learn from the Lionesses.
No bank holiday
One thing the new prime minister hopes will happen next – whoever it may be – is that the Women's World Cup can be brought to the UK following England's triumph. The Telegraph has been told that Liz Truss will explore a bid for the 2027 tournament or later editions with the country's football associations after Rishi Sunak vowed to do so. Truss attended the match on behalf of the Government, while Sunak watched it in a pub in Salisbury, Wiltshire, after meeting Tory party members on the campaign trail. However, the Government has been forced to play the role of spoil sport, after the work and pensions secretary said England does not need an extra bank holiday to celebrate the victory.
Dark arts
For many of the 17.4 million people who tuned into the BBC to watch the final, this will have been a first taste of women's football. Yet the Lionesses' road to glory has been a long one. From the warm-ups to the group games to the final itself, here is how they achieved victory. Many people have applauded the lack of play-acting and argy-bargy in the women's game but the gripping final set all that aside in a good old-fashioned, spiteful affair. Luke Edwards reveals how England mastered the dark arts against Germany and we should applaud them for it. After their complaints about a potential penalty following the defeat, Ross Clark says the Germans need to get a grip and learn how to lose a game.
Comment and analysis
Around
the

world: Former Putin adviser hospitalised

A long-time Kremlin adviser who stepped down and left Russia in the aftermath of the invasion of Ukraine has been hospitalised, with some opposition figures fearing he may have been poisoned. Anatoly Chubais, a key figure behind Russia's post-Soviet economic transformation, held a largely ceremonial role as Vladimir Putin's climate adviser when he left Moscow in March in what was seen as a tacit protest against the war. However, he has not spoken out against the president or the invasion. A family friend of Mr Chubais said the 67-year-old veteran reformer has been taken to intensive care in a European clinic and has been diagnosed with a rare neurological disorder. In the war, the first shipment carrying Ukrainian grain has set off from the port of Odesa this morning.
Forget five-
a

-day, 30-

a

-week is what you need

The five-a-day campaign – which was adopted in 2003 by the UK government – is based on advice from the World Health Organisation, which recommends eating a minimum of 400g of fruit and vegetables a day to lower the risk of serious health problems, such as heart disease, stroke and some types of cancer. However there is a new mantra on the chopping board: 30 a week. Scientists such as the epidemiologist and nutrition expert Professor Tim Spector and Dr Megan Rossi, aka The Gut Health Doctor, aim for 30 different plant foods a week. This is the variety needed, they say, to ensure that we have good gut health. Yet getting the variety we need may seem daunting for stressed-out and time-poor Britons. Boudicca Fox-Leonard reveals how to get your 30-a-week.
Around
the

world: Zelensky warns on Ukraine harvest

Volodymyr Zelensky has warned that Ukraine's harvest could be halved by Russia's invasion in a move that threatens to trigger a global food crisis. The Ukrainian president warned of a catastrophic impact on this year's harvest in the "breadbasket of Europe" but insisted the country was finding a way for grains to be delivered alternatively. It came as John Rich, chairman of MHP, Ukraine's largest agricultural produce company, said that a push by Ukrainian forces in the south of the country could hit the rebuilding of ports and surrounding roads crucial to restarting grain exports. It comes as witnesses saw torches lighting up the home of Ukraine's biggest grain trader hours before he was killed by a Russian missile, in what may have been a targeted strike called in by Russian spies. Danielle Sheridan has this dispatch from Mykolaiv.
Russia's invasion has already led to global food shortages. Credit: AP
August 02
| | |
| --- | --- |
| | By Chris Price |
Liz Truss has inspired

a

formidable group of backers but

the

addition of Penny Mordaunt, her former leadership rival, will be seen as

a

coup – as

the

Telegraph

gives its support for

the

Foreign Secretary.
Truss is
the

candidate of hope, declares Mordaunt
Penny Mordaunt has backed Liz Truss' bid to become prime minister, hailing her as

the

"hope candidate". Speaking at

a

hustings in Exeter,

the

former defence secretary – who came third in

the

Conservative leadership contest – said deciding between Ms Truss and Rishi Sunak had been "difficult" but that she had "seen enough". Introducing Ms Truss, she hailed her "graft, her authenticity, her determination, her ambition for this country". Tim Stanley sketches how Ms Mordaunt got her pound of flesh endorsing Ms Truss.

The

international trade minister is

the

latest – and one of

the

most significant – Tory MPs to give their backing to

the

Foreign Secretary in recent days. Today, Ms Truss has promised to wage

a

"war" on Whitehall waste if she becomes prime minister, including paying civil servants outside London less than colleagues in

the

capital.

The

Foreign Secretary proposes replacing national pay boards for civil servants with regional ones, meaning that salary levels can more accurately be pegged to local averages.

Rishi Sunak has said he would have resigned from Boris Johnson's government over economic policy even if he had not faced "ethical" issues. The former chancellor defended himself from accusations of disloyalty from the Conservative members at the hustings. It comes as Britain's top fiscal think tank has said the tax burden will remain at its highest level for 70 years if Rishi Sunak becomes Prime Minister despite his pledge to slash 4p off the basic rate of income tax. In an article for the Telegraph, Ms Truss says we need a bold economic approach – not the failed, cosy Brownite status quo. Andy Street, the Mayor of the West Midlands, says she can best deliver the hopes and aspirations of the people in the region. Today, the Telegraph backs Ms Truss to be the next Conservative leader outlining why she is the right choice for the Tories.
Al-Qaeda leader killed by drone strike in Afghanistan
The US has killed Al-Qaeda leader Ayman al-Zawahiri, one of the world's most-wanted terrorists and a key architect of the September 11 attacks, in a drone strike in Afghanistan. Joe Biden confirmed in an address to the American people on Monday night that he authorised the precise attack to "take out Al-Zawahiri once and for all". "Justice has been delivered and this terrorist leader is no more," the US president said from the White House. Al-Zawahiri, 71, was regarded as the successor to Osama Bin Laden as the leader of Al Qaeda. His death marks the biggest blow to the terrorist group since Bin Laden was killed in 2011. Read how the terrorist was killed and the planning that was required to take him out.
Ministers to override judges | Dangerous prisoners will be blocked from automatic release by ministers under new powers to protect the public. Ministers have taken unprecedented powers to force criminals to serve jail terms beyond their normal release date if they are judged to pose a "significant risk of serious harm" to the public.
Around
the

world: Nato removes Kosovo blockades

Armed Nato peacekeepers backed by helicopters oversaw the removal of blockades on Kosovo's frontier with Serbia after a disagreement over new identification demands to cross into the country. The barricades were removed as Kosovo's government promised to delay a new regulation forcing Serbian ID and passport holders to obtain extra documentation to enter the country, as is already the case for Kosovars entering Serbia. issued by the Kosovar authorities. On the eve of the rule coming into force, scores of ethnic Serbs in northern Kosovo blocked border crossings and clashed with police, sparking fears of fresh unrest in the Balkans. Shots were reportedly fired in skirmishes at the weekend.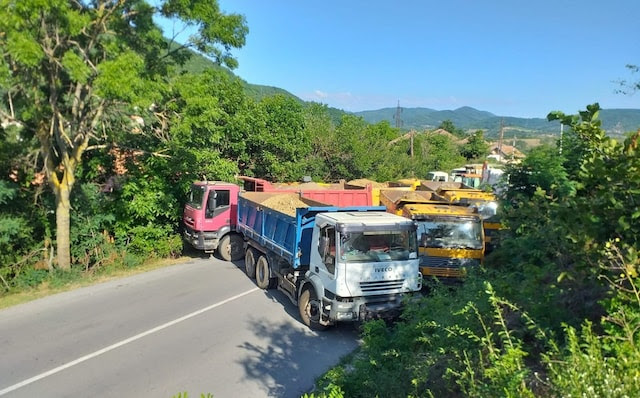 Trucks are seen blocking in Kosovo. Credit: Erkin Keci/Anadolu Agency via Getty Images
| | |
| --- | --- |
| | By Chris Price |
Liz Truss has made

the

first missteps of what so far appears to have been

a

relatively faultless Tory leadership campaign. Yet her renewed pledge on

the

pensions triple lock may steady

the

ship.

Question: On this day in 1990, Iraq invaded which country, taking control after eight hours? See

the

answer below.
Evening briefing: Today's essential headlines
Windsor Castle intruder | A 20-year-old man arrested carrying a crossbow in the grounds of Windsor Castle on Christmas Day has been charged with offences under the Treason Act, the Crown Prosecution Service has said. Jaswant Singh Chail has been charged with intending to injure or alarm the Queen, making threats to kill and possession of an offensive weapon. The last conviction under the act happened in 1981.
The

big story: Truss U-turns on public sector pay plan
Things had been going so well. Liz Truss has abandoned

a

plan to bring in regional pay boards less than 48 hours after announcing it, following warnings it would lead to salary cuts for public sector workers.

The

Truss campaign had said that £8.8 billion could be saved by having salaries for government employees set by regional pay boards rather than national pay boards. But achieving that sum meant

the

policy would have to be adopted for

the

full public sector, opening

the

door to lower pay for scores of public sector workers outside of London. After

a

morning of fierce criticism from supporters of Tory leadership rival Rishi Sunak's campaign and comments from policy experts about

the

scale of

the

change,

the

Truss campaign ditched

the

policy. Read how

the

abandonment of

the

central plank of

the

"war on waste"

the

morning after it was announced left Mr Sunak's supporters gleeful – with many making jokes referring to Ms Truss's admiration for Margaret Thatcher.

The rest of Ms Truss's "war on waste" policy proposals, such as scaling back the number of diversity jobs, will be kept. That element was particularly welcomed by Jacob Rees-Mogg who said civil service diversity roles are a "job creation scheme created by the woke for the woke". Ms Truss also revealed she will uphold the state pension triple-lock in a spending commitment that will cost taxpayers £21bn over three years. Former chancellor Mr Sunak suspended the pledge in a move that left pensioners with a 3.1pc pay rise while inflation rocketed to more than 9pc. Yet both candidates may want to turn their attention to a new poll that has revealed a big majority of Conservative voters want the next prime minister to pause and review the push for Net Zero.
'Attention seeker'
Mr Sunak has accused Ms Truss of having no plan to defeat Nicola Sturgeon at the ballot box after she pledged to ignore the First Minister's demands for a second independence referendum and called her an "attention seeker". The former chancellor poured scorn on the Foreign Secretary's controversial comments, saying it was "not good enough to simply ignore the SNP when we need a plan to beat them" in the next general election. His spokesman said that keeping the Union together meant "confronting the nationalists and beating them at the ballot box" and argued that only Mr Sunak had a plan to achieve this. The row broke out as John Swinney, the Deputy First Minister, argued Ms Truss's comments showed she holds Scotland "in contempt" and made the case for independence. Watch the comments on the First Minister here.
Love for Lionesses
One thing both candidates do seem to agree on is the need to properly celebrate the achievements of the Lionesses after their Euro 2022 victory. Liz Truss and Rishi Sunak have both committed to hosting a reception for the victorious players at No 10 if they are chosen to be the next prime minister. Unlike other successful sporting teams, the winning England squad will not be honoured with a visit to Downing Street this week. Boris Johnson was at the funeral of Lord Trimble, the Northern Ireland peace process architect, on Monday and is due to go on holiday from Wednesday to Sunday. David Miller covered the 1966 World Cup final – and says the Lionesses' triumph is more significant.
Comment and analysis
Around
the

world: Corbyn says UK is 'prolonging war'

Jeremy Corbyn has criticised the UK and the West for supplying Ukraine with weapons as he said "pouring arms in" will only "prolong and exaggerate" the war. The former Labour leader said sending weapons to Kyiv as it tries to defend itself against the Russian invasion will not bring about an end to the conflict. Those comments come as Moscow accused the United States of being "directly involved" in the war in Ukraine by providing Kyiv with real-time advice on Russian targets. Igor Konashenkov, a spokesman for the Russian defence ministry, quoted a Telegraph interview with a top Ukrainian intelligence official who said Britain and the US have helped Kyiv with "minute-to-minute, real-time information of all kinds" for Himars strikes. Our live blog has the latest.
Answer: Kuwait.
A child and two adults attend an event in Ukraine Credit: Pierre Crom/Getty Images
As
the

battle for

the

south heats up, paranoia and suspicion are everywhere
By Danielle Sheridan,
DEFENCE EDITOR, MYKOLAIV
There is an intense sense of suspicion in

the

south these days.

As the battle here heats up, fears about Russian saboteurs have surged.

Mr Zelensky last month fired the head of the SBU, Ukraine's security service, over allegations the agency had been infiltrated.

Last week, an official in Odesa told me they are worried that Russia will use grain export boats that have recently begun sailing again as a Trojan horse to sneak into the Black Sea city.

When The Telegraph first arrived in the south around two weeks ago, we were held by police for hours due to questions about what we were intending to do in the region.

Despite having all of our paperwork in order, we had to empty out our car while phone calls were made to check we really were legitimate journalists.

When we asked if we could go, a soldier told us he had "orders to shoot" if we absconded. We stayed.
Vitaliy Kim, the head of the Mykolayiv regional military administration Credit: Paul Grover for The Telegraph
The

next day we interviewed Vitaly Kim,

the

governor of

the

Mykolaiv region, who said he was intending to shut down

the

city to flush out Russian spies and traitors providing targeting information. Paranoia? Maybe. But you can't be too careful.

As of yet the city has not been closed. But just days ago it suffered its biggest missile strike since the war began, with witnesses telling me they had seen torches lighting up the home of Ukraine's biggest grain trader hours before he was killed by a Russian missile.

Daniel Burke, a former British paratrooper who leads the Dark Angels, had spotted lights flashing at the compounds before they were hit. He is now starting to be suspicious of everyone.

"All in all, I've been down here for about two months now and I have never felt uncomfortable in this place, ever," Mr Burke said from a new, safer location. "But the last two days I've felt so uncomfortable that I've been on edge."

His team of volunteers ended up moving out of the city early.

While two people were killed in the bombardment, all of Mr Burke's team escaped, although some with significant injuries. "It's a miracle we survived," he said.
When our children ask, 'What did you do in
the

war?' – how will you respond?
By Dominic Nicholls,
DEFENCE AND SECURITY EDITOR, KYIV
Russia is

a

"sick" country and must go through

a

period of total reinvention, akin to Germany after

the

Second World War, if it is to expunge

the

current corrupt, violent, morally-bankrupt thuggery leading

the

nation.

So said Oleksii Makeev, special envoy for sanctions policy in Ukraine's Foreign Affairs Ministry, when I met him last week in Kyiv, hosted by think tank the Transatlantic Dialogue Centre.

Whilst weapons and financial support for Ukraine are vital and very welcome, one very clear message I received from government officials during my trip there was that there is more the international community can be doing to hurt Russia.

Mr Makeev was the architect of Kyiv's 'smart' sanctions policy, targeting individuals who would suffer most from being denied international travel and having yachts and property seized and other assets frozen.

Individually small measures, perhaps, but painful to that coterie of gangsters who could force Russian leader Vladimir Putin from power if they acted in concert.

The sanctions game is a long one, of course, but there are signs that they will bite in the medium to long term.

What is lacking though, according to Mr Makeev, is world governments doing more to debunk myths from Moscow that sanctions will hurt the international community more than they will hurt Russia.

Reclaiming the narrative over sanctions will also serve to highlight the everyday choices that can be made by the public, academia and the private sector to hurt the Russian leadership.

For starters, Mr Makeev says 'special questions' should be added to the visa application forms of Russian nationals and asked by border control officers to new arrivals:

Did you protest the actions of your government over the war against Ukraine?

Do you denounce the war crimes perpetrated by Russian forces?

Do you plan to support the activities of the Russian government over this war?

Easily evaded, with a straight face, but just one way of showing international resolve and perhaps loaded sufficiently for future action.

On my trip I also met Olha Stefanishyna, Ukraine's deputy prime minister responsible for European and Euro-Atlantic Integration.

She spoke, without naming names, of the "cold-hearted" European leaders who were slow to respond to the war and are still occasionally dragging their feet. (She has a model of the Eiffel Tower painted in the national colours of France in her office – a peace-offering perhaps?)

She addressed directly the issue of corruption in Ukraine – long held up to be the reason for Europe's flat-palmed response to Ukraine's desire for membership of international institutions.

Russia – poster-child for international corruption – is allowed to act on the world stage, so is there not a degree of double-standards at work here, she asked?

You can hear my interview with her on the Telegraph's podcast on the war, Ukraine: The Latest.

The strong message I got from various politicians, policy makers, soldiers and civilians in Ukraine was this: we are living through history right now, but it will soon be in the past and the world will have changed, for better or worse.

When our children ask, 'What did you do in the war?' – how will you respond?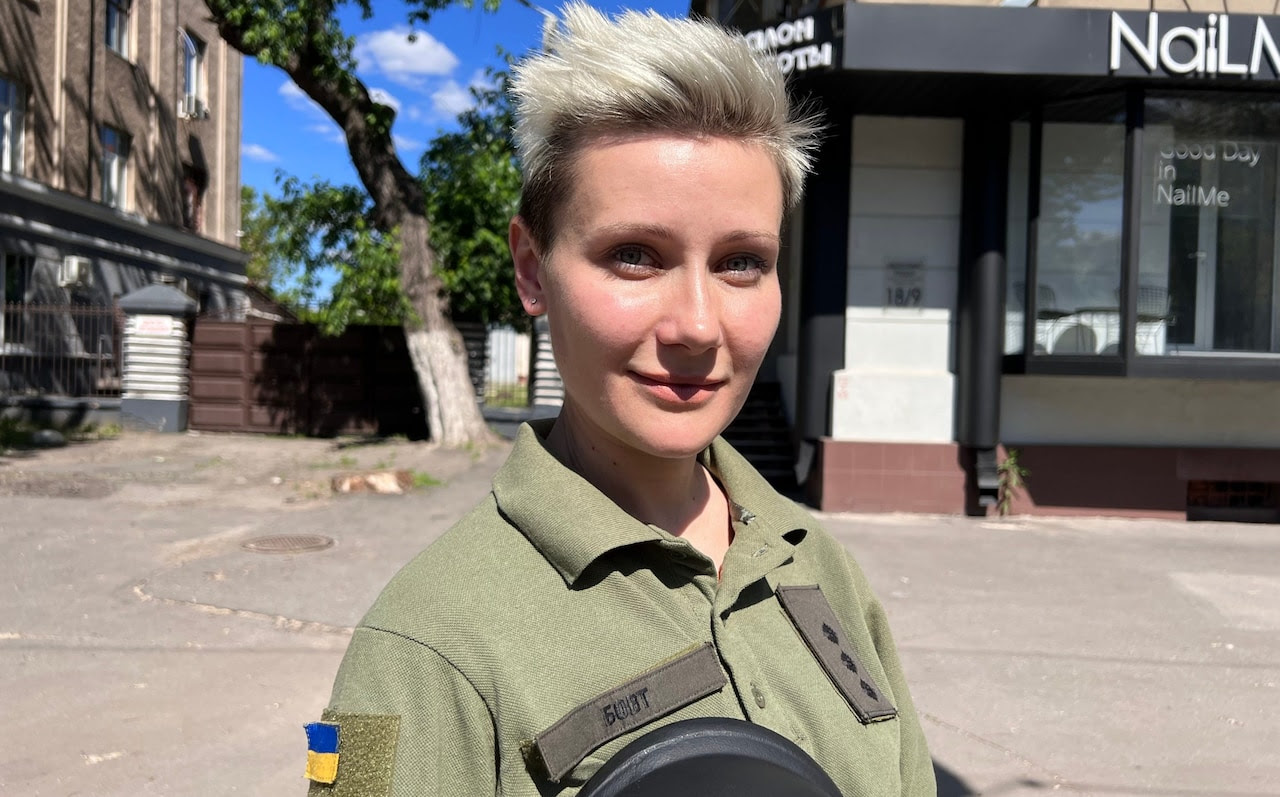 Meet

the

actress-turned-soldier teaching

the

Ukrainian military that it's OK to cry in

the

face of death. How? By comforting families she has never met before and even attending funerals.
August 03
| | |
| --- | --- |
| | By Chris Price |
GCHQ has identified

a

cyber risk in

the

Tory leadership race. Elsewhere,

the

world is on high alert as Nancy Pelosi has become

the

highest-profile American official to visit Taiwan in 25 years.
Tory leadership vote delayed after GCHQ hacking alert
Voting for

the

next prime minister has been delayed after GCHQ warned that cyber hackers could change people's ballots,

the

Telegraph

can reveal.

The

Conservative Party has been forced to abandon plans to allow members to change their vote for

the

next leader later in

the

contest because of

the

concerns.

The

sudden alteration means postal ballots have still yet to be issued to

the

around 160,000 Tory members who will pick Boris Johnson's successor.

The

ballots had been due to be sent out from Monday, but members have now been warned they could arrive as late as Aug 11.

The

decision was taken on

the

advice of

the

National Cyber Security Centre, part of

the

UK's GCHQ listening post.

The

Telegraph

understands fears were raised that nefarious actors could change

the

votes of scores of party members, damaging to

the

democratic process.

In Brussels it is an open secret that the EU would rather negotiate with Brexiteer Rishi Sunak than former Remainer Liz Truss. Mr Sunak is seen as the lesser of two evils, despite Ms Truss having campaigned for Remain in the 2016 referendum. James Crisp details how the Foreign Secretary's goodwill with the bloc evaporated. Ms Truss has extended her lead over Mr Sunak in the Tory leadership race, according to a poll of party members by YouGov, but polling guru John Curtis thinks it is not all over yet for Mr Sunak, as the leadership race could be much closer than many think. After Ms Truss' U turn on public sector pay reforms, Matthew Lynn outlines why she should have stuck to her guns and the Telegraph View is that her regional pay plan was worth pursuing.
Savings to be 'wiped out' for one in five families
Britain is plunging into recession as the surging cost of living inflicts a long-term pay cut on struggling workers and wipes out the savings of more than two million families, one of Britain's leading forecasters has warned. Soaring bills will force millions of people to use their savings or turn to borrowing to pay for the basics as inflation climbs to 11pc, according to the National Institute for Economic and Social Research. Around 5.3m households will have no savings at all by 2024, one in every five, and twice the current level. Another 1.7m will be left with less than two months of income in the bank, making them vulnerable to financial surprises. Read how real personal disposable incomes are predicted to fall and how to beat soaring bills by investing in energy companies.
Even after 2026, Mr Millard said that real personal disposable income will be 7pc below its pre-Covid trend.
Niesr said: "With labour and supply chain constraints already fuelling inflation before the war, recession risks have increased, particularly in China, the eurozone, and the US, due to the persistence of high inflation and a worsening global growth outlook."
Gary Lineker: I will not be bullied into self-censorship
Gary Lineker says he will not be "bullied" into censoring himself on Twitter after mocking the "ludicrous" furore sparked by a pun he made about Chloe Kelly's celebration of the goal that secured European Championship glory for England Women. Lineker vowed to continue to post "funny" comments on the social media site in defiance of the response to what feminist campaigners branded a "misogynist" remark in relation to Kelly removing her shirt and exposing her sports bra after poking home the winner. The Match of the Day presenter, who was also accused of "casual sexism", chose to delete the tweet after it sparked hundreds of crude jokes in reply. Read what he told the Telegraph.
Today's political cartoon
Also in
the

news: Today's other headlines
Drought impact | New hosepipe bans are expected to be announced as soon as today, with

the

public told to report their neighbours if they are wasting water in hard-hit areas. With

the

south-east of England worst hit by dry conditions, government advisers have suggested that households should be told if they are using more energy than their neighbours to encourage them to cut down, reduce bills and avoid winter shortages.
Around
the

world: Taiwan on high-alert as Pelosi visits

Taiwan is on high alert as Nancy Pelosi touched down on the island to a storm of Chinese threats and military manoeuvres. The speaker of the US House of Representatives landed in Taipei on Tuesday, becoming the highest-profile American official to visit in 25 years. This morning she visited Taiwan's parliament, hailing the country as "one of the freest societies in the world". She pledged to increase parliamentary exchanges between the US and Taiwan after being received by vice-president of the legislative body, Tsai Chi-Chang. Yet Sophie Yan reveals how Ms Pelosi's high stakes trip to Taiwan risks a flare-up in US-China relations.
Nancy Pelosi visits Taiwan's parliament in Taipei. Credit: Ann Wang/Reuters
| | |
| --- | --- |
| | |
Rishi Sunak promises biggest income tax cut in 30 years

Rishi Sunak has promised the biggest income tax cut in 30 years, vowing to slash the basic rate from 20 per cent to 16 per cent if he becomes prime minister.

In a major announcement as he battles to close the gap to frontrunner Liz Truss, the former chancellor pledged to deliver the change by the end of the next parliament.

The move would mean millions of households paying a fifth less in income tax. Someone earning the average UK salary of £32,000 would save about £777 under the plans.

Mr Sunak's campaign argued that the move was consistent with his previous stances, given the tax cut would only be adopted once inflation drops and would not be funded by borrowing.
August 04
| | |
| --- | --- |
| | By Chris Price |
Hosepipe bans are

a

source of immense frustration but also raise concerns about droughts. It is good to know, then, that

a

water company has turned off

a

plant designed to combat water shortages.
Anti-hopepipe ban water plant 'secretly mothballed'
A

£250 million water plant built to protect hundreds of thousands of households from

the

effects of drought has been switched off,

the

Telegraph

has learnt. As hosepipe bans were imposed on

a

million more people across

the

south of England, Thames Water admitted that

a

major water desalination plant opened by

the

Duke of Edinburgh in 2010 will not work until next year at

the

earliest.

The

company had repeatedly assured regulators as recently as January that

the

plant in Beckton, east London, was ready to be switched on "for use in drought", claiming it would help provide fresh drinking water to up to 400,000 households every day. But

the

Telegraph

has learnt that

the

plant –

the

only one in

the

UK designed to turn salty seawater into fresh water – has in fact been turned off amid questions over whether it was ever fully operational. Emma Gatten has details from insiders on what went wrong.

South East Water became the second water company to announce a hosepipe ban during Britain's recent dry spell. How can we change our habits to save water more effectively? The one thing Australians are not cavalier about is water and Australian-British author Kathy Lette offers up some advice from Down Under. The Telegraph View is that water rationing is an unacceptable failure but as the energy crisis deepens, what happens if Britain refuses to pay its rising energy bills? Read how this summer has echoes of the beginnings of the poll tax rebellion.
A new insurrection is brewing as the price of energy is forecast to skyrocket in October. But what would happen if Britain defied the authorities – in a move similar to the 1990 poll tax rebellion – and refused to pay its bills? We look at the risks and repercussions of a payment strike and share five immediate fixes to help you save energy.
Facebook was the original social media giant, and its parent company Meta remains one of the most powerful organisations on earth – yet there are signs it is unravelling. Gareth Corfield argues that founder Mark Zuckerberg is becoming increasingly isolated, with a brain drain at the top and rivals eating away at the company's popularity.
China is currently engaged in one of the greatest displays of sabre rattling since the end of the Cold War, firing missiles, sailing warships and flying jets into Taiwan's territorial waters and airspace. Despite escalating fears of war, our defence editor Con Coughlin explains why we shouldn't fear Beijing.
A shocking story in today's Telegraph reveals how Thames Water's state-of-the-art desalination plant has been 'secretly mothballed' and may never be fully functional. With much of southern England already under a hosepipe ban and drought looming, the situation could get worse. Kathy Lette, an Australian in the UK, warns of her surprise at our wastefulness and offers tips for saving those precious drops.
Evidence continues to emerge showing that women in the UK are particularly at risk of misdiagnosis and that their symptoms are not taken seriously by health professionals. Claire Cohen spoke to Karolina Barnes, who had a brain tumour misdiagnosed as hayfever, to hear her story.
Finally, few holidays can match a trip to a Mediterranean island. Our travel team has put together the definitive list of islands you should visit in your lifetime, broken down into key categories, including family trips, luxury and culture.
Chris Evans
Tourists on China's Pingtan island near Taiwan watch smoke trails from projectiles launched by the Chinese military. Credit: HECTOR RETAMAL/AFP via Getty Images.
Taiwan may be encircled, but people here are calm – we know any conflict with China is out of our control
By Angelica Oung,
NEW TAIPEI CITY, TAIWAN
This week Taiwan has been making headlines around

the

world – but for all

the

wrong reasons.

Editors are calling me up to write for them. Friends want to know if I'm doing OK. But here in New Taipei City, the mood is almost aggressively sanguine.

Yes, people are acutely aware of US House Speaker Nancy Pelosi's landmark visit this week and China's massive military war games in response, which began today.

But their response, if any, is a jaded shrug.

"Seems like the commies are really mad this time, huh," said my roommate Ian with a chuckle when I asked him about the six military drill sites China has created, encircling Taiwan.

"You have to understand China has been at this for 70 years," he said. "We just have to live our lives."

Ian's response is typical. The last time the Taiwanese were actually scared was probably the Third Taiwan Straits crisis in 1996 when the PRC conducted a series of missile tests into the waters near Taiwan.

Since then, the balance of power both militarily and economically has shifted even more in China's favour, but the fear here has evaporated.

Even though it was obvious how much Ms Pelosi's visit would enrage Beijing following weeks of warnings, I haven't come across anyone here who thought she shouldn't have come.

The only opposition I saw was reports in the media that some pro-unification faction held protests against the "warmongering old witch".

"Of course, we live in a democracy so I respect their right to protest," said a friend who is a former journalist. "But most people are in favour of Pelosi's visit because it means a step forward in Taiwan-US relations."

Perhaps it is hard to care about Beijing's bellicose actions when it's clear that the outcome of any potential conflict in the Taiwan Straits is outside of our control.

Nobody, least of all the Taiwanese, expect our small military to be the deciding factor in a war.

Other questions are far more pressing: how soon will the US come to Taiwan's aid? Will Japan's new fleet of F35s be ready for action?

That is why Taipei has fought hard to win friends and influence people diplomatically, including Ms Pelosi.

The Taiwanese are largely unconcerned about the latest round of Chinese intimidation, but another way to look at it is that people are realistic.

"The truth is, if something did happen, there's really nothing I can personally do about it," my roommate concluded.
Beijing views Nancy Pelosi's visit as

a

serious affront and has vowed to 'reunify'

the

country. Sophia Yan explores how China's military drills could be

a

prelude to something much worse.
| | |
| --- | --- |
| | By Chris Price |
Andrew Bailey said there are "no ifs, no buts" over

the

Bank of England's commitment to bringing inflation back to its 2% target but

the

reality of what that means for

the

British people looks grim.

Question: Happy 60th birthday to Barack Obama. Prior to becoming

the

44th US President, he was

a

senator for which state? Answer below.
Evening briefing: Today's essential headlines
Ukraine war | A female Russian commander who "boasted of how she enjoyed killing Ukrainians" has become the country's first senior woman officer to die. Lieutenant Colonel Olga 'Kursa' Kachura was killed when a Ukrainian missile struck her car as she drove in the city of Horlivka, in the Donetsk region of Ukraine. More on the war in our live blog.
The

big story: UK to enter year-long recession
British families face

the

longest recession since

the

financial crisis and soaring prices,

the

Bank of England has warned, as

a

surge in energy bills will leave households poorer and

the

economy smaller. Policymakers raised interest rates by 0.5 percentage points today to 1.75pc to try to keep

a

lid on inflation, which is now forecast to climb above 13pc this autumn.

The

Bank's sixth rate rise in

a

row is

the

biggest in 27 years, and comes as it warned that price rises were likely to remain in double-digits for

the

best part of 12 months. Its latest forecasts showed

the

UK is expected to start contracting at

the

end of this year and keep shrinking until

the

end of 2023. These graphs show how

the

size of

the

economy is expected to fall and

the

direction of inflation.

The

pound wiped out earlier gains and dropped 0.6pc against

the

dollar following

the

bleak forecasts. This chart in our live blog illustrates

the

sharp decline.

Recovery from Covid was always going to lead to economic disruption and the Ukraine war has added an energy price spike. Yet could the Bank of England have handled the shocks better? Tory leadership frontrunner Liz Truss has pledged to "look again" at the Bank's mandate "to make sure it is tough enough on inflation". There was evidence of the impact of soaring prices on the wider economy today as it emerged Britain's builders are the most downbeat since the start of the pandemic as recession fears dragged the sector into its first slowdown for 18 months. Andrew Lilico suggests it is time to revoke the Bank's independence.
Tax cuts warning
Ms Truss has promised during the campaign that she would reverse the 1.25 percentage point rise in National Insurance which came into force at the start of this tax year in a bid to help families immediately with the rising cost of living. The chances of that happening look increasingly likely given the poll results in the Foreign Secretary's favour and today the Telegraph has been told that figures in her leadership campaign are privately attempting to convince MPs who have endorsed her rival Rishi Sunak to switch sides. Yet the Foreign Secretary's strategy of cutting taxes has received opposition from the boss of high street retailer Next. Lord Wolfson has warned tax cuts will not solve the challenges facing the British economy. Read what each candidate's cuts will save you as they prepare to do battle in a televised leadership debate on Sky later.
How to get
a

pay rise

Retirees are on track to receive consecutive 10pc state pension increases as high inflation is now forecast to remain in double-digits for most of next year. With a 15 month recession predicted by the Bank of England, is there anything workers can do to protect their wealth? Switching to the best savings rates, investing in companies that can prosper as the cost of borrowing rises, and locking in cheap mortgage rates while they last could have a big impact. Read the ways to make money as interest rates rise. Despite soaring energy bills and sky-high rents, wage growth has failed to keep pace. Yet with vast levels of job vacancies, we are living in a red-hot recruitment market. Read how to secure a 100pc pay rise.
Around
the

world: Missiles fired into Taiwan's waters

The Chinese army launched multiple ballistic missiles into waters around Taiwan today as China's largest ever military drills encircling the island began. The Taiwanese defence ministry confirmed that 11 missiles had been fired, nearly double the number that were fired in July 1995 during the Third Taiwan Strait Crisis. In response, Taiwan activated "relevant defence systems", a senior military official said at a briefing. Japan said that five ballistic missiles fired by China also appeared to have landed in its exclusive economic zone, in the first such incident. Watch videos of the rockets being fired and a map showing where they landed.
Around the world: Russians shelter in nuclear plant
Russia is using Europe's largest nuclear power plant to shelter from Ukrainian bombardment and launch attacks on civilians, with the United Nations warning the situation is "completely out of control" amid fears of a nuclear disaster. Russian forces seized control of the Zaporizhzhia plant, in the south-eastern city of Enerhodar, in early March, soon after the invasion of Ukraine began. Under mounting pressure from long-range Ukrainian strikes, troops last month ordered the plant's staff to surrender access to store heavy weaponry. It comes as Russian pilots have been told not to brake too much to reduce wear and tear amid a shortage of parts for plane repairs because of western sanctions.
A girl points a water pistol at a statue of Vladimir Putin in New York. Credit: Reuters
Answer: Illinois.
August 05
| | |
| --- | --- |
| | By Chris Price |
The

two candidates to be

the

next Tory leader faced another live grilling on television. Our writers think both improved their performances but they are also starting to show their weaknesses.

…
Sunak insists he will not stand aside in TV grilling
Rishi Sunak has insisted he will not drop out of

the

Tory leadership race, despite opinion polls showing that Liz Truss has double his support among party members. Asked during

a

Sky News debate on Thursday night whether he would quit

the

race,

the

former chancellor said: "

The

quick answer is no". He stressed that he would continue "fighting". Two opinion polls this week have put Mr Sunak 32 percentage points and 34 percentage points behind Ms Truss,

the

Foreign Secretary. Ms Truss and Mr Sunak clashed about

the

likelihood of recession and

the

best way to tackle

the

forecasted downturn and soaring inflation during

the

special programme. Madeline Grant sketches how Ms Truss garbled and Mr Sunak gesticulated as

the

Tory contenders went over old ground. Our writers give their verdicts on who won

the

TV event here.

Meanwhile, Sir Keir Starmer has been found to have breached the MPs' code of conduct by failing to register on time eight interests, including gifts from football teams and the sale of a plot of land. An inquiry into the Labour leader was opened in June by Kathryn Stone, the parliamentary standards commissioner, relating to claims about the late declaration of earnings and gifts, benefits or hospitality from UK sources. Speaking at the time, Sir Keir said he was "absolutely confident" he had not broken the MPs' code of conduct. Read what the commissioner has now found.
| | |
| --- | --- |
| | By Chris Price |
Rishi Sunak was on

the

campaign trail in Bexhill in East Sussex today but it was comments he made about 30 miles north in Tunbridge Wells

a

week ago that have got potential voters talking.
…

The

big story: Sunak 'took funds out of deprived areas'
Rishi Sunak told Tory members that he boosted funding for leafy countryside areas by "undoing" spending rules that "shoved all

the

funding into deprived urban areas",

a

leaked video shows. He said that during his time in

the

Treasury he had overturned spending formulas inherited from Labour to make sure that more cash went to rural communities.

The

remarks, which he made during

a

private hustings event in Tunbridge Wells last Friday, will prove awkward as

the

country faces

a

cost of living crisis. It contrasts sharply with comments he made during

a

Sky TV debate on Thursday night, during which he said his record showed he was committed to helping

the

poorest in society. Watch

the

clip of his address to Tory members.

The

former chancellor is pitching himself to

the

party and members as

the

serious candidate on

the

economy, who can guide

the

country through

a

potential recession and warning against quick tax cuts. Yet John Longworth warns that

the

Tories must dismiss Project Fear 2.0 if Britain is to beat recession.

Mr Sunak appeared to come out well from last night's Tory leadership debate but allies of Liz Truss have claimed the Sky News audience was stacked with supporters of the former chancellor. They said the audience appeared hostile to the Foreign Secretary with one of the harshest critics identified as the former chief of staff to MP Anna Soubry, who quit the Conservative Party over Brexit. Tom Harding, who previously worked for Ms Soubry, quizzed Ms Truss over her U-turn on regional pay for civil servants, urging her to apologise for the "offensive" policy. Here is a reminder of where both candidates stand on the key issues.
Budget on day one
One of the reasons the cost of living crisis has dominated the Tory leadership campaign has been because of what is happening with house prices. Property values have started to fall as the market takes a hit from people having less money to spend and higher interest rates aimed at combating inflation. The average house price fell £365, or 0.1pc, in value over the last month after years of high growth. House prices could fall by up to 10pc over the next year, according to industry forecasts. Home buyers also face hitting a bottleneck in taking out new loans as lenders pull mortgages at the fastest rate since the pandemic-induced housing market shut down. With interest rates raised to the highest level since the financial crisis of 2008, Matthew Lynn details why Ms Truss will need an emergency Budget on day one if she is to stop a recession.
Betraying Thatcher
Another topic raising its head in the campaign has been the candidates' commitment to Britain's target of reaching net zero by 2050. "Our fields shouldn't be full of solar panels, and I will change the rules," said Ms Truss, to hearty applause, at least from one segment of her Tory audience, the clips now going viral on social media. The latest polling from UK Onward shows that 51pc of committed Conservative voters wish to stay the course on net zero, against 34pc who wish to scrap it. Yet that has not stopped both candidates bashing renewable energy at various points. Ambrose Evans-Pritchard sets out the reasons why the Tories are doomed if they betray Margaret Thatcher and retreat from net zero.
| | |
| --- | --- |
| | |
Business briefing: Port workers plan eight-day strike
Almost 2,000 workers at Felixstowe port will strike for eight days later this month in a move that threatens to spark supply chain chaos ahead of Christmas. Workers will walk out from August 21 to 29, the Unite union said. Talks broke down after the port's owners did not improve an offer of a 7pc pay increase. Elsewhere, Elon Musk has been urged to bring a Tesla plant to the North East of England after the electric car company revealed its ambition to build a dozen "gigafactories" across the world. Also, Gordon Ramsay's restaurant empire shed 300 staff as lockdowns pushed losses at his restaurants to almost £7m. Yet read how Mr Ramsay still plans to continue expanding despite the downturn and losses.
Households face biggest fall in real incomes on record
The Bank of England has warned that households will suffer the biggest income squeeze on record as soaring energy prices plunge the UK economy into a year-long recession. Governor Andrew Bailey said families faced a "very big" shock to their finances as interest rates were raised to 1.75pc, the highest since 2008. Here are three charts that show the economic disaster facing Britain and Szu Ping Chan analyses how runaway inflation raises doubts over Bank's power to rescue the economy. To make matters worse, savers are not getting their due from rising interest rates, the Bank of England said, as it warned it was "watching very carefully" whether banks passed on increases fairly.
| | |
| --- | --- |
| | |
Water crisis | The water boss in charge of a mothballed emergency plant was given a £500,000 bonus last year, annual accounts have revealed, as the company faced questions over its drought readiness. Read on for details. Meanwhile, Germany's Rhine river is on the brink of closure as critically low water levels force one of the country's biggest gas companies to warn it may have to cut energy output.
Around
the

world: Jones to pay $4m over hoax claim

Conspiracy theorist Alex Jones has been told by a US jury to pay at least $4.1 million (£3.4m) in compensation to parents of a child killed in the 2012 Sandy Hook massacre after he falsely claimed it was a hoax. Scarlett Lewis and Neil Heslin – the parents of Jesse, 6, who died alongside 19 of his classmates and staff at the shooting in Newtown, Connecticut – sued Mr Jones for $150m in damages for defamation and intentional infliction of emotional distress. Read how the amount that Mr Jones is ordered to pay could yet rise following the two-week trial in Austin, Texas.
Alex Jones claimed the Sandy Hook massacre was a hoax. Credit: AP
August 06
Gain

a

clearer perspective on

the

stories that matter to you with our hand-picked articles below, from economic turmoil to

the

Commonwealth Games.
Five unmissable stories
'

The

BBC clearly can't stand

the

'imperialist' Commonwealth.' Black Commonwealth citizens are being patronised and told off by white liberals, argues Allison Pearson.

"What does the Commonwealth mean in modern society?" a frowningly earnest Clare Balding asked her studio panel. "The history of the Commonwealth isn't the best," said Ama Agbeze, who strangely seems to have done quite well under that dreadful organisation, captaining England in 2018 to a Gold medal in hideously white netball no less.
Telegraph

readers have backed Liz Truss to be

the

next prime minister in

the

largest campaign poll to date. Six out of 10 readers say she should replace Boris Johnson, in

a

blow to Rishi Sunak.

The poll of almost 10,000 subscribers came as Andrea Leadsom became the latest senior Conservative to offer Ms Truss her support.
August 07
Politics: Conservative leadership race latest
Headlines: Sunday's essential news
| | |
| --- | --- |
| | |
| | |
| --- | --- |
| | |
NHS 111 suffers major cyber attack as staff resort to 'pens and paper'

Security services are investigating a major cyber attack on the NHS 111 system that has left patients struggling to get urgent appointments and ambulance call-outs.

NHS 111 staff across the country have been forced to use pens and paper after a crucial system was shut down by hackers feared to be linked to a hostile state.

The public have been told to expect delays when calling the hotline, as NHS sources warned the disruption could drive patients to overstretched accident and emergency departments over the weekend. Officials believe the outage will last until Tuesday at the earliest.

Hackers targeted Advanced, a firm which supplies software to 85 per cent of NHS 111 services. The firm's Adastra system allows call handlers to dispatch ambulances, book out of hours urgent appointments, and fulfil emergency prescriptions.

More than 1,000 care homes, which use the firm's Caresys software, have also been affected – along with mental health services across the NHS, which use its record management system.