Noxious fumes | Dumps and landfills near South Asian megacities are huge emitters of methane, highlighting a major challenge in the global climate fight. More clouds of the greenhouse gas — which has 84 times the warming power of carbon dioxide over its first 20 years in the atmosphere — were spotted in India than any other country except for the US during the first half of this year, according to satellite observations. Pakistan ranked fourth and Bangladesh sixth.
The Ghazipur landfill in New Delhi on July 1.
Photographer: Anindito Mukherjee/
Bloomberg
A Chinese Environmental Artist Stirs Climate Action With Toxic Soup
Nut Brother, a performance artist who has been stirring up public opinion over pollution in the country for seven years in the belief that environmental activism that is humorous and creative can have a powerful effect.
Nut Brother has been able to keep exposing some of China's more egregious pollution problems partly because his campaigns align with President Xi Jinping's own policy goals of cleaning up the nation's environment and building a more sustainable economy. China has made huge efforts to strengthen environmental protection in the past decade. Artists such as Nut Brother help that goal by raising awareness of environmental issues among the public, said Ellery Li, a project advisor at Beijing-based China Youth Climate Action Network.
His projects
"are all very close to everyday life, like music, hotpot, or drinking water, but once you go closer you find the messages are so striking,"
Li said.
"China relies on government policies to solve environmental problems, but projects like this are as important because they let people realize that there are so many problems that are unseen but do exist."
Yet the government prefers that the changes be made from the top-down and provincial authorities are wary of public criticism. Some domestic environmental groups have been silenced and international NGOs are now under additional scrutiny as the result of a 2017 law.
What's happening in China…
Scorching temperatures across China have turned deadly, with hospitals reporting patients dying of heat stroke. State media reported that at least 76 weather stations have recorded temperatures that exceeded 42 degrees Celsius (108 Fahrenheit). It's not the only way climate change is impacting the world's second-biggest economy this summer. Record rains in the southern provinces have already forced millions of people to relocate.
People wearing hats walk to shield them from the heat in Chongqing.  Photographer: China News Service/China News Service
Some good news:
And some bad news:
---
EVs, Heat Pumps, Greener Homes:
Senate Deal Jumpstarts Climate Consumers
A surprise deal announced Wednesday night boasts $370 billion in new spending for tackling climate change, including oodles of tax credits and rebates that could make it cheaper for people looking to drive and live more sustainably.

"This bill is going to open up a lot of avenues for Americans to contribute to the fight against climate change on an individual level," said Senator Sheldon Whitehouse, a Democrat from Rhode Island, in an emailed statement. "Through a mix of rebates for electric appliances and efficiency retrofits and tax credits for technologies like heat pumps … it's going to become a lot more affordable to do your part."

Called the Inflation Reduction Act of 2022, the proposed tax, health and climate package was negotiated by Senate Majority Leader Chuck Schumer and Senator Joe Manchin. Just two weeks ago, the prospect of such a deal seemed doomed when Manchin, a West Virginia Democrat, said he wouldn't support the climate provisions amid rising inflation. But the two senators quietly reengaged, and then shocked the climate world with news of the deal. "Holy s—," tweeted Senator Tina Smith, a Democrat from Minnesota. "Stunned, but in a good way."

The spending package is still far from final. The Senate needs to vote on the legislation, which could happen as early as next week. The House would then need to agree to the bill before President Joe Biden could sign it into law.

But as it is currently written, the bill would be a huge step towards the US meeting its Paris climate agreement goals, and would funnel record funding into clean energy technologies and programs to combat climate change. Some of this money would go directly into the pockets of consumers, to incentivize adoption of electric vehicles, heat pumps, and home energy-efficiency upgrades.

Here's a breakdown of the most significant implications for  people trying to decarbonize their lives:

The proposal includes consumer tax credits for both new and used "clean cars," defined as vehicles with a battery at least partly manufactured or assembled in North America and built with materials that are extracted or processed in a country that is in a free-trade agreement with the US.

That means you could get $7,500 for qualifying new electric vehicles, for example, if you make less than $150,000 a year or have a combined family income below $300,000 and file taxes jointly. Critically, the money would be applied for the first time at the point of sale, lowering monthly payments rather than reducing a tax bill months later.

The existing federal tax credit for EVs excludes models from manufacturers that have already sold at least 200,000 of them — a cap that Tesla, GM and Toyota have already hit. This bill scraps that. Instead, it would impose a price threshold per vehicle. Bigger rigs — electric SUVs, pickup trucks and vans — need to cost less than $80,000 to qualify for the credits, while the cap on smaller vehicles is set at $55,000. Under those restrictions, some of the sportiest EVs and the Tesla Model 3 Long Range, one of its top sellers, are too pricey. But a rash of new models, including the Chevrolet Blazer EV expected next summer, fall under the price threshold. (You can find the prices of various popular electric vehicles on Bloomberg's EV Tracker.)

Additionally, you could get $4,000 off a used electric vehicle that's priced at $25,000 or below and sold by a dealer. This credit is only for people who individually make up to $75,000 annually or $150,000 a year in jointly filed taxes.

EV advocates are particularly excited about the used-car credit, considering that nearly three in four cars bought in the US are used. "This is something we've always said is a sleeper issue," said Andres Hoyos, vice president of the Zero Emission Transportation Association. "It's going to be a game-changer for mass adoption."

Less excited are ​​electric bike makers, who were disappointed to find that the bill does not include tax credits or other incentives for e-bikes, a possibility floated in last year's Build Back Better spending bill. E-bike sales have been booming in the US without the help of federal incentives, but in the eyes of bike advocates, focusing transportation incentives exclusively on electric cars is an inefficient way to reach climate goals.

"It just continues to support auto-centricity and doesn't help with mode shift," said Noa Banayan, director of federal affairs at People for Bikes, a trade association that lobbies on behalf of bike makers.

Still, Banayan said the bill is an important breakthrough on broader climate action and includes potential benefits for riders, such as $3 billion in funding for neighborhood access and equity grants that can be used to build and repair bike lanes, trails and sidewalks.
Heat pumps and home electrification
The legislation provides significant incentives for low- and moderate-income households to electrify their homes, replacing fossil-fuel furnaces, boilers, water heaters and stoves with high-efficiency electric devices that can be powered by renewable energy.
The $4.28 billion High-Efficiency Electric Home Rebate Program would provide a rebate up to $8,000 to install heat pumps that can both heat and cool homes, and a rebate up to $1,750 for a heat-pump water heater. Homeowners can also obtain up to $840 to offset the cost of a heat-pump clothes dryer or an electric stove, such as a high-efficiency induction range.
Many homes will need their electrical panels upgraded before these appliances can be installed, and the program offers up to a $4,000 rebate for such improvements. To make homes more energy-efficient, a rebate up to $1,600 will be available to insulate and seal a house, and a rebate of up to $2,500 is offered for improvements to electrical wiring.
The program, to be administered by the states, would run through Sept. 30, 2031, and homeowners would be able to collect a maximum of $14,000 in rebates. To qualify, household income cannot exceed 150% of the area median income.
"The impact of this program is huge, as it will help over a million low- and moderate-income households make the switch to electric," Sam Calisch, head of special projects for Rewiring America, a national nonprofit that promotes home electrification, said in an email. "This looks like a slam dunk win for electrification."
"We estimate at current prices, households that get heat pumps for space and water heating, an EV, and put solar on their roof stand to save $1,800 per year on energy bills," he added. "Not only that, but these households will be getting off the roller-coaster ride of fossil-fueled inflation, with stable bills into the future."
For homeowners who do not qualify for the rebates, the IRA provides for a tax credit of up to $2,000 to install heat pumps. Other energy-efficiency measures, such as installing an induction stove or new windows and doors, qualify for tax credits up to $1,200 a year.
---
Egypt to Fight Against Backslide of Climate Goals at COP27
Egypt, the country hosting COP27 later this year, wants to ensure there's no backtracking on past commitments to slow the pace of climate change — even as global leaders grapple with food shortages, an energy crisis and high inflation.

The annual United Nations-sponsored Conference of Parties is scheduled for November in the Red Sea resort city of Sharm el-Sheikh. Egyptian Foreign Affairs Minister Sameh Shoukry, who is also the conference's president, spoke to Bloomberg News about the challenges ahead.

"The conference is going to be held in a difficult geo-political situation, with the world facing energy and food challenges," he said in written answers to questions. "Of course all of this could impact the level of ambition and might lead to distractions of the climate change priority."
Sameh Shoukry during the closing press conference of a Petersberg Climate Dialogue meeting in Berlin, on July 19. Photographer: Pool/Getty Images Europe
Egypt's goal is to prevent that from happening, Shoukry said. As the first African country to host a COP meeting in six years, it also wants to focus on how developing nations can get funding to adapt to the changing climate and to finance the green energy transition.
"We hope that COP27 will first confirm the political commitment to climate change and the agreed transition at the highest level," he said. The main focus of COP27 is to "raise ambition" and confirm "no backsliding or backtracking on commitments and pledges" made in past summits, he said.
Thousands of climate diplomats representing virtually every country in the world meet every year at COP. The gathering also attracts tens of thousands of activists, observers, businesspeople and media, making it the world's largest international summit by number of people. COP26 talks in Glasgow last year — the first to happen after the coronavirus pandemic — saw 40,000 people and 120 world leaders attending.
COP meetings are the vehicle through which the global community coordinates actions to cut planet-warming greenhouse-gas emissions. The ultimate goal is to cap the rise of global average temperatures which, at the moment, are headed for an increase of around 2.7°C or more by the end of the century, from the average of pre-industrial times.
A farmer looks over irrigation ditches in a field as part of water-saving measures near Luxor, Egypt.
Photographer: Sima Diab/
Bloomberg
Such an increase would be catastrophic, threatening life as we know it today, according to the Intergovernmental Panel on Climate Change. The global community agreed at the COP21 meeting in Paris in 2015 to take steps to keep the temperature increase at 2°C, and ideally close to 1.5°C. The world has already warmed about 1.2°C, and the window to meet the Paris commitment is shrinking, Shoukry said.
"The science is clear and indicates that we are still not on track with regard to achieving the temperature goal, preparing for the adaptation challenges, or meeting the finance targets," he said. "These gaps need to be bridged."
But the global fight to tackle climate change is rubbing against a scramble for fossil fuels — including Egyptian natural gas — as Europe tries to move away from using Russian oil, gas and coal. That's caused prices of natural gas to spike and led to a revival of coal, the dirtiest fossil fuel, with countries burning whatever they can get their hands on.
"This is a major concern," Shoukry said. "It is jeopardizing decarbonization and the energy transition."
The plummeting cost of renewable power should lead to large investments into cleaner forms of energy, Shoukry said. But the current geopolitical situation suggests the switch to renewable power will take longer than the global community anticipated at the COP meeting in Glasgow last year, the minister said.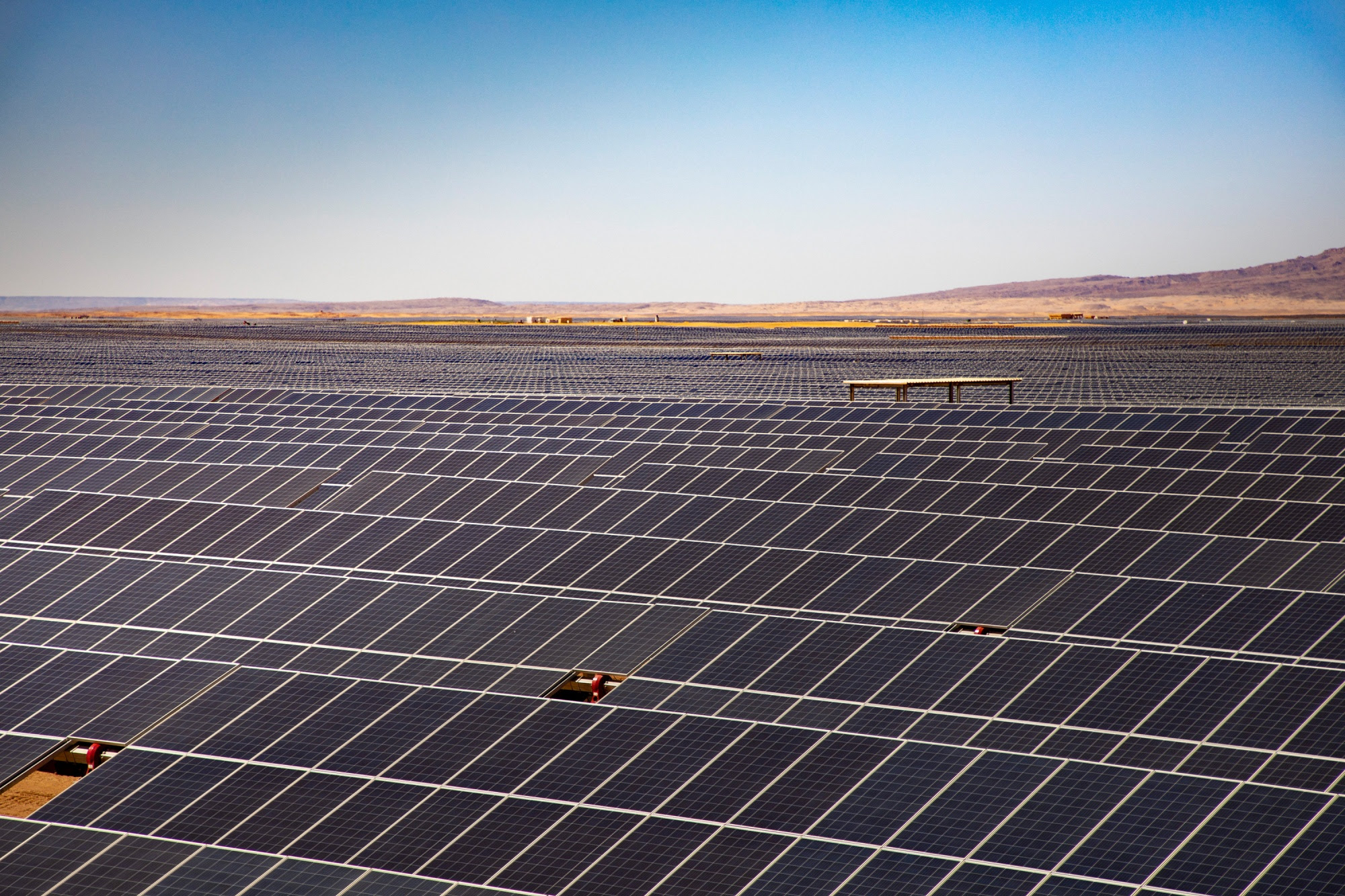 The Benban Solar Park in Benban, Egypt. Photographer: Ute Grabowsky/Photothek
At the heart of the matter is how developing nations, and particularly African nations, implement this transition while making sure economic growth is not impacted. At Glasgow last year, poorer nations argued they shouldn't be deprived of the opportunity to exploit their oil and gas reserves. Since then they have been stressing the priority of this year's meeting should be on getting rich countries to pay more to help them transition to clean energy.
"It's incumbent upon us to listen carefully to African concerns and to ensure that African priorities, such as adaptation and resilience," Shoukry said. Adding that negotiations on finance should take into consideration "the needs of communities across Africa, who are suffering more than any other continent from the impacts of climate change."
Salma El Wardany, Laura Millan Lombrana, and Akshat Rathi
Eager to lure Americans from their gas-burning cars, President Joe Biden's administration is planning a nationwide network of 500,000 charging stations linking urban and rural areas coast to coast. Last year's infrastructure law set aside $5 billion to build it. Along interstate highways and other major roads, the feds want a station every 50 miles, with at least four charging ports apiece — ones that will add electrons relatively quickly.
A view from a backroad in Bozeman, Montana, US, on Wednesday, July 20, 2022.
Photographer: Louise Johns/
Bloomberg
—
Japan hasn't been spared by the brutal summer that's hitting the northern hemisphere. In June — typically a cool, rainy month — temperatures in Tokyo exceeded 35° Celsius (95° Fahrenheit) for a record six days in a row. Now, two of the country's biggest insurers are offering policies designed to cover medical expenses arising from heatstroke. One such policy costs as little as 100 yen (73 cents) for a day's coverage. If purchased before 9 a.m., it can take effect from 10 a.m. that morning, covering hospitalization and other medical costs caused by the heat and sun.
Electric fans for sale at an electronics store in the Yurakucho district of Tokyo. 
Photographer: Kiyoshi Ota/

Bloomberg
One Los Angeles neighborhood is trying a different fix to fight deadly heat: reflective pavement coating that lowers ambient air temperatures.
Staying cool can save energy. That's why Spanish Premier Pedro Sanchez is giving up on wearing ties, and asked his ministers to ditch them, too.
Faced with risks of crippling blackouts, global utilities are starting to reward people for using less energy. Free Peloton, anyone?