July 25
After the heatwave we've had this past week in the UK and beyond, it would be fair to assume that some of your plants are beyond repair. But all is not lost, thanks to this great advice from Jane Perrone on how to revive your crispy plants. So, get watering!
Get yourself to a pub garden, a friend's living room, or, if you're lucky, to Wembley. And while you wait for the match to start, why not read this heartwarming article, where longtime fans and newcomers to the game share their stories of what it's been like to watch the tournament so far.
Rishi Sunak / Would-be PM to promise curbs on China as UK's 'biggest long-term threat'
Executions / Myanmar junta kills democracy activists in return to capital punishment after decades
Junta-controlled media reported on Monday that four men, including Phyo Zeya Thaw, a rapper and former lawmaker from Aung San Suu Kyi's party, and the prominent democracy activist Kyaw Min Yu, known as Jimmy, had been executed. They were accused of conspiring to commit terror acts and were sentenced to death in January in closed trials.
…
Following reports of the executions, demonstrators in Yangon held up a banner which read "we will never be frightened".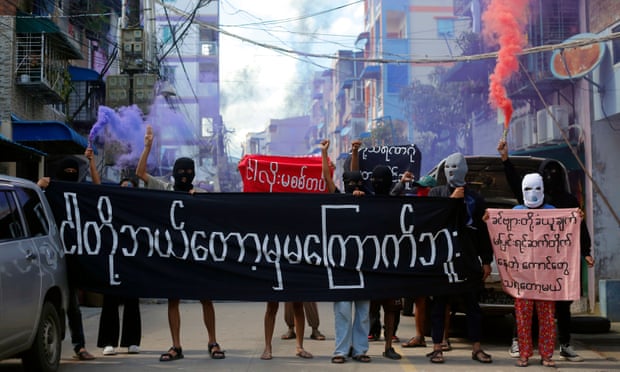 Another banner was hung on a bridge in Yangon bearing a warning that the junta should "be ready to pay for the blood debt". Text underneath read: "RIP Zeyar Thaw, Jimmy, Hla Myo Aung and Aung Thura."
'Barbarism' / Zelenskiy hits out at Russian attack on Odesa port
Barely 12 hours after Moscow signed a deal with Kyiv to allow monitored grain exports from Ukraine's southern ports, Russia targeted Odesa – through which shipments would take place – with cruise missile strikes.
Zelenskiy called the attack blatant "barbarism", showing Moscow could not be trusted to implement the deal.
…
Turkey's defence minister said Russian officials told Ankara that Moscow had "nothing to do" with the strikes. Neither Russian defence ministry statements nor the military's evening summary mentioned missile strikes in Odesa. The ministry did not reply to a Reuters request for comment.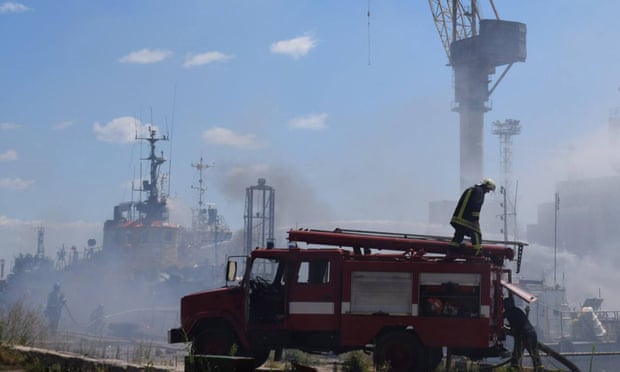 The aftermath of a missile strikes on the port of Odesa. Photograph: Odesa City Hall Press Office Han/EPA
July 26
The phrase 'extraordinary' is often used to refer to news stories, but last week the headlines really did feel like some of the most important, defining ones of recent times. In the space of just a few days, we saw record-breaking temperatures across the globe, six-hour queues of traffic at the UK border , the dramatic conclusion to the Jan 6th committee hearings, fraught final stages in the race to be Britain's next prime minister, and the World Health Organization declaring monkeypox a global health emergency.
Meanwhile, the Ukraine conflict rages on, with reports of torture rooms and forced conscription in the Donbas. Over the weekend, Russia signed a deal with Ukraine to allow grain exports to resume from three Ukrainian ports, thereby easing the global food crisis. Before the ink was dry, Russian forces fired precision missiles into the port of Odesa as grain was being readied for export.
What we've been reading: this week's editors' picks
Partygate / Met admits not sending Boris Johnson questionnaires over gatherings
Anger over the Partygate scandal has been reignited after Scotland Yard confirmed that it did not send questionnaires to Boris Johnson before deciding against fining him for attending two Downing Street lockdown gatherings.
Fines were issued to other attenders at the gatherings in 2020, including one at No 10 on 13 November, where the prime minister gave a leaving speech for his departing director of communications, Lee Cain, and another in the Cabinet Office on 17 December.
Pope Francis / Pontiff 'begs forgiveness' over abuse at church schools in Canada
Pope Francis has apologised for the "disastrous error" and "evil" of Canada's church-run residential schools, asking survivors of the system that abused tens of thousands of children for forgiveness as he toured the country on a "pilgrimage of penance".
The pontiff's widely anticipated apology came during a Monday morning visit to the community of Maskwacis, Alberta – the first formal event of his one-week tour after landing in the western province on Sunday.
…
Over more than a century, at least 150,000 Indigenous children were taken from their families and forced to attend schools like Ermineskin, run by the Catholic church.
Survivors of the school have testified about physical abuse as well as punishment for speaking their mother tongue. At least 15 children died while attending the school, including three of tuberculosis in 1903. A government survey in the 1920s found that half of the pupils at the school were infected with tuberculosis, according to the Indian Residential School History and Dialogue Centre.
The school has largely been torn down and five teepees now stand at the site, representing the four nations in the area, with the fifth serving as a symbol of the entrance to where the school once stood.
In 2008, the federal government formally apologised for establishing and running the schools, paying billions of Canadian dollars in compensation to survivors.
While both the Protestant and Anglican churches ran schools, the majority, nearly 130, were operated by the Catholic church. Yet the Vatican for years had repeatedly resisted calls for a papal apology.
Mykolaiv / Craters, queues, and goodbyes: a day in the life of a Ukrainian city
Once a city of almost 500,000 people, Mykolaiv's population has almost halved over the past five months.
…
Far from the city itself, the main water pipe that supplies Mykolaiv has been damaged by Russian fire. The city is pumping brackish, saline water to wash and supply toilets. Drinking water comes from tankers that residents must queue for.
July 27
Italy's chaos could undermine Europe's ability to face down Putin
With the war in Ukraine now into its sixth month, Russia putting the squeeze on gas supplies and Europe's biggest economy on the brink of recession, you'd be forgiven for thinking a government collapse in Italy is no big deal. After all, Italy has had 67 governments in almost as many years.

But the abrupt end of Mario Draghi's government last Thursday is alarming for Europe in several ways.

The unelected but popular and highly rated Draghi (feted as saviour of the euro for his seminal "whatever it takes" intervention as head of the European Central Bank a decade ago) had led an Italian national unity government since 2021. He is credited with rescuing the economy after the worst of the pandemic and being a key figure in providing the EU with strategic coherence in the face of Putin's attempts at gas blackmail.

Draghi's premature downfall doesn't just create uncertainty on the financial markets, it opens the prospect of the far right taking power in September. The name to watch is Giorgia Meloni, founder of the post-fascist Fratelli d'Italia (Brothers of Italy) party, one of three allied far-right groups manoeuvring. Matteo Salvini's Lega Nord and Silvio Berlusconi's Forza Italia are the other pair. The Guardian's Rome correspondent Angela Giuffrida says Meloni's party, which has not been in the Draghi unity government, could barely muster 4% of the vote in 2018. Now, thanks in part to the weakness of the Italian left, Meloni is topping polls and could fulfil her ambition of becoming Italy's first female premier.

Ukraine is a fault line in Italian politics: and a far-right coalition that includes Putin-fan Salvini could derail the EU's consensus on the war, particularly in an energy squeeze. Observers think Meloni, although a hardliner, may not be as keen to cosy up to Putin (she admires the American right), but together they could align with Hungarian leader Viktor Orbán in opposing immigration, abortion and LGBT rights.

Any such disarray within the EU, coming soon after Marine Le Pen's parliamentary breakthrough in France, will be music to Putin's ears. The Kremlin's game of chicken with gas supplies is already causing splits. On Tuesday, energy ministers agreed on a winter rationing plan including a 15% cut in consumption, but it had to be heavily diluted. Southern member states resent having to make sacrifices to cover Germany's strategic selfishness in relying for too long on cheap Russian gas. As Philip Oltermann noted, this is an interesting reversal of the dynamic during the Eurozone crisis when Germany constantly berated southern European countries for living beyond their means. Listen to our Today in Focus podcast for a good sense of what will happen if the gas really does run out.

And scroll down for more highlights of the last week from around Europe. As the battle for Russian-occupied Kherson intensifies and doubt remains over the fate of Ukrainian grain stuck in the port of Odesa, keep up to date on the Ukraine situation with our live blog here.

Until next time,

Katherine Butler
Associate editor, Europe
| | |
| --- | --- |
| | |
Coronavirus / Health department played 'fast and loose' in awarding Randox contracts
Conservative leadership / TV debate between Truss and Sunak cancelled after presenter faints
Drought / People in England urged to curb water use amid driest conditions since 1976
On Tuesday the Environment Agency's National Drought Group (NDG), made up of farming groups, environment experts and representatives from government agencies, met to discuss the response. They had been due to meet in October but the meeting was moved forward due to the drastic conditions.
Harvey Bradshaw, the Environment Agency's executive director for the environment and chair of the NDG, said: "While last week's extreme high temperatures are now behind us and there are currently no plans for restrictions on essential water use, we can all do our bit by reducing unnecessary water consumption and following advice from our water company to ensure this remains the case while our rivers are exceptionally low.
"Environment Agency teams are … enacting the early stages of our drought plans in many parts of England to protect people's access to water and preserve the environment."
…
Jim McMahon, the shadow secretary of state for environment, food and rural affairs, said: "The Tories have presided over a crisis in our neglected water system which struggles to keep up with demand. The now ageing system is now at bursting point. We cannot carry on as we are, with 1,245 Olympic-sized swimming pools-worth of water lost through leaks and the Tories allowing water firms to continue to pump raw sewage into rivers and coastal waters for millions of hours"
July 28
Energy / UK bills forecast to hit £3,850 as Russia cuts gas supply further
Iraq / Hundreds of protesters storm parliament in support of cleric Moqtada al-Sadr
Gas / Germany accuses Russia of 'power play' as pipeline supply drops by half
July 29
UK heatwave / Climate breakdown made extreme heat 10 times more likely, study finds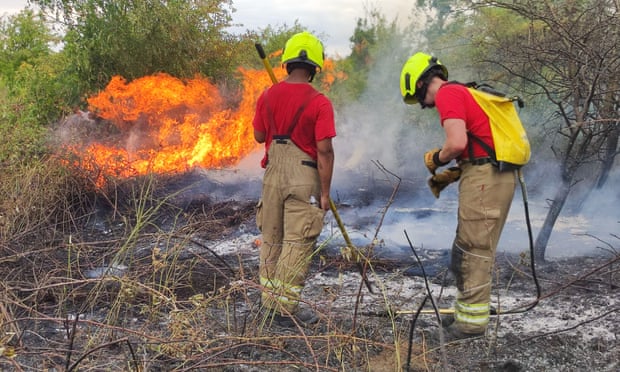 Climate breakdown made the recent record UK heatwave 10 times more likely, researchers have found. Analysis by World Weather Attribution reveals that temperatures in the UK during the heatwave, when it hit 40.3C, were higher than those simulated by climate models.
The researchers say extreme temperatures in western Europe are rising faster than expected.
…
"It's a worrying finding that suggests that if carbon emissions are not rapidly cut, the consequences of climate change on extreme heat in Europe, which already is extremely deadly, could be even worse than we previously thought."
…
Experts have called for rapid cuts in emissions to prevent the situation from worsening. Extreme heat kills thousands of people across Europe, and it is thought hundreds of excess deaths in the UK were caused by the recent heatwave.
"Heatwaves are the deadliest type of extreme weather event in Europe, killing thousands each year," said Roop Singh of the Red Cross Red Crescent Climate Centre. "But they don't have to be. Many of these deaths are preventable if adequate adaptation plans are in place. Without rapid and comprehensive adaptation and emissions cuts, the situation will only get worse."
'Insult to millions' / Shell and Centrica profits cause outrage as energy bills soar
Soaring profits at two of the UK's biggest energy companies have been described as an "insult" to millions of people struggling amid the cost of living crisis, with high oil and gas prices funding multibillion-pound rewards for their shareholders.
A day after households were warned average annual energy bills could hit £3,850 from January, triple the level at the beginning of this year, Shell and Centrica sparked outrage by announcing huge windfalls.
Shell posted record earnings of $11.4bn (nearly £10bn) for the three-month period from April to June and promised to give shareholders payouts worth £6.5bn.
__
Birmingham / Commonwealth Games open with celebration of host city
With a 10-metre-tall raging bull, a union jack made from 72 cars, and an appearance by Malala Yousafzai, the Commonwealth Games kicked off on Thursday night with an unashamedly loud celebration of everything Birmingham.
…
The most visually impressive element of the show was the raging bull, a giant aluminium and steel puppet constructed around a forklift truck-like machine from materials sourced in local factories. It was dragged into the stadium by 50 women representing chainmakers from the Industrial Revolution.
Northern Ukraine / Russian forces fire barrage of missiles at northern Ukraine from Belarus
The Chernihiv regional governor, Viacheslav Chaus, said nine missiles had struck close to the village of Honcharivska with some falling in the forest nearby.
…
Activists who track Russian military moves in Belarus said the missile launches came from Ziabrauka airfield near Gomel, prompting calls for increased sanctions against Belarus.
July 30
Politics / Rishi Sunak seeks to revive No 10 bid by attacking 'woke nonsense'
Sunak has taken up a series of increasingly hardline positions in a bid to close the gap with his rival.
Addressing members in West Sussex on Saturday, he will say: "What's the point in stopping the bulldozers in the green belt if we allow leftwing agitators to take a bulldozer to our history, our traditions and our fundamental values?
"Whether it's pulling down statues of historic figures, replacing the school curriculum with anti-British propaganda or rewriting the English language so we can't even use words like 'man', 'woman' or 'mother' without being told we're offending someone?"
---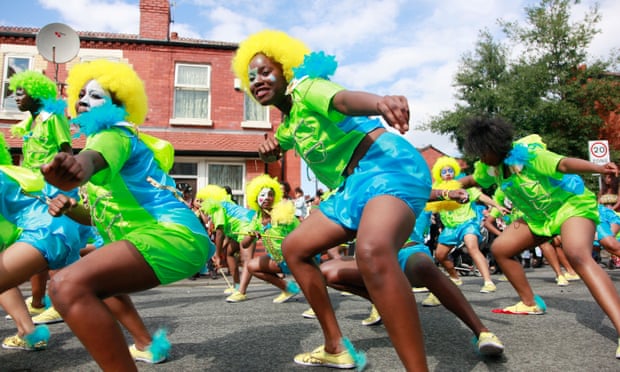 Revellers enjoy Moss Side's Carnival, in Manchester. A chief superintendent said the banning order was in place "as per the wishes of the organisers and the community". Photograph: Caroline Edge/Alamy
Greater Manchester police has been accused of using "deeply racist" tactics after it banned dozens of people from a Caribbean carnival because it suspected them of links to "a street gang".
The force came under fire after issuing letters to a number of people explaining that they would be refused entry to the celebration because they had been identified as "either a member of a street gang, affiliated to a street gang" or "perceived by others to be associated to a street gang".
Manchester / Police under fire over 'deeply racist' tactics ahead of Caribbean carnival
Joseph-Salisbury said: "In a context where young Black men are often stereotyped as gang members and drug dealers, to deny entry because someone may, for example, be 'perceived by others to be associated to a street gang', is despicable and deeply harmful."
'Repulsive act' / Video appears to show Russian soldier castrating Ukrainian prisoner
A Russian soldier, wearing a distinctive black wide-brimmed hat, is seen approaching another figure who has his hands bound and is lying face down with the back of his trousers cut away. The prisoner is wearing blue and yellow patches identifying him as Ukrainian.
The soldier in the hat, who is wearing blue surgical gloves, is holding a green-handled knife and reaches down to mutilate the prisoner as other soldiers abuse the prisoner.
While much is unknown about the provenance and date that the footage was recorded – and where – there are claims that the Russian soldier was previously filmed in the vicinity of the Azot chemical works in Sievierodonetsk in eastern Ukraine and that he was serving with a Chechen formation known as the Akhmat battalion.
…
inhuman act – nothing that justifies it
…
The Ukrainian presidential adviser Mykhailo Podolyak tweeted: "All the world needs to understand: Russia is a country of cannibals who enjoy torture and murder. But the fog of war will not help to avoid the punishment of the executioners. We identify everyone. We will get everyone."
July 31