July 18
Having left parts of southern Europe in flames, the continental heatwave is bearing down on the British Isles. That may be a boon for UK seaside resorts, but it's not a cause for celebration.
The Met Office has issued a red alert warning for this week, with southern England bracing for temperatures of 40 degrees Celsius (104 Fahrenheit) or higher from today.
Key reading:
Record heat spells are less one-off events than a foretaste of what is to come as long as the world continues to burn more fossil fuels, adding greenhouse gases to the atmosphere.
Yet that is precisely what is happening as a result of President Vladimir Putin's war on Ukraine. The US is pressing for more oil production to curb gasoline prices inflated by the invasion, while Europe builds liquefied natural gas infrastructure and fires up coal-powered plants in the rush to replace Russian energy supplies.
It's not all doom and gloom. As Europe twins its LNG plans with redoubled efforts to transition to clean energy, Germany produced a record amount of electricity from solar yesterday, and is set to exceed that again this week as temperatures peak.

On balance, the heatwave is still worsening Europe's energy crisis. High water temperatures are curbing French nuclear capacity, while drought means some German coal-fired plants are unable to get fuel delivered by river. Natural gas prices jumped as demand for cooling rose.

Amid a drawn-out war in Ukraine, with food and fuel prices rampant and recession fears on the rise, a period of sunshine will be enjoyed by many, especially in dank Britain.

And yet the present heatwave may come to symbolize what's shaping up to be a long, hot summer of discontent in Europe. — Alan Crawford
Firefighters tackle a forest fire in northern Portugal on Friday. Photographer: Patricia de Melo Moreira/AFP/Getty Images
Uncertain times | As Sri Lanka elects a new head of state this week after months of public anger, Acting President Ranil Wickremesinghe today invoked emergency rule across the island as he sought to quell protests. A leading contender for the top job, Wickremesinghe is so deeply unpopular with protesters that his whereabouts have been unknown since arsonists set his private home on fire this month.
July 19
Vladimir Putin holds summit talks in Tehran with the Iranian and Turkish presidents today about the Syrian conflict — yet the Russian president's war in Ukraine will be the main focus.
The struggle to unblock grain exports from Ukraine's Black Sea ports that were upended by Putin's invasion will dominate planned discussions with his Turkish counterpart Recep Tayyip Erdogan, who's pushing to broker an agreement. With prices spiking amid a deepening global food crisis, the European Union is hopeful for a deal between Russia and Ukraine this week.
Key reading:
Meanwhile, the US is warning that Iran may supply Russia with hundreds of drones as five months of war take their toll on Putin's military.
With the EU bracing for a winter gas crisis if Russia turns off supplies, Erdogan is positioning himself as a key figure in the West's efforts to prevent Putin wielding food and energy as weapons to weaken support for Ukraine. The Caucasus region squeezed between Russia and Iran is gaining in strategic significance, as visits to Armenia in the past week by the top US and Russian spy chiefs underlined.
European Commission President Ursula von der Leyen was in neighboring Azerbaijan yesterday to sign a deal to double EU gas imports from the energy-abundant state that's closely allied to Turkey.
Armenia and Turkey, historically enemies, are working to open their common border for the first time in decades, while Azerbaijan and Armenia are also in talks on normalizing relations after fighting a 2020 war.

Successful outcomes of these negotiations may transform the region as a bridge linking Europe to oil- and gas-rich central Asia via Turkey and bypassing Russia.

The Caucasus was Russia's undisputed backyard in the Soviet era and immediate post-Communist decades. Just as in Ukraine, Putin's war may prompt a recasting of relations there too.
Erdogan and Putin attend a news conference in Moscow on Aug. 27, 2019.
Photographer: Andrey Rudakov/
Bloomberg
Not listening | Brazilian President Jair Bolsonaro is shunning the advice of his political allies and marketing advisers to run a more conventional campaign for re-election in October. As Daniel Carvalho and Simone Iglesias report, guidance on topics that should be addressed or avoided in public are usually ignored by the president and even mocked by his inner circle.
July 20
Biden urged to get much more aggressive after Joe Manchin and Senate Republicans kill his climate plan.
The swift escalation of mortgage boycotts in China has taken many by surprise. The question now is how far they will spread and what President Xi Jinping will do about it.
Typically, protests in China involving financial matters are targeted at local officials or companies, and the central government often swoops in to provide some sort of relief. In this instance, thousands of frustrated homebuyers are refusing to pay mortgages for apartments that developers have yet to finish.
Key reading:
What's unique here is both the tactic and the scale of the collective action: The boycotts have spread to at least 301 projects across 91 cities. And now some suppliers and contractors are refusing to pay their debts because money is owed to them by real-estate firms.
Bloomberg reported earlier this week that authorities are already responding, drawing up a proposal to allow buyers to temporarily halt mortgage payments on stalled projects without incurring penalties. But any response must be carefully calibrated to avoid spurring even more copycat moves that threaten to further hobble the economy.
For Xi, the timing couldn't be worse. He's just months away from a once-in-five-years Communist Party meeting, at which he's expected to secure a third term in office and tout his accomplishments in improving the lives of average citizens.
While he can simply use censorship and security officials to quash any dissent, even he knows that party rhetoric can't veer too far from reality. — Rebecca Choong Wilkins
Buyers of the Vertex residential project, formerly co-developed by China Evergrande Group, hold protests signs during a news conference in Hong Kong on May 14.
Photographer: Bertha Wang/
Bloomberg
Pipeline politics | Russian President Vladimir Putin signaled that Europe will start getting gas again through a key pipeline, but warned that unless a spat over sanctioned parts is resolved, flows will be tightly curbed. Europe is waiting to see whether gas flows resume tomorrow when maintenance on the Nord Stream pipeline is set to end.
Italian drama | Prime Minister Mario Draghi told the Rome senate today his fractious coalition can be rebuilt, tamping down concerns he'll quit the government and throw Italy into chaos. Markets rallied, after the prospect of his departure hammered Italy's bonds and stocks last week. "I think that a prime minister who has never faced voters needs the broadest support possible in parliament," Draghi said.
Prime Minister Narendra Modi's 2019 pledge to eliminate single-use plastics in India by the end of this year was an ambitious goal to help combat one of the biggest environmental scourges on the planet. As Adrija Chatterjee and Kripa Jayaram report, the three-year lead time was meant to give India's beverage industry that uses some 6 billion straws annually time to adapt. Instead, it's racing to replace plastic straws with imported paper versions, leading to shortages.
A woman looks for recyclable materials at a dumping site in New Delhi. Photographer: Money Sharma/AFP/Getty Images
July 21
On Tuesday, the UK Met Office recorded the country's first-ever temperature above 40 degrees Celsius (104 degrees Fahrenheit) at London's Heathrow Airport just before 1 p.m., as temperatures were still rising. High demand sent power prices in the UK up 5% in one day.
Across the Channel, things have been even more volatile. Europe's heat wave has reduced France's available nuclear power, as the river water used to cool nuclear plants became too hot to be effective. As a result, day-ahead baseload power prices settled at 610 euros per megawatt-hour — about 10 times higher than prices from 2017 to 2021.
>  heat records are being broken all over the globe.
Even for a US president known for his erratic behavior, the Donald Trump that emerged from a month of televised hearings into the Jan. 6, 2021 assault on the Capitol was shocking. Today's prime-time finale may reveal more unsettling moments.

Trump was the chief executive who threw his lunch against a wall in the White House when his attorney general wouldn't back bogus claims of a stolen election. A president who didn't care that some supporters were armed when he urged them to the Capitol to block the certification of Joe Biden's victory because, as he was heard to say, "They're not here to hurt me."

Key reading:

And he's the tweeter-in-chief who, when the mob was erecting mock gallows on the Capitol lawn for his vice president, sent out a message inciting the crowd further.

Week after week, through eight hearings, witnesses — most of them members of Trump's Republican Party and many who worked for him in the White House — portrayed a vindictive leader unwilling to admit he'd lost the election.

For today's hearing, the bipartisan House committee has reconstructed the agonizing 187 minutes that elapsed as a mob rampaged through the Capitol before Trump issued a video asking his supporters to go home.

The attack left the symbol of American democracy strewn with broken glass and pools of blood. Hundreds of the rioters are facing charges and investigations are under way that could eventually lead to Trump's inner circle.

Many Republicans profess not to have watched the hearings or echo party leaders who dismiss them as political theater. Still, the evidence has hardened doubts in the party about the wisdom of backing another Trump presidency.

Even as he's teasing a run for the White House, half of Republicans now say they'd rather the party nominate someone else in 2024. — Jon Morgan
Trump speaks while departing the White House on Jan. 12, 2021.
Photographer: Samuel Corum/
Bloomberg
Game over | Italian Prime Minister Mario Draghi offered his resignation to President Sergio Mattarella today after the collapse of his ruling coalition, raising the prospect of snap elections as soon as early October. The move threatens to throw the country into turmoil just as Europe is bracing for a recession and Italians are contending with a brewing energy crisis. The government will continue in caretaker mode to handle ongoing business.
Russia started sending gas through its biggest pipeline to Europe after a 10-day maintenance period. The resumption of exports via the Nord Stream link will provide some relief for the continent that's racing to store the fuel before the winter.
Land grab | The Kremlin is in a dash to hold referendums in Ukrainian territories occupied by its troops to give grounds for President Vladimir Putin to annex them into Russia as early as September, sources say. Officials are preparing to organize votes by Sept. 15 in areas currently controlled by the Russian military and any others its troops are able to seize in coming weeks.
Covid surge | Tokyo is experiencing a resurgence in Covid-19 cases ahead of the summer holidays, with the Japanese capital recording more new infections today than at any time during the pandemic. That's forcing political and health-care leaders to reconsider what additional steps to take to contain the outbreak, if any.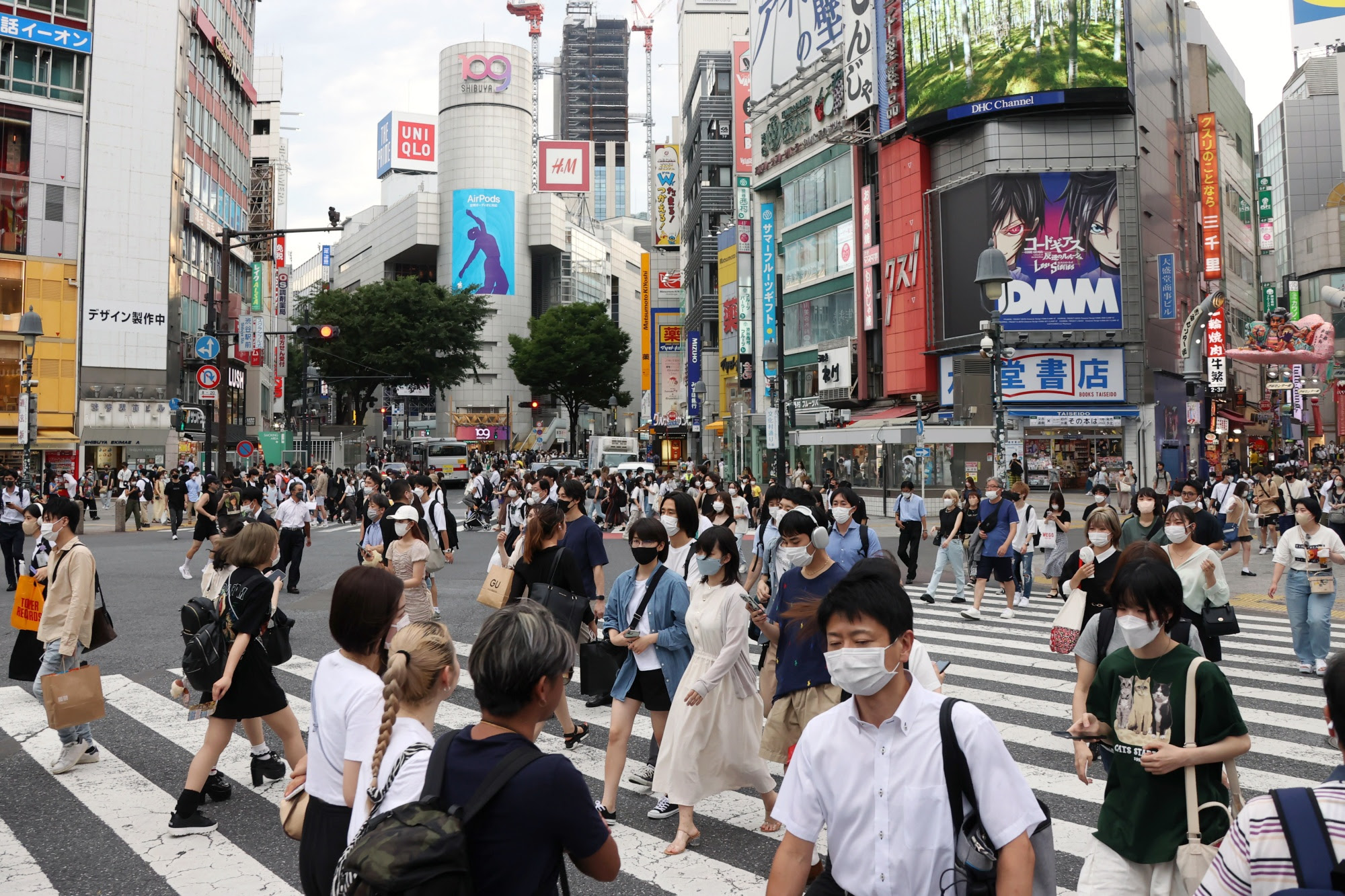 The Shibuya Scramble Crossing in Tokyo yesterday. Photographer: Ryohei Moriya/Yomiuri Shimbun
July 22
Away from the blasted cities and fields of Ukraine, one of the most devastating results of Russia's invasion has been its contribution to the spike in global food prices and the threat of famine.
That may be about to change, with representatives from Kyiv and Moscow due to meet in Istanbul today to sign a deal brokered by Turkey and the UN to restart commodities exports from Ukraine's Black Sea ports.
Key Reading:
Millions of tons of grain have been cut off since President Vladimir Putin's forces attacked Ukraine, a top producer of wheat, sunflower oil and corn, squeezing supplies to buyers from Africa to Asia. Russia has also destroyed food warehouses, looted grains and made sowing and harvesting new crops lethally dangerous for Ukrainian farmers.
Few details are known about the agreement, whose signing will be attended by Turkish President Recep Tayyip Erdogan and United Nations Secretary General Antonio Guterres.
But any deal poses potentially steep risks. Removing the underwater minefields that protect the ports Kyiv still controls may expose them to attack. There's also the question of why Russia would relinquish a major point of leverage as it pushes to annex more Ukrainian territory, since it's unlikely to win its demand that economic sanctions ease.
Then there is the woeful track record of previous deals struck with Putin. Since he annexed Crimea in 2014 and fueled the separatist conflict in Ukraine's east, Kyiv has complained that Russia has repeatedly violated pacts over cease-fires and humanitarian corridors. Moscow accuses Kyiv of the same.
The world is watching with hope but also, as the US National Security Council made clear, a hefty dose of skepticism.
"Success in ending Russia's blockade will of course depend not only on Russia agreeing to a deal, but on Russia actually implementing it," it said. — Michael Winfrey
A destroyed grain silo in the Donbas region of Ukraine on May 25. Photographer: Alex Chan/LightRocket
July 23 – July 24
Donald Trump's response to the Jan. 6 attack on the US Capitol was largely marked by what the former president wouldn't do or say to stop the violence, the House committee investigating the insurrection detailed.
Boris Johnson signed-off his final appearance as prime minister in the UK's House of Commons by offering advice to his successor and declaring his mission is "largely accomplished."
Sri Lanka's parliament elected a new president who's backed by a majority of lawmakers from ousted leader Gotabaya Rajapaksa's party, a development that could reignite street protests in the bankrupt nation and scuttle bailout talks with the International Monetary Fund.
The Kremlin is in a dash to hold referendums in Ukrainian territories occupied by its troops to give grounds for President Vladimir Putin to annex them into Russia as early as September, sources say.
Delve into these and other top political stories from the past seven days in this edition of Weekend Reads —  Muneeza Naqvi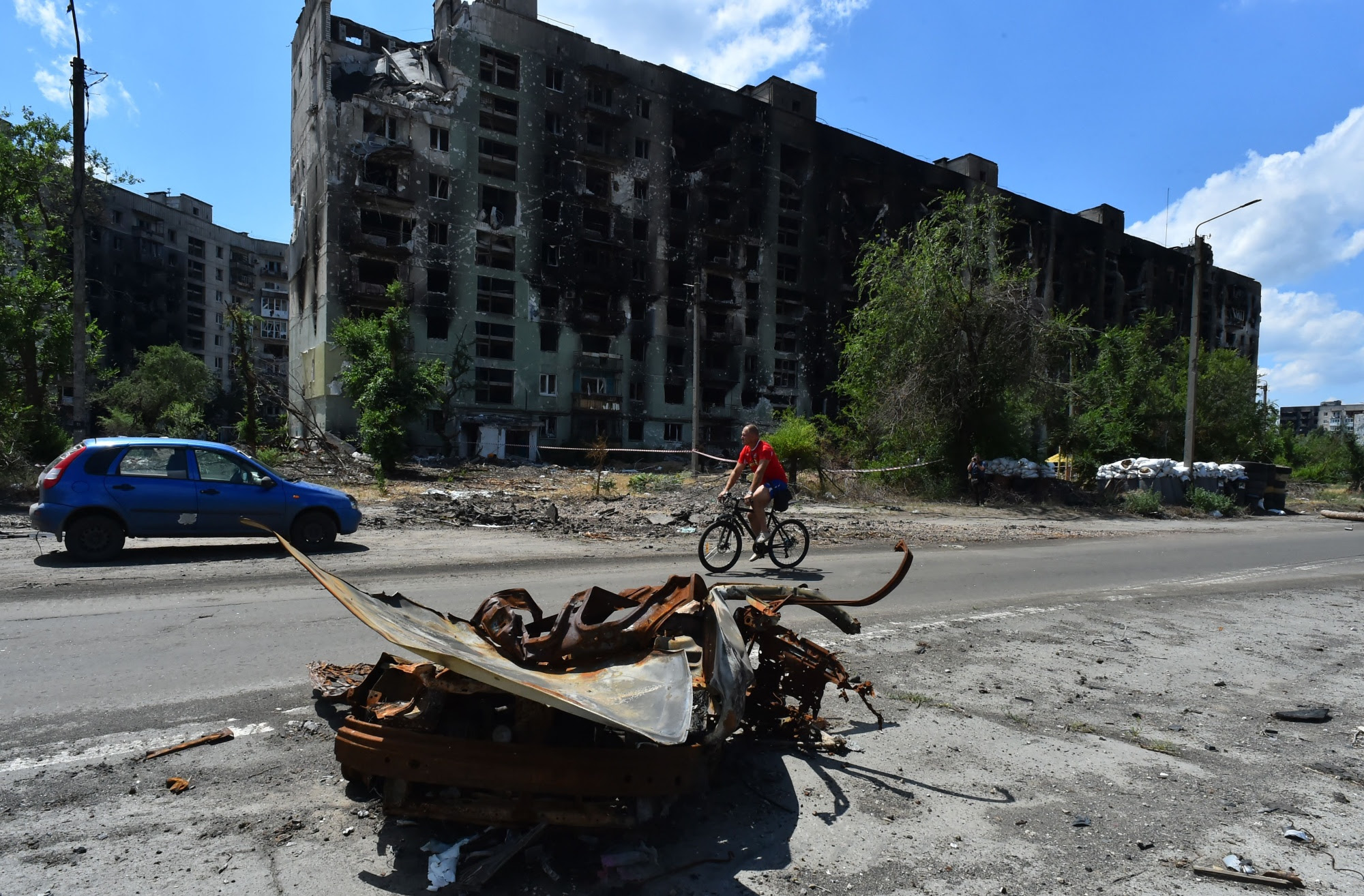 A man rides a bicycle past a destroyed apartment building in the city of Severodonetsk amid the ongoing Russian military action in Ukraine. Photographer: Olga Maltseva/Getty Images
Click here for this week's most compelling political images and share this newsletter with others.
Trump Spurned Aides' Pleas to Quell Jan. 6 Riot, Panel Told 
Former President Donald Trump ignored pleas to call off the mob storming the US Capitol and remained publicly silent as he watched the violence unfold, Mike Dorning and Billy House report, citing evidence and testimony presented to the committee investigating the insurrection.Black Districts Gutted as Suburban Flight Reshapes Congress Maps
There are 22 majority-Black districts in the current US Congress, but there will be as few as nine next year. The lost seats are a casualty of highly politicized battles over redistricting bringing dramatic change to electoral maps that were already being reshaped by demographic forces, explains Gregory Korte.Biden Sees Xi Call in 'Next 10 Days' as US Weighs Easing Tariffs
President Joe Biden says he expects to speak to Chinese leader Xi Jinping "within the next 10 days," as the US considers whether lifting some tariffs on Chinese imports would help stem rampant inflation, Nancy Cook and Josh Wingrove report.
Truss Survived Knife-Edge Vote and Is Favorite to Be UK Premier
In the final hours before Tory lawmakers chose the two candidates who will face off to become the next British prime minister, anxious supporters of Foreign Secretary Liz Truss were engaged in a desperate operation to muster votes, writes Alex Wickham.
Liz Truss attends the final scheduled cabinet meeting held by Prime Minister Boris Johnson on Tuesday. Photographer: Neil Hall/EPA/Getty Images
Boris Johnson Tells Successors Stick With the US and Ukraine
Johnson made his final appearance as prime minister in the UK's House of Commons, giving advice to his successor and declaring his mission is "largely accomplished," reports Ellen Milligan. Stay close to the Americans, stick-up for the Ukrainians, cut taxes, deregulate where possible, he said.
Mario Draghi Saved the Euro, But Italian Politics Beat Him
Mario Draghi managed to keep the euro together at the height of the sovereign-debt crisis but he failed to keep Italian political parties in line — just as the euro-zone grapples with a new energy and inflation crisis, Chiara Albanese, Alessandro Speciale and Alessandra Migliaccio explain. The premier resigned after three coalition allies withdrew support.
Russia Moves to Annex Occupied Ukrainian Land by September
Russian officials are preparing to organize votes in Ukrainian areas currently controlled by the Russian military and any others its troops are able to seize in the coming weeks, according to people familiar with the plan. The goal is to conduct referendums on joining Russia by Sept. 15.
Best of
Bloomberg

Opinion

Xi Faces Surprise Revolt From Chinese Homebuyers on Mortgage Boycott
Xi has reined in China's biggest tech companies, stamped out democracy in Hong Kong and locked down 26 million people in Shanghai to eliminate Covid cases. Now he faces a surprise challenge, Rebecca Choong Wilkins writes, from thousands of middle-class homeowners who are refusing to pay mortgages for apartments that developers have yet to finish.

Behind in Polls, Bolsonaro Is Shunning His Own Campaign's Advice
Brazilian President Jair Bolsonaro is shunning the advice of his political allies and marketing advisers to run a more conventional campaign for re-election in October. As Daniel Carvalho and Simone Iglesias report, guidance on topics that should be addressed or avoided in public are usually ignored by the president and even mocked by his inner circle.
Explainers you can use
Sri Lankan Army Clears Protest Site Before Cabinet Sworn In
Sri Lanka's new president, Ranil Wickremesinghe, called in the military to maintain "public order" and troops began dismantling a key protest site near the presidential office, leading to tense scenes with demonstrators. A nationwide emergency, that allows military and police sweeping powers to arrest and detain people, remains in place, Niluksi Koswanage reports.