July 18
'Shameful diversion tactic' / UK's 'quick-fix' asylum policies criticised in damning MPs' report
'It's socialism' / Heated Tory leadership debate exposes deep divisions
July 19
Over the past seven days, The Guardian Uber files investigation rippled around the world, prompting reaction and outrage in multiple countries, from France to the Netherlands and India.
A second newsroom investigation revealed allegations that prominent British DJ Tim Westwood had sex with a 14-year-old girl and behaved inappropriately towards a number of other young women.
And, in another sign that our journalism really does change things for the better, a story about the British Home Office refusing to let a baby in Jamaica come to Britain despite her mother having leave to remain had an immediate positive impact, with a u-turn 24 hours later.
Reader interest in the Tory leadership campaign has been high, and we responded with profiles of lesser-known candidates like Penny Mordaunt and Kemi Badenoch; numerous John Crace sketches; and analysis of the media wars and URL wars. Earlier last week, our scoop on the new threshold for Tory leadership candidates proved right, while we also published a useful results tracker, an odds tracker and graphics explaining how the contest works.
We ranked the environmental credentials of the candidates, and wrote about the concerns of green Tories that the race risks sidelining much-needed legislation.
Rob Booth's painstakingly-researched read on the East End care home that lost 21 residents to Covid came as the UK reached the grim milestone of 200,000 Covid deaths. In opinion, Devi Sridhar said it is more important than ever to understand the virus and tackled some of the myths.
Hannah Ellis-Petersen reported from Colombo as the president Gotabaya Rajapaksa made a humiliating escape, leaving a mood of relief and rage. Jason Burke told the story of the spectacular fall of the Rajapaksa family which first won power in 2005 and brutally ended Sri Lanka's decades-long civil war.
Isobel Koshiw and Anastasia Vlasova visited the scene of a Russian rocket attack on the Donbas town of Chasiv Yar, where at least 43 people died in the biggest loss of civilian life since April. We also reported on the dangers, even to swimmers, of mines off Ukraine's Black Sea coast, the prospects for a Ukrainian counterattack in the south, and a traffic jam of 130 grain ships attempting to exit Ukrainian territory via the Danube river.
Bethan McKernan and Sufian Taha were in Jenin ahead of Joe Biden's visit to the West Bank, where violence rages two months after the fatal shooting by Israeli troops of al-Jazeera reporter Shireen Abu Aqleh.
As Elon Musk surprised no-one by ditching his takeover of Twitter, we delved into the legality of tearing up the $44bn deal. Our US team put the Biden presidency under scrutiny, asking whether he'll be compared with a one-term Jimmy Carter, examining his sinking approval ratings at home and looking at possible alternatives to Biden, in 2024. We also published our latest report on 'forever chemicals' in the US detailing the harrowing impact of cancer and death on one poor community in North Carolina.
In our features sections, we had pieces as varied as the amateur investors ruined in the crypto crash; the British obsession with home ownership as seen through the prism of a single property chain; a 300-year-old violin, and a Brisbane choir that got a note from Kate Bush after their rendition of 'Running Up That Hill', possibly the happiest story of the week.
You might enjoy a video posted on Twitter by Max Rushden, Football Weekly presenter and sport columnist. After years of being mistaken for a man filmed dancing manically in a pub, and trolled accordingly, Max – with the help of Barry Glendenning, Jonathan Wilson, Philippe Auclair and Jordan Jarrett-Bryan – imitated it to minute detail. The video, broadcast at the close of the highly successful Football Weekly live shows this summer, was shared by Max for everyone to see this week.
So that's your rapid-fire roundup of the week.
Headlines for July 19
US weather / Towering waves in Hawaii crash into homes, barrel through wedding venue
July 20
Why the coming winter, not extreme heat, has Europe's leaders sweating
If Russia's war on Ukraine and an abusive relationship with Europe's main gas supplier in the Kremlin were not enough to focus minds on our climate-destroying fossil-fuel habit, the terrifying heat apocalypse of recent days should.

Record-breaking temperatures, wildfires, drought afflicting half of the territory of the EU and UK and states of emergency in five countries should be enough to put climate action at the top of every agenda. It was not, after all, a window-smashing Extinction Rebellion activist who this week warned of "collective suicide" but a veteran UN figure. Some experts believe temperatures of 50C will be experienced in Europe within a decade.

But geopolitics and the threat of an energy war with Russia leading to a long, cold, costly winter are undermining governments' commitment to existing climate targets, let alone any acceptance of the revolution that campaigners like George Monbiot says is needed.

Taking on fuel

First, the geopolitics. This week we find out if the Nord Stream 1 pipeline, which carries Russian natural gas to Europe, reopens on 21 July after annual maintenance. Vladimir Putin has hinted he could turn off the taps altogether.

Germany, most exposed economically, has already been panicked into reactivating dormant coal-fired power stations. Burning coal increases greenhouse gas emissions, and Germany is meant to exit coal completely by 2030. Robert Habeck, a Green economics minister no less, is overseeing this reversal of climate strategy – a "bitter" decision, he admitted.

Clearly, a short-term return to fossil fuels is preferable to letting people die of cold if Putin goes for broke. Frans Timmermans, the EU environment commissioner has said he believes that not only would this lead to civil unrest and even conflict, it would be politically disastrous for solving the climate crisis longer term.

Brussels on Wednesday prepared member states for a Putin gas shut-down, asking them to cut gas usage by 15%. Any mandatory gas-saving however could lead to tensions between countries. Even within European governments, splits are sharpening over how far consumers can be leant on to lower thermostats or cut driving speeds without provoking a backlash against sanctions. In the UK, green levies have surfaced as an issue in the Tory party's leadership race. Indeed, as Fiona Harvey explains, net zero is the new Brussels: "an object of hate and blame".

Get your act together

Susi Dennison of the ECFR thinktank and author of a report on Europe's climate challenges post-Ukraine told me that the EU urgently needs to establish "energy sovereignty" to be able to collectively stand up to Putin and at the same time decarbonise.

"But right now," she thinks, "European leaders are going about it completely the wrong way. The biggest mistake everyone is making is to treat this as a national problem: panic buying and doing bilateral energy deals instead of acting together".

Italy's embattled PM Mario Draghi has signed a batch of gas deals with Algeria, France is doing likewise with the UAE. But going solo is disastrous for the climate because it locks countries into higher prices and ongoing carbon dependency, Dennison said.

"This current situation, both the immediate evidence of climate change that we're seeing, and the necessity of moving away from reliance on Russia could be the impetus we need to accelerate away from fossil fuels. But there has to be more political honesty from our leaders about the costs."

Scroll down for more of our highlights from around Europe and stay up to date with the situation in Ukraine via our dedicated live blog here. And please share any feedback with us on europenow@theguardian.com.

Until next time,

Katherine Butler
Associate editor, Europe
Greece has long argued that it has history on its side. The crumbly white cheese, most commonly a mixture of sheep and goat's milk, was first recorded in the eighth century BC and was referenced by Homer in the Odyssey. Aristotle is said to have delighted in its distinctive taste and texture.
July 21
Taiwan / Ukraine war forcing China to rethink 'how and when' it may invade,
CIA chief says 'Help us stop this terror' / Ukraine's first lady pleads with US for more weapons
'They hunt us like stray cats' / Pro-Russian separatists step up forced conscription as losses mount
July 22
Boris Johnson / PM could face byelection if inquiry finds he misled MPs over Partygate
Live / US January 6 hearings: Trump 'kept resisting' calls to stop riot as Pence's security feared for their lives
Contraception / More than 160m women unable to get access they need, study finds
'Truly horrible' / Chaos as Australia's Glastonbury is hit by torrential rain and wild weather
July 23
Steve Bannon / Former Trump strategist convicted of contempt of Congress for defying subpoena
Live / Travellers face more chaos at Dover as France and UK trade blame over gridlock
July 24
Dover / Travel chaos is 'the new normal' after Brexit, British tourists warned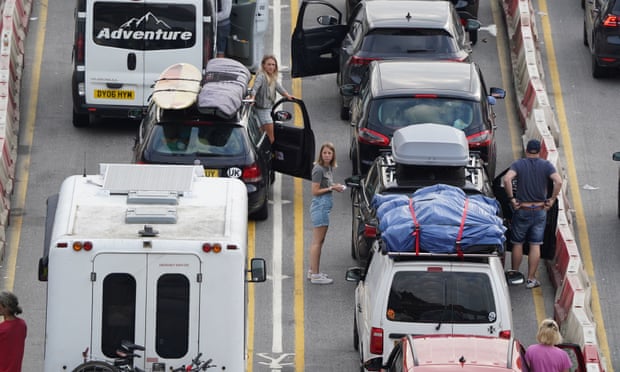 Long summer queues at the border risk becoming the "new normal" after Brexit, holidaymakers have been warned, as a fierce diplomatic row erupted with France over the lengthy tailbacks affecting Dover.Both Tory leadership candidates rushed to blame a shortage of French border staff for delays that saw some travellers waiting for hours. Former chancellor Rishi Sunak said the French "need to stop blaming Brexit and start getting the staff required to match demand".
Foreign secretary Liz Truss said she was in touch with her French counterparts, blaming a "lack of resources at the border".However, diplomats, French officials and border staff warned that the delays were a result of post-Brexit border arrangements struggling to cope in their first major test since Britain left the EU. It comes after holidaymakers faced extensive queues for a second day at Dover on Saturday, while there was also congestion on several major motorways as families across the country set out on their summer holidays.
+
Channel travel chaos continues with 'holiday hell' at Eurotunnel
Drivers were stuck for several hours on roads around Folkestone after the M20 was turned into a "lorry park" due to Operation Brock, the system designed to relieve congestion at busy times.
Transport experts said the traffic management system – introduced during Brexit – was causing "massive disruption" and urged the government to come up with a long-term solution.
Industrial action / Paralysis from Tory leadership race is damaging pay talks, say doctors and teachers
Monkeypox / WHO declares global health emergency as cases surge
Leadership race / Tories brace for 'blue on blue dogfight' in last round
Rishi Sunak and Liz Truss to face off after Penny Mordaunt is voted out, as party members prepare to pick PM
Analysis / Truss's late leapfrog into poll position
Theresa May / Ex-PM refuses to join standing ovation for Boris Johnson
Extreme weather / UK must learn to live with conditions, says cabinet minister
Kit Malthouse, chancellor of the duchy of Lancaster, says 'impacts of climate change are with us now'
Russia / Threat to occupy more territory in Ukraine
Sergei Lavrov's televised remarks give signal Kremlin is planning a campaign to annex more regions
Gas / EU urges member states to slash use by 15% to counter 'Russian blackmail'
Conservative leadership / Rishi Sunak steps up attack on Truss tax cuts as poll puts his rival well ahead
Former chancellor says opponent's economic policies risk stoking inflation and pushing up interest rates
Rishi Sunak has launched his strongest attack yet on his rival Liz Truss's economic policies, claiming her £30bn plans for unfunded tax cuts risk stoking inflation and pushing up interest rates.
His attack came as a new poll of Tory party members gave Truss a commanding lead in the race to become prime minister.
Tax and spending has become the key battleground in the hard-fought contest, with Sunak insisting that cutting taxes immediately, as Truss has promised, would risk exacerbating the cost of living crisis.
At a glance / What we know on day 149 of the invasion
Russia and Ukraine expected to sign deal on Friday to resume Black Sea grain exports; Moscow's forces 'about to run out of steam', UK intelligence chief claims
MI6 / Half of Russian spies in Europe expelled since Ukraine invasion, says chief 
Vladimir Putin / Ukraine calls for international tribunal to bring Russian president to justice more quickly
Ukraine / Kyiv and Moscow sign UN-backed deal to restart grain exports
Shipping of millions of tonnes from blockaded Black Sea ports could avert global food crisis
Analysis / Grain deal clears hurdles to get crops to market
Conservatives / Truss vows to scrap remaining EU laws by end of 2023 risking 'bonfire of rights'
Scale and complexity of task would be difficult in context of civil service cuts, say experts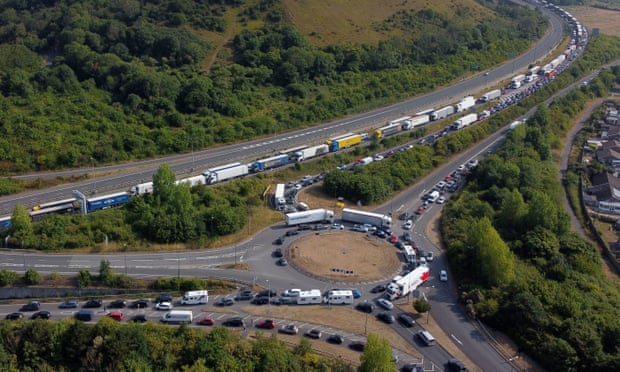 Anger over lack of cash for Dover upgrade as Tory candidates try to blame France for delays
At a glance / What we know on day 151 of the invasion
Russian missiles hit Odesa hours after deal to allow resumption of grain exports; US accuses Russia of deepening global food crisis
Odesa / Between port bombings and air raid sirens, life goes on
Live / Russia-Ukraine war: Ukraine pushes to restart grain exports from Odesa after missile attack
Analysis / How the war has robbed Ukraine's oligarchs of political influence