July 11
In the end, the anger on the streets of Sri Lanka finally breached the security, tear gas and rubber bullets that had helped President Gotabaya Rajapaksa to hold on to power.
The defining images that surrounded his resignation this weekend were of people jumping into the presidential pool, rifling through medicine cabinets, and helping themselves to food and drink — a reminder of the struggle to find basic goods in a country with inflation approaching 70%.
Key reading:
Some elements of the Sri Lanka story are unique — much of the bankrupt nation's pain can be linked back to poor economic policies pursued by the Rajapaksas. (At the start of the protests in March the president's cabinet included three brothers and a nephew.)
But Covid-19 and Russia's attack on Ukraine had a role in pushing the economy over the edge.
That makes it a cautionary tale for governments worldwide as they emerge from the pandemic and head straight into a global inflation crisis.
Euro-area finance ministers are meeting in Brussels today with the risk of recession growing as the likelihood of natural gas shortages rises and inflation remains at record levels.
In the UK, it's increasingly clear that the contest to succeed Boris Johnson as prime minister is becoming a tussle over hand-outs for households under severe financial strain.
In both cases, the discomfort is only likely to get more acute as winter approaches, with higher energy bills in tow.
From Asia to Latin America to the US, soaring prices make for angry voters and leaders everywhere are grappling with the challenge.
Sri Lanka shows the risk that inflation upends governments. What's less clear is the ability to fix things in a hurry.  — Muneeza Naqvi
Sri Lankans occupy the president's official residence yesterday. Photographer: Tharaka Basnayaka/NurPhoto/Getty Images
Gas hypocrisy | The European Union is rushing to import as much gas from Africa as possible to make up for the supplies lost to Moscow's invasion of Ukraine, but isn't interested in funding projects to help the world's poorest continent to burn more of the fuel at home. Neil Munshi, Paul Burkhardt and William Clowes explain that while African leaders are eager for the millions in revenue from energy deals, many see the sudden interest in their resources as a double standard that perpetuates the West's exploitation of the region.
Resuming partnership
| US relations with
Saudi Arabia
hit a low when
Joe Biden
became the American president and vowed to
isolate
Riyadh and its de facto leader Crown Prince
Mohammed bin Salman
over the 2018 murder of columnist
Jamal Khashoggi
by Saudi agents. Now, with global energy prices spiking,
Iain Marlow
outlines why Biden is visiting the kingdom this week and seeking to repair ties with the world's largest crude exporter.
July 12
Scrutinizing Trump | The House committee investigating the Jan. 6 attack on the US Capitol in 2021 will zero in today on whether former President Donald Trump conspired with or encouraged far-right extremists who carried out the insurrection. Billy House and Chris Strohm lay out some key things to watch for.
Air power | Iran is preparing to provide Russia with hundreds of drones including some capable of carrying weaponry, US National Security Advisor Jake Sullivan told reporters, adding that the Islamic Republic may begin training Russians to use them this month. Moscow has relied heavily on the unmanned aircraft in its invasion of Ukraine, while the US has supplied drones to the government in Kyiv.
Next generation | While Sri Lanka's President Gotabaya Rajapaksa is set to resign tomorrow, faced with widespread anger against his family's rule, a younger relative is looking to the future. Sudhi Ranjan Sen reports that his 36-year-old nephew, Namal Rajapaksa, is already thinking of how the dynasty can salvage its reputation.
Laid to rest | A private funeral was held in Tokyo today for family and associates of former Prime Minister Shinzo Abe, whose assassination last week shocked Japan. Current premier Fumio Kishida pledged to pursue Abe's policies, including attempts to change the country's pacifist constitution to bolster its defenses. Crowds lined the streets outside a Buddhist temple where the ceremony took place.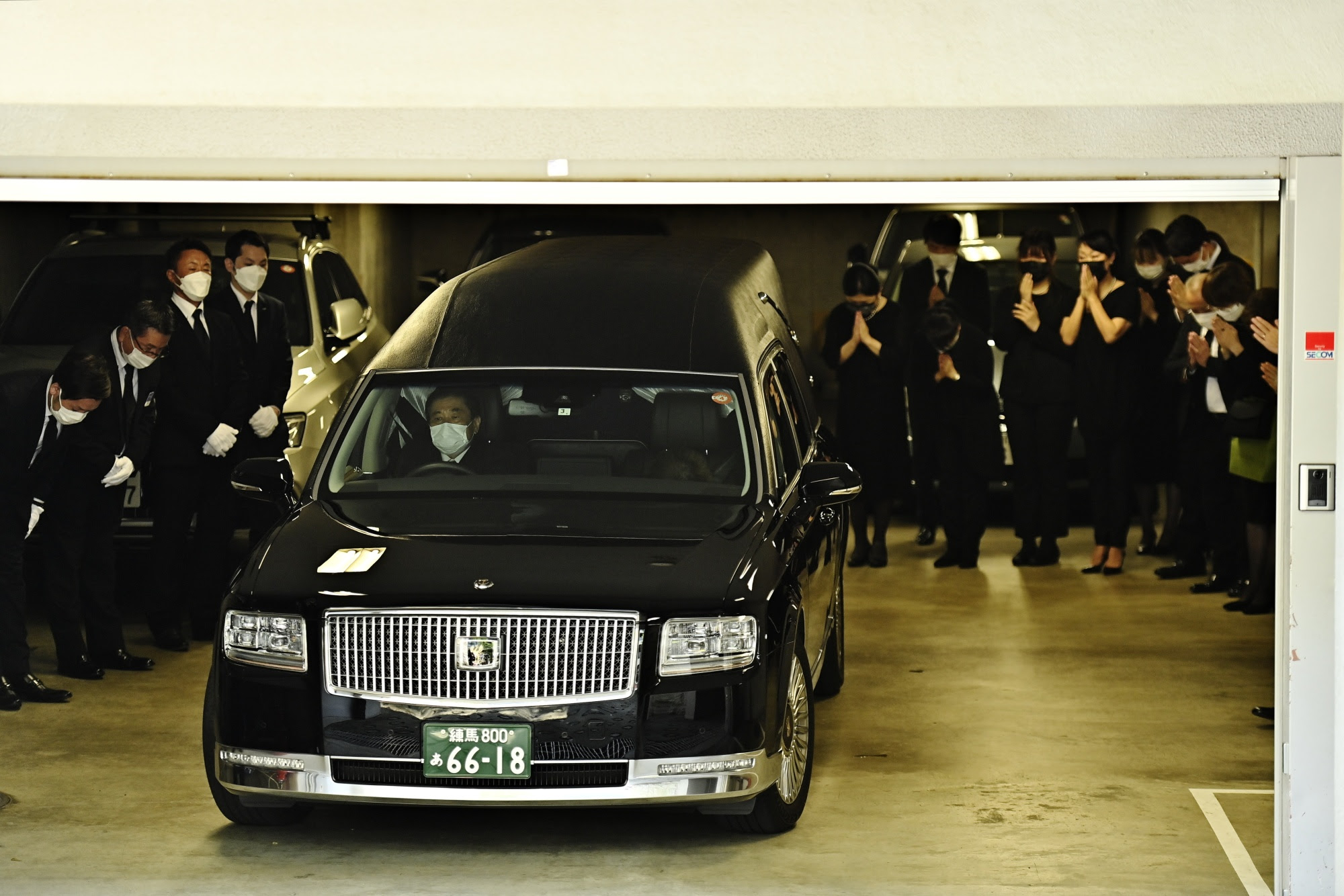 Akie Abe, wife of Shinzo Abe, prepares to leave her residence with her husband's body. Photographer: David Mareuil/Anadolu Agency/Getty Images
July 13
Money, fame and power are three things Donald Trump cares dearly about.
So when Elon Musk, who currently beats him on all those counts, tells the former US president to "hang up his hat & sail into the sunset," it stings.
Key reading:
The dressing down was all the more irritating given how it was delivered: in a casual tweet the same day Twitter sued its most famous user for trying to back out of a $44 billion deal to buy it. Trump can't tweet back since he's been banned from the social media tool he deployed so masterfully in office.
Instead, he's been lashing out at a rally in Alaska and from the virtual sidelines, calling Musk a "bullsh*t artist" among other things. The reason is that the world's richest man backs a Republican for 2024 presidential elections who isn't Trump.
Musk also called Trump out on his age — a delicate topic not just for the former president but also the current occupant of the Oval Office, Joe Biden, three years Trump's elder at 79.
Musk backs 43-year-old Ron DeSantis, the charismatic Florida governor and Trump acolyte who has dialed up the Make America Great Again mantra several notches.
Trump has reason to be worried. The Jan. 6 hearings into the 2020 attack on the US Capitol he tried to dismiss as boring have been everything but, and exposed just how erratic he'd become in his final days in power. A new poll shows nearly half of Republican voters would cast a ballot for someone other than him in 2024.
Trump is expected formally to announce he's running again as soon as this month — the logic being to snuff out whispers about his loosening grip on the GOP. But it might be too late for that. — Flavia Krause-Jackson
Political chaos | Sri Lankan President Gotabaya Rajapaksa fled to the Maldives on a military aircraft, having failed to fulfill a promise to resign that he made after protesters angry at his government's role in leading the country to bankruptcy stormed his official residence over the weekend. Prime Minister Ranil Wickremesinghe — who had also vowed to quit but was instead installed as acting president — imposed a state of emergency as demonstrators occupied the president's office and took over the national broadcaster.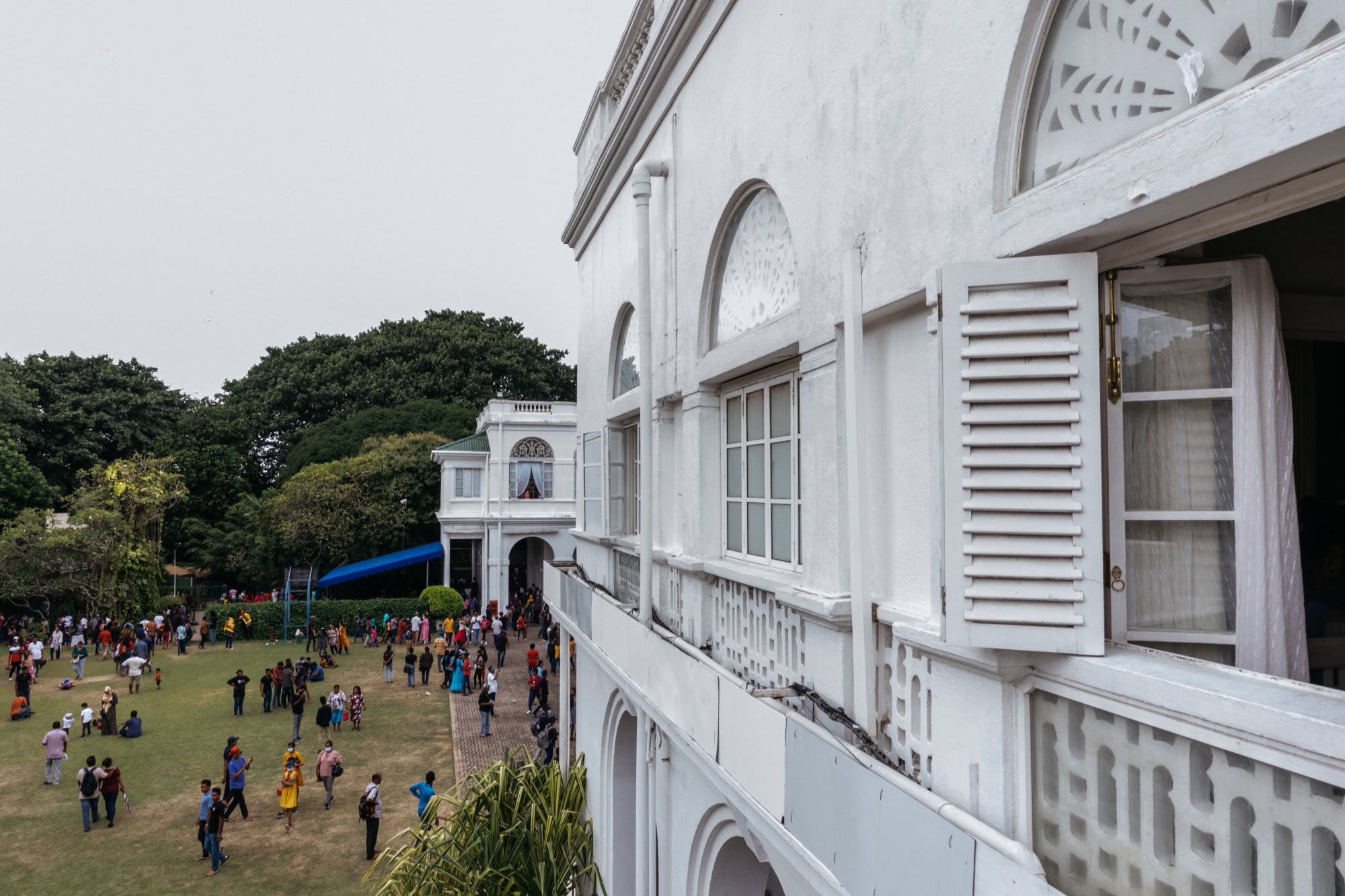 Protesters at the Presidential Palace in Colombo on Sunday.
Photographer: Jonathan Wijayaratne/
Bloomberg
Mideast mission | Biden will seek to salvage relations with Saudi Arabia in a Middle East tour that starts today in Israel. The hope is that restoring relations with Crown Prince Mohammed Bin Salman will secure a boost in Saudi oil production and help ease pump prices battering Biden's approval ratings at home. But a deal is far from a given.
President Xi Jinping has used his power in China to impose the world's strictest controls against Covid-19, yet there's one pandemic measure he hasn't pushed: vaccines. A first attempt at a mandate for shots was aborted last week after a plan to stop people entering public venues in Beijing without proof of vaccination sparked an outcry, with Chinese social media users calling it an illegal curb on their freedoms and questioning how effective the vaccines are.
A Covid-19 testing station in Shanghai.
Photographer: Qilai Shen/
Bloomberg
July 14
To shake hands or not to shake hands?
For all the talk of oil, the biggest dilemma facing US President Joe Biden when he visits Saudi Arabia this week could come down to how he greets the crown prince he long spurned.
Key reading:
Biden began his first Middle East trip yesterday with an itinerary carefully choreographed to reset relations with the world's biggest oil exporter without appearing too friendly with Mohammed bin Salman, who the US accuses of masterminding the 2018 murder of Washington Post columnist Jamal Khashoggi.
Biden entered office pledging to turn Saudi Arabia into a pariah, rejecting any interaction with MBS, as the crown prince is known, and freezing arms sales.
A decision to "reorient" came as Russia's invasion of Ukraine sent American gasoline prices soaring, months before Congressional midterm elections.
Saudi Arabia repeatedly shrugged off US pleas to pump more oil, with OPEC+ agreeing a small bump after months of shuttle diplomacy and the promise of a Biden visit.
With the trip not expected to yield major foreign policy wins for Biden, the optics are attracting all the attention.
His first stop was Israel — not Saudi Arabia. The Jeddah leg will last barely a day and involve a gathering of Arab allies, avoiding the appearance the president was going specifically for MBS, though Saudi commentators are painting the visit as a win in itself.
Biden will meet the Saudi king, crown prince and others tomorrow. No one-on-one has been announced so far, nor any joint speech or airport ceremony.
That potentially allows Biden to avoid being photographed shaking Prince Mohammed's hand, after efforts to dodge the issue by sticking to Covid-appropriate fist bumps crumbled in Israel. — Lin Noueihed
Prince Mohammed in Ankara, Turkey, on June 22. Photographer: Burhan Ozbilici/AP Photos
Making progress | Negotiations to unblock millions of tons of Ukraine's grain exports were constructive, according to the government in Kyiv, the United Nations and Turkey, which hosted the talks that included Russia. The parties agreed on the "main technical principles" and are expected to meet again next week, Turkey said. Moscow also said talks will continue.
Inflation is certainly running hot, with the June Consumer Price Index rising 9.1% from a year earlier, a rate not seen since 1981. Inflation expectations, however, have softened significantly. The US five-year breakeven inflation rate, which indicates the inflation rate that market participants expect in five years' time, has dropped by more than a percent since April. That does not mean that inflation is disappearing right now, but rather that the market does not expect today's levels to persist in the future.
There is the theory of what a global energy cost modeling exercise indicates, and there is the practice of what energy market participants have committed to do. The UK's latest renewable energy auction, in which developers of renewable energy projects offer their lowest feasible prices for selling power in the future,  is the clearest indication we have that the industry expects lower costs.
July 15
It wouldn't be summer in Europe without a bubbling political crisis in Rome. After almost 18 months of (relative for Italy) stability under the technocratic leadership of Mario Draghi, the wheels are starting to fall off.
Draghi, the former European Central Bank chief, now has less than a week to either navigate difficult compromises with fractious factions in his government, or make good on his offer to step down.
Key reading:
Neither outcome is likely good for Italy in the longer run, and investors are nervous about the outlook for the euro area's third-largest economy, with the spread between Italy and Germany's yield — a gauge of risk in the region — widening to 213 basis points.
The latest drama was triggered after Draghi's coalition partner, the Five Star Movement, boycotted a confidence vote in the senate as it criticized the level of government aid to families. Italy, like other countries in Europe, faces the challenge of higher energy costs, rising inflation in general and a heavier debt burden.
Draghi could govern on without Five Star, and none of the major parties seem keen to tip this into an early election. But it would leave him weakened and more reliant on other groups in his coalition, something he is clearly not keen to do. Either way he will find it harder to enact his ambitious reform agenda.
More broadly the problems in Italy come at an inopportune time for a region that needs to maintain cohesion on fiscal policy and on the response to Russia's war in Ukraine.
Draghi is due to address parliament early next week, where he may shed light on his next steps. But in the meantime the political maneuvering in Italy will rumble on. — Chiara Albanese 
Draghi listens during a debate at the senate on Tuesday.
Photographer: Alessia Pierdomenico/
Bloomberg
Shadow team | Donald Trump's former aides are preparing a shadow administration that can take charge if he returns to the White House as he hints he's preparing to make another run for president. The nonprofit America First Policy Institute has assembled a team for him or any other potential Republican victor in the 2024 election to avoid the missteps of his first presidential transition.
Resurgent virus | China reported its highest daily Covid-19 case tally in seven weeks as a new cluster emerged in the southern province of Guangxi, underscoring the difficulty of achieving the country's Covid Zero strategy in the face of more infectious strains. The country announced 432 infections for yesterday, up from 292 a day earlier.
July 16 – July 17
US President Joe Biden made a tour of the Middle East as high fuel prices compelled him to backtrack on an earlier vow to isolate Saudi Arabia.
In Europe, the UK's main candidates to replace Boris Johnson as prime minister traded barbs over the future of the ruling Conservative party, while Italy's president rejected Premier Mario Draghi's resignation as the country slid into political crisis.
Sri Lankans celebrated after protests forced President Gotabaya Rajapaksa to quit and flee to Singapore. In China, President Xi Jinping made a stop of the Xinjiang province, where activists and Western governments say officials are committing human rights violations against the Uyghur minority.
Biden bumps fists with Israel's caretaker prime minister, Yair Lapid, following his arrival at Ben Gurion Airport near Tel Aviv on Wednesday. Photographer: Jack Guez/AFP/Getty Images
Draghi Is Signaling That He's Determined to Quit Government
Draghi has signaled he's determined to resign as Italy's prime minister. As Chiara Albanese and Alberto Brambilla report, that would throw Italy into turmoil just as Europe is contending with an energy crisis fomented by Russia's war in Ukraine.