July 05
Energy shortfalls were always part of the equation in the response to Russia's invasion of Ukraine. But few were prepared for gas becoming a second front in President Vladimir Putin's wider conflict with the US and its allies.
In less than five months of war, Moscow has retaliated against successive waves of international sanctions by tightening its supplies of natural gas to Europe. That's contributed to a spike in prices, stoking inflation that's hitting consumers and governments from the UK to Bulgaria.
Key reading
It's also triggered a free-for-all as Europe competes on the global stage to secure alternatives to Russian gas. With no time to build pipelines, countries from the Americas to the Middle East and Africa are being courted for shipments of liquefied natural gas.
But there isn't enough to go around. The result is that gas now rivals oil as the driver of geopolitics.
Plans to tackle climate change are falling victim as a result, even as a record drought in Italy highlights the costs of inaction.
A tighter squeeze is still to come.
At the outbreak of the war, Germany put on ice the Nord Stream 2 pipeline that was due to start gas flows from Russia. Now, the first Nord Stream is about to undergo maintenance and Berlin is warning that Moscow may not bring it back online, risking the collapse of industries as Putin blackmails Europe's largest economy.
Chancellor Olaf Scholz's government, already in talks with gas giant Uniper over a possible bailout of as much as 9 billion euros, is preparing legislation that would enable the state to take stakes in further struggling energy companies.
Ukraine is suffering the frontal assault in this war. The rest of Europe, in aligning with Kyiv against Moscow, is straining with the repercussions too. — Alan Crawford
Storage tanks at the Leuna refinery and chemical industrial complex in Germany, on June 7.
Photographer: Krisztian Bocsi/
Bloomberg
What we know | From then-President Donald Trump demanding to join the mob attacking the US Capitol to even his daughter doubting his claims of election fraud, the revelations from the House committee investigating the Jan. 6, 2021 insurrection have become must-see television. Billy House takes a look at the most notable moments in the six sessions so far.
Trade talks | Senior US and Chinese officials discussed American economic sanctions and tariffs today amid reports the Biden administration is close to rolling back some of the trade levies imposed by Trump. China said Vice Premier Liu He and Treasury Secretary Janet Yellen discussed stabilizing global supply chains, while the US said Yellen raised the issue of Russia's war against Ukraine and "unfair" economic practices from Beijing.
China's elderly are an exception to the one consistent silver lining to Covid-19 outbreaks. While more cases usually trigger a surge in vaccinations, the number of fully immunized people in Shanghai aged 60 or above increased just one percentage point after a two-month lockdown ended in mid-June, despite hundreds of deaths. 
July 06
Boris Johnson has faced growing pressure over his leadership as UK prime minister for months. So when Health Secretary Sajid Javid and Chancellor of the Exchequer Rishi Sunak dramatically resigned within minutes of each other late yesterday, many thought it was game over.
Yet Johnson, whose nicknames include "Teflon" and the "greased piglet," clings on to power. He swiftly replaced the two men, promoting Education Secretary Nadhim Zahawi to Chancellor — who wasted no time in hinting at tax cuts in media interviews, red meat to Conservative Party members.
Key reading:
The question now is how long Johnson can ride out the crisis. He faces MPs today at Prime Minister's Questions and again at a committee hearing of senior lawmakers, with his team on high alert for any hint of a plot among his remaining cabinet ministers to oust him.
Allies judge he'd struggle to survive if more than six top ministers quit, but would absorb the blows and go on if further resignations are limited to junior figures.
Those resignations are coming. Children's Minister Will Quince quit early today, pointing to "inaccurate" Number 10 briefings he received before speaking to the media.
Resisting pressure | Russia appears on track for a much shallower recession than many forecasters initially expected this year, boosted by rising oil production that has blunted the impact of US and European sanctions over President Vladimir Putin's war in Ukraine. Economists are slashing their outlooks for the drop in output, dismissing early fears that it could be the deepest in a generation.
July 07
As Boris Johnson prepares to stand down as UK prime minister — after an avalanche of resignations from his government — one man who must be enjoying the show is Vladimir Putin.
Johnson has, among other things, described the Russian president as a "crocodile" for his invasion of Ukraine. The UK has been one of Kyiv's biggest supporters, sending it weapons and money and joining allies in slapping sanctions on Moscow.
Key reading
The chaos engulfing Johnson and his administration is red meat for the propaganda machine that blankets Russian airwaves, not just about the conflict in Ukraine but its key allies like the UK. It fits Putin's narrative about the "West" lecturing others and ignoring its own failings.
The Kremlin will no doubt relish the fact that less than two weeks after the Group of Seven pledged to stand by Ukraine for the long haul, the UK is just one of its number suffering domestic turmoil.
Italy's ruling coalition is in trouble and France's Emmanuel Macron is politically weakened. With Russia putting the squeeze on energy, Germany is struggling just to keep the lights on, while Joe Biden is fighting a losing battle in the US against inflation.
There are real risks from such political drama, most notably in the UK.
With British politicians jostling to secure a prime spot in a new government, the gaze could move off Ukraine and its ongoing needs.
At a time that the US and its allies have been talking about potential price caps on Russian oil and gas and other penalties for Putin's war, it is hard to see anyone in London available to get on the phone to discuss them with authority or to speak with top Ukrainian officials.
Meanwhile, the UK's own problems are piling up. There are more transport strikes looming, British airports have faced disarray, inflation is running high and poverty is spiking.
If Johnson makes good on his plan to remain as caretaker premier until October, it will guarantee months of political infighting, and the drama over who will replace him leaves the UK in limbo.— Rosalind Mathieson
Johnson meets Ukrainian President Volodymyr Zelenskiy in Kyiv on June 17. Photographer: Ukrainian Presidential Press Office /AP
Brazil's top electoral authority warned the country may face post-election riots worse than those at the US Capitol when Trump's supporters tried to overturn his 2020 defeat. Supreme Court Justice Edson Fachin urged Brazilians to support officials when they declare the results of October's presidential vote. Incumbent Jair Bolsonaro has repeatedly questioned the reliability of Brazil's electronic voting system, without offering evidence.
Yemen Shiite Houthi rebels have set a new condition for partially lifting the siege of the city of Taiz as a part of the truce which went into effect April 2.
July 08
It's hard to overstate the shock in Japan at the assassination of former Prime Minister Shinzo Abe. Of the many questions, one is how this will change life for everyday citizens.

Unlike the US, where mass shootings are commonplace, Japan already has some of the toughest gun laws in the world. While civilians are able to obtain weapons following extensive background checks and licensing requirements, reports said the shooter — a former military man whose motives remain unclear — used a homemade shotgun.

Key reading:

It's likely that Japan will see more security at political events like the one Abe was speaking at when he was shot, a shift in a nation known as one of the safest in the world. Still, the rarity of incidents like today's show the extent to which Japan's laws are largely working.

The murder will almost certainly help Abe's Liberal Democratic Party sweep the upper house in Sunday's voting. Ruling party officials have vowed to press ahead with the election with stepped-up security, calling the shooting an attack on democracy.

That will likely consolidate the position of Prime Minister Fumio Kishida, who took power last October and has backed "Abenomics" policies, including monetary easing by the central bank.

Even after leaving office, Abe remained an advocate of boosting defense spending and changing Japan's pacifist constitution in light of new threats from China, North Korea and Russia. He had also warned against the dangers of a Chinese invasion of Taiwan, an issue that has gained traction among the public.

It's unclear if Kishida will do much on that front, even as he has taken a bolder stance against China in recent months.

Yet as geopolitical tensions rise in Asia, Abe's views on the military will have a lasting impact on Japan's political discourse for years to come.
— Daniel Ten Kate
Abe inspects an honor guard at the Ministry of Defense in 2019.  Photographer: Tomohiro Ohsumi/Getty Images 
Diplomatic blitz | China is trying to counter Washington's accusations that Beijing is undermining security in Asia, with Foreign Minister Wang Yi mounting a diplomatic blitz just as his US counterpart takes part in Group of 20 meetings in Bali. His 11-day trip is part of China's push to offer an alternative to the US Indo-Pacific Strategy and assuage fears that China could mirror Russia and take military action to solve disputes such as its claims on Taiwan.
Reality check | The Philippines' newly installed president, Ferdinand Marcos Jr., is finding that his campaign pledges of a building binge, more jobs, cheaper food and tax breaks are running into the nation's tight funding constraints. The first signals from his new administration are that populism will have to wait.
A military recruitment plan in India is turning the spotlight on an unemployment crisis plaguing the $3.2 trillion economy. The new policy looks to enlist young men as soldiers on four-year contracts without pensions, replacing the current 15-year service that entails full retirement benefits. Vrishti Beniwal and Bibhudatta Pradhan report on the furious backlash from many who pin their hopes on the army for a secure future.
July 09
Former Prime Minister Shinzo Abe — Japan's longest-serving premier and a figure of towering influence — was assassinated during a campaign event, shocking a nation where both political violence and guns are rare.

It was finally one scandal too many for British Prime Minister Boris Johnson who announced his intention to step down following mass resignations of members of his government and set off a search among the ruling Conservatives for his replacement.

The foreign ministers of the Group of 20 nations met in Bali, with Russia, China and the US all in attendance. Washington hoped to forge agreements with like-minded countries over Ukraine on the sidelines.

Delve into these and more of Bloomberg's top political stories from the past seven days in this edition of Weekend Reads. — Muneeza Naqvi
A news report on Abe's assassination on a screen in the Shibuya district of Tokyo. 
Photographer: Kentaro Takahashi/
Bloomberg
Click here for this week's most compelling political images and share this newsletter with others. They can sign up here.
Shooting of Japan's Ex-Leader Shocks Nation Where Guns Are Rare
The last time a current or former Japanese prime minister was shot and killed was 90 years ago. It's a measure of just how rare and shocking gun violence is in the country, where ownership of firearms is strictly controlled, report Reed Stevenson and Kanoko Matsuyama.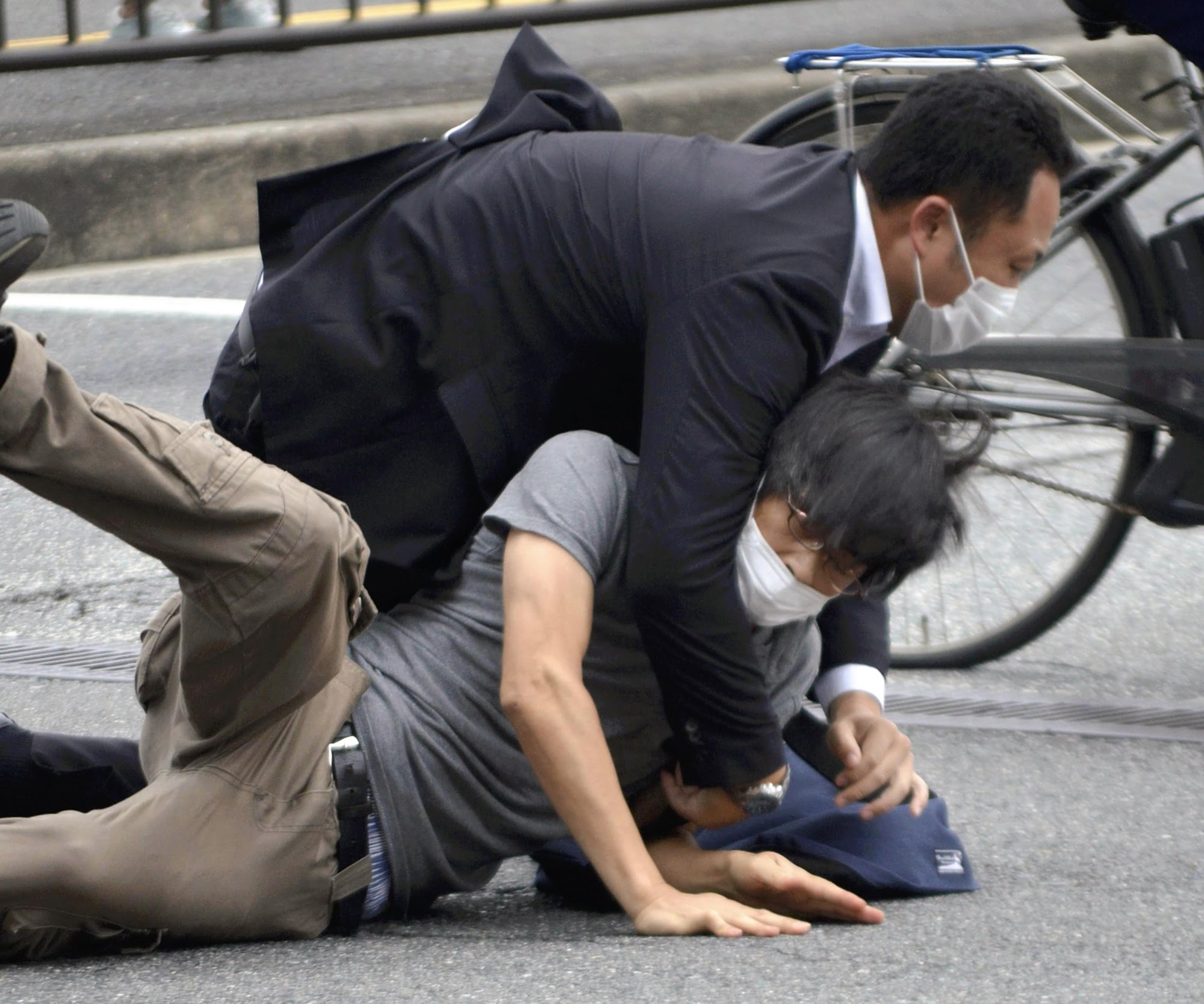 A suspect is apprehended after Abe was shot. Photographer: Takashi Yamazaki/Yomiuri Shimbun
Boris Johnson's Plan to Drag Out His UK Departure Is Under Pressure
Boris Johnson may still be in Downing Street after announcing his intention to resign, but his plans for a long-drawn retreat are under threat. Emily Ashton, Joe Mayes, and Kitty Donaldson write about how the ruling Conservative Party is urgently drawing up plans for an accelerated contest to choose his successor by end-summer.
Race to Succeed Boris Johnson Kicks Off as Sunak Makes Move
The race to succeed Boris Johnson as UK prime minister began in earnest as former Chancellor of the Exchequer Rishi Sunak announced his candidacy, vowing to "restore trust" in politics, Emily Ashton and Joe Mayes report.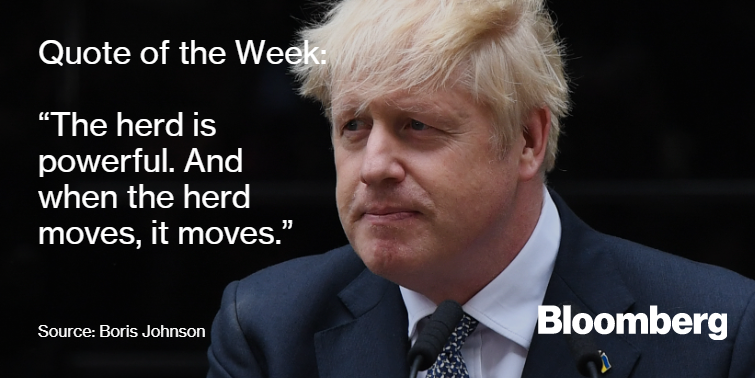 Russia's Brain Drain Is Officially Underway
Georgia's government estimates that 80,000 Russians and Belarusians have moved to the small Caucasus nation of 4 million as a result of Moscow's invasion of Ukraine. Of those, 20,000-25,000 work in IT and software, a group eagerly sought after from countries ranging from Israel to the US, Marc Champion and Helena Bedwell report.
Natural Gas Soars 700%, Becoming Driving Force in New Cold War
Natural gas is posting price jumps that are extreme even by the standards of today's turbulent markets — some 700% in Europe since the start of last year — pushing the continent to the brink of recession. Gerson Freitas Jr, Stephen Stapczynski and Anna Shiryaevskaya write about how the scramble to fill that gap is turning into a worldwide stampede.
Best of

Bloomberg

Opinion
Biden Turns to Direct Attacks on Trump as Midterm Elections Near
President Joe Biden accused former President Donald Trump of "dismissing and ignoring the forgotten people he promised to help" in an unusually blunt attack, indicating that the White House may be trying to turn the midterm elections into a referendum on his predecessor, Jordan Fabian and Justin Sink report.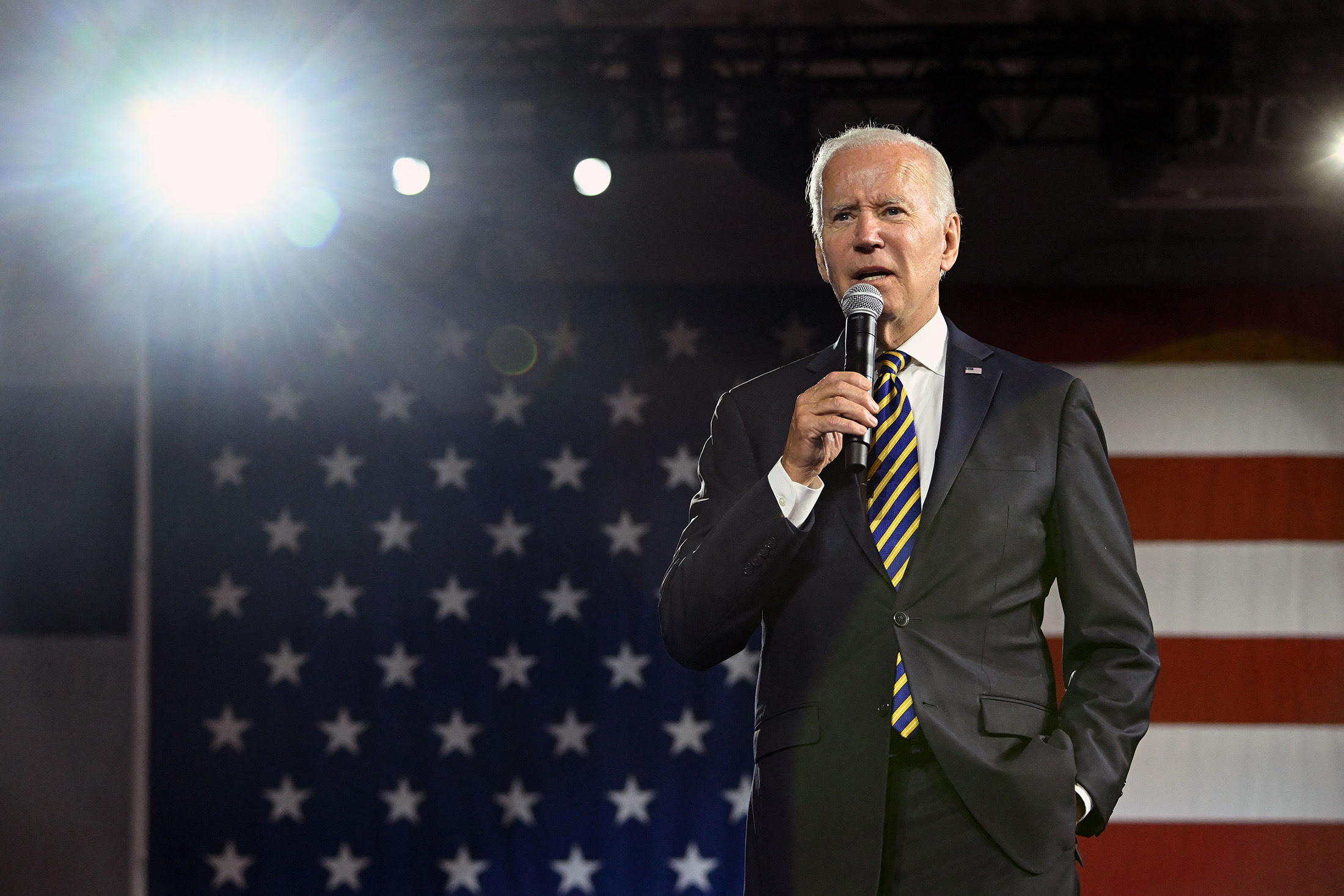 Biden speaks at an event in Cleveland, Ohio, on Wednesday. Photographer: Saul Loeb/AFP
Jan. 6 Hearing Revelations Include Angry Trump, Risk to Pence
A House committee investigating the assault on the US Capitol promised revelations in the televised hearings that began last month. It has so far delivered. From Trump demanding to join the mob attacking the Capitol to even his daughter doubting his claims of election fraud, as Billy House writes, the revelations have become must-see television.
Xi's Suppression of Hong Kong Hardens Taiwan Opposition to China
A year before Britain handed Hong Kong back to China, then-President Jiang Zemin hailed the "one country, two systems" plan for the city as a model for China to one day unify with Taiwan. For Taipei, though, the proposal has never been an option, Samson Ellis and Adrian Kennedy explain.
People wave Chinese flags on the 25th anniversary of Hong Kong's return to Chinese rule in Hong Kong, on July 1, 2022. 
Photographer: Billy H.C. Kwok/
Bloomberg
Chile Delivers Final Constitution Draft as Skepticism Runs High
Chile's Constitutional Convention presented its final version of the charter to President Gabriel Boric, marking a shift away from the current document implemented under the 1973-1990 military dictatorship. As Eduardo Thomson writes, with a referendum set for Sept. 4, voters are questioning the changes on everything from social rights to political rules.
Burning Trains Reveal Wrath of Millions Without Jobs in India
A military recruitment plan in India is turning the spotlight on an unemployment crisis plaguing the $3.2 trillion economy. The new policy looks to enlist young men as soldiers on four-year contracts without pensions. Vrishti Beniwal and Bibhudatta Pradhan report on the furious backlash from many who pin their hopes on the army for a secure future.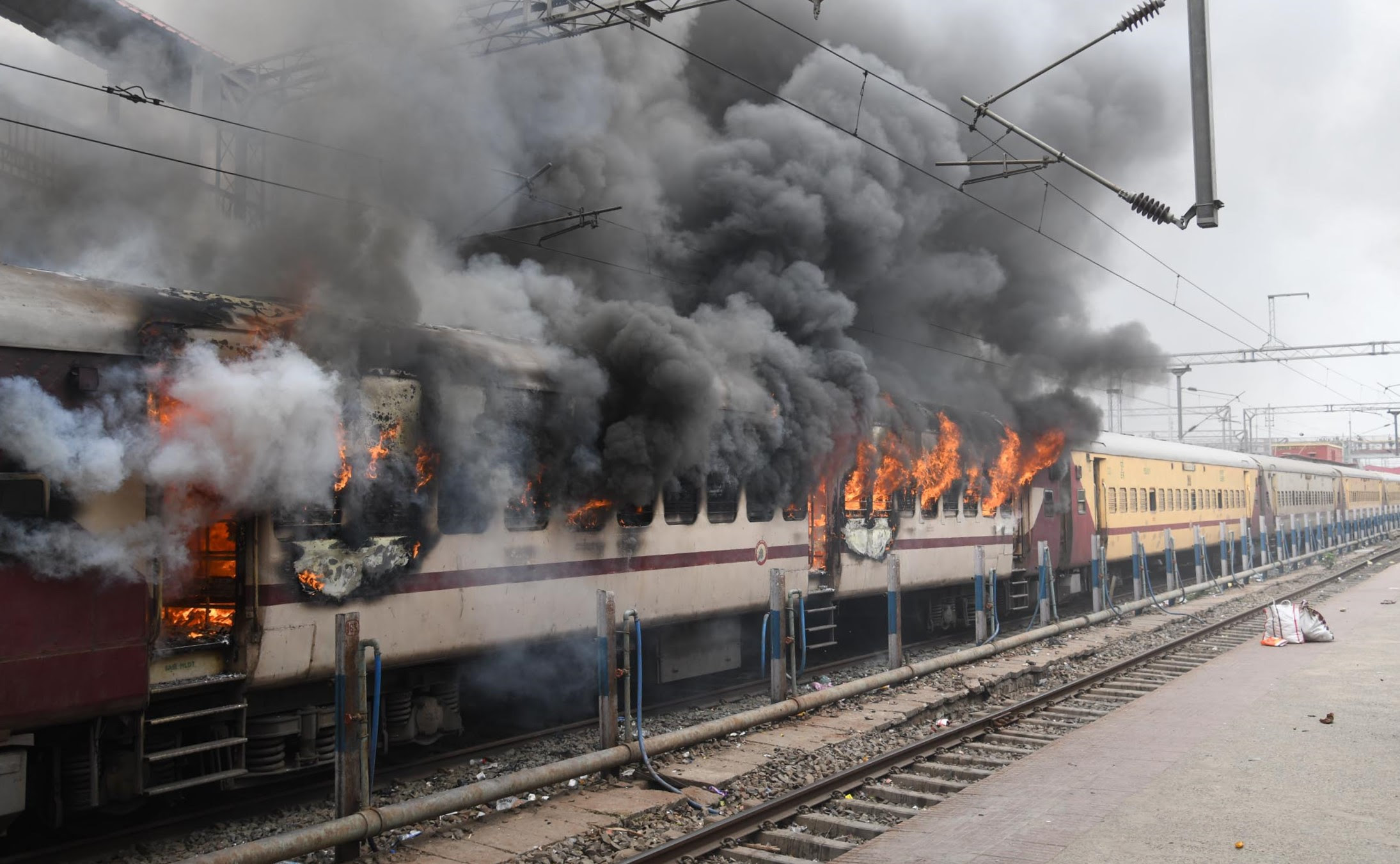 A train set ablaze during a protest against India's new army recruitment plan at Danapur Railway Station on June 17.​​​​​ Photographer: Hindustan Times/Hindustan Times
Explainers you can use
And finally … As Crown Prince Mohammed bin Salman races to diversify Saudi Arabia's oil-dependent economy, the $620 billion Public Investment Fund — which he chairs — is taking center stage. Vivian Nereim explains how it's supplanting a pedigreed business class to become one of the most powerful institutions in a fast-changing economy.
The crown prince presents 'The Line', a smart linear city within the Neom development, in 2021.