June 20
Electoral setback | French President Emmanuel Macron's reform agenda is in peril after his alliance failed to secure a majority in parliamentary elections, with strong showings by both the left and far right. As Ania Nussbaum and Samy Adghirni write, he'll have a hard time passing legislation including plans to increase the retirement age and change the tax system.
Present past | Surging inflation, a risk of recession and labor strikes this week have spurred echoes of the 1970s in the UK. Prime Minister Boris Johnson's government and the Bank of England are confronting the deteriorating outlook by keeping tight control on pay and signaling quicker interest-rate increases. That may tip the economy into a more protracted downturn, bringing further political hazard for Johnson as he struggles to stabilize his administration.
The World Food Programme is
cutting
 rations for refugees by as much as half, as it faces a hunger crisis worsened by the war in Ukraine and funding constraints.
Reassessing China | Nearly one in four European companies in China are considering shifting their investments out of the country as Covid-19 outbreaks and lockdowns dim the outlook for the world's second-largest economy, according to a survey by the EU Chamber of Commerce in China.
US officials plan to reject a vague new assertion by China that the Taiwan Strait is not "international waters" and are concerned the stance could result in more frequent challenges at sea for the democratically governed island, sources say.
Lawyer crackdown | Authorities in Hong Kong are ramping up pressure on lawyers who defended some of the 10,000 protesters arrested during the 2019 anti-government rallies. Attorneys have been targeted for alleged misconduct including aiding democracy activists, prompting some prominent human rights defenders to leave the financial hub.
June 21
Price cap | Treasury Secretary Janet Yellen said talks are continuing on how the US and its allies might limit the price paid for Russian oil, possibly through a plan that gets around a European ban on insuring Russian crude shipments. The price caps under discussion are aimed at restricting "energy revenues to Russia while preventing spillover effects to the global economy," she said.
Status symbol | The European Union's 27 states are set to formally grant Ukraine candidate status at a summit late this week, the first step toward its eventual membership, with no objections at a meeting yesterday of EU ambassadors. The bloc is also set to back candidate status for Moldova, and for Georgia once it meets additional conditions, Alberto Nardelli, Chiara Albanese and Samy Adghirni report.
Going south | China's Covid-19 outbreak is shifting to its south coast, with a flareup in technology hub Shenzhen triggering mass testing and a lockdown of some neighborhoods. Nearby gambling enclave Macau, meanwhile, is racing to stop its first outbreak in eight months as China's two most important cities, Beijing and Shanghai, look to be subduing the virus after months of strict curbs and repeated testing.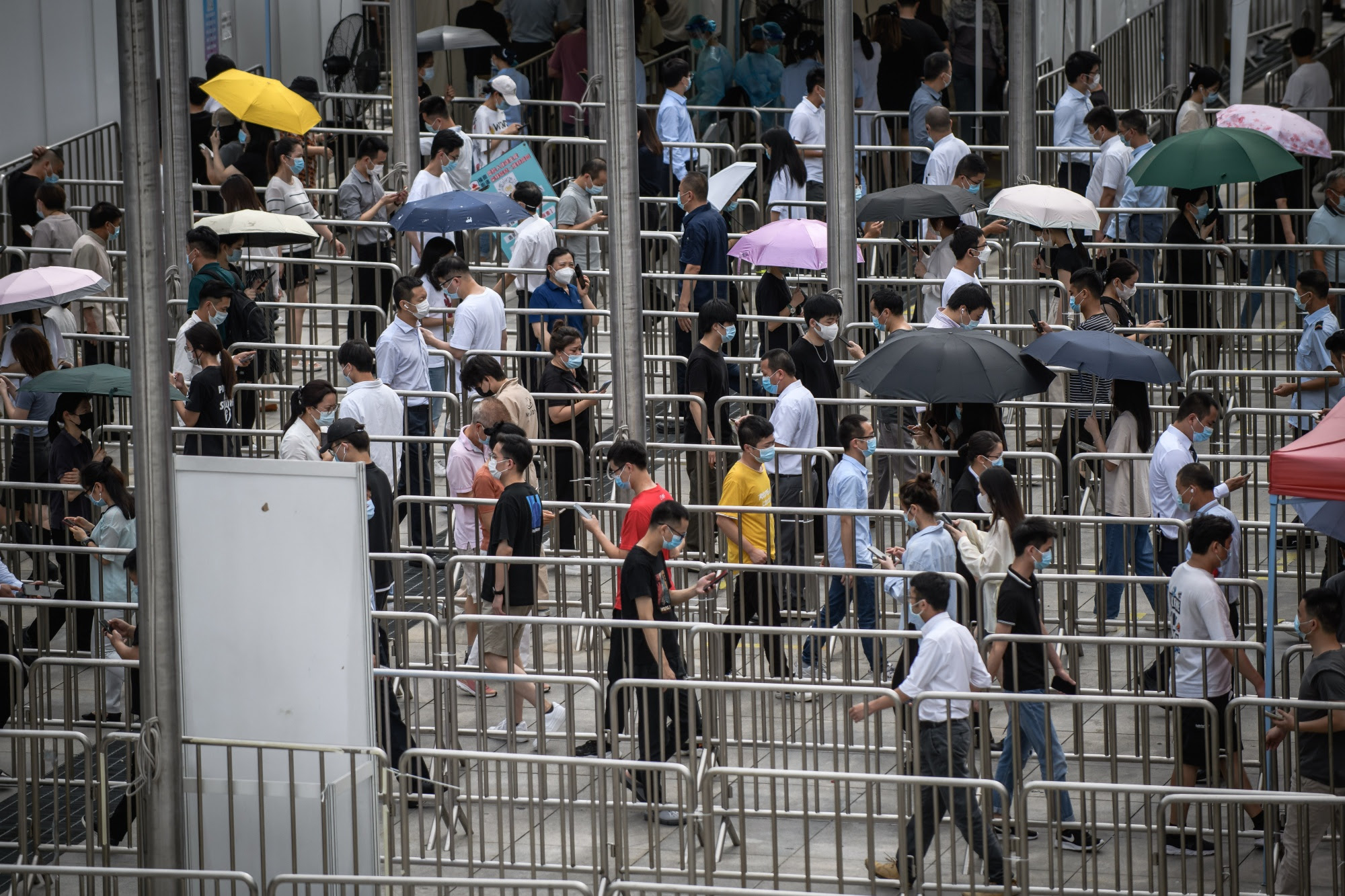 Residents in Shenzhen at a Covid-19 testing site on June 6. Source: Anadolu Agency/Getty Images
June 22
Warplane incursion | Twenty-nine Chinese military aircraft entered Taiwan's airspace yesterday, one of the largest sorties of warplanes dispatched to the island this year. The deployment came days after the US rejected vague new claims by China over the Taiwan Strait, and amid reports of arms sales talks with Taipei in Washington.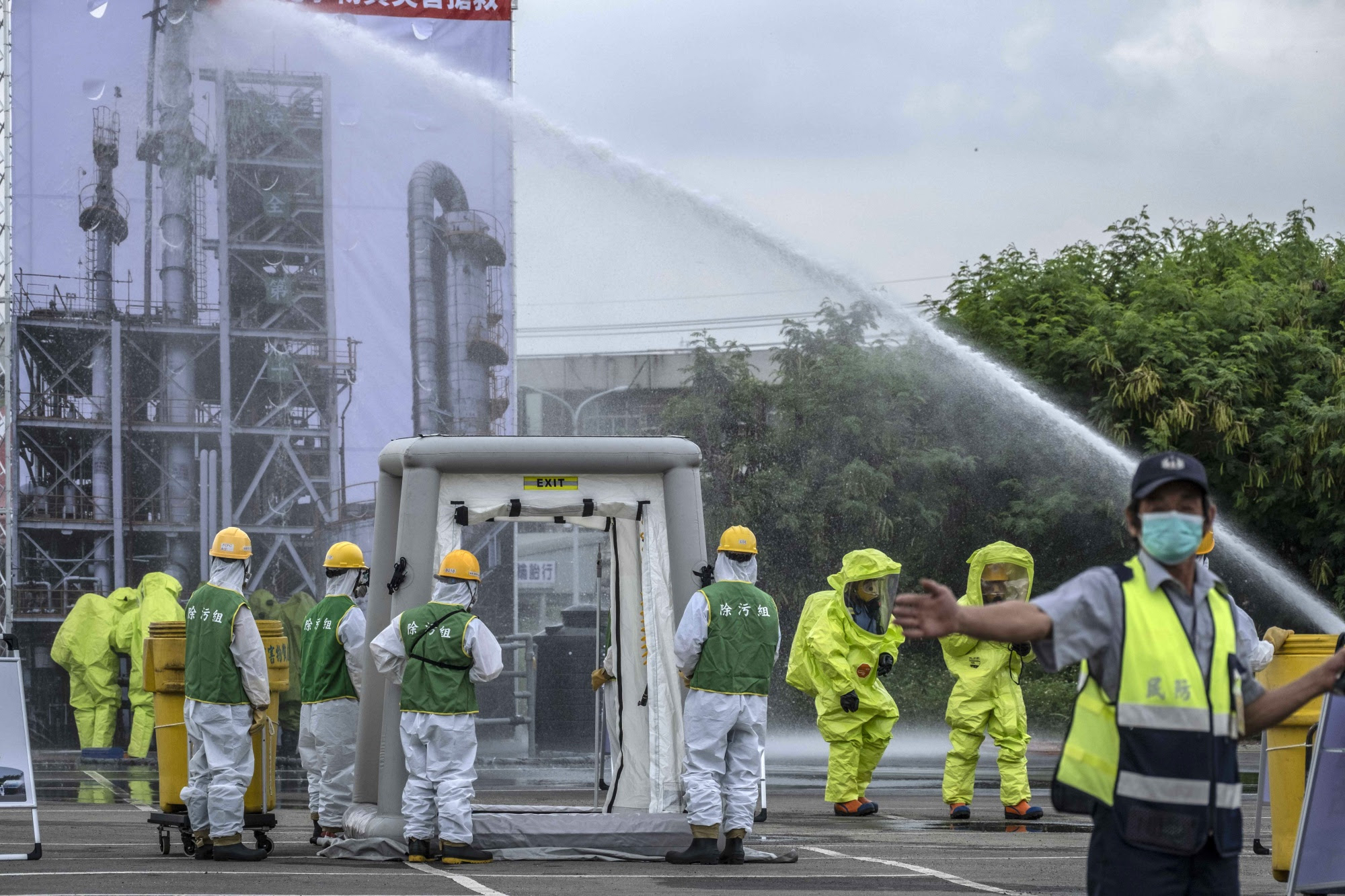 Rescue workers in an exercise simulating a missile attack by China in Chiayi, Taiwan, on June 9.
Photographer: Lam Yik Fei/
Bloomberg
June 23
Ukraine's determined resistance to Russia's invasion accelerated acceptance of its EU ambitions in Brussels. Moldova seized the moment to press its case, too, as did Georgia, which fought a brief war with Russia in 2008.
Gas alarm | Economy Minister Robert Habeck said Germany is in a "gas crisis" and that Europe's biggest economy should brace for a further reduction in Russian gas flows. He said Moscow's decision to slash supplies risked sparking a collapse in energy markets, drawing a parallel to the role of Lehman Brothers in triggering the financial crisis.
Costly silence | President Cyril Ramaphosa should have spoken out against rampant corruption during his predecessor's rule and didn't do enough to stop the theft of billions of dollars of South African taxpayer funds, according to a judicial inquiry. The finding is another blow to the credibility of the 69-year-old, who came to power in 2018 promising to cleanse his country and the ruling African National Congress of graft after Jacob Zuma's scandal-ridden tenure.
June 24
Party pooper | President Xi Jinping hasn't left mainland China since January 2020, and speculation was rife that he would travel to the swearing in ceremony for Hong Kong's new government on July 1. China's leaders traditionally attend handover celebrations in the city, but Xi's trip, while never confirmed, is now in doubt after top Hong Kong officials came down with Covid.