June 20
Depending on your political perspective, Colombia's decision to elect its first-ever leftist leader is historic, an experiment, or dangerously uncharted territory.
Petro Gustavo is a controversial pick to take the reins of Latin America's third most populous nation and its closest US ally. A former guerrilla, he is mistrusted by many older voters who witnessed the nation's long period of violent conflict.
Key reading:
Investors regard him with deep suspicion due to his program of radical change, including plans to tax big landowners, revive ties with socialist Venezuela, and phase out oil and coal to protect the environment — potentially depriving Colombia of about half its export revenue.
His election along with Francia Marquez, who becomes the Andean nation's first Afro-Colombian vice president, was driven by younger voters looking for alternatives after decades of governments led by mainstream politicians. The result upends the country's economic and political model, and will likely impact ties with Washington.
More broadly, Colombia's choice marks another step in Latin America's demand for change, as inequalities exposed by the pandemic are exacerbated by inflation. In neighboring Peru and Chile, other long-standing darlings of investors, voters have opted for anti-establishment leaders in the past year.
The key test will come in Brazil, the region's largest economy and a commodities superpower, where the populist incumbent Jair Bolsonaro and Luiz Inacio Lula da Silva, the leftist former president, are slogging it out ahead of October's election.
With Colombia's vote, a bulwark of conservatism in Latin America has been swept away, with uncertain results.
It's a warning to governments worldwide that electorates are angry and prepared to act out their frustrations at the ballot box, regardless of the volatility it produces. — Alan Crawford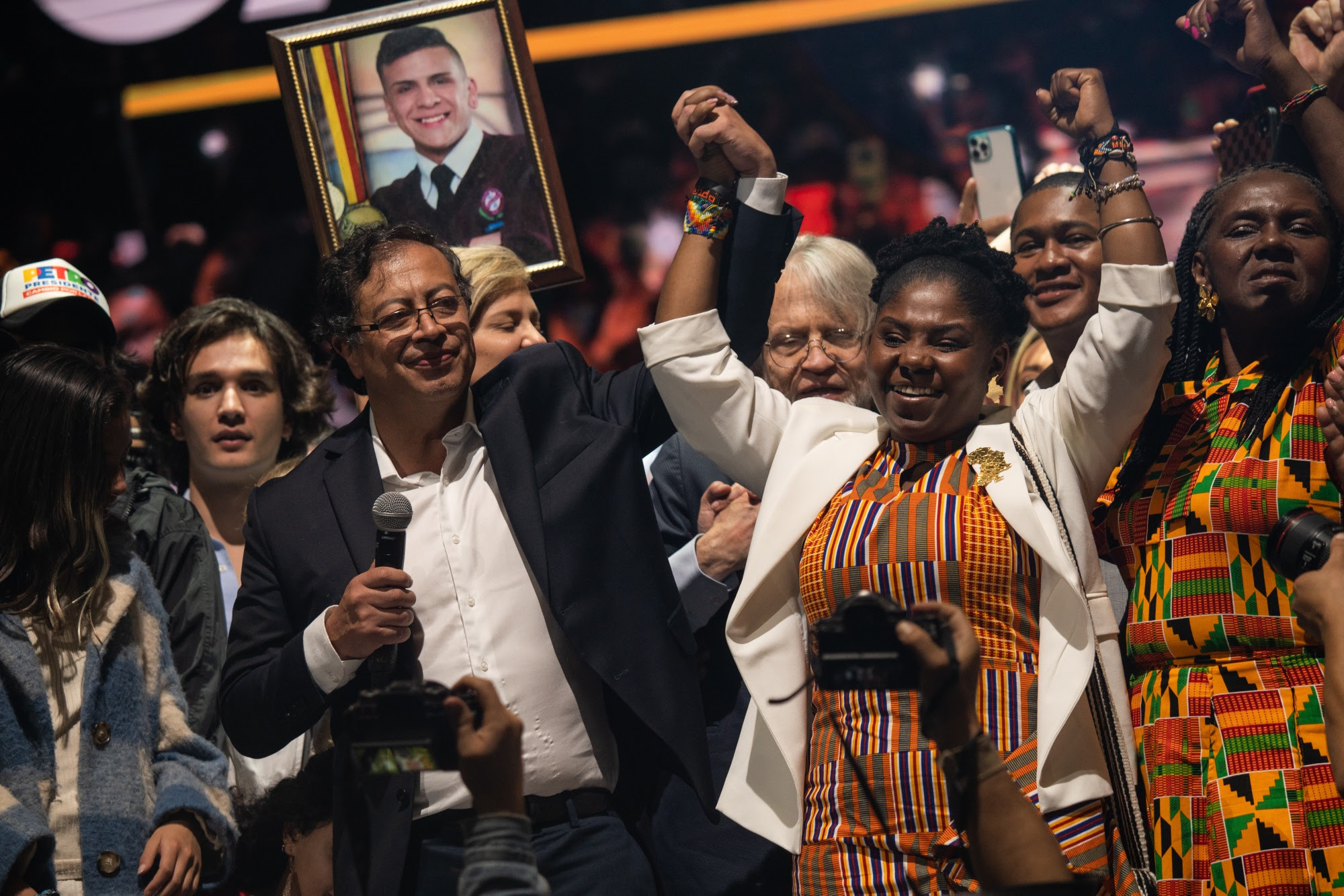 ​​​​​​Petro and Marquez at an election night rally.
Photographer: Andres Cardona/
Bloomberg
June 21
Fence-mending between Middle Eastern rivals offers an opportunity for Joe Biden when he travels there next month to tackle an issue much closer to home. But there are risks, too.
With Russia's invasion of Ukraine driving global crude prices higher, the US President is seeking to repair ties with Saudi Arabia after shunning the world's largest oil producer over its human rights record. Top US ally Israel meanwhile sees the Biden trip as a way to forge regional bonds — including with Riyadh.
Key reading:
US rapprochement with Crown Prince Mohammed Bin Salman, whose nation Biden once vowed to make a "pariah" over the 2018 murder of Saudi critic Jamal Khashoggi, may lead to more Saudi oil on the global market after months of US lobbying, and allow Biden to cast his visit as a political success.
Lower prices for oil (though that is not a given even if the Saudis do increase output) would undercut a key source of income for Russia's war and help reduce the pain for Americans at the gas pump in the run up to the November midterm elections, with Biden's Democrats on the back foot domestically already with voters.
The crown prince is also making moves. He embarked on a regional tour today starting in Cairo. Later this week he'll make his first stop in Turkey since Khashoggi's murder at the Saudi consulate in Istanbul. He'll visit President Recep Tayyip Erdogan, who's seeking to prop up a deteriorating economy hit by inflation of more than 70%.
Israel is keen to expand its diplomatic relations in the Gulf to include Saudi Arabia, a rival to its nemesis Iran. While there are still big hurdles to normalization, both sides have worked to build links after years of US disengagement.
There is a fresh wrinkle: Israel's fragile coalition government collapsed yesterday, meaning Biden is now set to meet a caretaker administration that may not be able to drive progress, especially on the question of peace with the Palestinians, which Riyadh sees as essential for warmer ties.
Biden may make greater progress with the Saudis. But in any case, it's clear that relationships in the Middle East are shifting. — Sylvia Westall
Prince Mohammed and Erdogan met in Jeddah, Saudi Arabia in 2017. Photographer: Kayhan Ozer/Anadolu Agency/Getty Images
June 22
Germany is getting ready, in turn, to trigger the second leg (the "alarm" stage) of a three-step emergency gas plan, another source says, after Russia cut deliveries by about 60% through a key pipeline. While inventories are still above 50%, the move could allow energy companies to pass on cost increases to both households and companies.
Pushing the price burden onto companies means they will invariably have to pass some of that onto consumers, even if governments tell them firmly not to. Or it will show up in other ways like businesses laying off staff.
With inflation becoming more pervasive, it is also more complex to defray. UK inflation hit another 40-year high in May and the data released today show price pressures are starting to infect not just energy but every part of the economy, including food, furniture and clothing.
The challenge will only intensify for governments because inflation is not happening in a vacuum. The probability of the world economy succumbing to a recession is nearing 50%, Citigroup economists say.
That's something even the world's richest person, Elon Musk, is increasingly worried about. — Rosalind Mathieson