A few years ago we had the sex scandal in the Roman Catholic Church. That was followed by the Anglican Church and now it seems to be the turn for the Southern Baptist Church.
In November 2021 Southern Baptist leaders in North Carolina had announced plans to proactively review their state convention's response to the issue of sexual abuse. On Monday,  November 08, 2021Todd Unzicker, the state convention's executive director-treasurer, said leaders wanted to show churches that they take abuse seriously.
"If our churches do not see us as a convention being proactive in this, mistrust will happen,"
he said in a statement.
The question was asked to what extent the Southern Baptist Convention (SBC) was prepared to take serious action on the ongoing stories of sexual abuse by several pastors throughout the country.
"I want to make clear that we as Georgia Baptists have zero tolerance for sexual abuse,"
W. Thomas Hammond, executive director of the Georgia Baptist Mission Board, told the Christian Index, a Georgia Baptist publication.
The statewide responses follow a bitter dispute at the national SBC's Nashville-based executive committee over how to conduct an independent investigation into that group's handling of sexual abuse in recent decades.
A national task force to oversee that investigation was set up last past summer at the annual meeting of the nation's largest American Protestant denomination. We can imagine that the church community wanted to keep all the pots covered. Members of the executive committee disagreed about how transparent the investigation would be and how many details would be made public — especially conversations between executive committee members and staff and their lawyers.
As with the Catholic Church before, the SBC has also been guilty of covering up the many bad facts. Southern Baptist leaders had long resisted taking national action on the issue of abuse — in large part because of the autonomy of local churches.
However, they could no longer hide after certain serious facts came to light, in 2019 after a Houston Chronicle investigation reported more than 700 cases of abuse in Southern Baptist churches. That led to a public lament and a change in denominational rules, allowing the SBC to expel churches that mishandle abuse.
Nate Adams, executive director of the Illinois Baptist State Association, which has about 1,000 churches, said the state group has for years been helping churches with background checks and setting up best practices to create a safe environment for children. Even before the Houston Chronicle investigation, the state conventions were providing training and other resources for addressing abuse.
"The Houston Chronicle report was a big raiser of public awareness for churches, and therefore, led to more requests for help in this area,"
Adams said.
The excuse given is that they preferred to keep things in the 'community' and not make them public, as they were very delicate private events.
At the California Southern Baptist Convention meeting late last October, Chris Cole, pastor of Redeemer Baptist Church in Paso Robles, Calif., proposed the state set up a task force to look at abuse. Cole's detailed motion, which included calls for an abuse survivor to serve on the task force, along with the director of the state convention, as well as for the involvement of experts, failed during the meeting.
According to Cole, a veteran pastor who worked as a police officer for several years, state Baptist groups lack a comprehensive strategy on how to deal with abuse. He finds there is not enough training on how to respond to cases of abuse and how to care for survivors.
"We don't address these things. We don't deal with them upfront and we think it's better that way."
he said, whilst he expressed the hope that state conventions will develop more robust guidelines for responding to abuse.
The SBC Nashville headquarters held over 700 cases. The same as in the Roman Catholic as in the Anglican Church nothing was done to stop these predators from continuing their hellish crimes. Staff members were reportedly told not to even engage those asking about how to stop their child from being sexually violated by a minister. Rather than a database to protect sexual abuse victims, the report reveals that these leaders had a database to protect themselves.
It can be called shameful if offenders managed to be moved to another municipality where they could then make victims again.
The true horror of all of this is not just what has been done, but also how it happened.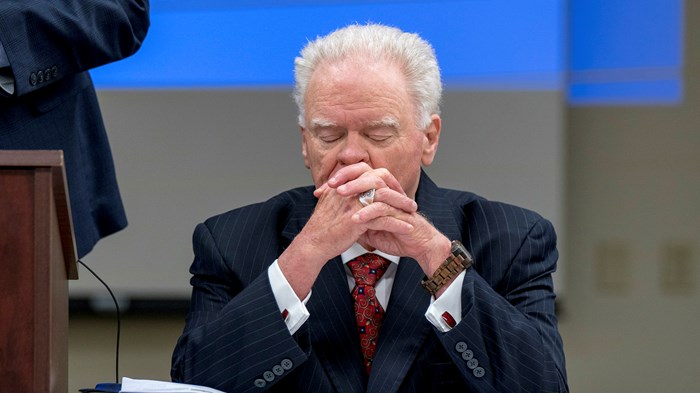 The face of Southwestern Baptist Theological Seminary, Paige Patterson, one of the leaders of the Southern Baptist Convention's Conservative Resurgence, a grassroots effort in the late 20th century to return America's largest Protestant denomination to its theologically conservative roots, got fired after alleged mishandling a rape victim's report in an institution he led after he was documented making public comments about the physical appearance of teenage girls and his counsel to women physically abused by their husbands.
Also, long-time Southern Baptist Convention leader and former Judge Paul Pressler was accused of repeatedly raping one boy beginning at age 14 in 1980 and continuing for 24 years and for raping several others in other lawsuits of sexually abusing them as children and adults over a span of 40 years. There are still civil proceedings about allegations of the rape of young men going on.
More than 8,000 Southern Baptist delegates were meeting at the end of May for their national convention in California. Armed with a secret list of more than 700 abusive pastors, Southern Baptist leaders chose to protect the denomination from lawsuits rather than protect the people in their churches from further abuse.
Survivors, advocates, and some Southern Baptists themselves spent more than 15 years calling for ways to keep sexual predators from moving quietly from one flock to another. The men who controlled the Executive Committee (EC) — which runs the day-to-day operations of the Southern Baptist Convention (SBC) — knew the scope of the problem. But, working closely with their lawyers, they maligned the people who wanted to do something about abuse and repeatedly rejected pleas for help and reform. Several people who wanted to do something against those sexual predators were accused of being part of the devil and wanting to undermine the church.
According to an unnamed EC staff member,
"in nearly every instance in the past when victims have come to those in power in the SBC, they have been shunned, shamed, and vilified. At the EC, we have inherited a culture of rejecting those who question power or who accuse leaders."
Several people who knew or saw what happened in that church decided to break with it.
The Southern Baptist Convention (SBC) has lost over a million members in the past three years, with back-to-back years of the COVID-19 pandemic following a decade-plus of decline.
Reported SBC membership fell from 14.8 million in 2018 and a peak of 16.3 million in 2006, to 13.7 million in 2021, its lowest tally in more than 40 years, according to the latest Annual Church Profile released on Thursday May 12.
SBC churches baptized 154,700 people in 2021, still significantly lower than 236,000 a year before the pandemic.
The presented May report described years of efforts to cover up sex abuse by pastors and other officials. Southern Baptist leaders claimed for 15 years that they couldn't create a database of offenders, even though they were secretly keeping just such a list. The sex abuse scandal has increased tensions within a denomination already contending with declining membership and clashes over race, gender, and politics.
The Guidepost Solutions' Report of the Independent Investigation
lament on behalf of survivors for how they have not been protected and cared for as they deserve and as God demands.
They say that the
With broken hearts… want to lead the way by publicly repenting for what has happened in our convention.
and implore their Southern Baptist family to respond to their report
with deep repentance and a commitment to the ongoing moral demands of the gospel as it relates to sexual abuse.
The Executive Committee (EC) general counsel Augie Boto and longtime attorney Jim Guenther advised the past three EC presidents — Ronnie Floyd, Frank Page, and Morris Chapman — that taking action on abuse would pose a risk to SBC liability and polity, leading the presidents to challenge proposed abuse reforms.
As renewed calls for action emerged with the #ChurchToo and #SBCToo movements, Boto referred to advocacy for abuse survivors as
"a satanic scheme to completely distract us from evangelism."
Survivors, in turn, described the soul-crushing effects of not only their abuse, but the stonewalling, insulting responses from leaders at the EC for 15-plus years.
The continuous dismissal of what really happened behind the scenes is a stab in the back for the victims, with the hypocrite vicars continuing with their reprehensible practices while calling on the faithful to live morally and that homophily was a reprehensible thing from the devil and that people who were with the same sex should be rejected and excluded from any connection.
Christa Brown, a longtime advocate who experienced sexual abuse by her pastor at 16, said her
"countless encounters with Baptist leaders"
who shunned and disbelieved her
"left a legacy of hate"
and communicated
"you are a creature void of any value — you don't matter."
Not only did she have to endure such humiliating words. Others were sent wandering with their complaint, or had to hear that they were sent such things because they had been bitten by Satan.
As a result, Brown said, instead of her faith providing solace, her faith has become
"neurologically networked with a nightmare."
She referred to it as
"soul murder."
Those who had to be responsible for bringing people to Jesus and to God, actually made it possible for people to distance themselves from God and His commandments, and to regard the church as something reprehensible.
Over the past 20 years, a string of SBC presidents failed to appropriately respond to abuse in their own churches and seminaries. In several instances, leaders sided with individuals and churches that had been credibly accused of abuse or cover-up.
The American evangelical Christian pastor, author, and former president of the Southern Baptist Convention,  pastor Johnny Hunt, sexually assaulted another pastor's wife in 2010, though Hunt denied the accusation, investigators found he did. Hunt has a.o. held a ministry position at one of the largest churches in the United States, First Baptist Woodstock.
Guidepost Solutions, the third-party investigative firm, wants the 13.7-million-member denomination to create an online database of abusers, offer compensation for survivors, sharply limit non-disclosure agreements, and establish a new entity dedicated to responding to abuse. The directives in the 288-page report will sound familiar to survivors and advocates, who have been calling for those measures all along.
"How many kids and congregants could have been spared horrific harm if only the Executive Committee had taken action back in 2006 when I first wrote to them, urging specific concrete steps?

And how many survivors could have been spared the re-traumatizing hell of trying to report clergy sex abuse into a system that consistently turns its back?"
asked Brown in a 2021 letter.
"The SBC Executive Committee's longstanding resistance to abuse reforms has now yielded a whole new crop of clergy sex abuse victims and of survivors re-traumatized in their efforts to report."
Advocate Rachael Denhollander, who advised the SBC task force that coordinated the investigation, tweeted that
"the level of transparency is … unparalleled."
It's the largest investigation in SBC history; it's already changed the makeup of the EC and stands to determine the trajectory of the 177-year-old denomination.
This year's meeting signals what trustees hope will be a turning point for the Southern Baptist body. One of the new lawyers from Bradley Arant Boult Cummings LLP, Gene Besen, referenced "changing the direction," and the new interim president, Willie McLaurin, talked about "changing the culture." Multiple trustees called it an opportunity to do the right thing.
+
Find also to read:
+++
Related
Are All Pastors Automatically Abusers if They Commit Sexual Immorality? (or what's wrong with SBC business meetings?)
Nun exposes sexual harassment of deaf, mute children in Christian institute, faces threats and torture