3 June 2022
Gun plea | Biden called for a ban on sales of assault weapons and high-capacity magazines, pleading with Congress to toughen laws following a spate of mass shootings. Still, he acknowledged that Congress is unlikely to restrict them, with Republican lawmakers, who can block the passage of bills in the Senate, vowing to prevent sweeping gun-control measures.
Saudi nod | OPEC+ agreed to open its oil taps faster in the summer months, a gesture of reconciliation to the US that nevertheless keeps Russia at the heart of the cartel. The White House welcomed the deal, which came after months of diplomatic pressure on Saudi Arabia to mitigate the surge in energy prices that's battered the global economy since Russia's invasion of Ukraine.
Price rival | Turkish President Recep Tayyip Erdogan has no clear rival for elections next June, with the opposition yet to agree on a candidate to challenge him. But as Selcan Hacaoglu writes, runaway inflation is the most urgent threat to his nearly 20-year grip on power, and it's a formidable one: A survey by MetroPoll shows public support for Erdogan's Justice and Development Party has fallen close to the lowest level since it was established.
4 June
The number of deaths from the coronavirus in Africa may fall 94% to 22,563 this year if current variants and transmission rates remain the same, according to a World Health Organization model.
Hong Kong Quarantine Backtrack Stokes Fears of Covid Zero Return
A return to harsh Covid Zero measures like quarantine camps risks further damaging confidence in the city and runs counter to the easing of restrictions in recent months, business groups say. The new sub-variants also do not pose a threat of igniting a major outbreak, according to a local public health expert.
AMLO Train Barrels On Despite Safety, Environmental Concerns
The Maya Train is projected to run for 1,554 kilometers and connect five states in the Yucatán Peninsula, arguably President Andres Manuel Lopez Obrador's most ambitious infrastructure project and one he's vowed to have ready by the end of next year. But as Andrea Navarro lays out, the project is running up against construction challenges, cost overruns, environmental lawsuits, street protests, and supply-chain shortages.
Construction for the train cuts through the rainforest near Playa del Carmen.

Photographer: Lisette Poole for

Bloomberg

Businessweek
Australia's History-Making Top Diplomat Faces Down Rising China
Penny Wong has already made history as both the first Asian-born and openly gay woman to become Australia's top diplomat. Ben Westcott explains how she is quickly confronting the nation's most difficult geopolitical challenge in decades.
Troubled UK Seeks Comfort of Its Queen in Twilight of Her Reign
A worsening cost-of-living crisis, a messy political scandal and the threat of further repercussions from the war in Ukraine form an unlikely backdrop for a celebration of national stability. As the UK marks Queen Elizabeth II's Platinum Jubilee, Emily Ashton notes the clouds are a reminder that the 96-year-old monarch won't be around forever, just as the country faces an uncertain future.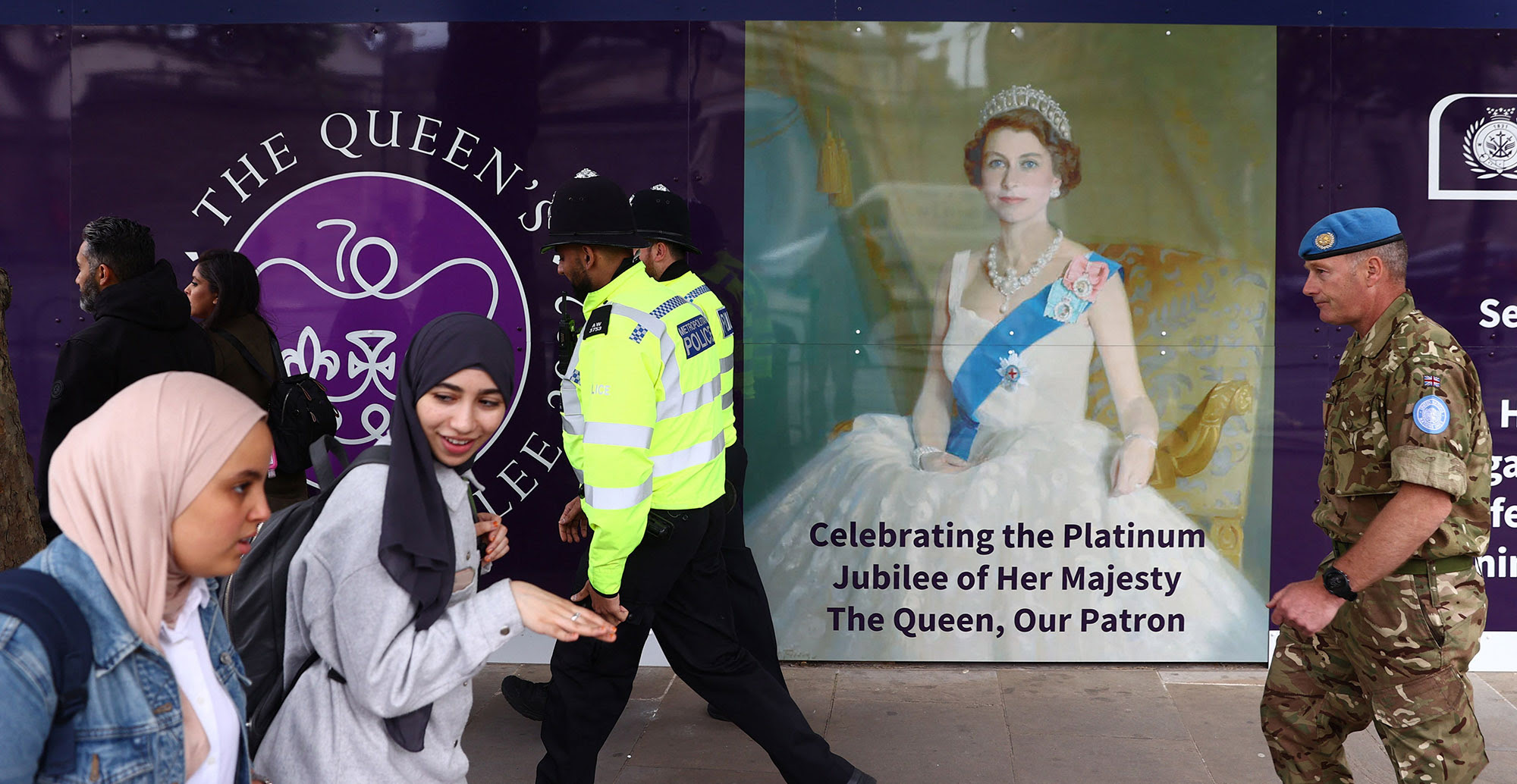 A display celebrating the Platinum Jubilee in London on May 26. Photographer: Adrian Dennis/AFP/Getty Images
Rich Nations' Toxic Habits Bring African Refugees to Their Doors
The number of Africans trying to make it to the US southern border is on track to hit a potential record this year. Many are escaping livelihood-destroying climate events. As Antony Sguazzin, Katarina Hoije and Maya Averbuch write, the continent they're fleeing is facing natural disasters at a faster rate than the rest of the planet, and is largely unprepared to deal with them.
A Sudanese boy wades through a flooded street in the capital's twin city of Omdurman in August 2020. Photographer: Ashraf Shazly/AFP/Getty
6 June
Boris Johnson's chaotic premiership will reach its lowest point tonight as disillusioned Conservative Party lawmakers vote on whether to oust him as UK prime minister.
The trigger for the confidence vote has ostensibly been a government report last month into illegal parties held at his Downing Street residence when the rest of the country was under lockdown during the Covid-19 pandemic. But discontent has been growing in the Tory party over a range of issues.
If he were to step down, it will set off a potentially bruising battle for the leadership where names including Chancellor Rishi Sunak and Foreign Secretary Liz Truss are likely to be in circulation.
Key reading:
Johnson has repeatedly sent his members of Parliament out to defend uncomfortable policies before embarrassing them by dropping his plans, most conspicuously in efforts to protect a disgraced MP last year.
He's upset fiscal conservatives by pushing taxes to the highest level in a generation and caused consternation with threats to breach international law in Brexit negotiations with the European Union.
Above it all, there's a sense that he is simply lurching from one crisis to another with no overarching strategy for what he wants to achieve.
"Under you, the government seems to lack a sense of mission," Jesse Norman, a veteran MP, wrote today in a letter explaining why he thought the prime minister should step aside. "It has a large majority, but no long-term plan."
There are plenty of ministers voicing their confidence that Johnson will win tonight's vote. And the number of MPs with government jobs makes it difficult for the rebels to get the 180 votes they need for victory at the first time of asking.

But history suggests that a confidence vote marks the beginning of the end for a Conservative leader, even though there may still be more twists and turns before they reach the end of the road. — Ben Sills 
Johnson during a constituency visit to Sweetcroft care home in Uxbridge. Photographer: Leon Neal/Getty Images  
Forced labor | As the US prepares to ban all goods from Xinjiang later this month over allegations of human-rights abuses, President Xi Jinping is moving to rebrand China's remote western region and better integrate it with the rest of the country. Since workers and goods from Xinjiang flow across China, it's nearly impossible to determine what Chinese products are made using what the US deems as forced labor.
Migration surge | The US is working with Latin American and Caribbean nations on a pact to reduce and manage undocumented migration that they will announce at a summit this week as arrivals surge. Eric Martin reports the accord may include financial commitments for nations dealing with an influx of migrants, improving cooperation on controlling flows and providing legal jobs.
Life in Beijing will take a step closer to returning to normal today as China's capital rolls back Covid-19 restrictions, having previously declared the latest outbreak of the virus under control.
Australian Prime Minister Anthony Albanese said his government reached out to China to raise concerns over what he described as a "dangerous maneuver" between a Chinese fighter jet and an Australian surveillance plane over the South China Sea.
The attack on the US Capitol on Jan. 6, 2021 shocked an audience watching live as supporters of then outgoing-President Donald Trump fought the police and forced the evacuation of the vice president from the Senate. But as Mike Dorning and Billy House explain, with Congress preparing for televised hearings on the crisis starting Thursday, the attack on the seat of US democracy wasn't enough to shake the political divisions that drove the insurrection.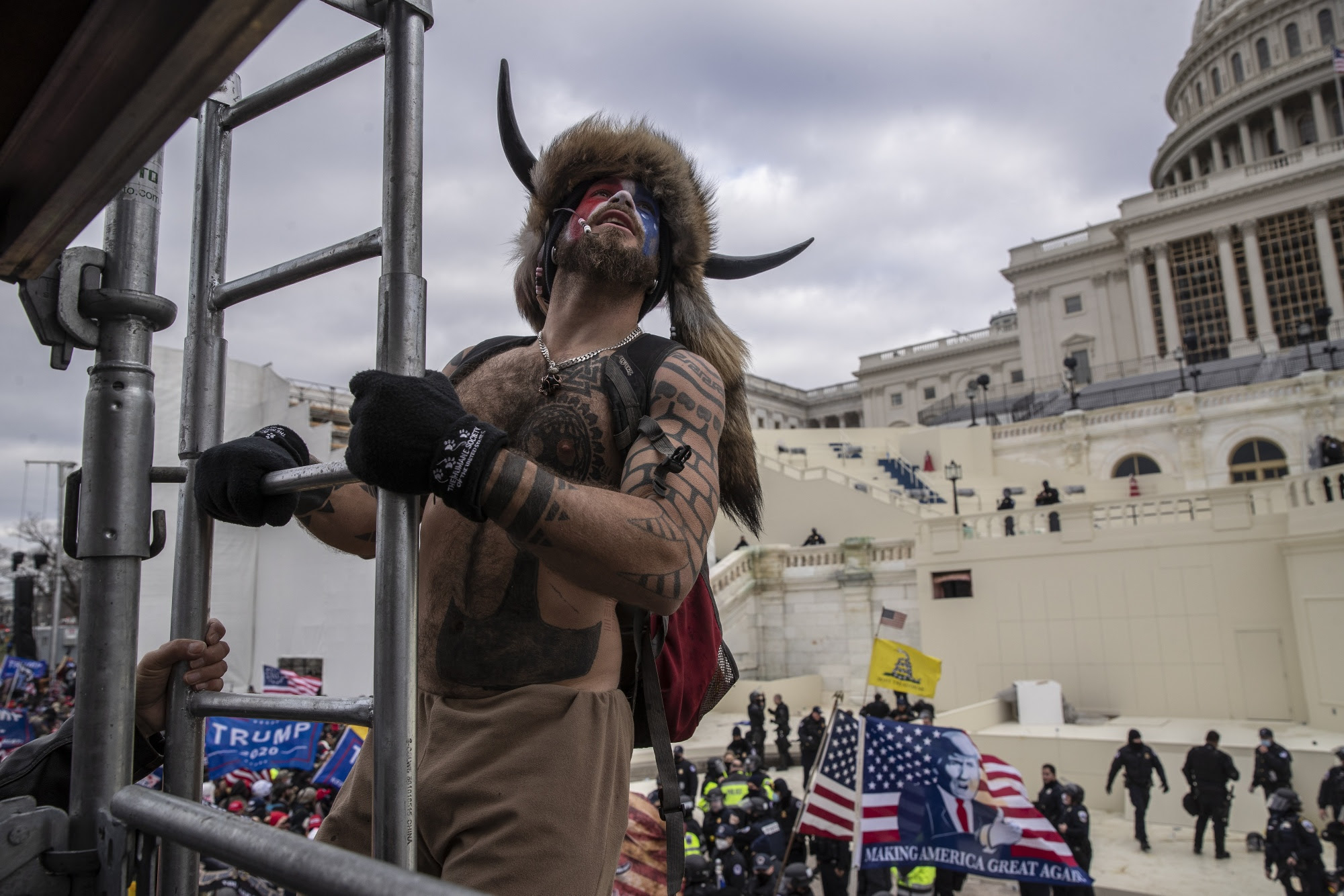 Jake Angeli, known as the QAnon Shaman, climbs scaffolding as demonstrators swarm the Capitol.
Photographer: Victor J. Blue/
Bloomberg
7 June
Seeking attention | Televised hearings that begin Thursday into the Jan. 6, 2021 attack on the US Capitol will need to produce show-stopping moments to grab a divided nation's attention. In an environment of social media and polarized cable news, similar events held on everything from the 2012 attack in Benghazi, Libya, to Robert Mueller's 2019 testimony about his Trump-Russia investigation failed to make much of a splash.
As the Summit of the Americas gets under way in Los Angeles, President Joe Biden's desire as host to "advance our common goals and find common ground" may prove to be an uphill struggle.

Already splits have emerged, after the US excluded Nicaragua, Venezuela and Cuba over a lack of democracy and respect for human rights. The snub prompted Mexican President Andres Manuel Lopez Obrador to skip the event and send his foreign minister instead, along with "a hug" to Biden.

Key reading:

The US is working with Latin America and Caribbean nations on a pact to reduce and manage undocumented migration, including financial support for countries dealing with an influx of people, according to a draft of this week's conclusions.

While a priority for the Biden administration as it faces a surge in arrivals on its southern border, it isn't even clear if all those attending will sign on.

The US-led declaration is part of a larger focus on regional economic, health and food security issues to be discussed at the summit.

But Biden's attempts to unite the Americas may ultimately prove illusory.

It's not just that there are signs of a political shift under way across the region regardless of US aims, notably in Colombia ahead of presidential elections.

It's that US retrenchment and political polarization makes it look distracted: It's surely no coincidence that China's Foreign Ministry issued a broadside at Washington's policy toward Latin America yesterday.

Given the administration's central challenges of competition with China and Russia's invasion of Ukraine, Biden's main task in LA may be simply to reassure his fellow leaders that the US remains focused on its backyard. — Alan Crawford
El Salvadoran President Nayib Bukele, right, greets Lopez in San Salvador on May 6.
Photographer: Camilo Freedman/
Bloomberg
Hanging on | Boris Johnson's missteps and misdeeds have left his governing party split into bickering factions. More than 40% of Conservative members of Parliament voted against the UK prime minister in a confidence vote yesterday that laid bare the bitter rifts. While Johnson sought to draw a line under controversy around his leadership, the scale of the mutiny suggests his days may be numbered.
Developing nations are suffering the biggest knock from this year's oil shock, with many being hit by a combination of high international prices, weak currencies and competition from rich nations for fuel. That has triggered unrest and protests.
Cold shoulder | China appears to be shifting its strategic focus toward Southeast Asia and Africa, Sri Lankan President Gotabaya Rajapaksa said in a Bloomberg interview. He noted that financially strapped South Asian countries that have been some the biggest recipients of Chinese cash in the past decade aren't getting the same attention as before.
Best of
Bloomberg

Opinion

Marx returns | In China's boom years when annual growth exceeded 10%, Western-influenced economics helped private entrepreneurs in tech, real estate and other industries amass billions, with more autonomy than ever. Now, as Tom Hancock reports, President Xi Jinping has made clear that Marxism is back, and investors better take note.
Explainers you can use
8 June
Another gamble | Fresh from surviving a revolt by his own party, UK Prime Minister Boris Johnson plans to press ahead with legislation allowing him to unilaterally override parts of the Brexit deal relating to Northern Ireland, Ellen Milligan reports. The move would please the most fervently anti-European sections of his party, while angering the EU, its member states like France and Ireland, and US President Joe Biden.
Few convictions | A year and a half after Donald Trump's die-hard supporters overran the US Capitol, prosecutors have scored relatively few convictions and face growing pressure to target the former president and his allies. The Justice Department has won about 50 felony guilty pleas for the most serious attack on American democracy in the modern era, but the only charges brought against Trump aides have been for failing to respond to demands for information.
Preemptive strike | Brazilian President Jair Bolsonaro cast doubt on the legitimacy of Biden's 2020 election victory, two days before the leaders were scheduled to meet at the Summit of the Americas in Los Angeles. In televised remarks, Bolsonaro revived his claim that there was widespread fraud in the US vote that his close ally, Trump, lost to Biden. Bolsonaro himself faces a difficult bid for re-election in October.
Best of
Bloomberg

Opinion

Neighborly threat | Despite a lockdown since the end of April, daily Covid-19 cases have been trending up in Dandong, a Chinese city of about 2.2 million people on the border with North Korea. Officials say they can't figure out where persistent new infections are coming from — and suspect the wind blowing in from their secretive neighbor.
Explainers you can use
Carbon threat | The Democratic Republic of Congo's plan to auction oil exploration blocks next month threatens to disrupt some of the most important carbon sinks globally and could jeopardize a $500 million forest preservation agreement. Protecting the world's biggest peatlands and the wider Congo Basin tropical rainforest was a landmark agreement at last year's COP26 climate conference in Glasgow.
9 June
Donald Trump has created a monster he can no longer control.
His Make America Great Again movement inspired millions of red-capped acolytes who elevated the billionaire to the presidency in 2016. Such was his hold on them that when he refused to accept defeat at the hands of Joe Biden, a mob of his fans stormed the US Capitol.
Key reading:
Televised public hearings kick off today at a House committee to try and hold Trump to account for the Jan. 6, 2021 insurrection, one of the worst attacks on American democracy. Democrats see them as an opportunity to boost their chances of maintaining control of Congress in the November midterm elections. Trump and his Republican allies call the investigation a witch hunt.
Yet two things are clear: A divided nation has little interest in processing the trauma of that day, and the cult of personality around the former president lives on.
What's different now is that MAGA has outgrown its maker. The current crop of primaries for the midterms shows it is Trump's brash brand of politics and his "America First" ideas — anti-immigrant, anti-regulation, anti-establishment — that appeal to Republican voters more than the man himself.
Trump was certain he could still direct his loyal following to support conservative candidates he anointed and who embraced his false claim that the 2020 election was stolen from him. Turns out even his supporters don't believe in his infallibility.
Kathleen Cerruti, a 55-year-old worker at a Christian ministry from Quakertown, Pennsylvania, says she adores Trump but doesn't "blindly follow" him. After all, she said, "he's not God." — Wendy Benjaminson & Flavia Krause-Jackson
Capitol police officers pointed guns at a door as a joint session of Congress was set to confirm the results of the 2020 presidential election.
Photographer: Stefani Reynolds/
Bloomberg
Virus fears | Shanghai will lock down a district on Saturday for a mass Covid-19 testing drive, the first major movement restriction since the Chinese financial hub exited a bruising two-month shutdown at the start of June. While the plan is to seal the Minhang district of nearly 2.7 million people only for the morning, residents face the risk of being confined to their homes for two weeks if infections are discovered.
Atomic censure | The International Atomic Energy Agency rebuked Iran yesterday for failing to cooperate with nuclear investigators in a diplomatic move that could escalate the Persian Gulf nation's conflict with Western powers. It's the first censure against Iran under the Biden administration and comes as prospects dim for a return to the 2015 agreement that reined in Tehran's atomic work in exchange for sanctions relief.
Explainers you can use
10 June
Governments around the world are finding out just how hard it is to change a narrative.
Inflation is indeed running rampant in many places, but inflation expectations — or the worry that prices may climb ever higher — even more so.
Those perceptions are perhaps fanned by central banks racing to raise interest rates: The European Central Bank has committed to a quarter-point increase next month, while Australia hiked rates 50 basis points — the biggest increase in 22 years.
Key reading:
US Treasury Secretary Janet Yellen is warning that inflation is likely to stay high, having admitted she was wrong last year to describe big price increases as "transitory." The next round of US data is due out today.
Newspapers are splashed with dire warnings. The cost of filling up a standard car in the UK surged by the most in 17 years, adding to the woes facing UK Prime Minister Boris Johnson. The owner of British discount retailer Poundland warned that consumers are cutting back on essential items.
Government messaging that economies are actually in decent shape carries little weight in the face of such headlines. Subsidizing food and energy barely makes a dent when people are convinced that prices are spiraling out of control.
Part of the problem lies with misjudging demand and the ferocity with which it has returned as the pandemic wanes, sparking labor shortages alongside higher prices. Transport strikes in Europe, and now Asia, are a symptom of that. Early-stage summer travel is a mess in many places as airlines and airports struggle to cope.
That leaves political leaders grappling with a toxic soup of overwhelmed services, disgruntled commuters, worried mortgage holders and anxious shoppers, and attempting to shut the barn door after the horse has bolted.
"Inflation is the bane of our existence," US President Joe Biden lamented this week. He may have included himself in that calculation as he counts the days to the midterm elections.  — Rosalind Mathieson
Commuters wait for buses during strikes on the underground rail service in London on Monday.
Photographer: Jason Alden/
Bloomberg
Airport chaos | Europe's aviation industry is struggling to overcome crippling staff shortages and labor strife, forcing airlines to cancel hundreds of flights ahead of the peak summer period. Disruptions have been particularly bad in the UK, though European hubs such as Amsterdam, Frankfurt and Paris have also been plagued by delays and the fallout from strikes.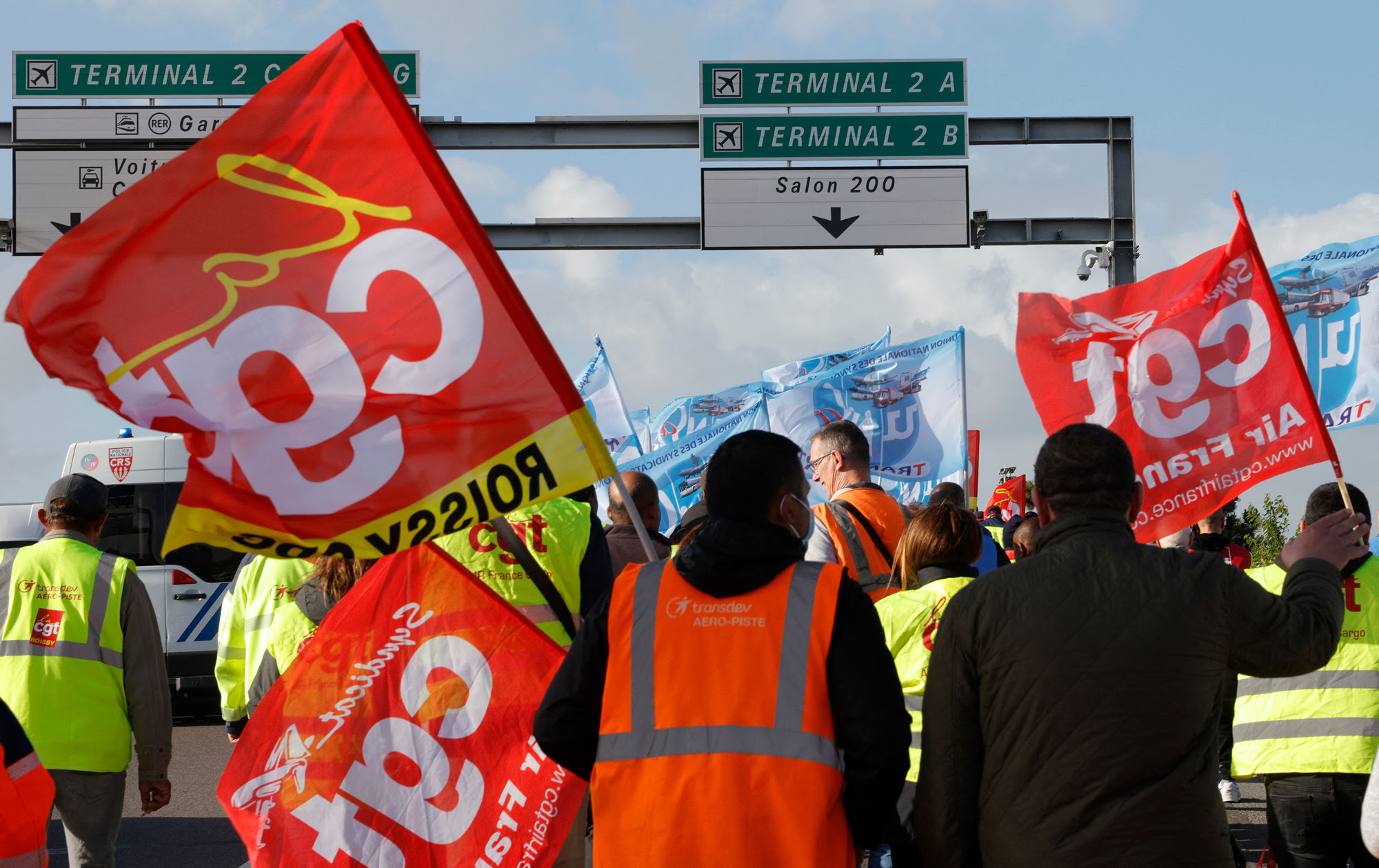 Workers strike at Charles De Gaulle Airport near Paris yesterday. Photographer: Geoffrey Van Der Hasselt/AFP/Getty Images
A bad look | South African President Cyril Ramaphosa suspended the nation's graft ombudsman a day after she started probing his alleged concealment of a robbery of more than $4 million at his game farm. While he has denied wrongdoing and Public Protector Busisiwe Mkhwebane has been accused by lawmakers of misconduct, analysts say the timing of the move against her reflects poorly on the government.
And finally … Chilean President Gabriel Boric marked his first international summit with an embarrassing gaffe, wrongly accusing the US government of being absent at the signing of an agreement on ocean protections. Boric made the mistake at the Summit of the Americas in Los Angeles yesterday, as US climate envoy John Kerry looked on from a few chairs away. "I just have one question," Kerry joked in response. "Where's the beer?" Read our summit coverage here.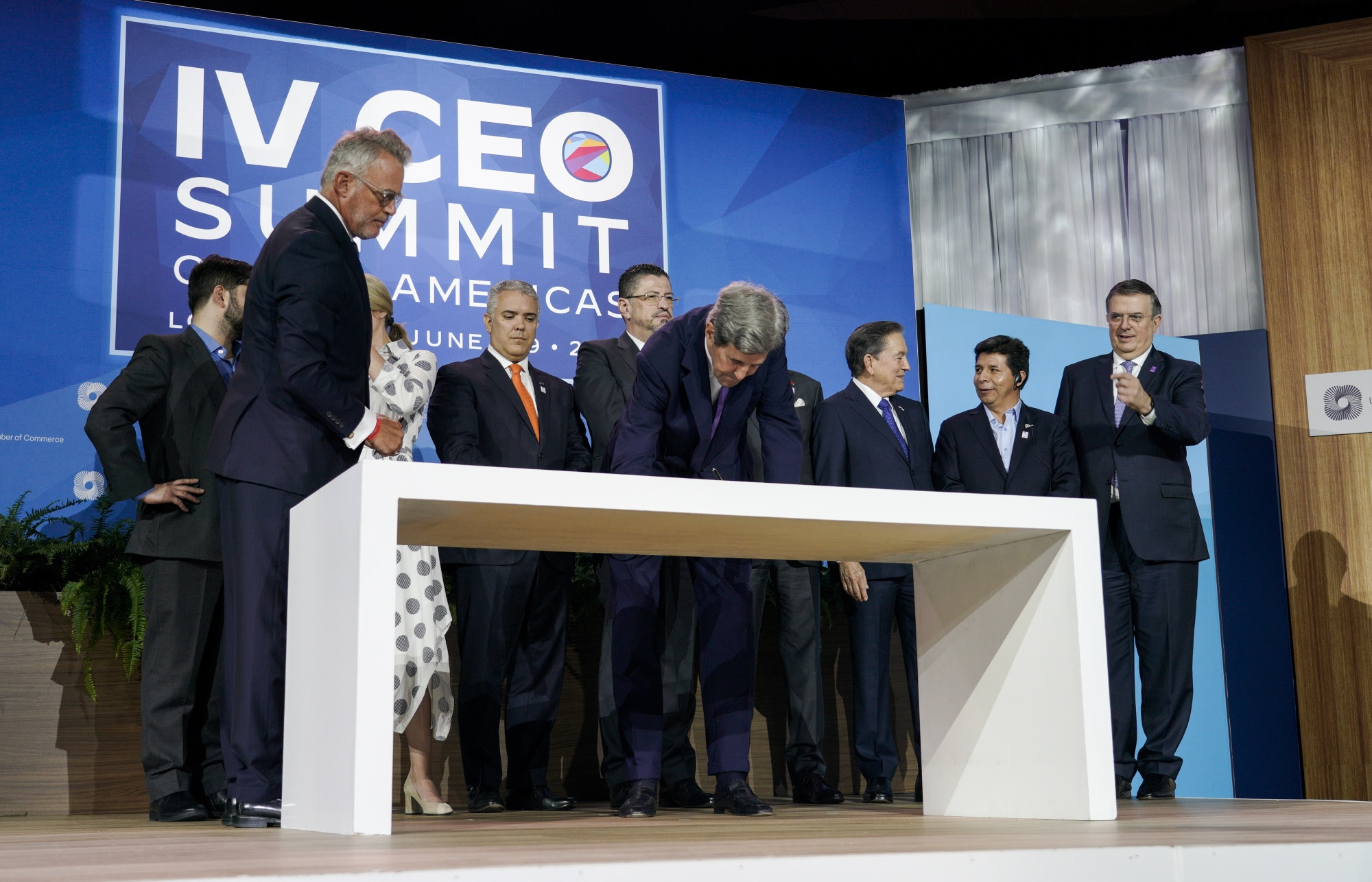 Kerry signs the agreement during the Summit of the Americas.
Photographer: Kyle Grillot/
Bloomberg