All over Europe citizens are confronted with skyrocketing consumer prices. For many people the energy bill is presented by almost unaffordable invoices. Ordinary working people are struggling to find a balance between money coming in and money going out.
The governments should not be surprised that more unions are poised for industrial action over the summer because
"people can't take it any more".
In most of our 'rich' West European countries, the politicians have lost feeling for the ordinary working man or woman. It looks like they do not want to see how many families are struggling to keep their heads above water. We've got people who are doing full-time jobs who are having to take state benefits and use food banks. A few weeks ago, by distributing pamphlets, I also was surprised to even hear from an air hostess that in the Covid period she had to go to a food bank.
Certain instances do want people to believe that strikes will be "disastrous" for the country. Much too often we also hear the excuse that it is not the time for industrial actions because we are just trying to get out of the ravine of the Corona crisis and that we are facing the Ukraine crisis on top of that. These are all easy excuses to fob off those who request them and give companies even more opportunities to increase their profits in this difficult period.
In England, it even goes so far that the Business Secretary of Great Britain accuses Britain's biggest trade unions of "bribing" workers to go on strike after they doubled daily payments to those who take part in industrial action. But it is precisely those trade unions that are well aware of how difficult some households have it, and what a dilemma not working would create for them.
By doubling the strike pay for the strike on 20 June, they want to give a concession to those in Britain who want to send a clear signal to the government now on Monday that enough is enough, and that swift action is needed.
In Britain, the tax-free payments are being offered by several unions threatening strikes this summer, and are being funded from vast "strike funds" that the British Conservative Party politician serving as Secretary of State for Business Kwasi Kwarteng said showed that unions had been plotting a "dangerous" summer of chaos "for some time".
But in Britain it is the same as in Belgium, for the working class, becoming too difficult to come around with the lousy income and the high spike in inflation.
In Belgium, however, the trade unions have not yet gone so far as to meet the strikers' needs in that regard. They have far fewer members and can therefore not take such action. They also do not have the financial means to place as many advertisements as the English trade unions did. But many volunteers of the 'worker's party of Belgium' Partij van de Arbeid (PvdA/PtB) and the Christian ACV and Socialist (ABVV) trade unions have tried to contact as many workers as possible and urge them to take action tomorrow 20 June. (See a.o. Laatste oproep tot actie op maandag 20 juni)
Today again the European ruling elites consider the unions as a threat to both national unity and economic progress. Though with the years the Roman Catholic Church partly has lost its grip on the ACV, a union which has now also non-religious and non-Christian workers as members. Where political unionism was of the Roman Catholic kind, it aimed at establishing an autonomous space for cooperative industrial self-governance of workers and employers, free from interference by the modern nation-state.
A few years ago, many people had also lost faith and trust in trade unions, but the rigid attitude of politicians to continue to support the big corporations and to let them make huge profits or be untaxed has finally woken up people and made certain political parties with social programmes (like PvdA) gain more attention and are able to motivate the people to take action.
In case the Belgian government keeps her ears shut for the citizens of this country it could well be that they too may find a wave, like the 1970s-style economic unrest in Britain. The same as for British government where there is a threat spreading the willingness to strike from the railways across the public services, as unions representing teachers and NHS workers warn of potential industrial action over pay.
Unless the National Education Union (NEU) receives a pay offer much closer to inflation by Wednesday, it will be informing education secretary Nadhim Zahawi of its plan to ballot its 450,000 members. The move could lead to strikes in schools in England in the autumn, the union said.
Another flashpoint for the Britons could come in the coming week when millions of NHS workers up to senior nurse level receive their annual pay offer, which is expected to fall substantially short of inflation, currently running at 9.2%. The United Kingdom's largest trade union, Unison, representing NHS staff, said the government now faced a choice between offering a deal close to inflation or triggering a mass exodus of staff coupled with possible industrial action in hospitals, at a time when they are already hugely overburdened.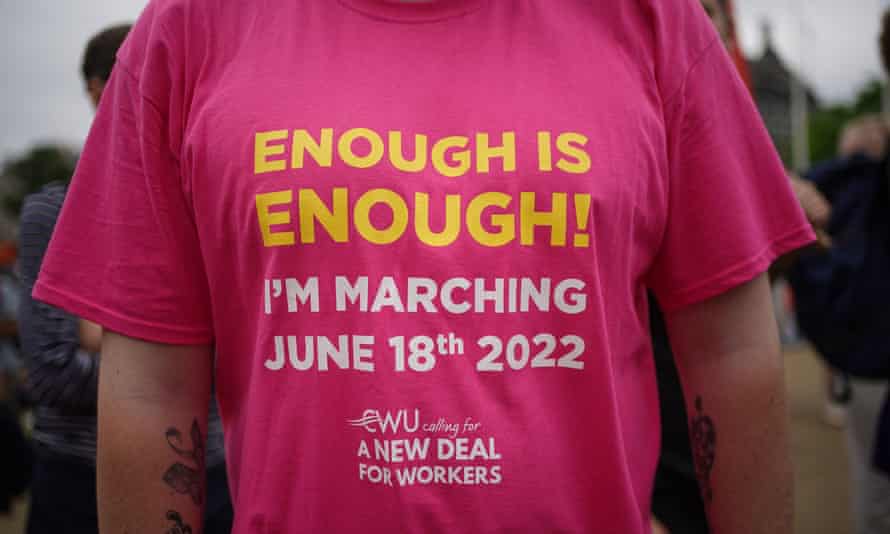 The prospect of strikes across the public services has grown as inflation climbs towards double figures but the Treasury is desperate to keep public spending, and the public sector pay bill, in check.
After the expected chaos in Belgium it could well be that there shall be chaos also across the channel, if there is no significant improvement on 3% – which will leave an 8% gap with inflation this year alone – because then the unions shall not be able to avoid a ballot. The mood among teachers and health workers has changed. Last year the issue was mainly workload. This year it is workload and pay.
The Western governments of Europe do have a simple choice. But, admittedly, it will take courage to tax the big bosses of international companies and multinationals properly so that the state can get more money to pay civil servants, teachers, doctors and nurses better and reduce excise duties and taxes on fuel and energy.
Either it makes a sensible pay award, by a pay rise or tax relief for the majority of the population as well as by abolishing the wage freeze and allowing companies to be more competitive in the workplace.
The government's stubbornness has now caused the bucket to overflow and the country will suffer several waves of strikes.
I wonder how long it will take for the politicians to open their eyes and face the worker, giving them some more prospects for an easy living.
+
Preceding
++
Additional reading
+++
Related