May 14
May 15
Cabinet ministers launch unprecedented attack on Bank of England over inflation crisis

In a highly unusual attack, one of the senior ministers warned:

"It has one job to do – to keep inflation at around two per cent – and it's hard to remember the last time it achieved its target."

The other said government figures were "now questioning its independence", suggesting Rishi Sunak, the Chancellor, should do more to hold Andrew Bailey, the Bank Governor, to account.

…

"The first thing the Bank needs to do is acknowledge they made a mistake and say what they are going to do about it. One has the impression they are rather ostrich-like."

… the ministers, together with an ally of Boris Johnson from his time as the London mayor, said the Prime Minister should overrule his Chancellor and insist on immediate, emergency tax cuts to help with the cost-of-living crisis.
May 16
| | |
| --- | --- |
| | |
| | |
| --- | --- |
| | |
| | |
| --- | --- |
| | |
America's acceptance of Finland and Sweden joining Nato goes far beyond
the

war in Ukraine
By Dominic Nicholls,
DEFENCE AND SECURITY EDITOR
Seriously, what is America thinking, allowing Finland and Sweden to join Nato?

Nato is a club of 30 members, banded together under the Article 5 umbrella of collective defence. Prospective new members must be acceptable to all of them to get a seat at the table.

If any one of them casts a metaphorical black ball into the pot, the candidate's application is rejected: no appeals, no recount, no geopolitical VAR.

So, on the face of it, no Nato member is any bigger than any other.

From the biggest spenders to those that may not have as much kit but can be relied upon to turn up (not mutually exclusive), each member state gets one vote and one vote only.

It is a rare outbreak of equality in an industry where the whole business model is designed around inequality (nobody wants to go to war against an opponent of equal strength; the idea is to convince an adversary they are so overmatched they will never even contemplate military action).

Armed forces rarely go in for such genial decision-making. As one senior officer once told me,
"we're here to uphold democracy, not practice it".
So the one-member-one-vote thing is a bit of a charade. Which is where America comes in.
Were Finland and Sweden to be rebuffed in their applications for Nato membership it would be a massive propaganda coup for Vladimir Putin, dent alliance unity and undermine the existing very close bilateral relationships between member states and the Nordic nations.
The two aspirant members have only felt confident enough to apply because they would have been given assurances their requests will sail through, probably at the next Nato summit in Madrid at the end of June.
And that means America must be happy.
Any signals that this was not likely to be the case would have been sent long ago. Washington would have been very clear, albeit behind closed doors, if they did not want the alliance to expand. The final check on this position probably took place last week when Defence Secretary Ben Wallace visited his opposite number in the Pentagon.
Why is the White House happy, given neither Finland nor Sweden meet Nato's 2 per cent spending rule and their accession will further antagonise the Kremlin?
Their potential accession to the club has already annoyed Russia, to which the overwhelming – and correct – response from the West has been a comedic and very nonplussed 'boo-hoo'. Moscow's forces have shown themselves incapable of getting across a river – invading Finland might be a step beyond them right now.
America will have assessed that any Russian grumpiness is already priced into the relationship with Moscow, and be content both countries will address their defence spending.
But for the real reason America is happy, we must look to the east. Not Ukraine, keep going. Not Moscow either, keep going a little further.
Until you stop on Beijing.
As Ken McCallum, the Director General of MI5, said in his maiden speech, when it comes to international security Russia may provide the occasional bad storm, but China is changing the weather.
The US wants Europe to do more of the heavy lifting on security in its neighbourhood and not just so it can reduce its footprint in the region and bring the troops home; always a vote winner.
It is more concerned with the potential conflict coming down the line with China and needs to divert resources to other projects, particularly the recapitalisation of the US Navy and the defence of Taiwan.
America is pleased the two Nordic countries want to join Nato, but for reasons way beyond concerns about the north Atlantic. So, what is America thinking, in allowing Finland and Sweden to join Nato?
It is thinking more about the changing weather than the current storm.
May 17
May 18
Ukrainians turn to black humour as war grinds on
By Colin Freeman,
IN MYKOLAIV
Like their counterparts at Scotland Yard, Ukraine's police force is supposed to pride themselves on observing

the

principle of innocent until proven guilty.

However, it seems the traffic police in Mykolaiv have already made their minds up, should they ever pull over a certain Mr V Putin of Moscow.

Driving through the Black Sea port city of Mykolaiv today, we pulled up behind a patrol car with the words "Putin is a d—head" printed in large letters on the rear window.

It's just one example of the rather robust propaganda that emanates from unexpected branches of the state here. In Kyiv, road signs have been altered to tell the Russian army where to go, so to speak.

One, near the eastern suburb of Brovary, reads: "Ahead; go f— yourself. Left: go f— yourself again. Right: Russia is this way, f— off back there." The electronic motorway gantry signs say the same.
Road signs spotted in Mykolaiv. Credit: Colin Freeman
Even

the

Ukrainian tax and revenue service – not a branch of government normally known for its sense of humour – has got in on

the

act.

At the start of the war, it announced that anyone who captured a Russian tank or armoured personnel carrier did not need to declare their new acquisition for tax purposes.

The reason for this exemption, it gleefully explained, was because none of Russia's clapped-out armour was actually worth anything above the tax threshold.

Plus, it added, "enemy military equipment usually comes to you already destroyed and disabled."

I like to think that British officials would come up with similarly sly humour, were we ever to find ourselves at war.

Somehow, though, I doubt that the country that came up with "See it, Say it, Sorted" would necessarily rise to the occasion.
The

defenders of Mariupol have one final mission: Return With Honour
By Dominic Nicholls,
DEFENCE AND SECURITY EDITOR
What now for

the

Ukrainian defenders of Mariupol who have been taken prisoner by Russian forces?

On Tuesday, 265 soldiers finally ended their defence of the port city and left the impenetrable Azovstal steelworks after 82 days. Of these, we are told 51 went straight to a medical facility in Novoazovsk, a little further east along the coast.

Interestingly, both the wounded and the rest – who were sent about 50km north to Olenivka near Donetsk – were taken to locations still in Ukraine, albeit in separatist-held areas, rather than Russia proper.

Whether this was part of the surrender deal and will endure is yet to be seen. Also unclear is whether a prisoner swap will be arranged.

I doubt (but hope) that an exchange for Russian prisoners of war (known as PW in British forces; PoW to many others) will be acceptable to Moscow, given the morale-boosting coverage their deliverance from oblivion will undoubtedly attract.

The surrender was clever politics by President Zelensky.

I suspect Moscow would have been keen to make the deal this week, in a bid to claim a victory in the south (never mind that they said they'd won the battle a few weeks ago and were halting their attacks in Mariupol) so as to divert attention from their ejection from Ukraine to the north of Kharkiv.

So it's over, for now. But what should the Ukrainian troops expect?

I was a military interrogator and Conduct After Capture instructor during my time in the big green machine. Provided Russia abides by the Geneva Convention (by no means guaranteed), I have a reasonable idea of what will be happening right now.

For all their mental resilience and staunch patriotism, the Ukrainian soldiers will be feeling extremely nervous. Regardless of the time they have had to prepare, meeting the enemy is always an unsettling experience. This phenomenon is called 'shock of capture'.

Commanders will fear for the men and women in their charge. Each soldier will question if they could have done more: did I let the side down, was I a good enough fighter, did I overlook anything, are people going to die now because of my weakness?

And that's before they start thinking about their families: will I see them again, do they know I tried my best, will they be ashamed of my surrender?

These thoughts are as natural as they are unreasonable, but are no less powerful for that. They form part of the self-induced pressure each soldier will be experiencing. Russian forces will do everything they can to keep their prisoners in this state of mind as long as possible: off-balance mentally, fretful, fearful and exhausted.

A professional interrogator will then layer on top of that the system-induced pressures: lack of sleep, uncomfortable but not degrading conditions, the promise of news from home in return for information.

They will also spring surprises. After days of basic rations, a prisoner might be led to a room where a lavish banquet awaits. Does he stuff himself or resist so as not to enjoy privileges denied to others? Perhaps they have already tucked in, the prisoner might think, what's the harm, maybe the interrogator isn't so bad after all?

It's called 'dislocation of expectation' and is designed to keep the prisoner guessing, on his guard, unsure of the new rules. All the better to be incapable of resisting. All the better to make the prisoner want to talk to the interrogator, perhaps his only friend in this new topsy-turvy world.

I have not been interrogated except in numerous training serials (which lasted days and were extremely confusing, uncomfortable and mentally exhausting) so can only imagine what the real thing must be like.

The British armed forces teach that captives should only talk to confirm name, rank, military number, date of birth, blood group and religion. They're called the Big 6. The answer to any other question should be 'I cannot answer that question'.

In reality, captives often say more, worn down by days of treatment, with ugly thoughts and accusations running through their heads. As much as the prisoner would like to stick to the Big 6, it is often impossible not to let more go.

The Americans realised during the Vietnam war that expecting service personnel to stick rigidly to their equivalent of the Big 6 was not credible. Humans don't work like that.

They accepted captives would eventually talk, often to save the lives of others in captivity with them. The trick was to not give away anything that would be of significant use to the enemy. That way fellow troops were protected and the individual would return home one day and not be haunted by guilt and self-loathing.

They coined a term for it: Return With Honour. Do what you have to do to survive, but remember your duty, resist as long as possible and do everything to protect your fellow fighters.

The brave resistors in the Azovstal plant prevented the Russian army from reinforcing their effort in the Donbas and bought their fellow Ukrainians valuable time.

They have one final mission: Return With Honour.
Three must-read stories
'With every explosion, you think – is this

the

end?': Villagers trapped by Russian bombs have spent months underground. Here we speak to those who are too vulnerable to escape.
Hitler's failures on the battlefield show why Brigadier Putin is doomed to fail
Exclusive: Ministry of Defence cuts Help For Heroes' ties with Prince Harry's Invictus Games
May 19
| | |
| --- | --- |
| | Russia sends notorious 'Terminator' armoured vehicle into Donbas battle  May 20 |
| EU mulls targeted trade war 'on troublesome Brexiteer MPs and Tory ministers' | |
May 20
Vitaly Kim, the governor of Mykolaiv Oblast. Credit: BULENT KILIC/AFP via Getty Images
It's not just Zelensky who's stepped up to
the

challenge of war – let's raise a fist for Ukraine's local government
By Colin Freeman,
IN ODESA
Twenty years ago this very week, long before I ever set feet in Ukraine, I quit my job as a local government correspondent on

the

London Evening Standard.

I was, frankly, a lousy municipal reporter, and I doubt the town halls of London mourned my departure greatly (or, indeed, noticed).

I didn't miss them much either, though, as interviewing local government officials isn't normally much of an adrenaline kick. You can imagine the sort of thing: some suited bureaucrat, spouting town hall-ese about Camden Council's planning shake up or Southwark's recycling initiatives.

Still, if I was offered a job on the local government beat here in Ukraine, I might think again, as there seems to be no shortage of colourful characters in the town halls here.

Last week, for example, I met Oleksandr Syenkevych, Mykolaiv's combative mayor, who dresses in military fatigues and packs a pistol, lest a Russian snatch squad try to kidnap him. For the same reason, he never sleeps under the same roof for more than one night.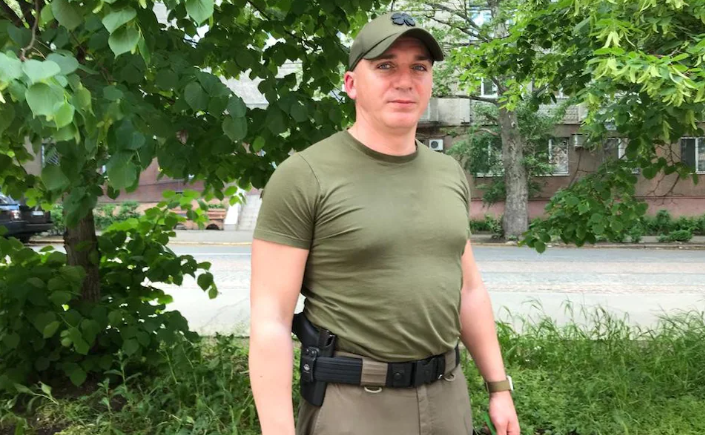 Oleksandr Syenkevych, Mykolaiv's mayor. Credit: Colin Freeman
Then a few days later, it was Vitaly Kim, Mykolaiv's regional governor, who likewise likes to keep a low profile. When we went to a rendezvous point downtown to meet him, he suddenly appeared in

the

street, dressed in jeans and a t-shirt. He was, I think,

the

highest-ranking official I have ever done a formal interview with while stood on a street corner.

Both Kim and Syenkevych have good reason to be cautious. A month ago, a missile struck Mykolaiv's main municipal building, killing 36 local government workers.

Kim only avoided being killed, he told me, because he turned up late for work that day. Yet while he keeps a low physical profile, though, he has a very large online one, enjoying a certain celebrity in Mykolaiv for his Tweets making fun of Vladimir Putin.

When the Russian president put on his Victory Day parade in Moscow on May 9, for example, Kim asked if the Kremlin was planning for the pageant to include all the refrigerators and grain trucks stolen from Ukraine. You never got anything like that at Southwark Council.

It will all calm down, I guess, if the war ever ends, at which point Ukraine's town hall chiefs will revert to being as monochrome as everywhere else.

But if I was a judge on the annual European Mayor of the Year Awards (yes, they exist, a kind of municipal Eurovision), I'd expect some hot contenders from Ukraine this year…
Donbas is a living hell for those who remain, and even if Russia fails
the

scars will be long lasting
By Danielle Sheridan,
POLITICAL AND DEFENCE CORRESPONDENT
Volodymyr Zelensky's declaration that

the

Donbas region has been completely destroyed by Russia gets to

the

heart of this war.

During his nightly address, the president somberly set out that Vladimir Putin's fighters had turned the area into "hell".

He said: "It is hell there – and that is not an exaggeration". He added that on Thursday 12 people had been killed in the "brutal and absolutely senseless bombardment" of Severodonetsk.

He said: "[There are] constant strikes on the Odesa region, on the cities of central Ukraine. The Donbas is completely destroyed."

He added that there is no "military explanation" that Russia can provide for this level of destruction.

"This is a deliberate and criminal attempt to kill as many Ukrainians as possible. Destroy as many houses, social facilities and enterprises as possible," he said.

What really twists the knife is how Marat Khusnullin, Russia's deputy Prime Minister, visited the Kherson and Zaporizhzhia regions this week and seemed to declare the destruction a victory.

He said the areas that are soon to become part of "our Russian family", a phrase that no doubt sent shivers down the spines of Ukrainians.

President Zelensky also added that as Ukrainian forces were continuing to liberate the Kharkiv region to the east of Kyiv, Russia was applying more pressure in the Donbas, which lies in the southeastern part of Ukraine.

If there was any thought that the fighting in the region might experience a lull, the Ministry of Defence (MoD) has sought to firmly correct this, warning that Putin was likely to reinforce its operations in the Donbas once they had secured the southern city of Mariupol.

They added that as many as 1,700 soldiers are likely to have surrendered at the Azovstal steel factory. It cautioned that staunch Ukrainian resistance in Mariupol since the start of the war "means Russian forces in the area must be re-equipped and refurbished before they can be redeployed effectively".

Perhaps this will buy time but it shows their desire to recoup and press on with the violence.

They added: "Russian commanders, however, are under pressure to demonstrably achieve operational objectives. That means that Russia will probably redistribute their forces swiftly without adequate preparation, which risks further force attrition."

For President Zelensky to remark that an area has been destroyed highlights the gruesome aftermath of this war.

Even if Ukraine were to succeed in holding the region, the devastation that Putin's regime has overseen will long reign over the area, even if the fighter's physical presence has gone.

It will take years to repair and rebuild and no doubt many historic elements of the region will never be recovered. Not to mention the trauma that those survivors – fighters and civilians alike – will have to deal with for the rest of their lives.
| | |
| --- | --- |
| | |
No hope of US trade deal if Britain discards Northern Ireland Protocol, says Nancy Pelosi