In het land waar Poetin een zogenaamde denazificatie bezig is waarbij hij de hulp krijgt van de Nazistische terreurbeweging van Dimitri Oetkin, denken nu velen ook aan de Slachting van Uman tijdens de Haydamak-revolte van 1768. Die massamoord op Joden, maar ook op Oekraïense katholieken en jezuïeten, staat iedere Oekraïner in het hart gegrift. Maar het aantal slachtoffers (tussen de 2000 en 33.000) verschilt in de overlevering net zoveel als de informatie over herkomst van de daders en de slachtoffers.
Tijdens de Russische burgeroorlog van 1918-1923 werden door het Volkscommissariaat voor Binnenlandse Zaken, de NKVD, Stalins Geheime Politie, de voorganger van Poetins KGB heel wat moorden gepleegd en vielen er meer dan 100.000 slachtoffers.
Aan het eind van de 19e eeuw behoorde de meerderheid van de Oost-Europese joden tot het chassidisme (Ḥasidut; "de vromen").
Via Israëlische communisten wisten een groep van tweehonderd chassidische Joden, toestemming te krijgen om zich te vestigen in Uman, in de toenmalige Sovjet-Unie. Zij begonnen met niets.
Interim-rabbi Natan-Ben-Noon, een religieus Woodstockveteraan die zich in 1988 in Uman kwam vestigen zegt over de vroegere inwijkelingen,
De eerste weken waren ronduit zwaar: ons koosjer brood, meegenomen uit Jeruzalem, raakte op en graan om het zelf te bakken was er niet. Een week lang aten we niks. We hadden geen water, dus wasten we ons in de rivier. Maar we waren bij het graf van rabbi Nachman, en dat is wat telde.

Sindsdien zijn we uitgegroeid tot een vaste gemeenschap van tweeduizend mensen. En honderdduizenden pelgrims per jaar, van wie een groot deel niet religieus is.

De deur staat wagenwijd open voor iedereen. Wist je dat Kim Kardashian naar hier wil komen? Ieder mens op aarde is hier welkom, iedereen moet hier zijn.'
Maar te zien hoe dat Poetin met zijn troepen in Oekraïne nu ook te keer gaat, is het nu niet de ideale tijd om naar hier te komen en lijkt het er ook op dat er weer duizenden burgers de dood zullen vinden omdat er een gek een oorlog is begonnen om zijn rijk verder uit te breiden.
Ook al klinkt dag en nacht het luchtalarm in de stad Uman (Oeman) in de Oekraïense oblast Tsjerkasy, centraal in Oekraïne, houden chassidische Joden biddend en zingend stand, rond het graf van hun rabbi Nachman van Breslov. De Rebbe had hij zijn discipelen in Uman verteld:
"Dit is een goede plek om begraven te worden."
waarbij hij verwees naar de begraafplaats waar tweeduizend (volgens sommige bronnen twintigduizend) Joodse martelaren van het bloedbad van Uman uit 1768 werden begraven.
Een handvol mannen met kolpik (de karakteristieke bonthoed), en in bekishe (de zijden of nylon zwarte jas), de gebedsmantel om de schouders; dat is alles wat er vandaag van de eens bloeiende chassidische gemeenschap in de Oekraïense stad Uman over is.
In de synagoge van Uman waar zich de graftombe bevind van rabbijn Nachman van Breslov (1772-1810), de grote mysticus en kleinzoon van de stichter van het chassidische jodendom, Baal Shem Tov (Yisroel ben Eliezer) hebben de mannen een grote hoop.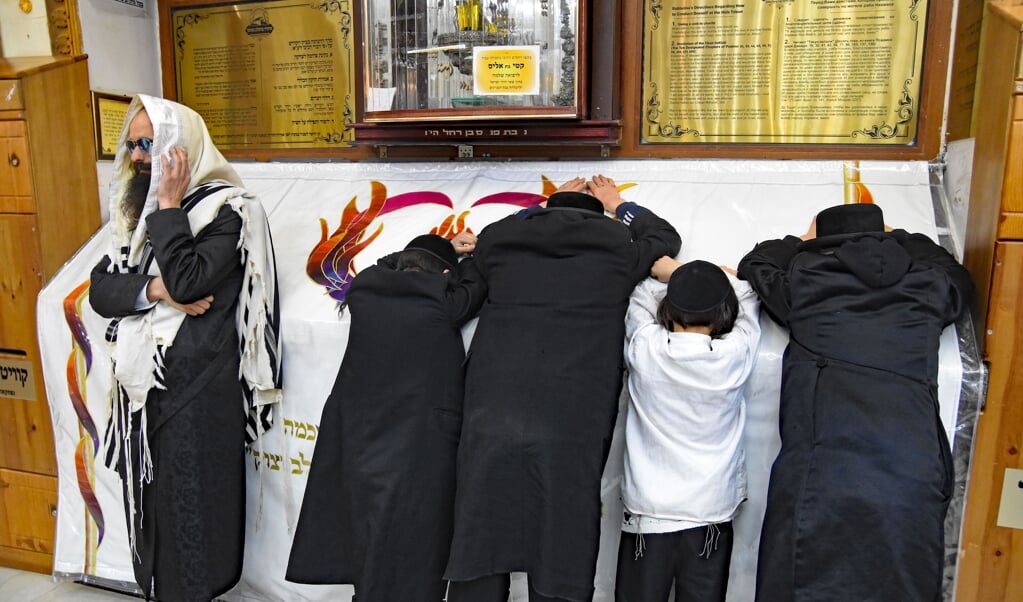 Een man met zonnebril in taliet-met-schouwdraden werpt extatisch zijn handen in de lucht:
Sh'ma Yisrael Adonai Eloheinu Adonai Eḥad, Hoor, Israël! JHWH (Jehovah) is onze God. JHWH is één.
Een jongetje van zeven kent de laatste woorden die de rebbe sprak, vlak voor zijn dood en spreekt ze uit:
'Als iemand naar mijn graf komt, en een pruta, een kleine munt, aan de armen schenkt en hij de tien psalmen van de Tehiim reciteert, dan zal ik, zelfs al zijn zijn zonden groter dan groot, alles doen wat in mijn macht ligt om hem uit de diepte van het Gehenna te trekken.'
Dit laat zien hoe vlug mensen hun hoop gaan stellen op mensen in plaats van rechtstreeks op de Elohim. Want normaal zouden zij moeten weten dat doden niets meer kunnen doen, hun leven is weg, hun gedachten vergaan, en volgens de Schrift kunnen zij niets mer doen. Toch kan men nu daar in die enorm beschadigde stad mensen vinden die hun hoop stellen op die overleden rebbe.
Twee weken geleden liepen in deze stad nog heel wat gevluchte vrouwen en kinderen uit de havensteden Marioepol en Cherson hier in en uit – naar de bussen die ze de volgende dag verder zouden vervoeren, naar landen in de Europese Unie. Nu is het stiller op dat vlak, want de vluchtelingen komen slechts druppelsgewijs nog binnen, de relatief rijke Oekraïners die zich een verblijf in Hotel Hoshen kunnen permitteren.
'De eigenaars, drie Amerikaanse joodse investeerders en een man uit Uman, hebben de kamerprijs verlaagd van tweehonderd dollar tot dertig',
zegt Dima, de manager,
'maar toch blijft het hotel voor de meeste mensen te duur.'
De dagen dat Hoshen en de vijf andere Joodse luxehotels uitpuilen van de gasten – zoals op Rosj Hasjana, het Joodse nieuwjaar, wanneer Uman vijftig- tot zestigduizend pelgrims naar het graf van rabbi Nachman trekt – zijn even voorbij, zegt Dima.
'Eerst kwam covid en sloot president Zelensky de grenzen voor pelgrims, en toen kwam Poetin.
Nathan Berger, die twee jaar geleden vanuit Jeruzalem naar Uman is geëmigreerd zegt
'Jaar na jaar, tot voor kort, kwamen er meer mensen, uit alle windstreken, naar dit veraf gelegen stadje diep in Oekraïne, om te bidden.

En schijnbaar uit het niets, na bijna volledig te zijn weggewist in de Holocaust, is hier de laatste twintig jaar een blijvende Joodse gemeenschap ontstaan van 1500 mensen. Ik weet niet wat de hogere bedoeling is, maar het is alsof JHWH naar Uman kijkt als door een microscoop.'
Maar Nathan Berger heeft een vermetel plan:
'Ik probeer het lichaam van rabbi Nachman naar Israël te krijgen. Daarom ben ik hier. Rabbi Nachmans uiteindelijke thuis is Jeruzalem. En nee, dat lukt nog niet zo erg: ik vind hier weinig steun voor mijn plan.'
In zekere zin kan men dat begrijpen.Ergens moet men de wil van een overledene respecteren.
'''Ik wil in Uman begraven worden'',

heeft rabbi Nachman gezegd, dus blijft hij hier',
antwoordt Avraham Ozirny, geboren en getogen in een dorp vlakbij Uman.
'Ik denk dat rabbi Nachman hier is om deze oorlog tot een eind te brengen.
Vervolgens haalt hij de overbekende spreuk aan
'Je ziet: waar er twee Joden bijeen zijn, zijn er dríé meningen.'
Volgens de Joodse gemeenschap in Uman is rabbi Nachman er niet alleen om deze oorlog te stoppen
'maar om heel Oekraïne en uiteindelijk de hele wereld heel te maken. Niet alleen naar lichaam, maar ook naar geest. Op voorspraak van de rabbi zal JHWH de wereld overstelpen met vrede en mededogen.'
zeggen ze.
Avraham Ozirny, verwijzend naar Poetins woorden dat Oekraïne geregeerd wordt door neonazi's zegt
'Dat we in Oekraïne een Joodse president hebben, is iets dat maar moeilijk tot Rusland doordringt.
Nathan Berger wenst dat er tegen de president Zelensky wordt gezegd dat hij naar Uman komt om bij het graf van rabbi Nachman te bidden.
'Ik ben ervan overtuigd: dan zal er geen oorlog meer zijn, maar vrede.'
zegt Nathan.
Terwijl het anders op Rosj Hasjana wel op Woodstock lijkt, is het nu beangstigend stil.
Het is zo dat dansen en zingen in de chassidische traditie past, waarin de Elohim Hashem Jehovah verheerlijkt wordt in heel Zijn schepping,omdat het er niet om gaat om zielloos door de 613 Joodse geboden en verboden te bladeren en de Torah te lezen totdat men er scheel van wordt, als men geen levend contact heeft met de Bore (de Schepper).
Rabbijn Natan-Ben-Noon heeft nog grootse plannen voor Uman waar hij een nieuw Sion wil bouwen. Hij zegt:
'We willen hier de grootste synagoge ter wereld bouwen, met het grootste restaurant ter wereld en de grootste parking. Ik weet het: het is hoog gegrepen, maar het gaat er, met de steun van rabbi Nachman, echt van komen.
Of dat weerstand oproept van de bevolking van Uman?
'Ik denk van niet. De Joden hebben Uman uit het slop getrokken en op de kaart gezet en we zorgen voor buitenlandse investeringen en voor banen. Dat wordt in Oekraïne langzaam beseft en gewaardeerd.'

Precies een maand geleden, in de eerste dagen van de oorlog,
zegt Natan-Ben-Noon,
'is het overgrote deel van de chassidische gemeenschap uit Uman vertrokken. Naar Israël.

Van de tweeduizend zielen zijn er hier welgeteld nog vijftien over.'
Ook de rabbijn vertrok. Vandaar dat Natan-Ben-Noon die functie tijdelijk heeft overgenomen.
'Toen de oorlog uitbrak, zat ik in Israël. 'Ik ga naar Oekraïne', zei ik tegen mijn vrouw. Mijn vrouw denkt dat ik gek ben. Ik sprong op het vliegtuig: precies een maand geleden, op sabbat, was ik weer terug in Uman.'
Maar erg genoeg joeg de angst voor de dood velen weg uit Uman. Van de Chassidiem zijn er nog maar 15 over, maar de rabbi is daar voor de Oekraïners en om zijn plan voor de toekomst uit te bouwen.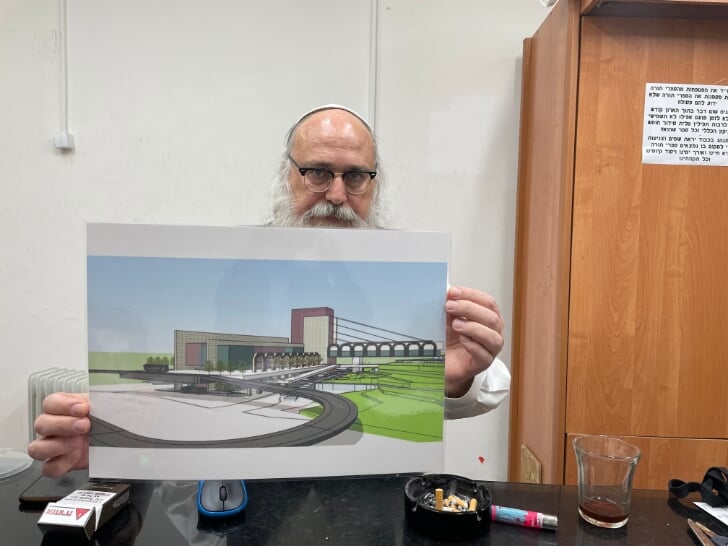 +
Voorgaand
++
Aanvullend