Presidents Vladimir Putin and Xi Jinping issued a joint statement to highlight the "interference in the internal affairs" of other states as both leaders continue to face criticism from the West over their foreign and domestic policies.
The statement said:
"Some forces representing a minority on the world stage continue to advocate unilateral approaches to resolving international problems and resort to military policy."
After a flurry of diplomatic activity that included talks with US president Joe Biden this weekend and three phone calls with Putin, Macron landed in Moscow on Monday seeking a "de-escalation" of the tense standoff on Ukraine's eastern borders expressing that he hoped he and Mr. Putin could come to find a solution to avoid a war.
All the time we hear from Russia that it is not planning to invade Ukraine but we can not ignore the build-up of tens of thousands of troops near its neighbour's borders, prompting the US to order about 3,000 extra troops to bolster Nato's eastern flank in Poland and Romania.
French president Emmanuel Macron believed he could deliver "a historic solution" to the Ukraine crisis and told the Journal du Dimanche newspaper on Sunday that Russia's objective was
"not Ukraine, but a clarification of the rules … with Nato and the EU".
It was therefore
"urgent to advance towards a new order which our Europe needs profoundly and which rests on the cardinal principle of sovereign equality among states",
he told the paper.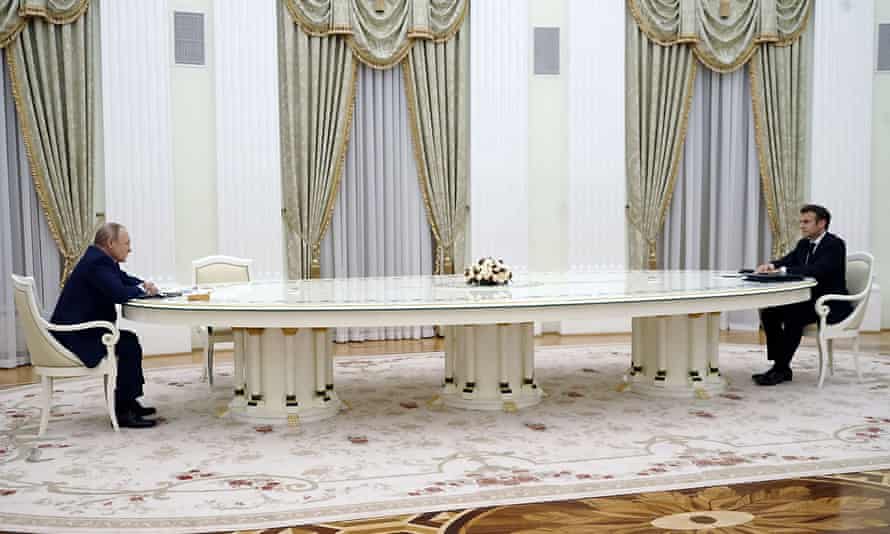 In a way, it was a bit comical when we saw how awkward, relaxed both men were sitting over each other at that enormous white table. Though Emmanuel Macron and Vladimir Putin did not appear to reach a breakthrough in marathon talks at the Kremlin on Monday evening aimed at fending off a Russian attack on Ukraine.
After five hours of negotiations, Macron warned that the two sides needed to work quickly to avoid the risk of an escalation.
"Right now the tension is increasing and the risk of destabilisation is increasing,"
Macron said, according to a simultaneous translation of his remarks following the talks.
"Neither Russia, nor the Europeans want chaos or instability, when nations have already suffered from the [coronavirus] epidemic. So we need to agree on concrete measures."
In a way, Putin and the President of Ukraine are right to say that it is actually the United States that is interfering in matters that do not really concern it. In fact, the United States is sending out all kinds of messages in the world while it is itself carrying out a build-up of troops. But this so-called military exercise is very strange because it was not mentioned several months before, and when looking at the division of the troops it is very strange, to say the least, that it is all around Ukraine.
White House national security advisor Jake Sullivan offered another stark warning the day after Washington said Russia has assembled at least 70 per cent of the military firepower it intends to have in place by mid-month to give President Vladimir Putin the option of launching a full-scale invasion of Ukraine. Of course, America's constant throwing oil on the fire is not really helping to calm this agitation.
Without going into specifics, Putin said it was possible to consider
"a number of [Macron's] proposals and ideas … in order to lay a foundation for our further steps."
But he also blasted Nato's open door policy, saying it only benefited the United States. He also appeared to be needling Ukraine's Zelenskiy by saying that Russia was ready to offer political asylum to his rival Petro Poroshenko, who has been charged with treason over his alleged involvement with financing Moscow-backed separatists.
"I believe [Poroshenko's] made a lot of mistakes,"
Putin said.
"And yet I believe his prosecution for treason is excessive by the incumbent leadership. We stand ready to grant such people as Mr Poroshenko asylum in Russia."
Ukraine's former defence minister Andriy Zagorodnyuk said that Russia has enough troops in place to seize Kyiv or another Ukrainian city but not yet sufficient numbers for a full takeover and occupation of the country.
Asked about the likelihood of Putin ordering an invasion, Biden replied:
"I know that he's in a position now to be able to invade, almost assuming that the ground is frozen above Kyiv. He has the capacity to do that. What he's going to do I don't know."
The president said that it would be a "gigantic mistake" for Putin to attack, but he advised US civilians to leave Ukraine, saying:
"I don't want them to get caught in the crossfire."
+
Find also to read:
+
Preceding