Tijdens de Corona periode hebben wij meermaals berichten binnen gekregen over evangelische kerken die de richtlijnen van de regering negeerden.
Terwijl ambtenaren van Nieuw-Zuid-Wales (New South Wales) zingen en dansen op muziekfestivals, nachtclubs en andere uitgaansgelegenheden hebben verboden, zijn religieuze faciliteiten vrijgesteld van het gezondheidsbevel dat is uitgevaardigd in een poging om de piek van het aantal coronavirusgevallen als gevolg van de omikron-variant in te dammen.
Medeoprichter Brian Houston van Hillsong haalde uit naar een beslissing om Novak Djokovic in Australië te laten blijven en drong er bij de regering op aan om de regels aan te scherpen – slechts drie dagen voordat een wild feest op het jeugdkamp van zijn kerk tot grote verontwaardiging leidde.
Australië meldde vrijdag een voortschrijdend zevendaags gemiddelde van meer dan 107.000 gevallen in zijn strijd tegen de ergste uitbraak van de pandemie.
Hillsong Church, algemeen bekend als Hillsong, oorspronkelijk Hills Christian Life Centre geheten, is een wereldwijde charismatische christelijke megakerk en een invloedrijke keten van pinkstergemeenten die in 1983 in Baulkham Hills, Sydney, New South Wales, Australië, die opgericht is  door Brian Houston en zijn vrouw Bobbie.
Hillsong werd opgericht in Australië maar is uitgegroeid tot een wereldwijde entiteit met gemeenschappen in zo'n 30 landen. Hillsong is ook een grote producent van muzikale hits voor andere evangelische kerken, vooral die van de pinkstergemeente.
Sinds 2010 is Hillsong ook in Nederland actief en heeft het zich niet gestoord aan de door de regering opgelegde Corona maatregelen.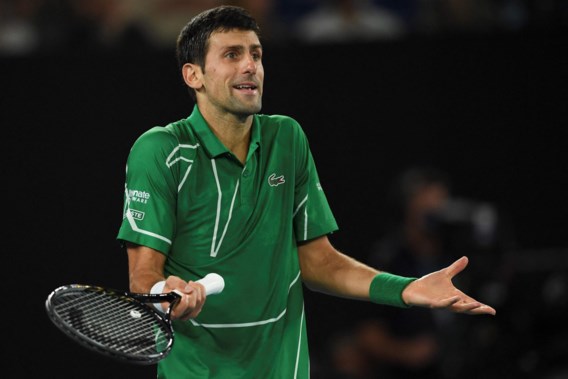 Zoals de grote Servische tennisster Novak Djokovic denkt boven de wet te staan, stelt die kerkgemeenschap zich ook zodanig op dat mensen geloven dat God hen in die kerkgenootschap wel tegen het virus zal beschermen en dat er daarom geen hindernissen zijn om met meerderen samen te komen.
Minister van Volksgezondheid Brad Hazzard zei dat het Hillsong-evenement
"duidelijk in strijd was met zowel de geest als de bedoeling van de verordening, die is ingesteld om de gemeenschap veilig te houden".
Dr. Kerry Chant, hoofd van de gezondheidsdienst, zei dat zingen en dansen tijdens grote evenementen een groot risico op overdracht van COVID-19 met zich meebrengt.
Gezondheidsfunctionarissen in de Australische staat New South Wales hebben de megakerk Hillsong verzocht onmiddellijk te stoppen met zingen en dansen nadat er video's waren opgedoken van jonge kerkgangers die dat wel deden, waarop musici de functionarissen ervan beschuldigden met twee maten te meten door kerken vrij te stellen van regels die dergelijke activiteiten verbieden.
De afgelopen dagen circuleerden er op internet video's van bezoekers aan een Hillsong-evenement, waarop te zien was hoe de menigte liederen ten gehore bracht en danste op evenementen die meer leken op concerten of muziekfestivals dan op traditionele kerkdiensten.
Uit beelden blijkt duidelijk dat maskers niet werden gedragen terwijl ook niet voldoende afstand werd gehouden en dat de kerkleden zich zeker niet aan vaste plaatsen hielden.
Die kerkgemeenschap wijst er op dat andere kerken wel met hun diensten in real-life mogen door gaan, maar dat het daarbij gaat om kleinere gemeenschappen en niet om kerken waar er meer dan 50 of 100 aanwezigen zouden zijn.
Dominic Perrottet, de premier van de deelstaat, vertelde vrijdag aan verslaggevers dat hij "volledig geschokt" was toen hij de video's zag, en dat hij begrip had voor de "frustratie en woede" die mensen voelden na het zien van de beelden van de Hillsong-bijeenkomst.
"Dit was een uitzondering op wat iedereen in de staat doet, de inspanningen [en] opofferingen die mensen maken,"
zei Perrottet.
"Wij hebben deze regels gemaakt en ook al was het technisch gezien binnen de regels, het was zeker niet in de geest van de regels.
Ergerlijk is dat een kerkgemeenschap niet tussen de regel kan lezen terwijl zij toch in eerste instantie zouden moeten weten hoe wetten en regels zouden moeten geïnterpreteerd worden en hoe zij zich aan die wetten zouden moeten houden die ter bescherming van de mens, hun mede-broeders en zusters, zijn.
Hillsong verdedigde zich door aan te halen dat het evenement met veel muziek en dans deel uitmaakte van een christelijk jeugdkamp en erediensten omvatte. Volgens hen zijn de bijeenkomsten "geen muziekfestivals," alsook voegden zij aan hun verdediging toe dat het gebeuren was toegestaan door plaatselijke volksgezondheidsbesluiten.
Dit gaat natuurlijk niet op als men weet dat in Australië, zoals op vele plaatsen in de wereld, de entertainmentsector aan handen en voeten gebonden is, en zeer beperkt wordt om optredens te mogen geven in het openbaar. Meerderen zijn al maanden niet kunnen optreden door de hun opgelegde beperkingen. Voor hen is het dan ook aanstootgevend dat die musici dan wel zouden mogen optreden omdat het daar dan om een zogenaamde kerkdienst gaat en dit dan ook nog eens voor zo veel aanwezigen.
+
Voorgaande