Djokovic, the world's top-ranked men's tennis player knew his popularity and managed to play on it. His fame got so high in his heads that he thought he could enter Australia like no other man could do, unvaccinated and without quarantine.
Novak Djokovic presented himself as a victim and managed to get his Servian government even to believe and say that he would have been tortured. He very well knew the conditions to enter Australia. Federal Health Minister Greg Hunt had written in November last year, to Tennis Australia chief executive Craig Tiley, saying players wishing to enter Australia quarantine-free must be fully vaccinated and cannot count a previous infection as a reason for exemption.
On December 18, Djokovic took part in a media interview despite having received a positive result on the PCR test.
Just before midnight on January 5, Djokovic arrived in Melbourne on a flight from Dubai and in the morning of the following day he was interviewed by Border Force officials before his visa got cancelled. He then was transferred to a Melbourne immigration detention hotel where he got a room to stay and sleep, which had nothing similar to a prison cell. He also next to the room he had not to pay for got three free meals a day. That day his lawyers filed a challenge against the cancellation of his visa and an injunction was granted to allow Djokovic to remain in the country until January 10, the same day a hearing was scheduled in the Federal Circuit Court.
On January 10, the court decided that Djokovic's visa was unreasonably cancelled, highlighting the lack of time given to the player to contest the decision, and ordered his release from detention. After his release, the tennis star publicly stated his intention to stay in the country and compete at the Australian Open. Though at that time pictures had not been seen yet, proving that he lied about his whereabouts in the previous months.
On January 14, Immigration Minister Alex Hawke used his common sense and ministerial powers to cancel Djokovic's visa on "health and good order grounds". Later that day, Djokovic's lawyers lodged an application at the Federal Circuit Court to review the cancellation. All the money Djokovic could spent to get himself free to enter the country did not help, and two days later, the Federal Court dismissed Djokovic's application before a full bench. He got deported that evening.
The previous days we also could see how many adored the tennis player like a god. Many Serbians and fans of the player became enraged by the Australian government's decision to try and deport Novak Djokovic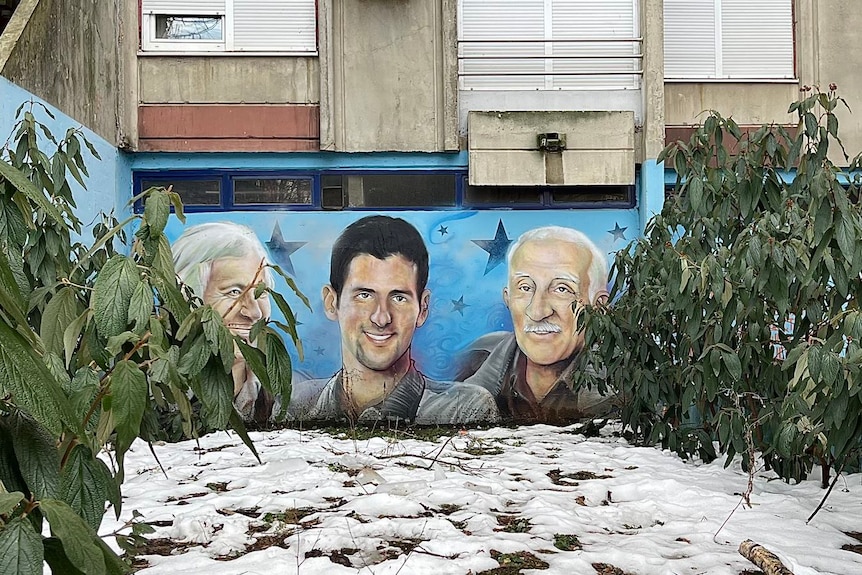 In the previous months there were lots of Australian citizens who could not enter their own country because of the lockdown. Even when vaccinated (once or twice) they could not go home or come to join or visit their family.
We can therefore ask ourselves what possesses Djokovic and the Serbs to demand that he be allowed to do more than those Australian citizens who even had to wait months to be reunited with their families.
In the end, we could see that justice was done. The person who lied to the authorities, who did not want to be vaccinated when this would have given him the opportunity to enter the country, was eventually denied entry into Australia, as was and is still the case for others.
The man of great fame had to step down in the end and had been unceremoniously deported 12 hours before one of the world's major tennis championships, the Australian Open started, after a trio of federal judges upheld the Australian immigration minister's decision to cancel the unvaccinated athlete's visa. As he walked through the departure gate, his fellow passengers broke into applause, according to one person on the flight. With Djokovic potentially banned from Australia for three years, it just might have been the last applause he'll get Down Under.
Novak now may be promoted as an anti-vaccination icon, but people their eyes should be opened and come to understand that everybody should be equal for the law, and should make the right decision to protect their fellow citizens.
The tennis player should not have been allowed to come to Australia at all, in order to avoid this media circus.
In the first instance, he did not sufficiently comply with the rules for entering the country, his visas should not have been refused, but simply not issued.
To say Djokovic is being bullied by the Australian government and would be tortured seems very likely and is showing how the Serbian government is using this situation to make it a political issue and trying to have its people more behind them.
Djokovic's treatment is playing on the minds of many in Belgrade. And the player used his popularity to exaggerate certain conditions. They also want to believe that the Australian government and the Tennis Federation would not want the Serbian player be able to claim the title of most-successful male tennis player of all time. (Djokovic is vying to claim his 21st grand slam, which would put him one ahead of Rodger Federer and Rafael Nadal.)
On Monday after his deportation from Australia over its required COVID-19 vaccination ended the No. 1-ranked men's tennis comedy.
Christophe Castaner, a former member of President Emmanuel Macron's government, made it also clear that for France
"Mr. Djokovic has no business playing if he doesn't respect a rule that applies to spectators, ball collectors, to the professional who will work in boutiques at Roland-Garros."
All those people who have some fame should come to know that the law will apply to French citizens and foreigners alike, if they want to come to the second of the major events that make up the annual Grand Slam of tennis, the French Open.
Djokovic, who should never have made it into Australia to start with, is also the defending champion at Wimbledon. England has allowed exemptions from various coronavirus regulations for visiting athletes, if they remain at their accommodation when not competing or training. The U.S. Tennis Association, which runs the U.S. Open, has said it will follow government rules on vaccination status.
+++
Related
Rafael Nadal insists tennis rival Novak Djokovic must take 'responsibility' after Australia deportation
Novak Djokovic officially leaves Australia as Immigration Minister Alex Hawke releases fresh statement
Novak leaves, but refugees remain prisoners: how the Australian system works for migrants deemed illegal