End of talks for this year
Climate talks finished Saturday with a familiar outcome, again there have been said many things, made a lot of promises, but not reaching an accord that will bring the solution to save our world as soon as possible.
Countries have been under pressure to come up with a deal in Glasgow that will see them rapidly increase their ambition for emission cuts in the 2020s to stop the 1.5C goal slipping out of reach, as well as provide finance for developing countries to cope with the crisis. As talks overran by more than 24 hours, the pact managed to retain the first explicit mentions of fossil fuels in a UN climate agreement. Many at-risk countries expressed disappointment at what they saw as weak measures on loss and damage, they signed up to the deal.
Compromise found
Perhaps this time there is a better outcome than in Paris, even when we must say that once again the approved texts are a compromise.
"They reflect the interests, the conditions, the contradictions and the state of political will in the world today,"
U.N. Secretary-General António Guterres said in a statement.
"They take important steps, but unfortunately the collective political will was not enough to overcome some deep contradictions."
Agreed to strengthen  emissions-cutting targets for 2030 by the end of next year
Ministers and negotiators at the UN summit in the Scottish city agreed to get countries to strengthen their emissions-cutting targets for 2030 by the end of next year as part of the bid to limit dangerous warming climbing above 1.5C.
In the wake of the deal Cop26 President Alok Sharma, we could see how he struggled with the unwillingness of some countries not to debate over little details and words. He fought back tears, on a couple of occasions during an hours-long final plenary, as he told delegates that it was vital to protect the agreement as a whole. He was "deeply sorry" for how events had unfolded. In the end, though, he could say the summit had met its key goal of keeping the 1.5C limit within reach. But he warned:
"Its pulse is weak and it will only survive if we keep our promises, if we translate commitments into rapid action and if we deliver on the expectations set out in this Glasgow Climate Pact to increase ambition to 2030 and beyond."
**
Alok Sharma fights back tears as Glasgow Climate Pact reached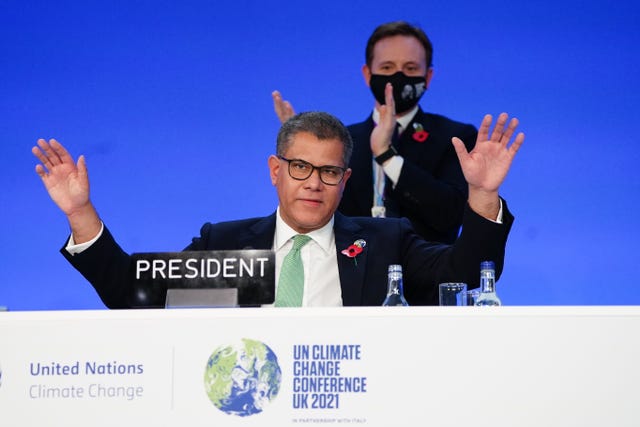 Need to end fossil fuels subsidies
UN secretary general Antonio Guterres warned:
"Our fragile planet is hanging by a thread. We are still knocking on the door of climate catastrophe."
He called for an end to fossil fuels subsidies, a phase out of coal, a price on carbon, building resilience of vulnerable communities against the impacts of climate change and to make good on the long-promised 100 billion US dollar climate finance commitment to support developing countries.
He said:
"We did not achieve these goals at this conference. But we have some building blocks for progress."
The final agreement urges developed countries to at least double their collective provision of climate finance to help developing nations adapt to climate change, from 2019 levels, by 2025.
Pact on coal
Language in the pact on coal was watered down at the last minute – following a push led by China, and backed up by India – from accelerating the "phase out" of unabated coal, to "phase down", prompting angry responses from European and vulnerable countries.
India's climate minister Bhupender Yadav asked how developing countries could promise to phase out coal and fossil fuel subsidies when they
"have still to deal with their development agendas and poverty eradication".
The climate envoy for the Republic of Marshall Islands, Tina Stege, does find the package not perfect but considers it a real progress. She said:
"Elements of the Glasgow Package are a lifeline for my country,"
pointing to the doubling of finance for adaptation and a plan to accelerate national climate plans.
+
Find also to read
+++
Related
In Glasgow, the United Nations Conference on Climate Change (COP26) reached a new global climate agreement.