Already several times, in the previous weeks we heard the 18-year-old climate activist Greta Thunberg saying
"No more blah blah blah",
in reference to the many gathering we already had the last few years talking about climate change but not taking steps in the right direction.
It is well known that Colorado Representative and gun-rights activist Lauren Boebert has not always the smartest remarks. From Republicans to criticise a young girl who is articulate and passionate in her beliefs is also nothing new. Donald Trump has also previously undermined Ms Thunberg and questioned her how she dared to pretend that this climate change (which does not exist according to him) can be solved with just business as usual and some technical solutions. Republicans have been condemned for belittling Ms Thunberg in the past.
Ms Thunberg's activism started when she skipped school for three weeks in 2018, to protest outside Swedish parliament in an attempt to urge the government to reduce its carbon emissions. Strangely enough her action inspired others all over Europe to do the same. Though our idea of youngsters might be connected to all those consumers of the most recent gadgets and spending a lot of money to goods coming from poor countries made by young children slaves,  today we see thousands of youngsters raising their voice and even going to other places to make sure their voice shall be heard.
Whilst hundreds of world leaders and their proxies have boarded their private jets and gathered in Glasgow to discuss climate change, thousands of youngsters do know what they're protesting.
Lauren Boebert not having a clue and not understanding what Thunberg and her followers are doing does not mean that the Swedish girl doesn't understand what she's doing.
In September the UK prime minister Boris Johnson told climate activists in Milan that they were paying the price for the
"reckless actions of their elders".
That is just what a lot of children and grandparents are aware of and brings them on the streets week after week.
It was there in Milan that Greta Thunberg, 18, mocked the words of world leaders in her speech at the Youth4Climate conference in Milan.
On a protest march today, Greta Thunberg said:
"COP26 has been named the most exclusionary COP ever, this is no longer a climate conference."
The mass climate protest through Glasgow was organised by Fridays for Future Scotland, a group founded by young people inspired by the activism of Greta Thunberg.
Thousands marched from Kelvingrove Park to the city centre in one of the landmark demonstrations during COP26. People of all ages joined the crowd at Kelvingrove Park calling for immediate action beyond the activities of the UN summit. Those marching held placards and banners with messages that reflected frustration with what Swedish activist Greta Thunberg described as "blah-blah-blah" coming from years of global climate negotiations. At George Square where a stage had been erected, youth activists from around the world gave speeches on how climate change has affected their land and communities.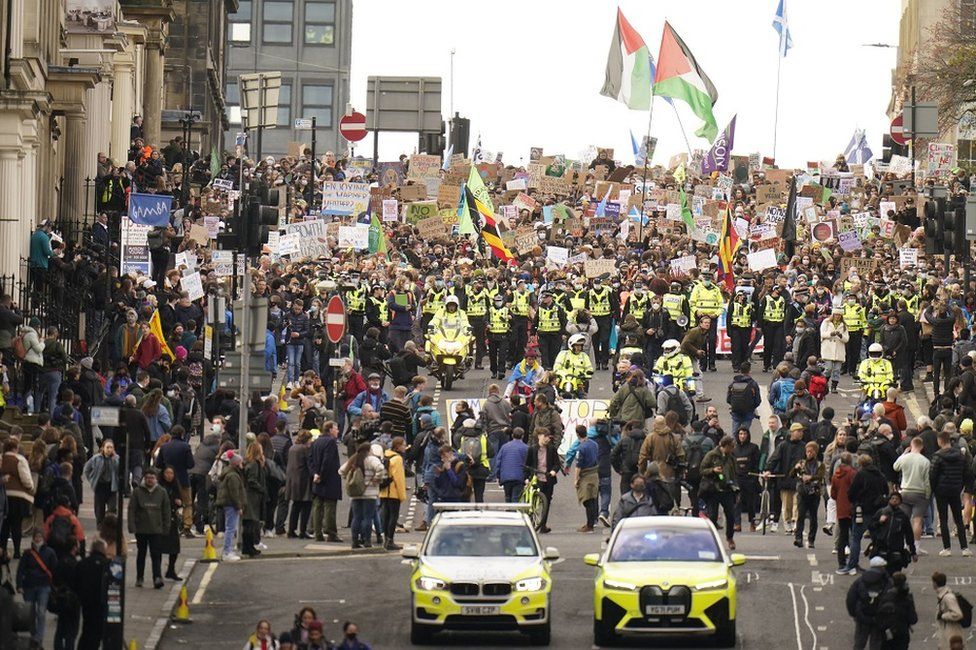 Anna Brown, an activist with Fridays for Future in Glasgow, said the event would demonstrate a need to move climate discussions away from "enclosed" spaces.
She told the BBC:
"The message is that the system of COPs – we've had 26 now – that system isn't working. So we need to uproot that system. The message is you need to listen to the people in the streets, the young people, the workers."
She continued:
"We need to move it from being in an enclosed space where people can't get involved to the streets, where people can see what's happening and have a say.
In any case, it is nice to see children who are keen to have their voices heard and make their point so that world leaders hear them. Now it is important that those adults shall listen to those kids and act responsibly with that next generation in their mind, to offer them a better future, than the bleak one we are facing at the moment.
The British president of the two-week conference acknowledged that much more needed to be done to secure more ambitious commitments to stop the world's slide into climate catastrophe, urging national negotiators to step up the pace.
"It is not possible for a large number of unresolved issues to continue into week 2,"
Alok Sharma said in a note published by the United Nations.
"The Earth's climate is changing!"
read one schoolchild's placard, under a hand-painted picture of a globe on fire.
"Why aren't we?"
Professor Gail Whiteman, founder of the climate activist group Arctic Basecamp, said she hoped protest actions and campaign events could add urgency to the discussions.
+
Preceding
World leaders gathering in the Scottish city of Glasgow for the UN climate conference
++
Additional reading
+++
Related