The world has to face a serious dilemma. We are already at five for twelve, undergoing the terrible consequences of our carelessness and neglect of nature around us.
Over 40 world leaders gathering in the Scottish city of Glasgow for the UN climate conference shall have to seriously think about which way we want to go in the coming years to avoid many horrible disasters.
Just because the Bible tells us about the increase in natural disasters and how people are destroying the world, it does not mean that we should do nothing about it. Already much too long, the majority of inhabitants of this planet ignored the signs this planet was giving.
When we were kids, we could swim in the creeks, but by the years we saw the water becoming so dirty we would not dare to enter the water. Though I must admit after all the fish were gone and nearly no life was in the water, the government changed policy and after some years now we can see the fish in living water again. But every year we encounter more changeable weather that treats us to droughts, highly fluctuating temperatures and abundant rainfall.
I could witness how glaciers of kilometres long and meters high shrink leaving all debris, rocks and eroded stones, in a totally changed countryside.
For years scientists send out the message that we have to do something against the changing climate with global warming. But their call reached only a deaf man's ears. After years of warning, many organisations, like the World Meteorological Organization, came to say that natural disasters like terrible floods and strong hot winds shall be the new reality everybody shall have to cope with. The 2021 report on the state of the climate states that
"the world is changing before our eyes."
If we are honest, we all can remember how it was a few years ago and what the difference is today.
In view of the 26th United Nations Climate Summit being held in Glasgow, the World Meteorological Organization (WMO) had released new data for the year 2021 early.
The report outlines climate indicators including temperature, extreme climate events, sea-level rise, and ocean conditions. The study says that due to the accumulation of greenhouse gases in the atmosphere at record levels, this year is expected to be the hottest in the last seven years, including this year.
This makes it so urgently for the world leaders to take the right action.

"Evidence is mounting that in some of these events"
– citing fires in America, torrential rains in China, floods in Germany and Belgium –
"is the trace of human-induced climate change."
For the Secretary-General of the United Nations, António Guterres, the conclusion is that
"we must act now, with ambition and solidarity, to safeguard our future and save humanity."
When we look around us, we can see that natural disasters are becoming more devastating and are causing a lot more suffering and more economical damage.
Due to our postponement, some damage is irreversible, but this should press us, even more, to halt the advance of climate change, which is both attainable and vital for life as we know it.
Today we are already facing climate warming at 1.2 degrees C which must be better limited not to 1.5 C, or beyond 1.5 C, because the climate will become more dangerous — with prolonged heat waves, severe droughts, widespread flooding, and worsening health conditions — and by 4 C, it will be unfit for human habitation, client scientists predict.
In the previous years, we heard about many agreements, treaties & conventions, but did not really see the implementation of those promises, and it looked bleak for humankind. Hopefully, this time will be different.
We only have data for the first nine months of 2021, but the initial analysis suggests it will likely rank either the fifth, sixth, or seventh warmest year of those seven, and we could witness lots of fires, droughts and enormous flooding in places where it happened for the first time in residents their lifetime.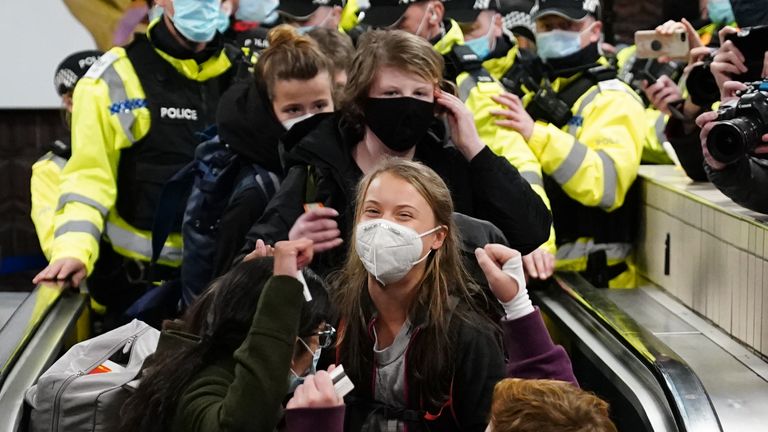 British prime minister Boris Johnson, lashed out at world leaders for failing to make the commitments needed to halt the climate emergency and has warned at the beginning of the conference, there is "a huge way still to go" after G20 leaders agreed to end the international financing of coal power. Promises made to tackle the climate crisis are "starting to sound hollow",  and Mr Johnson repeated the 18-year-old Swede Greta Thunberg her words that otherwise, we are having only the  "bla, bla, bla". (She had not been "officially" invited to the summit, but appeared in high spirits.)
On Saturday 30 October 2021, just before the historic climate summit in Glasgow, the leaders of the G20 (the 20 largest industrialised countries) met in Rome. Expectations were high, but they failed to send a strong signal in the run-up to the climate conference.
At that conference in Glasgow there are many more people wanting to participate. With 38,895 registrants, COP26 is expected to rival the 2015 Paris summit for the biggest attendance despite the pandemic and last-minute rail disruptions and the chaos there was for invited people and participants to enter the congress building
Widely accepted science-based targets — emissions reduction goals based on the 2015 Paris climate change accord — holds companies responsible for the greenhouse gases that are generated in their supply chains. From the industry seems to ring some positive bells, them understanding there has to be a significant shift in the production as well as in the distribution.
Before companies sit down with competitors, the scale of their supply chains demands they identify priorities.
"One thing is to understand your suppliers and where the emissions are the greatest, but also where the potential for reduction is largest,"
says Giulio Berruti, who leads climate work in Emea for BSR, a corporate sustainability advisory.
Some companies are aware that suppliers must now set science-based targets, report on emissions, develop environmental improvement plans and deliver goods and services on a carbon-neutral basis. A way to keep it under control would be, those that do not comply, to face payment penalties.
In CDP's 2019 global supply chain report, only 35 per cent of suppliers had a structured carbon reduction target, of which just 3 per cent were science-based.
One good result is that more than 100 countries have signed up to a global initiative to crackdown on methane pollution over the coming decade, but a handful of major emitters remain outside the deal sealed at the UN climate summit, including China, Russia and India, which are just very big polluters.
The pledge commits countries to reduce their emissions of methane — a potent greenhouse gas emitted from the energy, agriculture and waste sectors — by 30 per cent by the end of the decade from 2020 levels.
US president Joe Biden, who has already returned to the U.S.A., described it as a "game-changer", as he launched the initiative on Tuesday, alongside new rules on US emissions.
"One of the most important things we can do in this decisive decade to keep 1.5 degrees [global warming] in reach is to reduce our methane emissions as quickly as possible,"
he said.
"Putting methane at the top of the agenda for these talks is a critical move that will improve the lives of millions at home and around the world by holding off climate chaos,"
said Fred Krupp, president of the Environmental Defense Fund.
"It will be one of the major success stories of the Glasgow talks."
The new rules may be a critical step toward helping the US reach net zero by 2050 or sooner. The Texas Alliance of Energy Producers hit out at the proposals, saying they risked putting hundreds of smaller producers out of business.
"Rushing this proposal to meet a global conference agenda does not make for good environmental or economic policy,"
said Jason Modglin, its president.
+
Preceding
++
Additional reading
+++
Related